These easy dry rub recipe is perfect for a pork loin! You can also use it on pork chops and more when using your Traeger Smoker or pellet grill. The blend of seasonings is slightly sweet and simply amazing. Throw it on a pork loin and you'll be impressing family and friends at any party or BBQ!
Pork Rub
This Dry Rub Recipe is perfect for any type of pork! We used it on a pork loin that we smoked in our pellet grill! It's perfectly sweet from the brown sugar and white sugar with a punch of flavor from the garlic, chili and cumin. Yet, it's smoky from the addition of Smoked Paprika.
I seriously am obsessed with Smoked Paprika lately. I love that subtle smoke flavor it gives to a recipe! It pairs perfectly with this Bacon Wrapped Asparagus! Plus, you can start the meal with this Grilled Corn Salsa!
My baby is turning TWO in a few days! How is that possible? It seems like just yesterday I was anxiously waiting his arrival. Wondering if it was a boy or girl and if this blasted kid would ever make its debut into the world. I was overdue and not a happy camper! Every single one of my children were overdue. I say that like I've had fifteen kids. For the record, I only have three!
Why was it with my first child's birthday I spent a ton of time planning the perfect theme, the menu, the location, just all the things. Then the third one rolls around and I'm all like throw a message out on Facebook, plan a menu the day before and overnight the decorations.
Honestly, he's lucky he had any type of decorations. I've even started to not do those at birthday parties! A few themed plates and napkins and that's about as far as I get. I feel like in this day and age with Pinterest and social media in general we are all trying to keep up with each other.
Well, my friends, make sure you try to keep up with me. You will feel very accomplished as you watch me and my lack of party decorating and planning skills!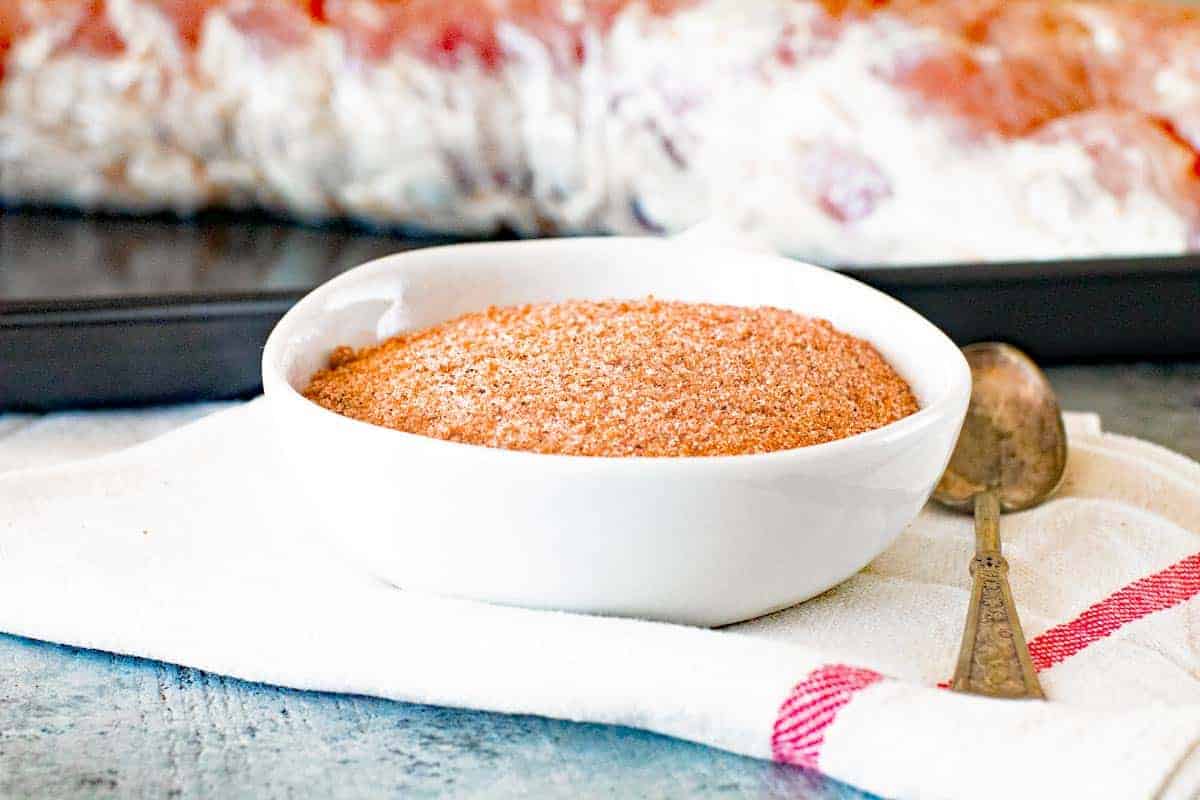 Pork Rub for Pork
A whopping two days before the party I decided it was really time to nail down a menu. I had ideas floating in my head but there wasn't anything concrete. The hubs kept telling me he'd do the main dish on the grill or pellet smoker. Finally, I was like, duh why not let him do that? I mean one less thing for me to do! Score!
I think making the meat for any party gives the man something to feel proud of. Meat and men, I don't know what it is but they have this secret competition about who can outdo who, or am I imagining that?
We had smoked a few pork loins before and used this amazing KC Butt Spice on it. I wanted to make my own rub for this pork loin, so I looked at the back of the ingredients of that rub and tried to make something similar.
It is not a true copy cat recipe as mine is a bit sweeter, but I love this Dry Rub for Pork Loin!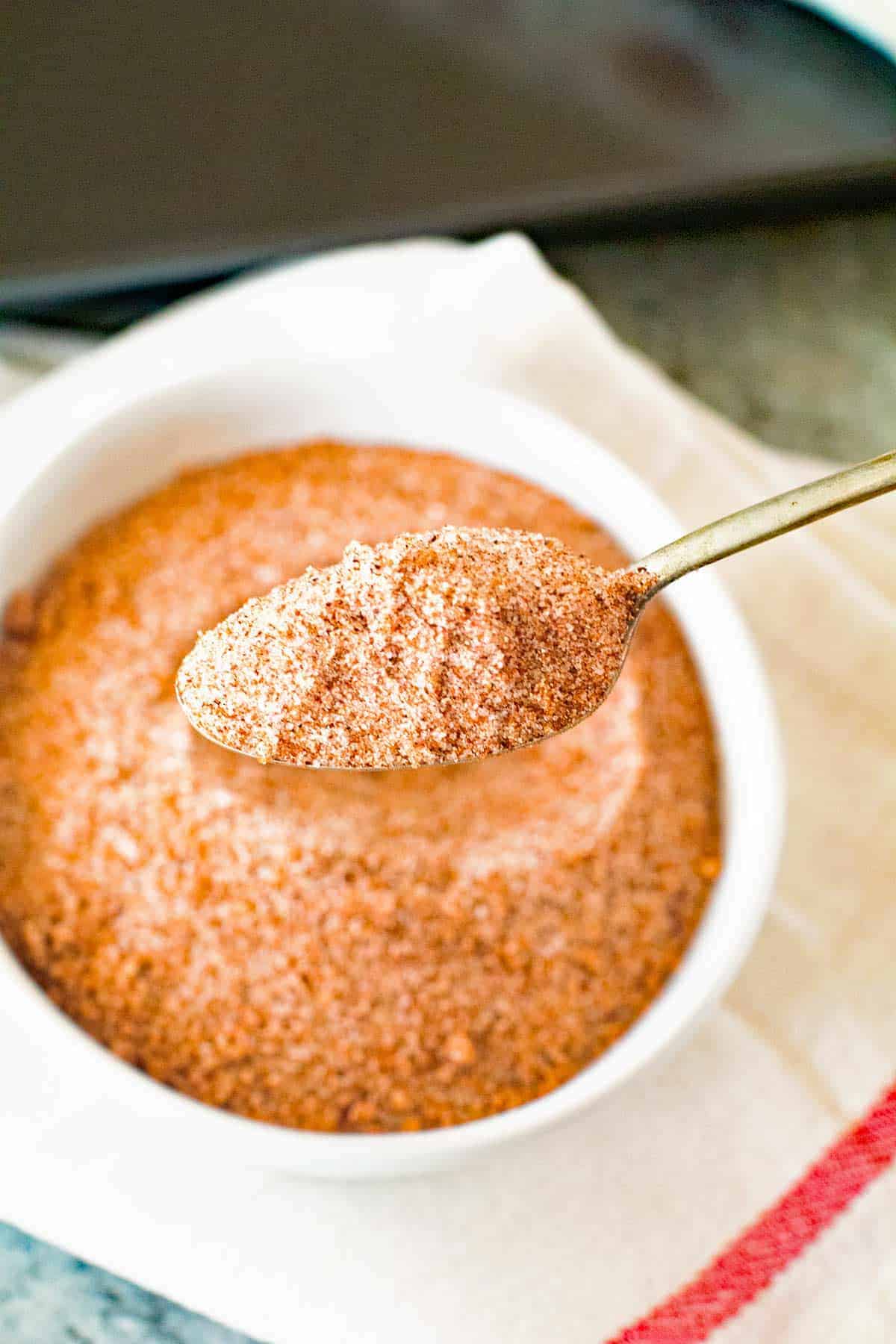 Dry Rub
If you are like me sometimes the idea of smoking something in the pellet grill can seem a bit overwhelming. Some of those recipes are intense. That is not how I roll my friends. The easier the better. This blog will not have a lot of recipes with 59 recipes that take 12 hours to make.
Think simple, delicious and easy. The type of recipe you can make after work or on a Saturday afternoon. Most of the time after work! This one takes a few hours because smoking takes a bit of time, but it's stupid easy. Sooooo easy.
What is rub seasoning?
Dry rub seasoning is a spice coating to go on the outside of raw meat. It forms a flavorful coating while the meat cooks.
What spices are good for pork rub?
sugar
brown sugar
smoked paprika
kosher salt
garlic powder
chili powder
onion powder
celery salt
cumin
pepper
This rub is the perfect rub to start with. It's basic and you probably have all the spices in your pantry!
How long should you dry rub?
Short answer, the longer the better! If you have time, apply the dry rub before you leave for work and let it flavor the meat all day. Even better, apply it the night before. Dry rub takes time to flavor the meat!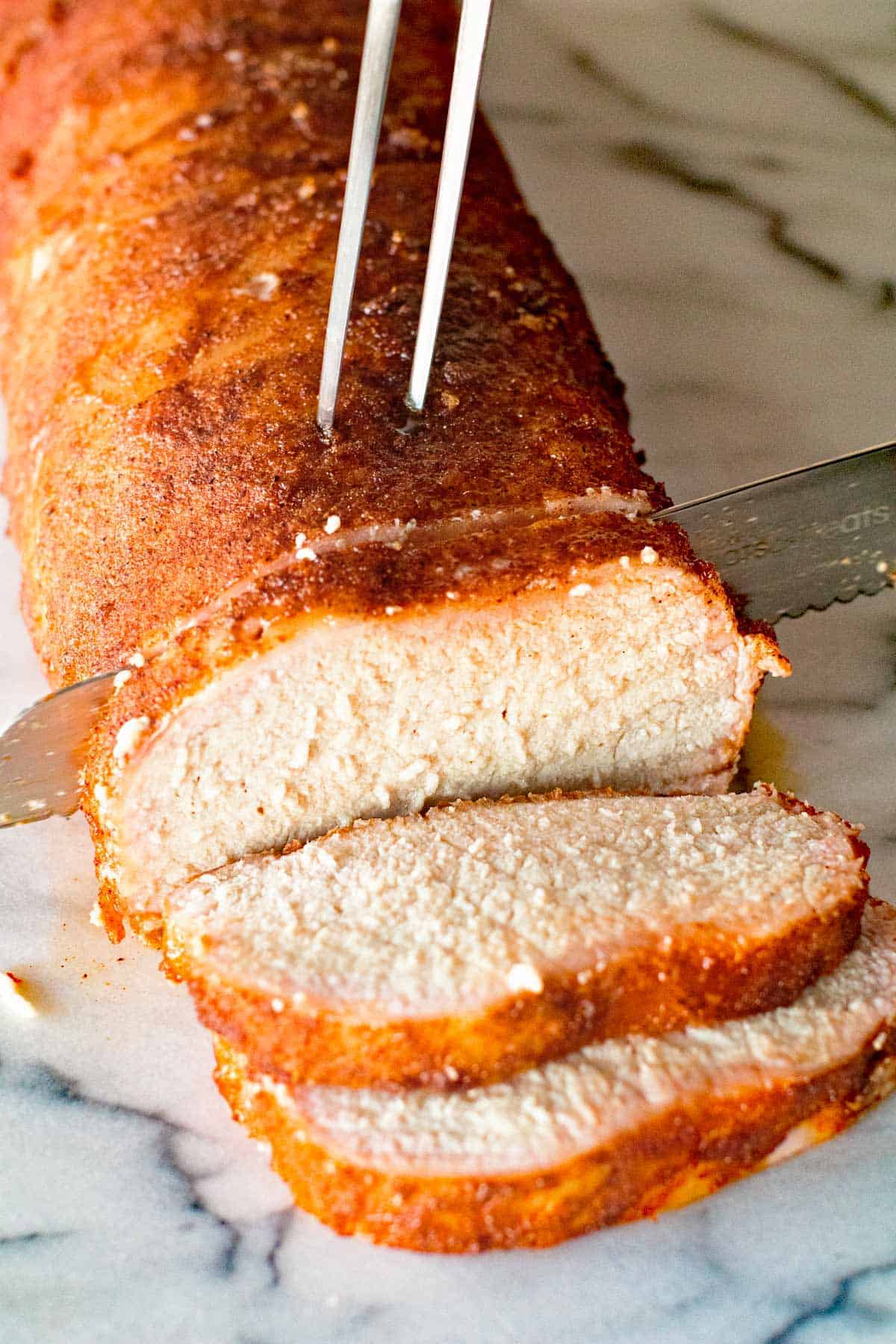 Pork Loin Rub
Our friends are lucky because we serve this pork loin with this amazing dry rub on it a lot when we entertain. They are always impressed. I'm always happy because Jason makes it and less work for me!
He's always happy because there is usually leftovers and he gets to make pork sandwiches for lunch all week!
How do you apply Dry Rub?
When you're applying rub, don't just sprinkle it on. Vigorously rub it into the meat! Be sure to get all the nooks and crannies. Rubbing it in well will ensure the meat is full of flavor!
Here is how we smoked this Easy Smoked Pork Loin with this amazing Dry Rub for Pork! It was so juicy, tender and full of flavor! Plus, I think my husband took a nap while it cooked! How's that for a winner recipe?
Smoked Ribs is another great pork recipe you'll want to try!
How to make Pork Loin Rub
Mix together all of the ingredients.
Store in an airtight container.
Dry Rub will keep up to three months when well sealed.
I know it's easy and fairly inexpensive to pick up some rub at the store. But I'm telling you when you make your own it's so much better than store bought! The ingredients are more flavorful and fresh. You eliminate the preservatives and you'll have a great meal to share with your family!
More dry rub recipes! Be sure to check these out and find your favorite!
Tried this and loved it? Be sure and comment below with a five-star rating! When you snap a photo of your delicious meal be sure and tag me too!  @julieseatsandtreats or #julieseatsandtreats – when you tag me, I get to see just how yummy your meal turned out!
Did you make this? If you snap a photo, please be sure tag me on Instagram at @gimmesomegrilling or #gimmesomegrilling so I can see your grilling masterpieces!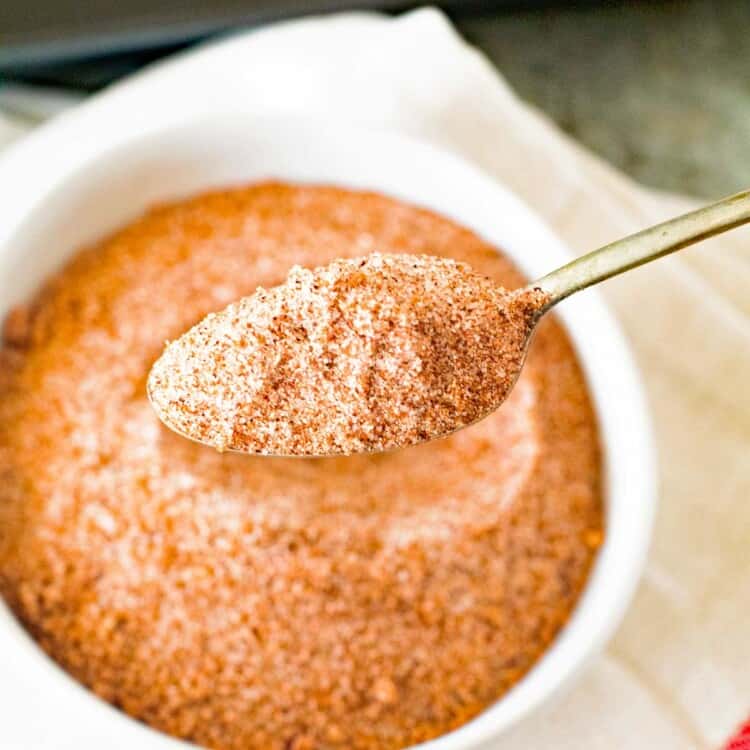 Pork Rub Recipe
Dry Rub for Pork ~ Easy Dry Rub Perfect for Pork Loin, Pork Chops and More When Using Your Smoker or Pellet Grill! Slightly Sweet and Amazing!
Ingredients
1/3

c.

sugar

1/4

c.

packed brown sugar

1 1/2

Tbsp

smoked paprika

2

Tbsp

kosher salt

2

tsp

garlic powder

2

tsp

chili powder

2

tsp

onion powder

1

tsp

celery salt

1

tsp

cumin

1

tsp

pepper
Instructions
Mix all ingredients together.

Cover and store in airtight container.
Nutrition Information
Calories:
52
kcal
(3%)
,
Carbohydrates:
12
g
(4%)
,
Sodium:
1366
mg
(59%)
,
Potassium:
48
mg
(1%)
,
Sugar:
11
g
(12%)
,
Vitamin A:
565
IU
(11%)
,
Vitamin C:
0.1
mg
,
Calcium:
11
mg
(1%)
,
Iron:
0.5
mg
(3%)