Easy Smoked Pork Loin ~ Tender, Juicy Pork Loin on Your Smoker with an Amazing Homemade Rub!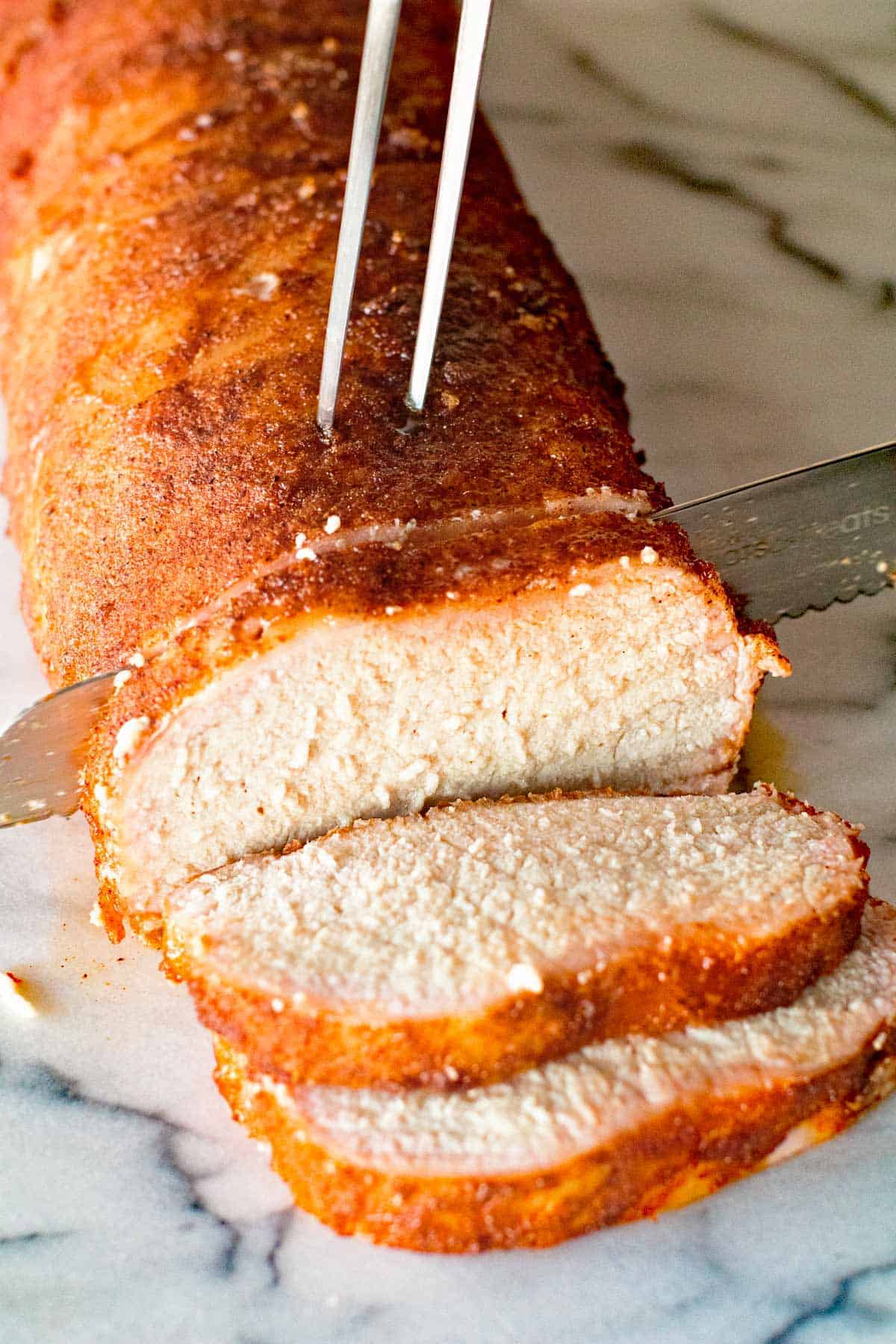 This tender, juicy pork loin is amazing! A simple dry pork rub and then cooking it on the pellet grill is all it took. The end result was a perfectly seasoned pork loin that was juicy and delicious. It's the perfect recipe for you if you are a seasoned pro at using your pellet smoker or if you are just beginning. This is the homemade dry rub we used but you can use your favorite dry rub too! If you are looking for a pre-made dry rub we use this KC Butt Spice when we are in a pinch and that's amazing too!
Ingredients for Easy Smoked Pork Loin!
Pork Loin
Dry Rub

Sugar
Brown sugar
Smoked paprika
Kosher salt
Garlic powder
Chili powder
Onion powder
Celery salt
Cumin
Pepper
When we first got our pellet grill I was a little bit overwhelmed so we started with smoking a pork loin since it was easy and totally something we could tackle! We weren't disappointed and it's become my husband's favorite meat to make on the grill when we are feeding a crowd. Maybe that's because he knows it will turn out and he doesn't risk embarrassing himself when it doesn't!
We made this pork loin for our son's 1st birthday. Don't ask me how on earth it is his first birthday already! It seems like just yesterday I was wondering if he was EVER going to decided to enter the world. He was overdue and I was totally over being pregnant. I was getting real cranky and the hubs was probably hoping this was going to be done soon too!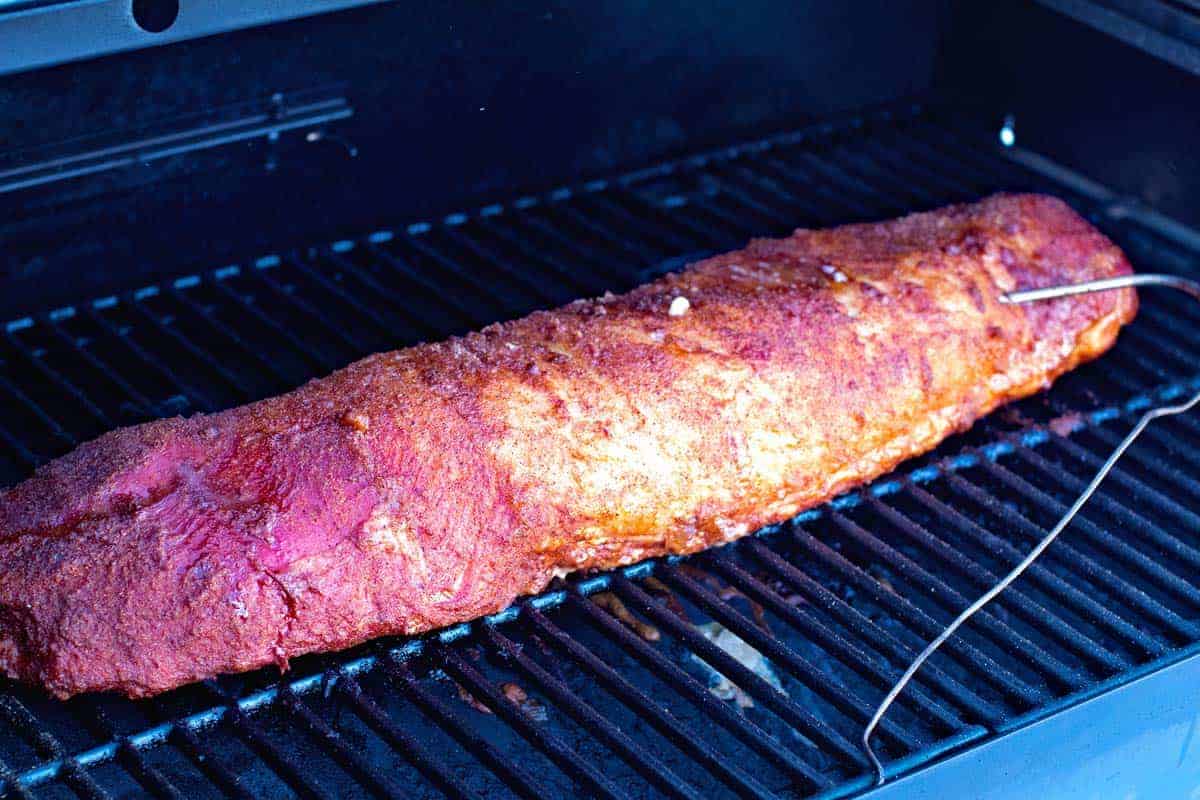 You know how they say the days are long and the years are short? I think that's how it goes anyways! It's so true. Sometimes I wonder if the day will ever be done when my children are giving me a run for my money, wait was I supposed to tell you that? I mean, they are angels all the time, wink, wink!
And then I blink and another year has flown by and I'm left trying to remember every single detail of the past year so I don't forget it. Pretty soon they become blurs and I'm trying to remember what child did what! I always thought my Mom was crazy when she couldn't remember which one of us loved certain things when we were growing up, she could just remember someone did.
Now I totally get it. Totally.
Heck, I can't remember what I need at the grocery store when I only need two things and don't make a list!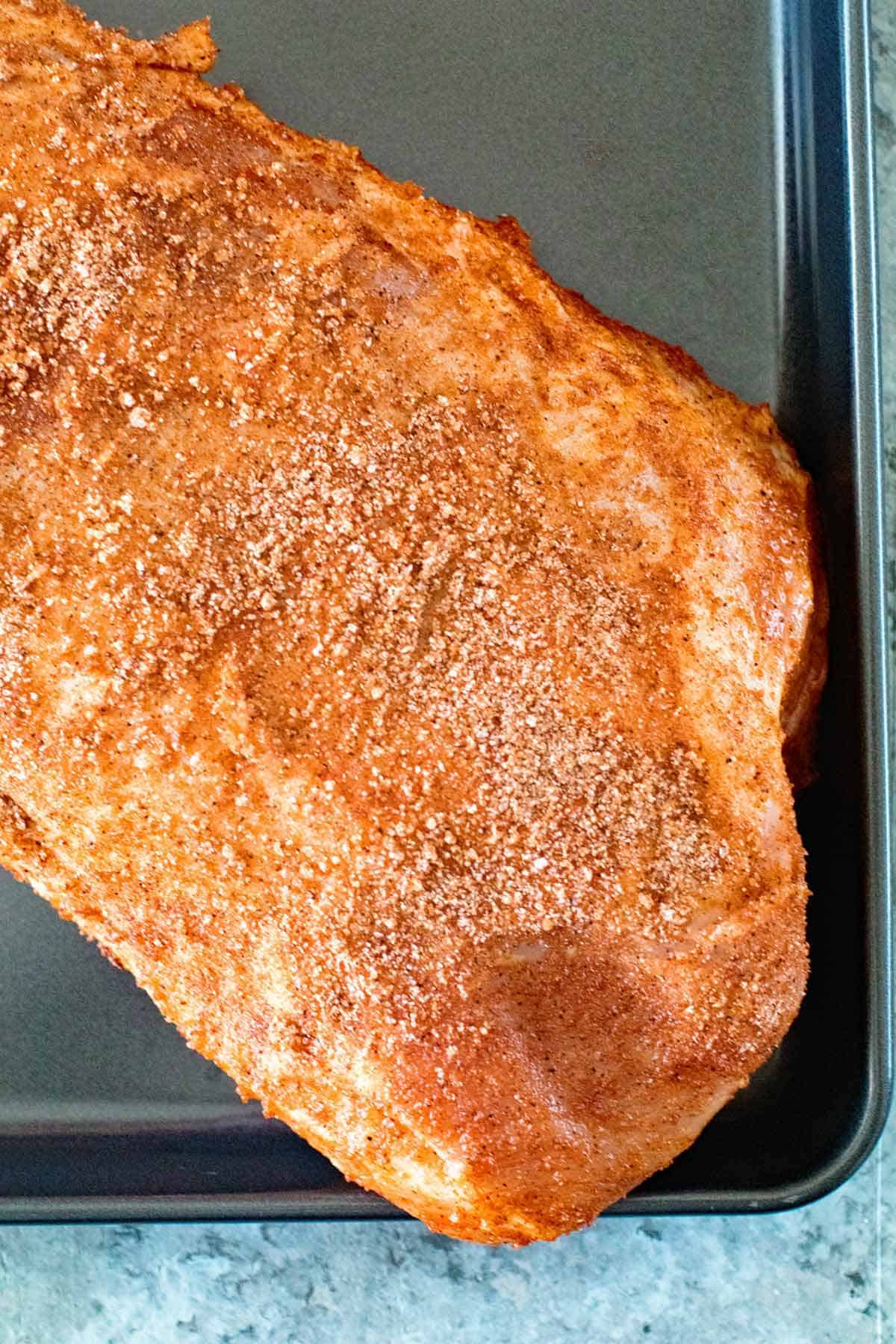 That's why I need simplicity in my life. Especially when hosting a birthday party. With my first child I went all out, but then I had three kids and that went out the door.
They are lucky they get a party at all! Not really, I wouldn't do that to them, but it's not extravagant by any means that's for sure. I'm not your crazy Pinterest person who plans the party down to matching toilet paper.
Now the food I can get excited about! I usually put the hubs in charge of the main dish aka he grills something because that takes something off my plate! We actually made this so the pork loin was done a hour ahead of time, then we sliced it and put it in the crock pot. We poured any excess juice from cutting it in the crock pot. Turned the crock pot on low and it was ready to go!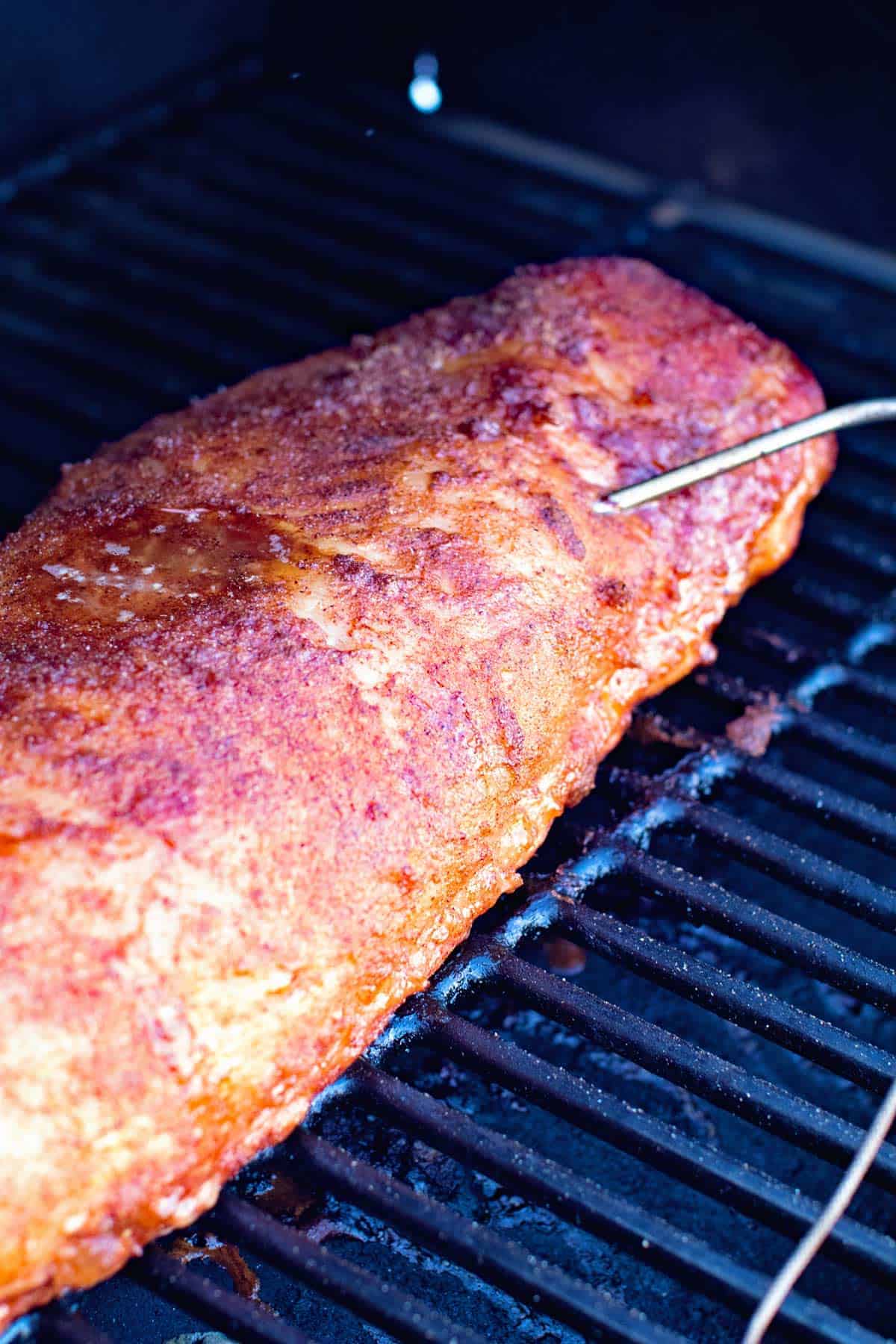 I served this with our famous Grilled Corn Salsa, Oreo Fluff, Vegetable Tray and of course birthday cake!
If you are looking for an easy way to impress your guests this is the answer! Everyone was raving up how juicy and moist the meat was!
Plus, it's great leftover. Pair it with a soft bun and some BBQ Sauce and you have lunches for the week. Personally I like sticking it in a wrap! Or make Quesadillas or Pizza with the leftovers!
More Pork Loin Recipes!
Tools Helpful for Making Easy Smoked Pork Loin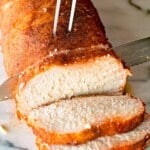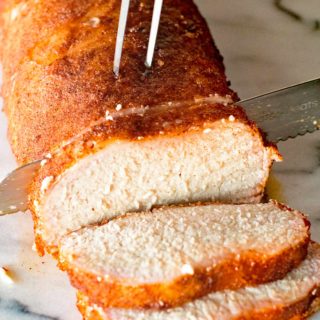 Easy Smoked Pork Loin
Easy Smoked Pork Loin ~ Tender, Juicy Pork Loin on Your Smoker with an Amazing Homemade Rub!
Keyword:
Pork, Pork Loin, Smoked, Smoker, Traeger
Instructions
Preheat pellet grill to 220 degrees. We used competition blend pellets in the pellet grill.

Trim excess fat from pork loin

Rub the entire pork loin with dry rub. After applying rub let sit at room temperature for half hour.

Place pork loin on preheated pellet grill with fat side up. If you have a temperature probe insert into thickest part of pork loin. Close pellet grill lid and cook at 220 degrees for 2 1/2 - 3 hours or until the internal temp of pork loin is 160 degrees.

Remove from pellet grill and let rest for 10 minutes.

Cut into slices.
Nutrition Facts
Easy Smoked Pork Loin
Amount Per Serving
Calories 249
Calories from Fat 63
% Daily Value*
Total Fat 7g 11%
Cholesterol 119mg 40%
Sodium 92mg 4%
Potassium 706mg 20%
Protein 42g 84%
* Percent Daily Values are based on a 2000 calorie diet.