Quick and easy rib rub recipe is the only one you'll need. This Dry Rub for Ribs is made with pantry staples and is so good you'll want to keep a shaker bottle hand for more than just ribs. You can put it on Chicken, Pork Chops, Sweet Potatoes, Pork Should and more!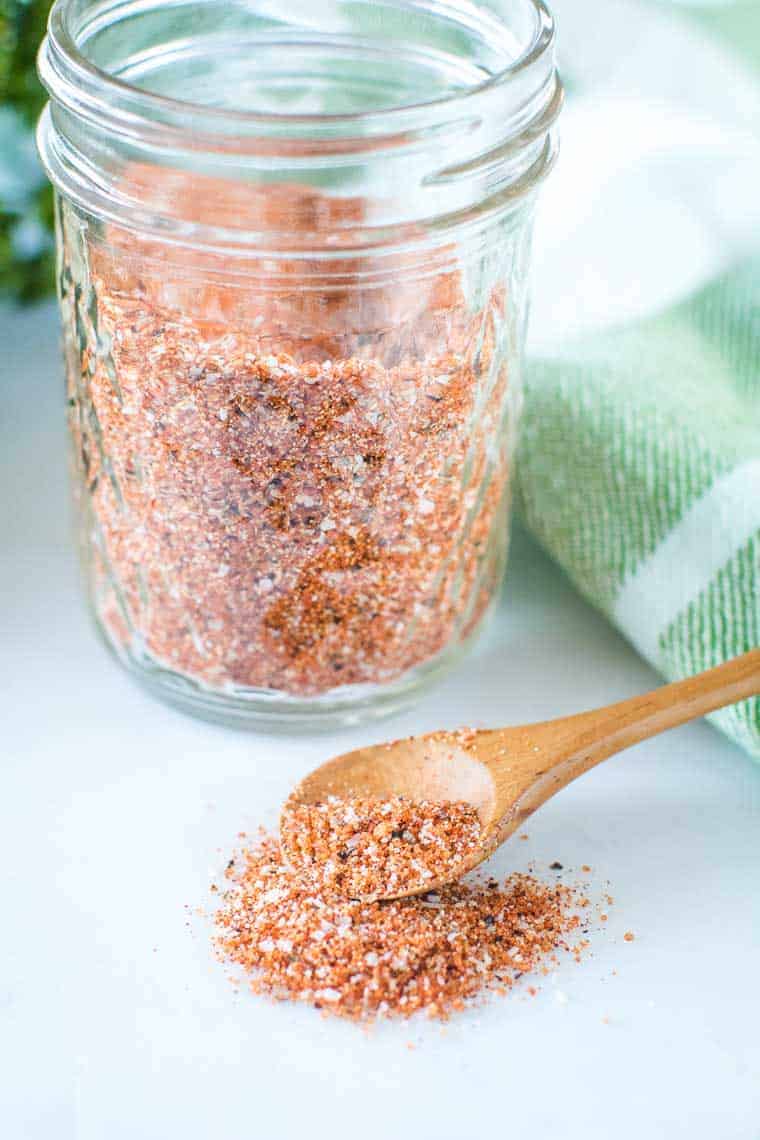 Rubs for pork, chicken, seafood and beef – do you usually purchase them at the store or make your own? Did you know how easy they are to make? Plus they taste 100 times better than store bought! And you totally know what is in the rubs when you make them yourself!
A homemade dry rub is perfect for BBQ Dry Rub Smoked Whole Chicken. Sprinkle some on Southwestern Grilled Boneless Pork Chop, Smoked Ribs or jazz up Grilled Sweet Potato Wedges!
Why not make your own? I've always made my own rubs for a couple of reasons. Like I'd mentioned above, they taste better than store bought – without all of the preservatives, they just have better flavor.
AND well, it's a heck of a lot cheaper too!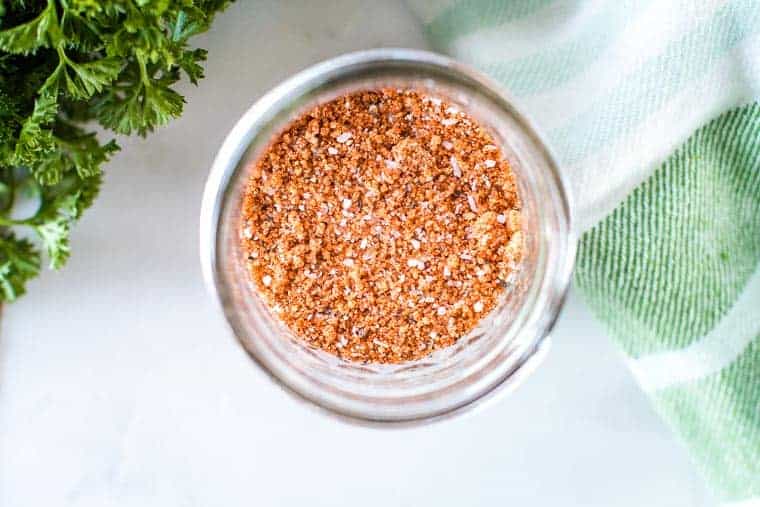 One of the keys to making our amazing rib recipe is the fact that there's so much flavor from this rib rub.
It totally makes a difference!
I'll be honest, making ribs was a bit intimidating for me, but after we found an easy method that we perfected they weren't anymore.
I remember the first time we made them with this rub. I had my parents over to "taste test" this recipe.
After gobbling them up with us they decided we had ruined them from ever trying to order ribs at a restaurant again because they would never measure up to ours.
If that isn't a success I don't know what is!
Ingredients for Dry Rub for Ribs
This spice blend is the perfect mix of sweet and savory. No matter how you cook your ribs this is the rub you want to use.
The base of a good rib rub is your sugar and then you build it out from there. We added in smoked paprika for a boost of wood fired flavor in case you aren't smoking your ribs.
Brown sugar
Smoked paprika
Salt
Black pepper
Chili powder
Dry mustard
Just Mix!
Mix together in a small container, it's that simple!
Store in an airtight container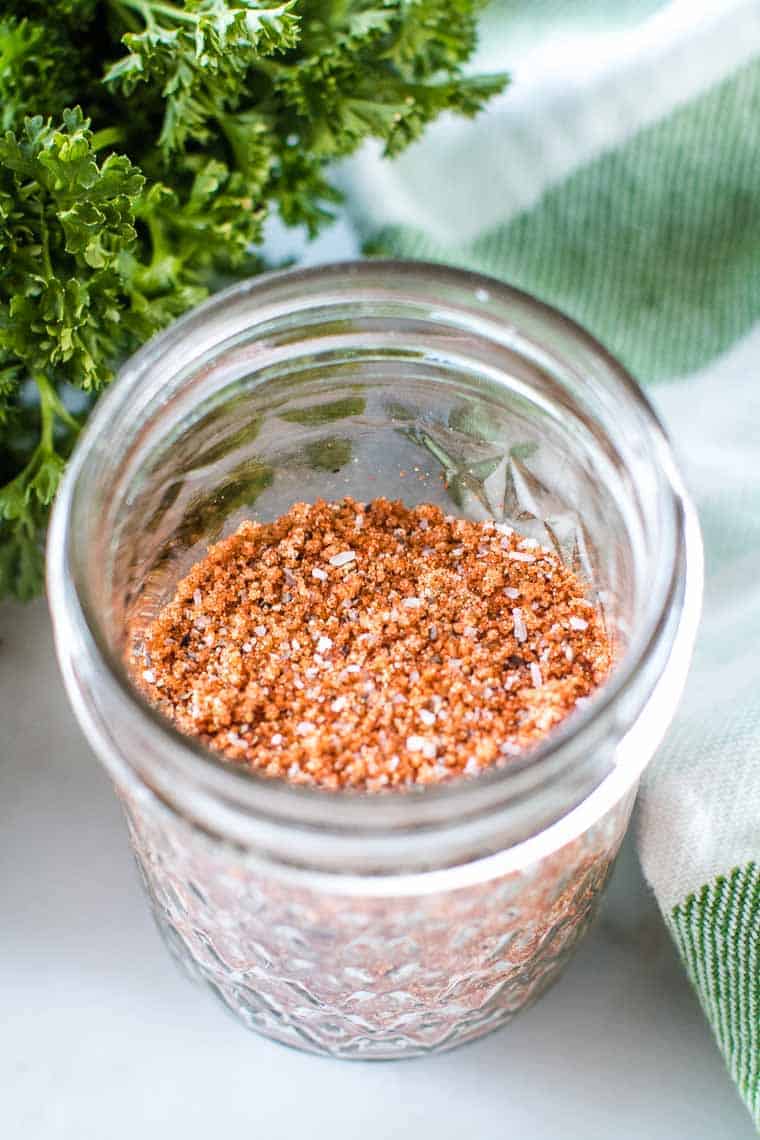 What can I store dry rub in?
Decorative jars are super fun, especially if you're going to give this as a gift during the holidays or a hostess gift – even a teacher's gift. Because this rub tastes great no matter what it seasons!
Tupperware works well too.
Small mason jars are my favorite choice! I always them on hand and they seal well with a screw top lid.
How long does dry rub for ribs last?
Well sealed this will last for a few months. If you want to keep it longer, pop it in the freezer!
Make sure you store it in a dark cool place or it will start to stick together.
How do you apply a rub to meat?
The first thing you want to do is pat the ribs with a paper towel to make sure they are dry to the touch.
Use one hand to apply the rub, and the other hand to rub the seasoning to the ribs. Generously apply to both sides of the meat and rub it in well. You'll want to make sure the entire slab of ribs is covered in the dry rub. General rule of thumb is to apply as much rub to the ribs that will stick.
How long should you leave a rub on meat?
The easy answer is the longer the better. For best results, apply the rub and leave it overnight. This allows the flavors to really infuse into the meat.

Delicious Rubs to Try!

Be sure to comment and leave a five-star rating below! Tagging me on Instagram will definitely make me smile! You can find me here at @gimmesomegrilling or #gimmesomegrilling – I definitely want to see your tasty eats!!!
Did you make this? If you snap a photo, please be sure tag me on Instagram at @gimmesomegrilling or #gimmesomegrilling so I can see your grilling masterpieces!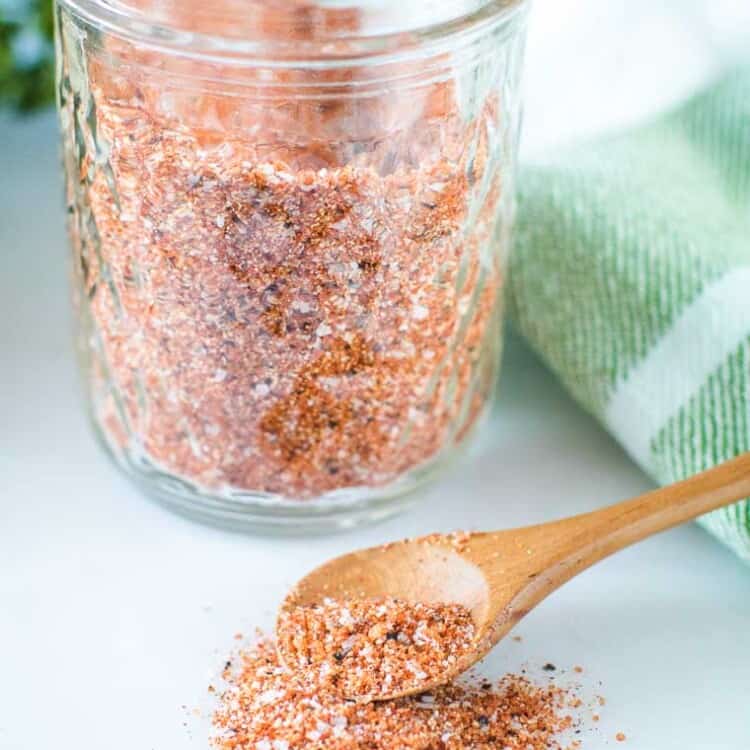 Dry Rub for Ribs
Quick and easy rib rub recipe is the only one you'll need. It's made with pantry staples and is so good you'll want to keep a shaker bottle hand.
Ingredients
3

Tbsp

dark brown sugar

1 1/2

Tbsp

smoked paprika

1 1/2

Tbsp

kosher salt

1

tsp

coarse ground black pepper

2

tsp

chili powder

1

tsp

dry mustard
Instructions
Mix together in a small container. Rub into pork rubs. For best results, allow ribs to marinate overnight.


Prepare ribs as desired.


You can store this in an airtight container for up to two weeks.

Nutrition Information
Calories:
193
kcal
(10%)
,
Carbohydrates:
45
g
(15%)
,
Protein:
3
g
(6%)
,
Fat:
3
g
(5%)
,
Saturated Fat:
1
g
(6%)
,
Sodium:
10548
mg
(459%)
,
Potassium:
409
mg
(12%)
,
Fiber:
6
g
(25%)
,
Sugar:
36
g
(40%)
,
Vitamin A:
6369
IU
(127%)
,
Vitamin C:
1
mg
(1%)
,
Calcium:
88
mg
(9%)
,
Iron:
4
mg
(22%)