Delicious smoked pork chops packed with flavor and so easy on your smoker! Learn how to make smoked pork chops that are juicy, tender and filled with smoke flavor. These thick cut bone-in pork chops will have your mouth watering with a homemade seasoning! This easy recipe on your Traeger is perfect for a beginner smoke meat, but so delicious even a seasoned veteran will love to make these.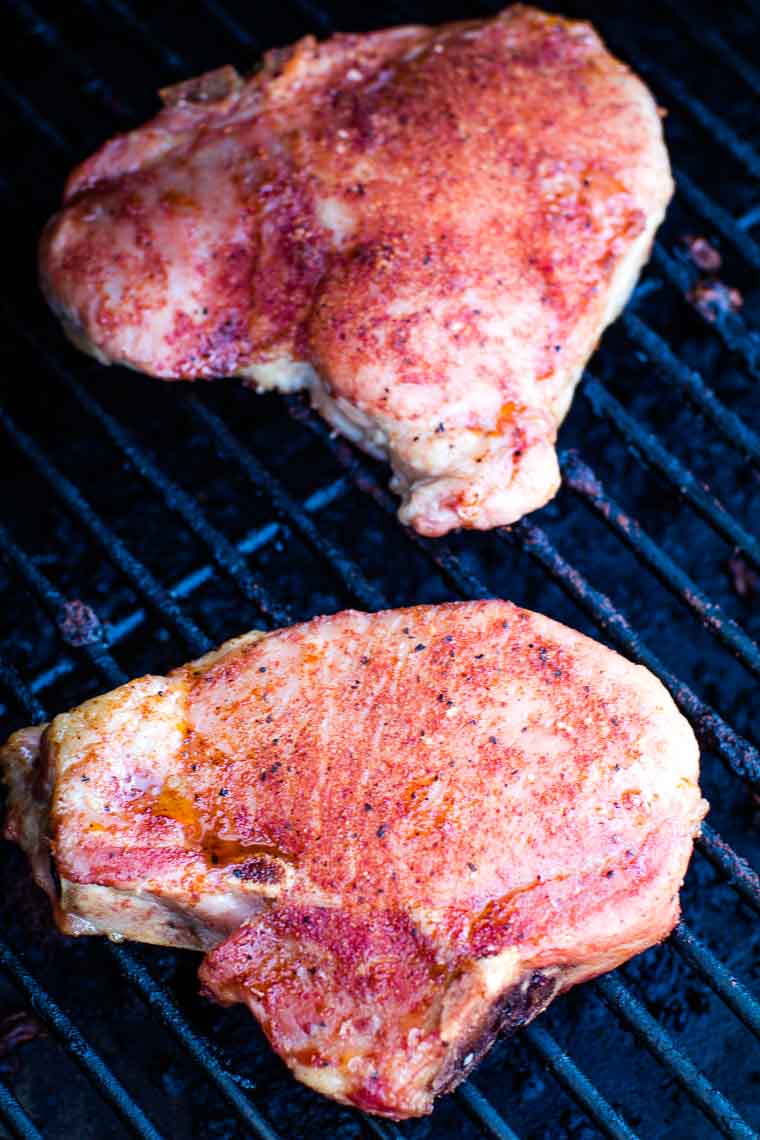 Smoked Pork Chops
I think the biggest complaint I hear about pork is it's dry. So today I'm going to show you how to make the perfect pork chop! Moist, tender and delicious – no dry, boring pork chops here!
So why don't you cook pork more often? It is the best quick and easy meal, but often gets overcooked!
It's ok for pork to be slightly pink in the middle. And the reason why it gets dry is that most people overcook pork. That's where an instant-read thermometer comes in handy! (here's my favorite!!)
Pork is done when the internal temperature reads 145 degrees Fahrenheit. Easy enough right?
Another great way to make sure pork is moist is to not poke it or slice into it to see if it's done in the middle. What happens when you slice into pork when it's still cooking?
All the juices are spilled out. It won't be moist, plain and simple! So no slicing!
Another simple way to ensure moist, tender meat is to use tongs to flip the meat rather than prongs. Stabbing the meat also spills out the juices. Easy enough, right? No prongs, no slicing and don't overcook!
You're set, your meal will be perfect!!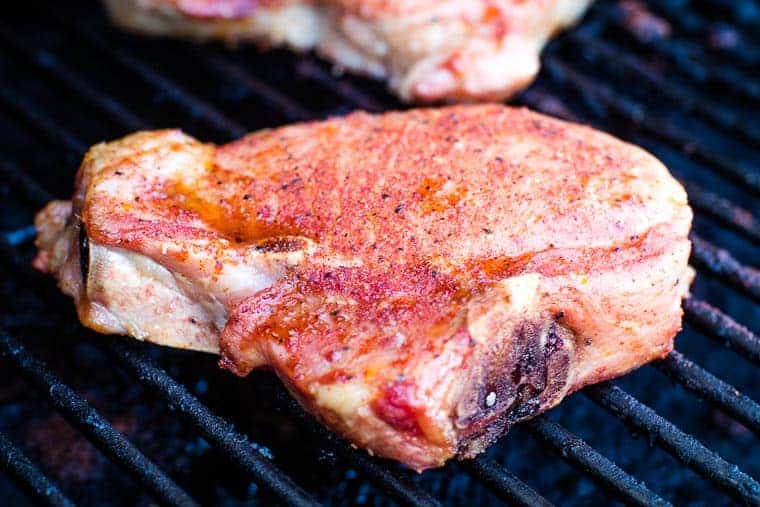 Traeger Pork Chops
After you smoke these pork chops let them rest for about 5 minutes.
This gives time for the juices to redistribute and you are left with that pork chop that is full of flavor and juicy! We all want that, right?
What do I need to make Smoked Pork Chops
thick cut pork chops
tinfoil
What should the internal temperature of Traeger pork chops be?
Pork is done when the internal temperature reaches 145 degrees F. This changed a few years ago from 160 degree F. It's totally fine to consume pork at 145 degrees F and this is the optimal temperature for a tender, juicy pork chop!
How do you reheat chops without drying them out?
Just in case you don't gobble these up at the first meal, pork chops are easy to reheat without drying them out.
Preheat the oven to 350 degrees.
Add a couple of tablespoons of water to an oven-safe casserole dish, add the pork chops.
Cover with tin foil – heat for 15 minutes or until the chops are warm.
How long does it take to smoke pork chops in a electric smoker?
About an hour.
How long do smoked pork chops last in the fridge?
Leftover smoked pork chops will last about three days in the fridge. If you do have leftovers, here are some great ideas to repurpose them!
What's your favorite repurpose for leftover pork?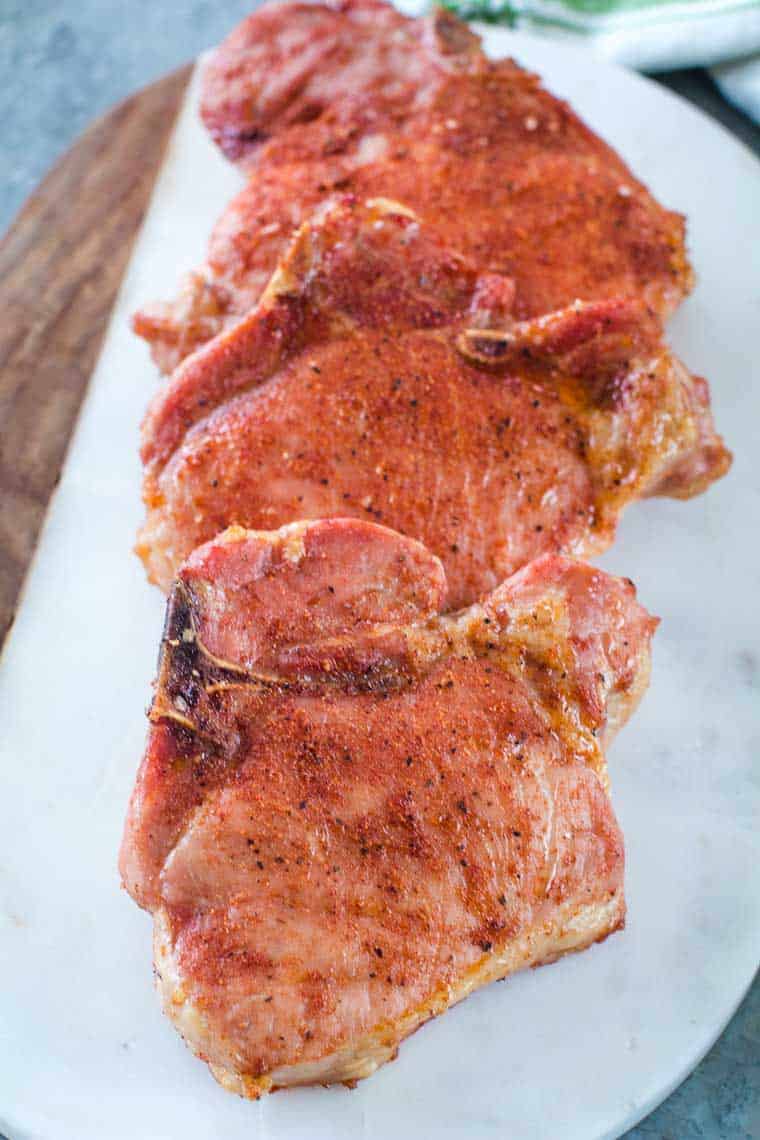 Smoked Pork Chops Recipe
When Jason treated me to these smoked pork chops I was oooooing and ahhhhh and giving them 10 stars!
They were so full of flavor. Tender, juicy and I wanted them all!
Plus, I didn't make them which always makes things better, right?
That's right, he makes the food on this blog most of the time and take the pictures and do the behind that scenes work. It's a pretty good deal for me!
How to make Traeger Pork Chops
Heat the smoker to 250 degrees.
Sprinkle the rub on the chops.

Place pork chops on the smoker.

Smoke until the internal temperature of the pork chop reaches 145 degrees F, about one hour.
Remove chops and allow to rest for 10 minutes, loosely covered with foil.
More of my favorite pork recipes!
Love it? Please rate it below! These are super tasty and I hope you enjoy this meal!!!
Did you make this? If you snap a photo, please be sure tag me on Instagram at @gimmesomegrilling or #gimmesomegrilling so I can see your grilling masterpieces!
Smoked Pork Chops Recipe
Tender, juicy bone-in pork chops with a homemade rub that are smoked on your pellet grill!

Ingredients
1

Tbsp

pork rub

4

bone-in pork chops

thick cut
Instructions
Prepare smoker to 250 degrees F according to manufacturer's directions.

Sprinkle rub on both sides of pork chops. How much you apply is really up to how much you'd like on your pork chops!


Place pork chops on prepared smoker. Smoker for about 1 hour or until the internal temperature of the pork chop reaches 145 degrees F.


Remove pork chops from smoker and let rest for about 5-10 minutes. Serve.

Nutrition Information
Calories:
299
kcal
(15%)
,
Carbohydrates:
2
g
(1%)
,
Protein:
35
g
(70%)
,
Fat:
15
g
(23%)
,
Saturated Fat:
5
g
(31%)
,
Cholesterol:
116
mg
(39%)
,
Sodium:
94
mg
(4%)
,
Potassium:
606
mg
(17%)
,
Vitamin A:
95
IU
(2%)
,
Vitamin C:
0.4
mg
,
Calcium:
69
mg
(7%)
,
Iron:
2.4
mg
(13%)