Grilled Ranch Pork Chops ~ Tender Juicy Ranch Pork Chops on the Grill! These Easy Grilled Pork Chops Only Require Three Ingredients and Twenty Minutes! They are the Perfect Grilling Recipe for Busy Nights!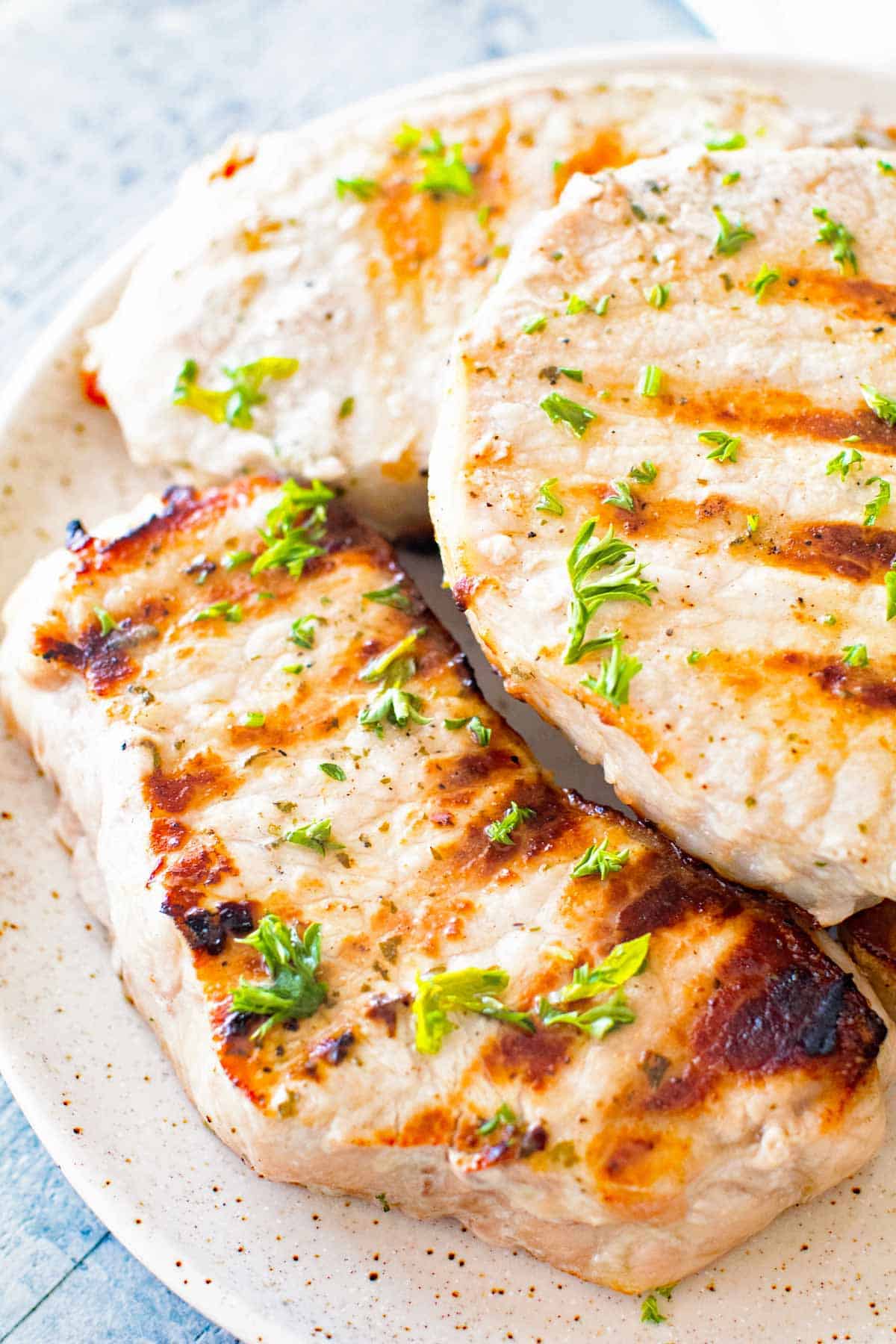 Ranch Pork Chops
These Grilled Ranch Pork Chops are so unbelievably easy and yet they are so juicy and tender! They only require three ingredients and 40 minutes. Half of that 40 minutes is inactive time just letting the meat rest. This is the perfect recipe to enjoy on busy weeknights or when entertaining because it takes minimal prep and effort so you can enjoy yourself! Grab your boneless pork chops, ranch dressing mix and olive, then head out to the grill!
These Ranch Pork Chops are perfect to serve with Grilled Cheese Garlic Pull Apart Bread and Grilled Bacon Wrapped Asparagus!
Ingredients Needed for Grilled Ranch Pork Chops
Boneless Pork Chops
Ranch Dressing Mix
Olive Oil
My husband is head over heels in love with me again. Not that he ever wasn't, or at least I don't think that's true, but after I made these delicious pork chops he was swooning at my feet! Funny thing is, he had them as leftovers!
He wasn't even lucky enough to grab them fresh off the grill. He still thought they were marvelous, which goes to tell you how amazing they were.
When I bit into this pork chop I thought I had died and gone to heaven. They were so juicy and tender. Those two things I feel are needed in a pork chop. They are obvious, but yet, hard to achieve. Pork is tricky and can get dried out so easily.
Make sure you read my tips below on how I achieved that perfectly juicy and tender pork chop!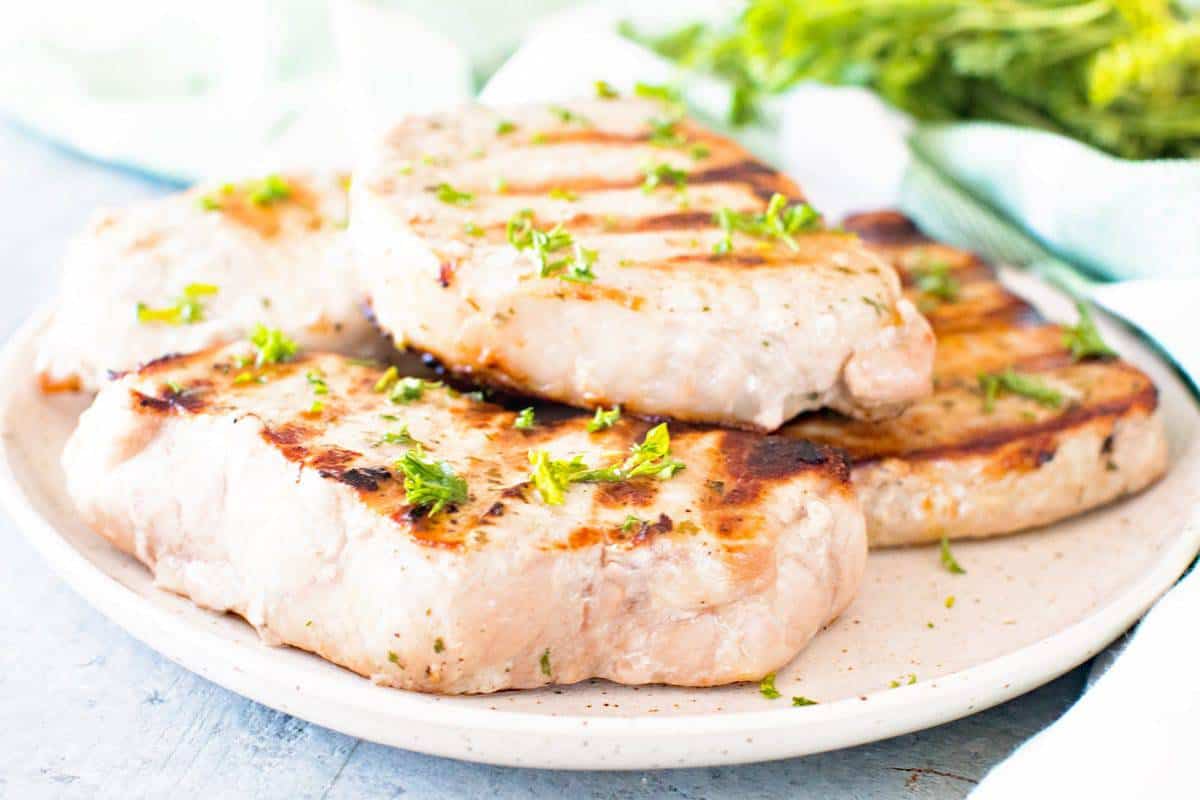 Tips for Ranch Pork Chops on the Grill!
After seasoning the pork chops let them sit for about 15 minutes. This helps them come to room temperature which helps them cook evenly.
When the pork chops are done grilling cover them with foil and let them rest 5-10 minutes. This will let the fiber break down and produce a tender, juicy pork chop!
Use this Wireless Cooking Thermometer to monitor the pork chops internal temperature.
Remember low and slow for the temperature of the grill. I grilled mine around 350 degrees and rotated them front to back when flipping because I know my hot spots on my grill!
I can't believe there are only three ingredients in these Grilled Ranch Pork Chops. This is how I win at life. Easy recipes! I don't think you'll be arguing with that will you?
I only used two tablespoons of ranch dressing mix, but my husband felt that it could have used a little bit more. The ranch flavoring was a subtle flavoring, not a strong ranch flavoring. It really depends what you are going for. Do you love the ranch flavor? Or would you just like subtle hint?
The salt in the ranch dressing mix helps break down the pork chop while it comes to room temperature, which helps in the tender pork chop department.
Things you never knew, right? Or at least I didn't before I started researching grilling more. Oh the things I do in my "spare" time!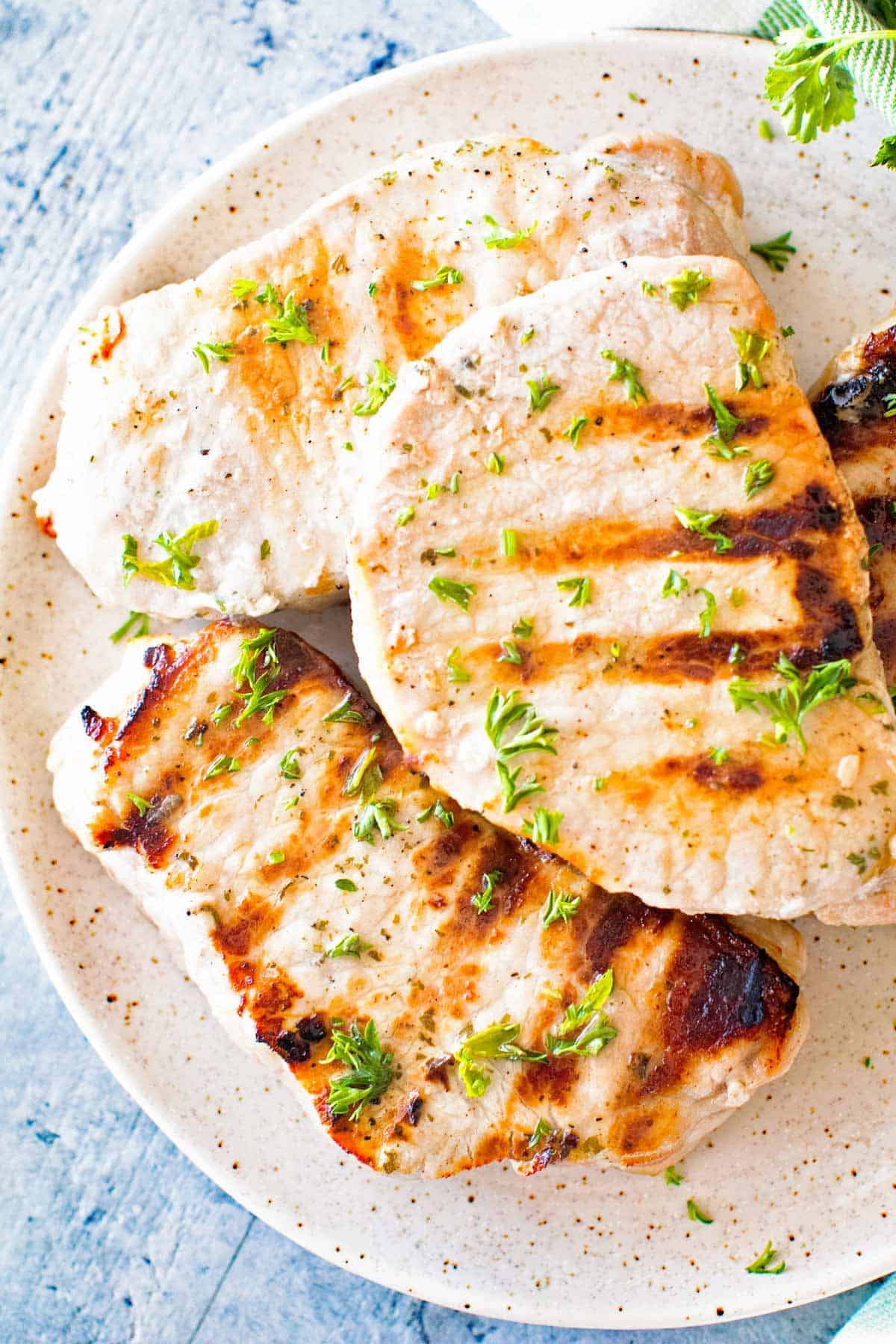 I can see myself serving ranch pork chops on the grill for guests because they are so easy and take minimal prep time on my end and minimal grilling time on my husband's end.
Yes, I totally just volunteered him to cook for our future guests!
Miss K's birthday party possibly? That's coming up! How is my baby going to be SIX??
I typically send him out to grill the main dish while I take care of getting everything else set up inside. It works perfectly and for some reason grilling strokes a male's ego I've found out.
Whatever works!
Grab your THREE ingredients and head out to the grill. You have some guests or your family to impress! I won't tell them how easy this recipe is!
More great pork chop recipes!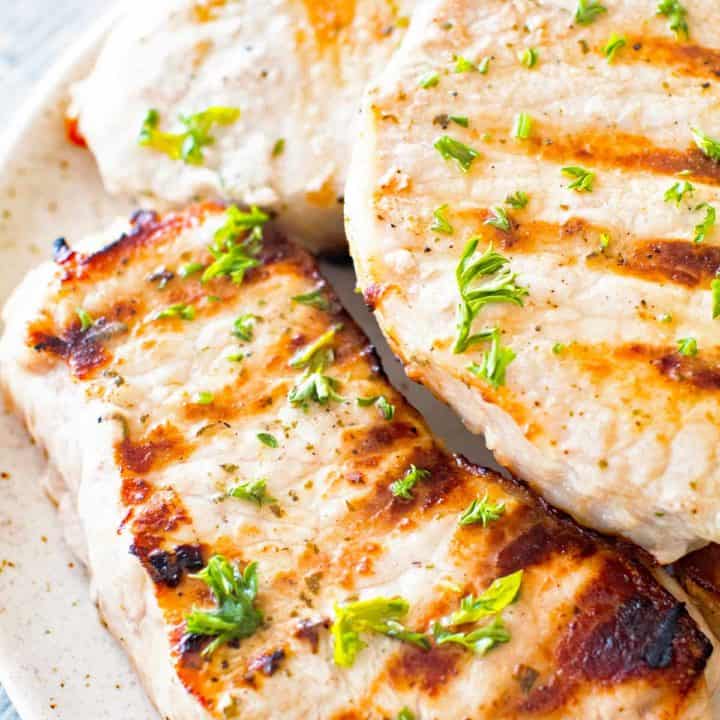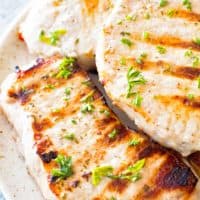 Grilled Ranch Pork Chops
Tender Juicy Ranch Pork Chops on the Grill! These Easy Grilled Pork Chops Only Require Three Ingredients and Twenty Minutes! They are the Perfect Grilling Recipe for Busy Nights!
Print
Pin
Rate
Ingredients
4

boneless pork chops

2

Tbsp

olive oil

2-3

Tbsp

ranch dressing mix
Instructions
Preheat grill to 350 degrees.

Drizzle half of oil over the top of the pork chops. Sprinkle half of ranch dressing mix over the top of the pork chops. Rub ranch dressing mix and oil so the pork chops are covered on top.

Flip pork chops over. Repeat step number 2 with the remaining oil and ranch dressing mix.

Let pork chops rest for 15 minutes.

Place on grill and grill 6-8 minutes on each side.

Remove from grill when pork reaches and internal temp of 145 degrees. Cover with foil, let rest 5-10 minutes before enjoying. This will let the fibers of the meat relax and give you that juicy, tender pork chop you want!
Nutrition
Calories:
290
kcal
|
Carbohydrates:
4
g
|
Protein:
28
g
|
Fat:
16
g
|
Saturated Fat:
4
g
|
Cholesterol:
89
mg
|
Sodium:
626
mg
|
Potassium:
499
mg
|
Calcium:
9
mg
|
Iron:
0.7
mg