Traeger Surprise & Delight
We partnered up with Home Depot to Surprise and Delight one of our favorite families with a brand new Traeger Eastwood 34 Pellet Grill!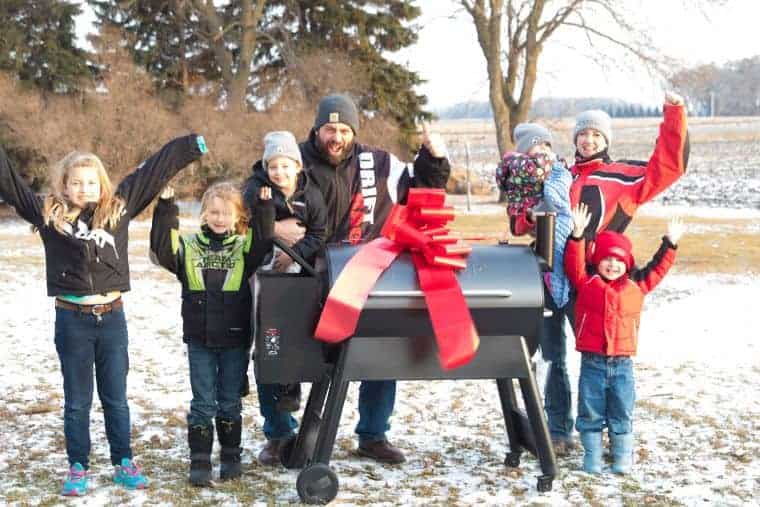 This post is sponsored by Home Depot and includes affiliate links where we earn a small portion off of your purchase at no extra cost to you.
A long time ago I was at a local county fair working it for my previous employer who had a booth there.
I was taking a break and walking across the fairgrounds when I heard my name, "Julie! Julie!" I spun around a few times trying to figure out where it was coming from. I was a little bit surprised because I was 45 miles from home and kind of thought I would know no one!
As I spun around I found the voice and it was someone I knew through my husband's church. Their families were close and we had actually went on a snowmobiling trip right after I started dating Jason.
My first and last snowmobiling trip but that's a different story!
Anyways back to the story, there was John standing there at the Cattleman's booth with a Tri-Tip sandwich in his hand, smile on his face, telling me he was treating me to dinner.
A girl can not resist a tri-tip sandwich!
Fast forward about eight years and the exchange has been mentioned about every time he sees me, teasing me about when exactly I was going to buy him dinner in return! It's provided many laughs over the years.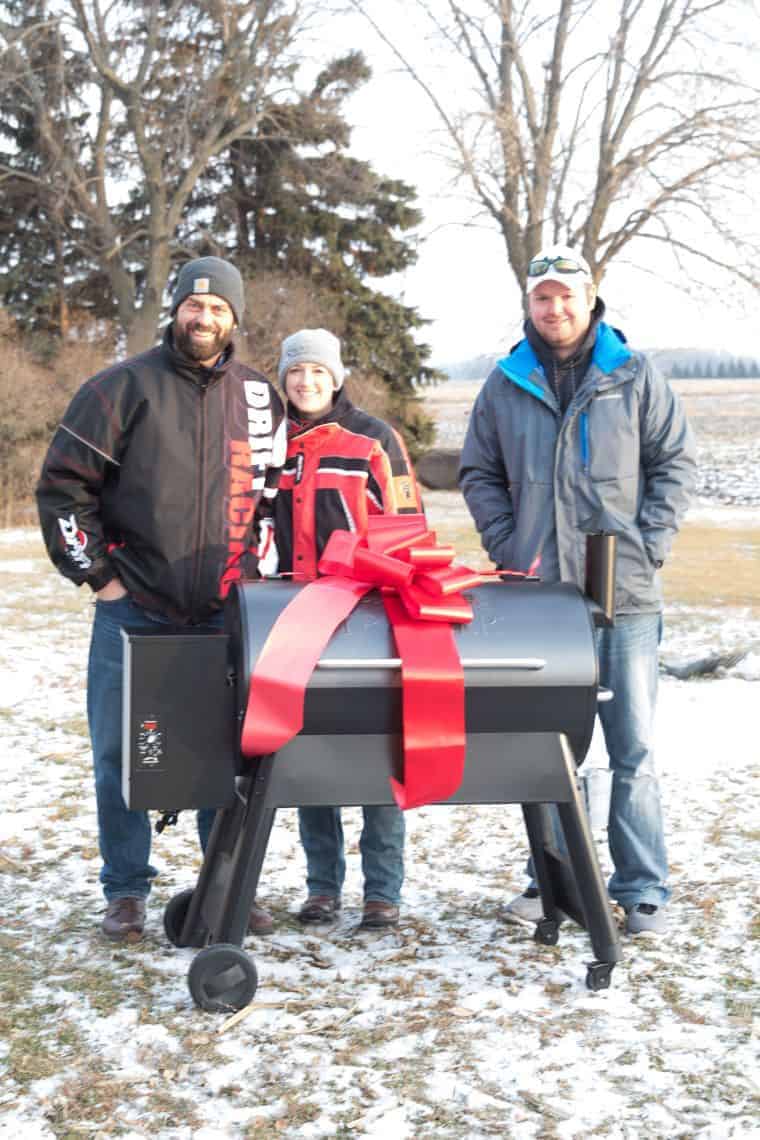 Home Depot gave us a chance to Suprise & Delight someone with a brand new amazing Traeger Eastwood 34 Pellet Grill .
Picture my husband and I on a date, trying to decide who we should gift the grill too.
We adore our Traeger and we wanted to pick someone who deserved it, who would use it and who might not be able to buy one themselves.
It took us forever to pick someone but we finally came to the same conclusion on who it would be. It'd be John and his family who now includes five little ones! They are a hardworking, amazing family that raise cattle and grain farm.
Next step was to figure out if he had a Traeger already, so we enlisted Jason's step-mother to do a little detective work at church the next week. We were glad to get the text message reporting they didn't have one!
Now for the FUN part! The phone call!
I called up John and the first thing out of his mouth was, "Are you ready to return my dinner?"
We had a good laugh and then I went on to tell him how I was partnering with the Home Depot to give a Traeger 34 Pellet Grill away and I picked his family!
He kept repeating, "Are you sure?"
I promised I was, but he must not have believed me because about a hour after the phone call he called me back once again asking if I was positive this was happening. I laughed and assured him it was.
He kept telling me things like this never happens to him and he just couldn't believe it!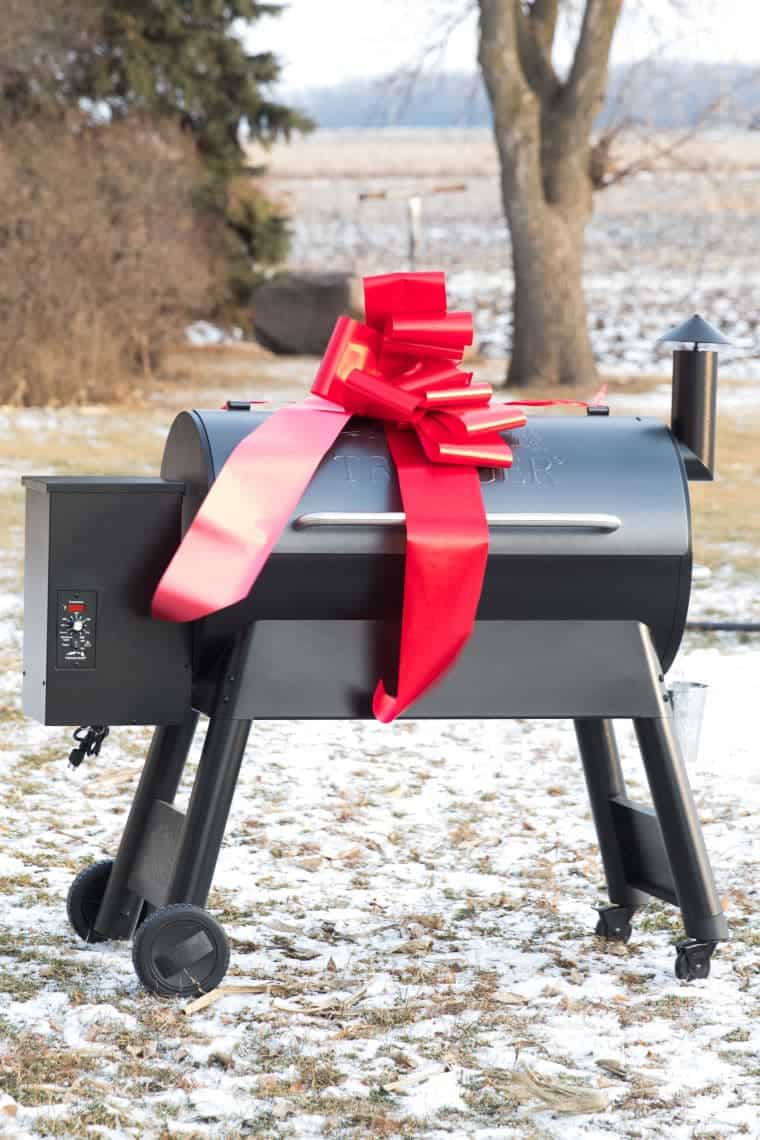 Fast forward a few weeks and it was time to deliver this the Traeger Eastwood 34 Pellet Grill to our favorite family and "Pay it Forward"!
To say they were excited was an understatement.
As we pulled into their farmyard I could see the kids on the couch with their faces plastered to the window watching for us. As soon as we pulled up they were bouncing up and down and I can just imagine what they were saying to Mom & Dad!
They all came bounding out of the house along with Mom & Dad excited to see what we had for them.
As you can tell from the picture they were more than happy to pose with the Traeger and have some fun even though it was super windy and cold (check out my husband's pose by the grill with John & Jen!).
They asked us what to try on their pellet grill first and we recommended The Twice Smoked Spiral Ham with Honey Glaze or the Brined Smoked Turkey!
It was such a fun moment to Pay it Forward after many years of teasing between John and I. I hope they enjoy their Traeger as much as we do! A huge shot out to the team at Home Depot for giving me this chance to do this. They are awesome!
Have you ever had a chance to "Pay it Forward" in life? 'Tis the season with Christmas around the corner! I would LOVE to hear your stories!
Read all about the amazing Traeger Eastwood 34 Pellet Grill HERE!