Traeger Eastwood 34 Pellet Grill Review
It's time for a Traeger Eastwood 34 Pellet Grill Review that is available exclusively at the Home Depot! I was asked by Home Depot and Traeger to review this electric smoker and I'm going to share with you the honest, the good and the bad! If you are looking for a pellet grill keep reading!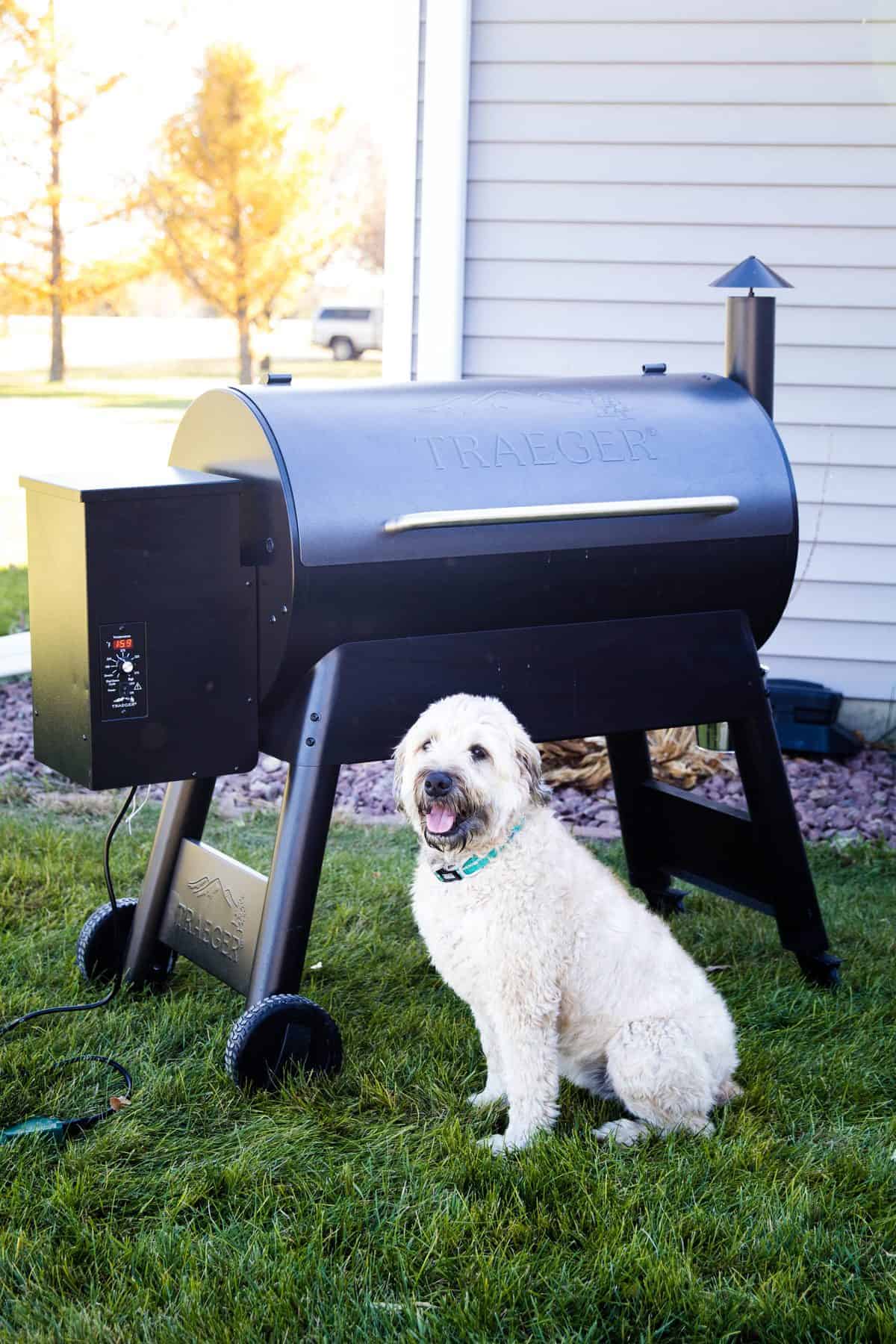 This post is sponsored by Home Depot and includes affiliate links where we earn a small portion off of your purchase at no extra cost to you.
Traeger Eastwood 34 Features
Traeger brand was developed over 30 years ago in Mt. Angel, Oregon. It continues to lead the industry as the worlds #1 selling wood-fired grill. We love the ease of use in the Traeger brand of grills. The fact the temperature is controlled with a digital controller means that it's mostly hands off which is very important to us in this stage of our life where there seems to be a million things happening at once!
Here are the stats for the Traeger Eastwood 34!
646 sq. in. grilling area
Available exclusively at The Home Depot
Digital Elite Controller maintains temperature, just like your oven
Fueled by 100% pure hardwood pellets. Real Wood, Real Flavor
18 lb hopper capacity
Sawhorse Chassis
Powerful steel construction and durable powder coat finish
Versatility to grill, smoke, bake, roast, braise, and BBQ
Locking wheel casters for stability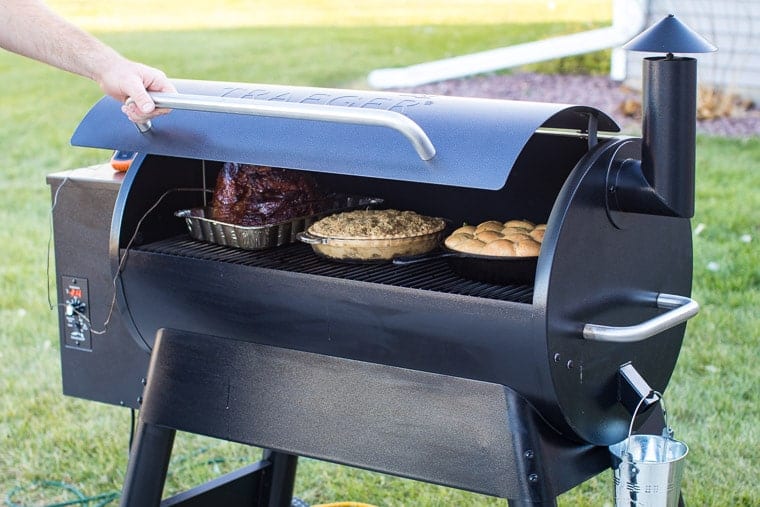 Let's break this wood-fired grill down!
First, let's talk size of the Traeger Eastwood 34. There is a whopping 626 square inches on this wood-fired grill. That's enough room to hold up to 24 burgers or 9 racks of ribs. Perfect for when you are entertaining and you want happy guests and full bellies!
Like I mentioned previously, we love the fact that it has a digital elite controller which is a must have for us. Its Set-it & Forget-it ability lets us simply set the dial to our desired temperature and go chase the kids around like we usually are doing! It's as simple as running an oven so if you are a beginner this grill is perfect for you. You just set your temperature and let the Traeger do all the hard work for you.
Another big plus for us is that it uses 100% Pure hardwood with flavors like Apple and Mesquite. This provides perfect blue smoke every time and infuses an amazing wood-fired flavor into everything you cook. You just pour the hardwood into your 18lb Hopper, then enjoy hours of cooking without needing to refill the hopper. Another reason why this smoker is so hands off!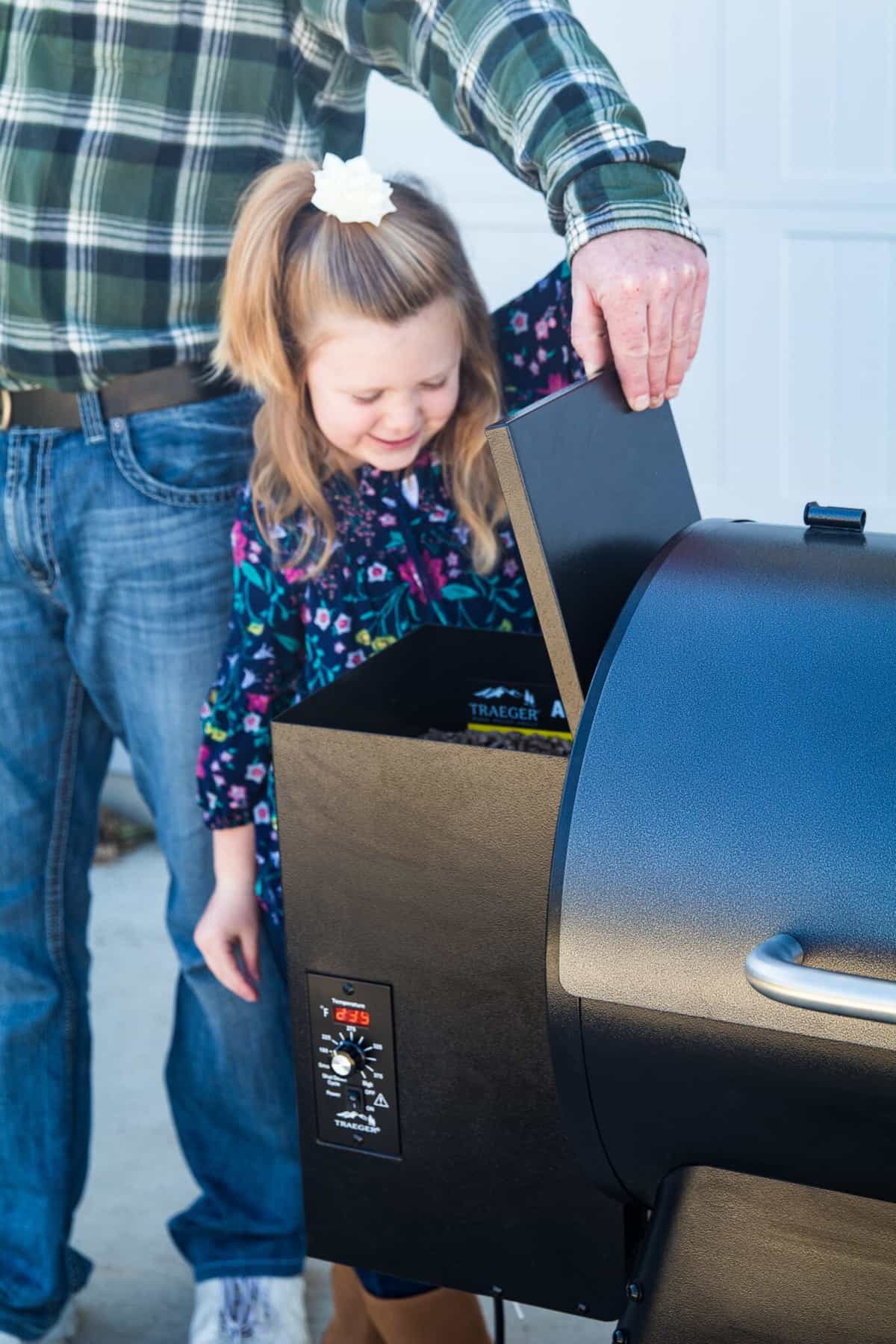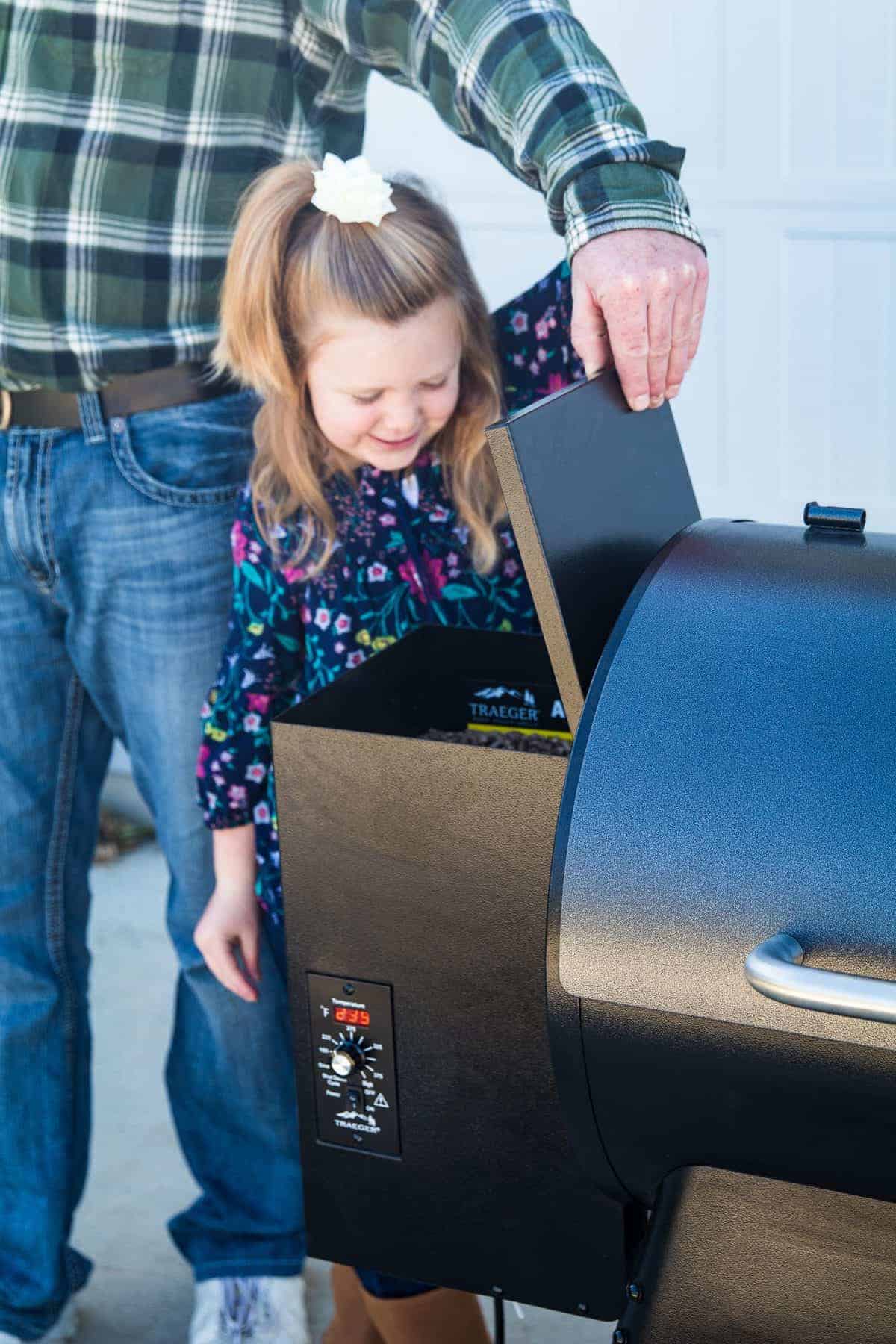 This Traeger has porcelain grill grates which are non-stick and make it easy to clean up no matter what you cook. I'm usually on clean up duty so this is a must for me!
We love that we can bring this grill wherever we are because of the All-Terrain wheels that roll over both rocks and pavers with ease.
Another great thing about this grill is that whenever I have family and friends over I never sweat making something on the smoker because I get reliable results thanks to the consistent temperatures every single time! There's nothing worse than hosting and your dinner is a flop! Traeger makes mastering your BBQ easy and repeatable!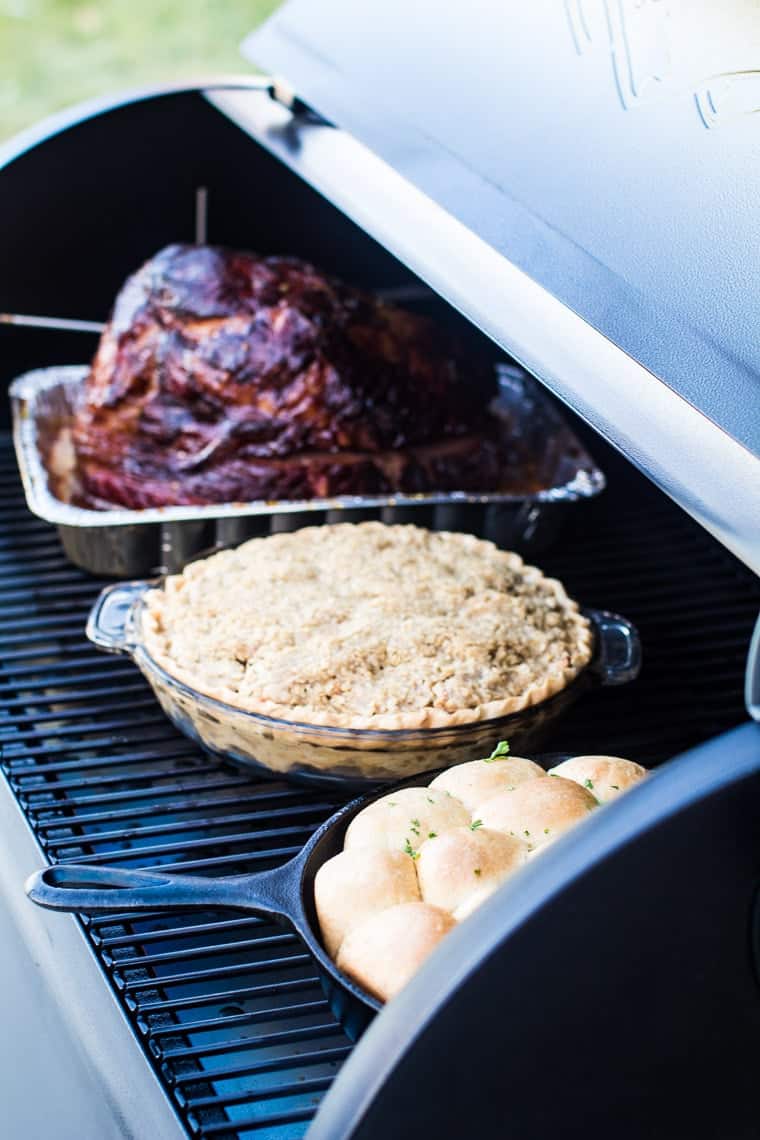 How a Traeger Eastwood 34 Works
I always find it interesting to know the inner workings of grills!
Did you know that Traeger's automated convection cooking system uses an auger that feeds hardwood pellets from the hopper into the fire pot where they come into contact with the hot rod and ignite.
Once again, all you have to do is set your desired temperature on the grill. It maintains that consistent temperature for perfectly cooked food every single time you use it that's bursting with smoke flavor.
The versatility of this Traeger is amazing too. We've smoked everything from dinner rolls, to apple pie to pork loin and had amazing results every single time!
Now, for the most important question!
Would I invest in a Traeger Eastwood 34?
Simple answer yes, without a doubt!
I think this Traeger is a great size option and will handle larger quantities nicely if you are cooking for a crowd, but yet is small enough to store.
We love using it and get great results every time. The size of the hopper is awesome so we aren't always filling it and the set it and forget it temperature control is another great win. These two things really seal the deal for us. We are a busy family and we want the delicious food from our Traeger without the hassle of babysitting it!
I highly recommend this Traeger Eastwood 34 that is available exclusively at The Home Depot!
Click Here to Buy Your Shiny New Traeger Eastwood 34 on HomeDepot.com!