Balsamic Glaze only requires two ingredients, honey and balsamic vinegar, and is super easy to make! Learn how to make your own balsamic glaze at home so you can top your chicken, fish, salads, pasta, bruschetta, steak, vegetables and more with it!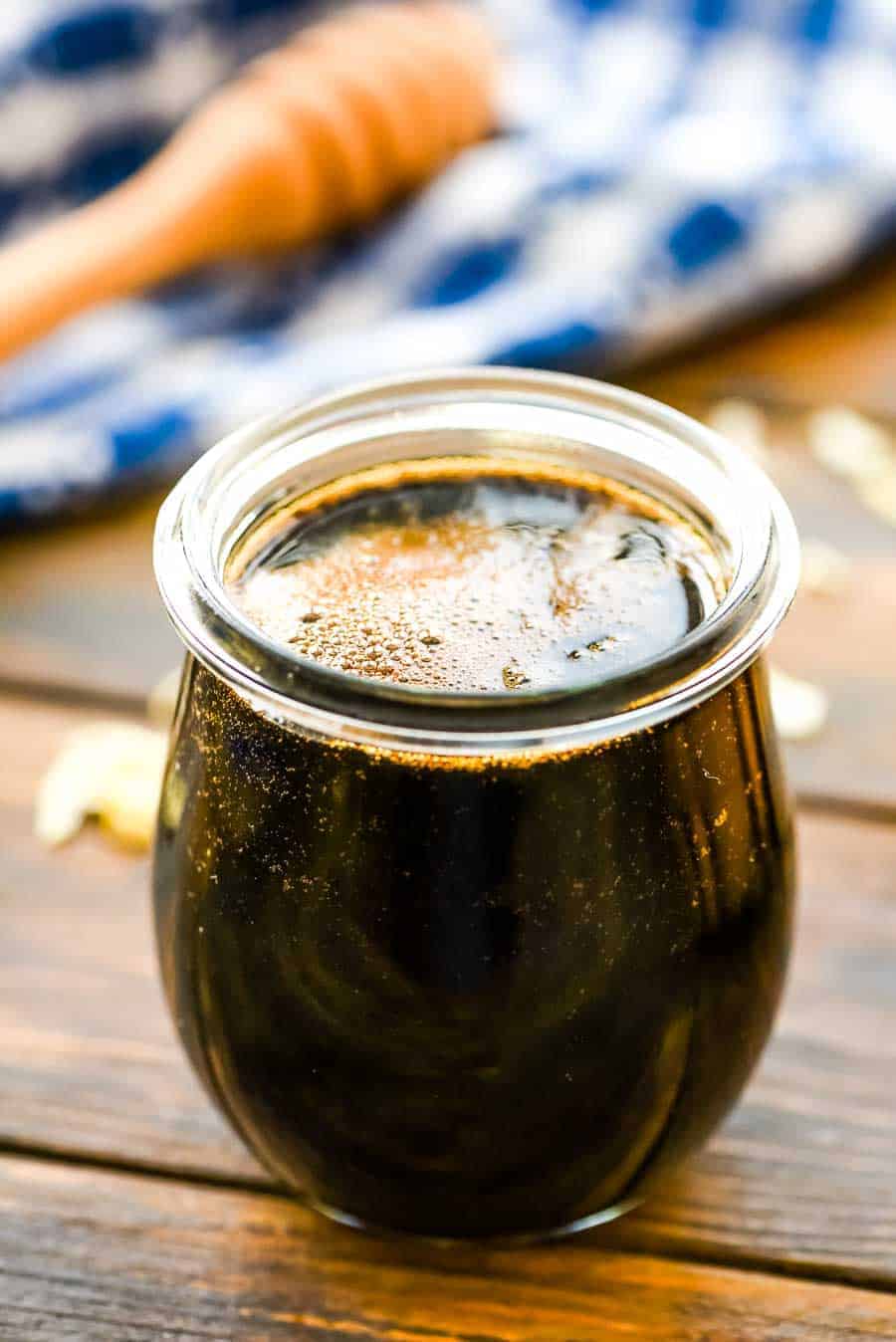 The Perfect Balsamic Glaze!
You're going to love the taste and consistency of this balsamic glaze. I've tried several throughout my life, and this has got to be my favorite, hands-down.
It's not too thick and not too thin which gives it the perfect drizzle, every single time.
Use a little or use a lot but just make certain that this glaze makes it onto your radar. It's such a nice addition to almost any type of meal.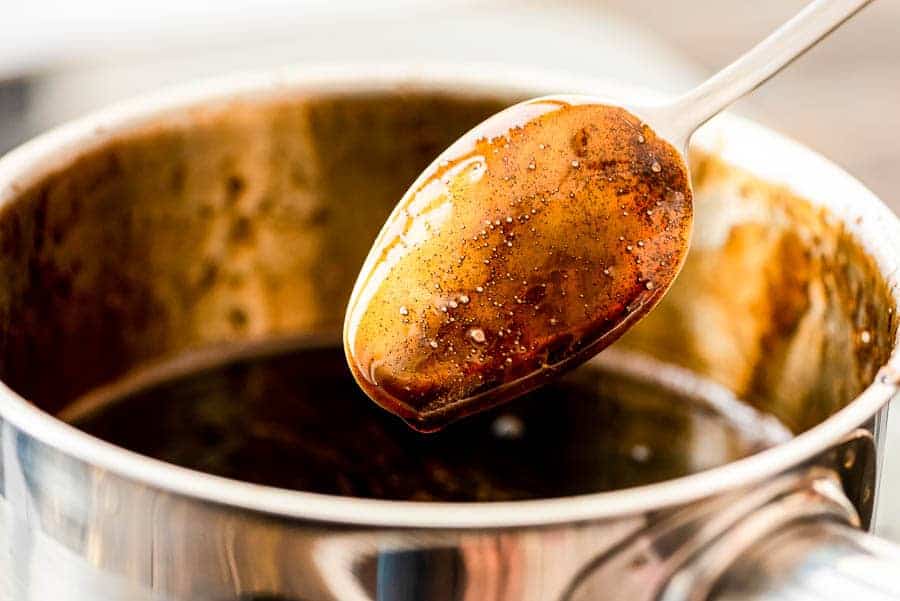 How to make Balsamic Glaze
If you'd rather skip my (very helpful, I think) tips and tricks, essential cooking info, and similar recipe ideas – and get straight to this delicious easy balsamic glaze recipe – simply scroll to the bottom of the page where you can find the printable recipe card.
Making this simple recipe is a breeze.
Add the balsamic vinegar into a pot on the stove and stir over medium heat until simmering. Once simmering, whisk in the honey and turn down the heat to low.
This will take about 7-10 minutes to complete.
What ingredients are in Balsamic Glaze
Can you believe that this simple glaze recipe only has two ingredients? Now you literally have no excuse at all not to make this!
The two ingredients that you'll need are:
That's it. Nothing more, nothing less. Pretty straight forward, right?!
What is Balsamic Glaze?
It's basically just when the vinegar turns a little bit sweeter because of how it's heated and cooked. It's also a tad bit thicker than using straight vinegar as well.
What is a balsamic glaze made of?
This glaze is made of two simple ingredients. Balsamic vinegar and honey. Since the vinegar will already get a little sweetness to it while it's cooking, it's not really a necessity to add in a ton more after that. The honey just gives it a little bit more sweetness and is the perfect addition.
Is balsamic glaze the same as balsamic reduction?
It's similar, but not the same. Balsamic reduction is often cooked in the same way that a glaze is, but it's not sweetened. What makes the balsamic glaze different is that there is added honey (or some people add in sugar) to give it a sweeter taste.
What do you put balsamic glaze on?
You can put it on anything that you want. It's so good on chicken, beef, pork…and ham! You can even have it as a topper for vegetables as well.
And if you're not a fan of topping it on everything because you don't know if you're going to like how it tastes, just put it in a side dish for dipping instead. That way, you can taste test without fully committing.
Is balsamic glaze bad for you?
With only two ingredients, it's not unhealthy for you. However, like anything in life, eating it in moderation is always a good idea. The added honey can up the sugar count by quite a bit so that is something to pay close attention to as well.
WATCH THE STEP BY STEP VIDEO FOR THIS BALSAMIC GLAZE RECIPE BELOW:
If you enjoy watching these videos make sure you subscribe to my YouTube Channel to be notified each time I post a new video!
Tag me on Instagram when you make this @gimmesomegrilling or #gimmesomegrilling – love to see your delicious eats!!
Did you make this? If you snap a photo, please be sure tag me on Instagram at @gimmesomegrilling or #gimmesomegrilling so I can see your grilling masterpieces!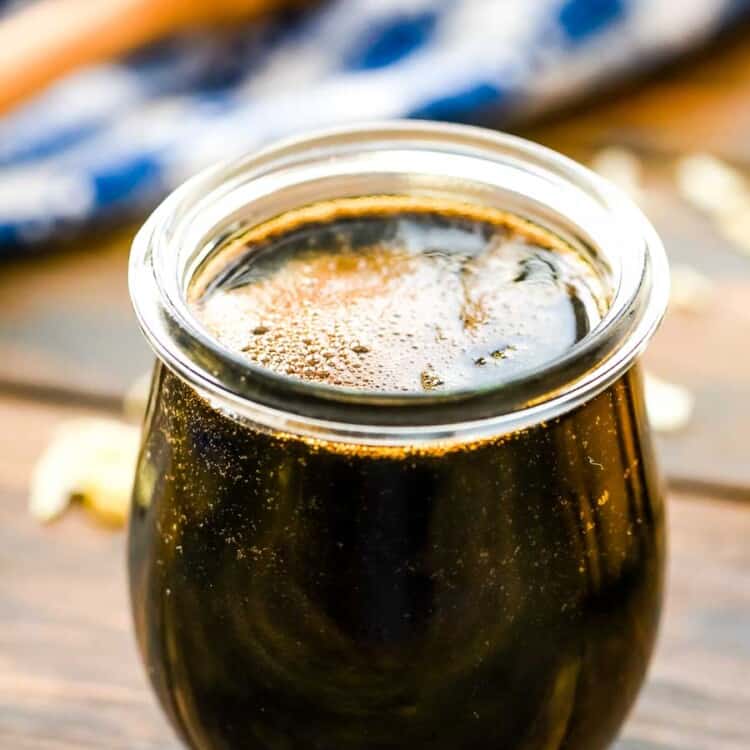 Balsamic Glaze
Learn how to make balsamic glaze with only two ingredients!
Ingredients
1

c.

balsamic vinegar

2

Tbsp

honey
Instructions
Heat balsamic vinegar in a small saucepan over medium heat and bring to a simmer.

Whisk in honey.

Bring to a simmer and turn down to low heat. Simmer, stirring occasionally until mixture has reduced by half and has started to thicken. This will take about 7-10 minutes.

When mixture is done it will stick to the back of a spoon.

Pour into a small glass jar or bowl. Cover and store in refrigerator until you need to use it. It will thicken as it cools.

This stays good for up to one month.
Nutrition Information
Calories:
336
kcal
(17%)
,
Carbohydrates:
75
g
(25%)
,
Protein:
1
g
(2%)
,
Sodium:
56
mg
(2%)
,
Potassium:
265
mg
(8%)
,
Sugar:
70
g
(78%)
,
Calcium:
64
mg
(6%)
,
Iron:
2
mg
(11%)