You'll want to have this beef rub in your pantry whenever you are grilling or smoking any beef on your Traeger! Mix up the perfect blend of spices, then store it in an airtight Mason jar for up to four months so you are always ready. It's perfect for using on steaks, Poor Man's Burnt Ends, roast beef and more. It will take your smoked or grilled beef to mouthwatering!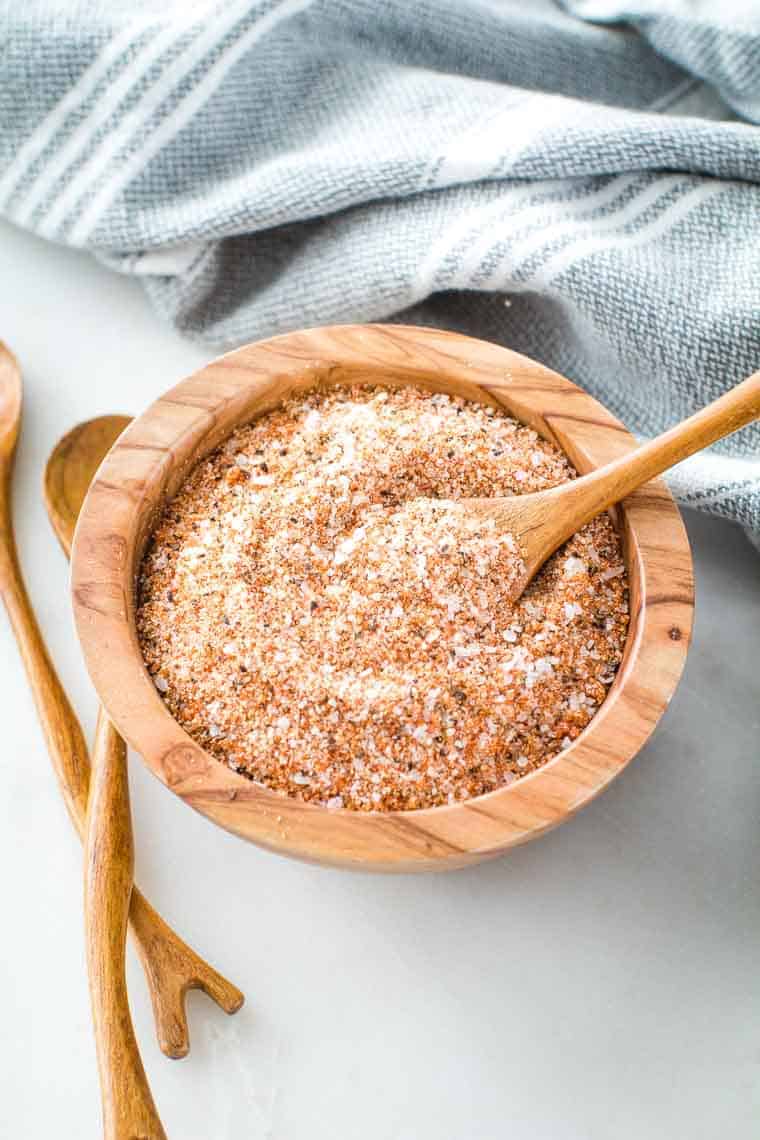 Beef Rub
I have lots of tasty rubs on the blog, Montreal Steak Seasoning, Brisket Rub and Dry Rub for Ribs but I'm telling you, it's time to mix up this beef rub because you're ready to grill, right?
I say this as I'm standing at the counter, gazing out the window looking at ALL. THE. SNOW. Seriously… is this ever going to end?
It's a really good thing we invested in this AMAZING blanket for our Traeger this winter.
Worth.Every.Penny.
Are you tired of me whining about the snow? And the cold? Brrr!!!! Probably, but I can't help it! I'm ready for spring, come on baby!
Ok. I'll stop! For my friends living in the sunshine, it's time to put this rub together because I know you're already grilling, right? Fantastic! You'll love how easy this rub is to make!
It also make a divine rub for when you are smoking.
We had it on steaks last week and my mouth is watering just thinking about them!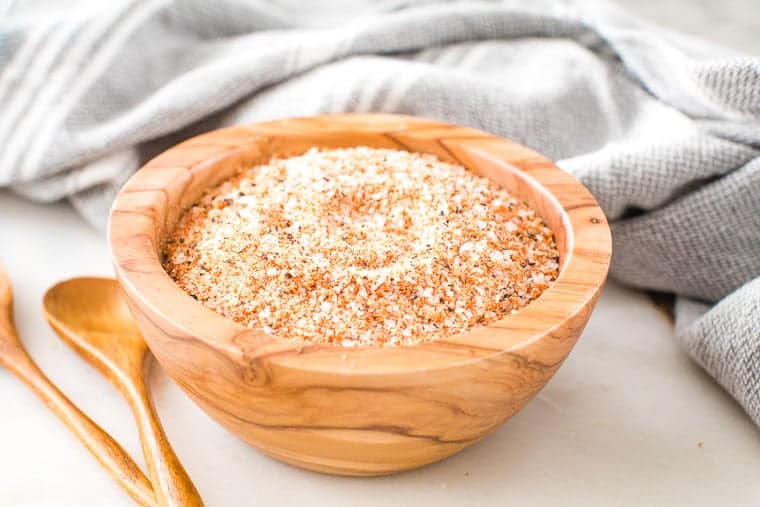 Beef Rub Recipe
It also make a divine rub for when you are smoking.
We had it on steaks last week and my mouth is watering just thinking about them!
What's a rub?
There are two kinds of rubs  — dry and wet. Dry rubs use dry herbs and spices. Wet rubs use spices but they also incorporate wet ingredients. It could be something acidic like lemon, lime or orange juice or a nice olive oil, it depends on the recipe. Both dry and wet rubs are an easy way to pump up the flavor of your beef without overpowering it.
How to apply a dry rub?
Applying a rub is simple. After you mix the ingredients together, rub the spice mixture all over the surface of the beef. Be sure to get all it in all the nooks and crannies! Allowing the meat to soak up the flavors will ensure you have a flavorful piece of beef!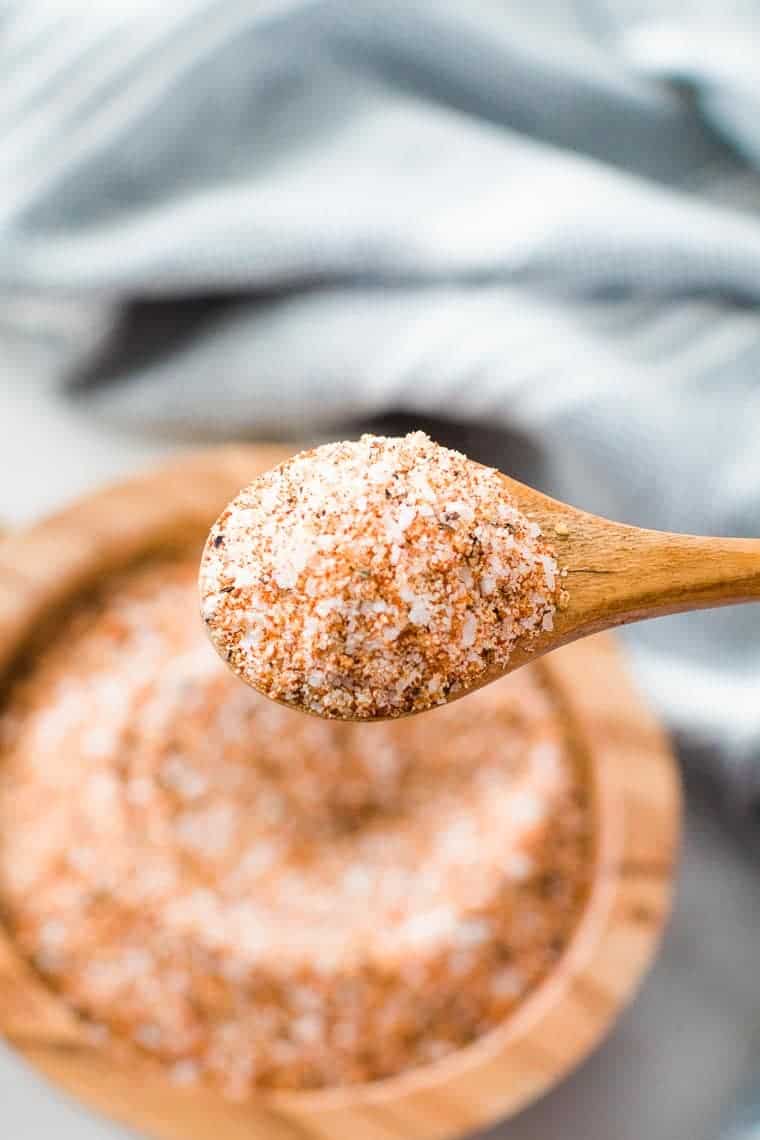 What do I need to make this Beef Rub Recipe
salt
brown sugar
garlic powder
ground black pepper
onion powder
white sugar
smoked paprika
You have everything right? Let's do this!
How to make the BEST Beef Rub!
It's easy! Simply combine all the ingredients, mix well and store in an airtight container. It will keep for 4-6 months!
I love storing it in these cute little mason jars and then writing on them so I know what's in it!
A homemade rub tastes 100 times better than what you buy in the store – no preservatives makes it more fresh and flavorful!
Plus, it's easy to make and you can personalize it to your taste! You'll definitely want to give this a try!
More rub recipes that I'd love for you to try!
Don't forget, comment below and let me know how much you love this beef rub! And because I'm stuck in the snow and cold I can live vicariously if you share YOUR grilling pics! Tag me so I can see it too! You can find me at
@gimmesomegrilling
 or just #gimmesomegrilling – if you hashtag me, I'll get to see it that way too!
Did you make this? If you snap a photo, please be sure tag me on Instagram at @gimmesomegrilling or #gimmesomegrilling so I can see your grilling masterpieces!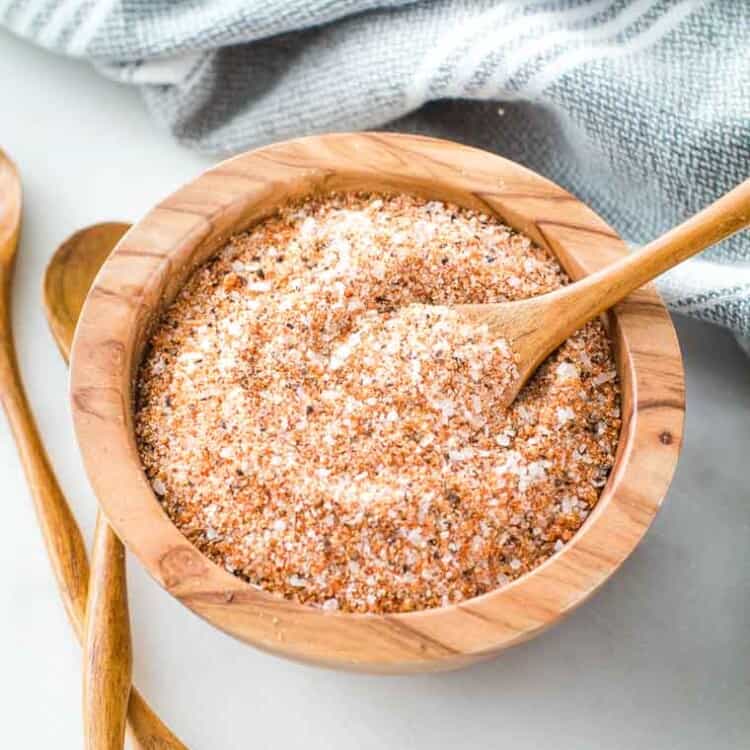 Beef Rub Recipe
Quick and easy recipe for beef rub! Made with pantry ingredients. Perfect for using on steak, roasts, burnt ends and more. Keeps in an airtight container for up to four months!

Ingredients
1/4

c.

kosher salt

2

Tbsp

brown sugar

1

Tbsp

garlic powder

2

tsp

ground black pepper

2

tsp

onion powder

1

Tbsp

white sugar

2

tsp

smoked paprika
Instructions
Mix all ingredients together. Store in an airtight container for up to four months.

Nutrition Information
Calories:
207
kcal
(10%)
,
Carbohydrates:
51
g
(17%)
,
Protein:
3
g
(6%)
,
Sodium:
22943
mg
(998%)
,
Potassium:
307
mg
(9%)
,
Fiber:
4
g
(17%)
,
Sugar:
36
g
(40%)
,
Vitamin A:
1970
IU
(39%)
,
Vitamin C:
1.2
mg
(1%)
,
Calcium:
70
mg
(7%)
,
Iron:
2.2
mg
(12%)