Caesar Grilled Chicken Breasts
Caesar Grilled Chicken Breasts ~ Plump, Juicy Grilled Chicken Breasts that are marinated in a creamy Caesar Dressing. So full of flavor and tender! This is the perfect quick, grilling recipe for busy nights!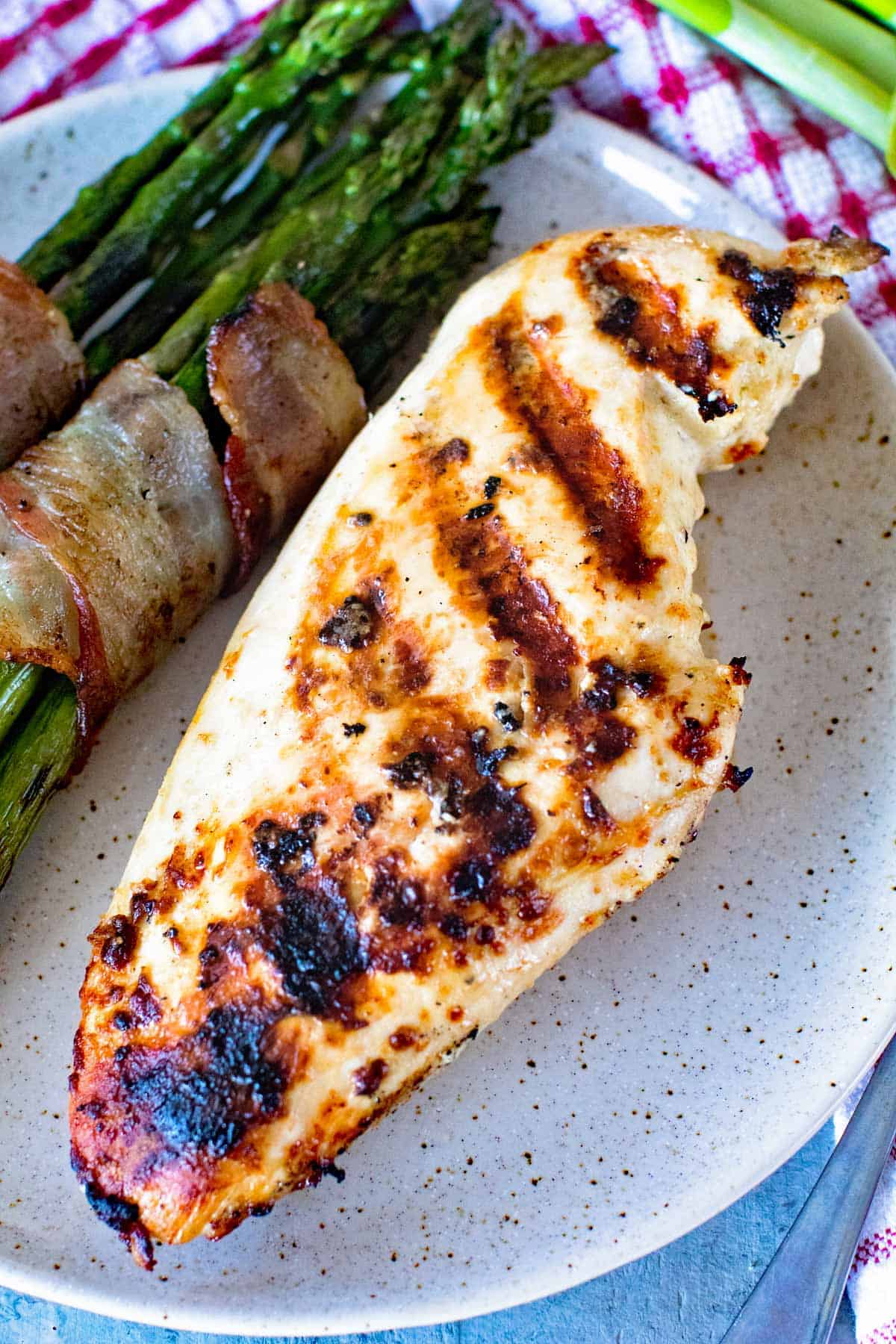 Grilled Chicken Breasts
Plump, juicy, tender chicken breasts hot of the grill! Nothing is better than that? Ok, maybe not nothing, but they rank right up there!
I literally just had someone ask how to get a juicy chicken breast off the grill. Slow and low is my tip! These Caesar Grilled Chicken Breasts are marinated and then grilled. They are amazing! Serve them plain, throw them on a bun, or on your Caesar Salad. If you have leftovers they make a delicious wrap too!
Ingredients for Caesar Grilled Chicken Breasts
Creamy Caesar salad dressing
Olive oil
Dijon mustard
Garlic cloves, minced
Boneless skinless chicken breast halves
As I've started a new adventure in my life, aka a grilling blog, I've noticed that most blogs focusing on grilling and smokers tend to be super complicated. The majority of the recipes take hours, days even if you are smoking and are a bit tedious.
Sure, I'll throw in a few of those, but the majority of my focus will be easy grilling recipes that the every day griller can make. They will leave you feeling accomplished.
Think grilling recipes you can make after work in thirty minutes, feed the family and get back to doing what you need to be doing!
That's how I roll.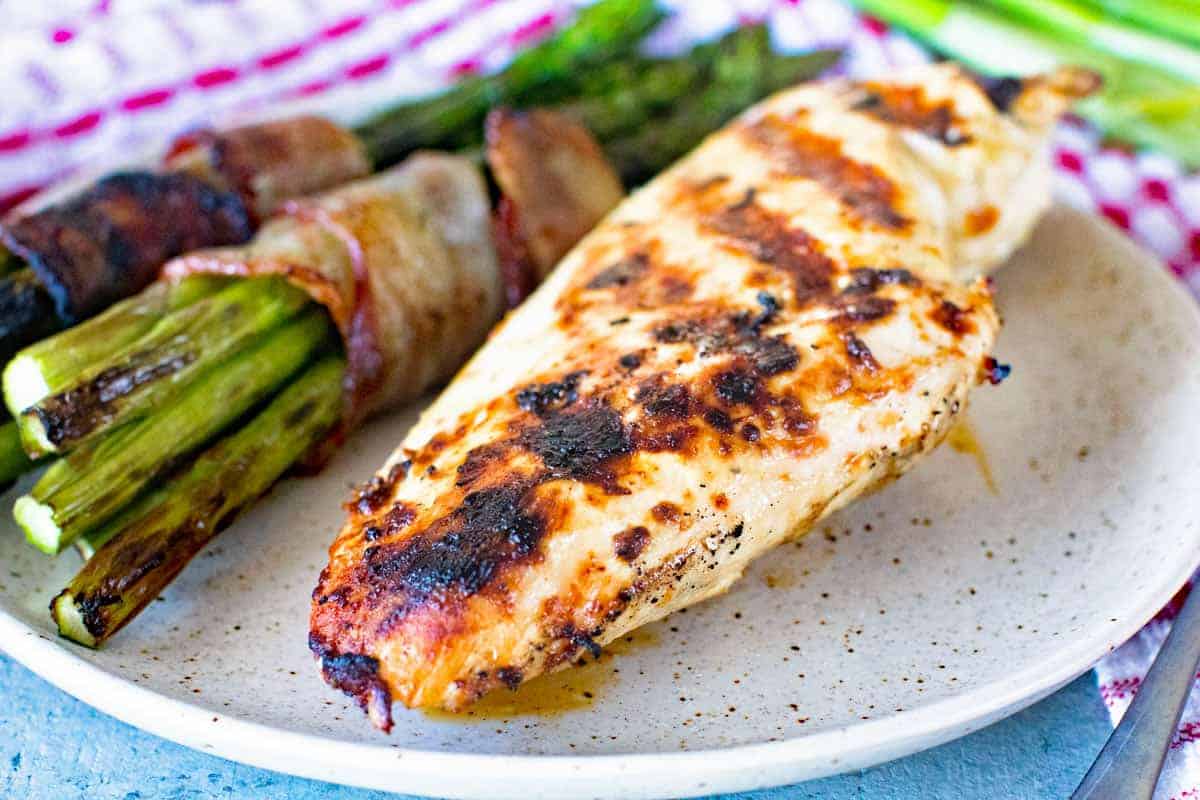 Lately I've gotten a little taste of what is to come in my future. Miss K has been in basketball and gymnastics and I've been running her to and from activities.
This is my first go around with this since she's in kindergarten. Yes, it starts already! That's what I'm thinking at least.
Gymnastics is only two weeks long, but it's right after school so I'm cutting my day short to run and get her then hustle over to gymnastics, watching her for a hour, hustling home and making dinner, tackling homework and then bath time!
By the end of the night Mom's needing a glass of wine and the couch, but then there's laundry calling my name or a floor to sweep or dishes to do.
You know the grind!
Henceforth why you will rarely see a recipe on here that takes over thirty minutes.
Momma don't have time for that business! I need quick, fast and something the kiddos will eat!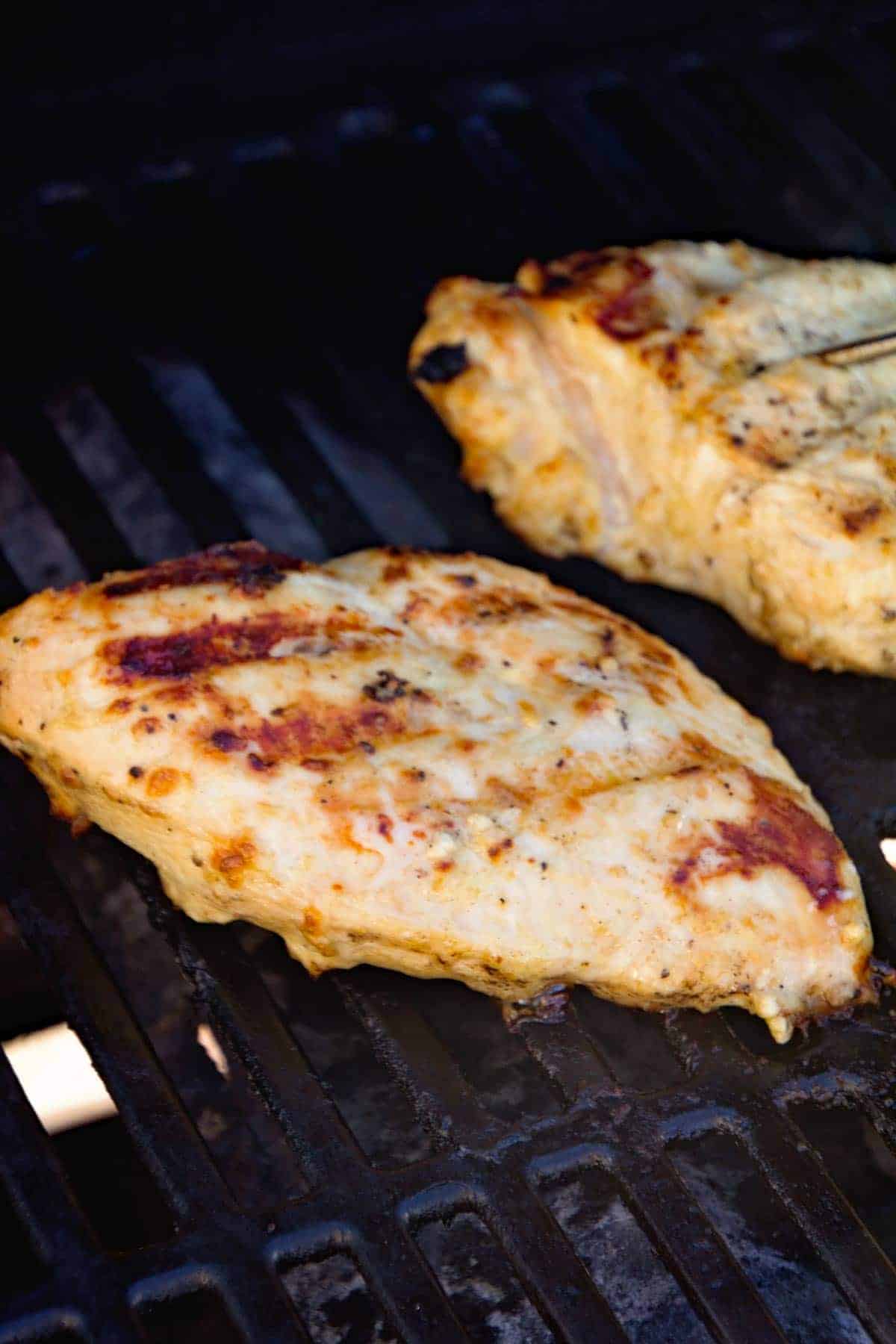 It is so much fun to watch her try out these new activities. Here I am hoping she's the best and she's out there just having fun with a smile on her face. That kid reminds me of the right way to do things. She's so proud when she learns something new.
I adore that when she's done with the beam or the trampoline, she turns to me beaming with a smile spread across her face looking for Mom's approval.
Now, if only sports could stay like that! Unfortunately, I know what comes all to soon. The competiveness. The sitting on the bench if your name isn't right.
Uhhhhh I mean, it's SOOOO much fun always.
I was brought back to my days of sports when I showed up on the first day of gymnastics and saw a sign on the door they had moved kids up to different levels due to increased participation. Of course, my child did not get moved up. I had this internal battle. I was brought back to the days of the one never being moved up.
Miss K was none the wiser and was just excited to be there. I'm thinking, it's already beginning. I was a bit bitter but I shut my mouth and smiled through it because obviously that's what you do as a parent! Errrrr, well that's what you should do as a parent! Some people miss that memo….
As long as she's enjoying herself, right?
If you are looking for a new twist on your grilled chicken this Caesar Grilled Chicken Breasts recipe is the answer! It's a quick and simple marinade made of Caesar dressing then a quick trip to the grill.
Tools Helpful When Making Caesar Grilled Chicken Breasts
Serve it with Bacon Wrapped Asparagus, Grilled Corn Salsa, Grilled BBQ Bacon Twice Baked Potatoes, Grilled Cauliflower Steaks and Grilled Caramel Apple Crisp to round out your meal!
WATCH THE STEP BY STEP VIDEO FOR THIS CAESAR GRILLED CHICKEN BREASTS RECIPE BELOW:
If you enjoy watching these videos make sure you subscribe to my YouTube Channel to be notified each time a post a new video!
Don't forget, comment below and let me know how much you love this meal! Post a picture on Instagram and be sure to tag me so I can see it too! I'm loving all of your delicious foodie pics! You can find me at @gimmesomegrilling or just #gimmesomegrilling -if you hashtag me, I'll get to see it that way too!
Did you make this? If you snap a photo, please be sure tag me on Instagram at @gimmesomegrilling or #gimmesomegrilling so I can see your grilling masterpieces!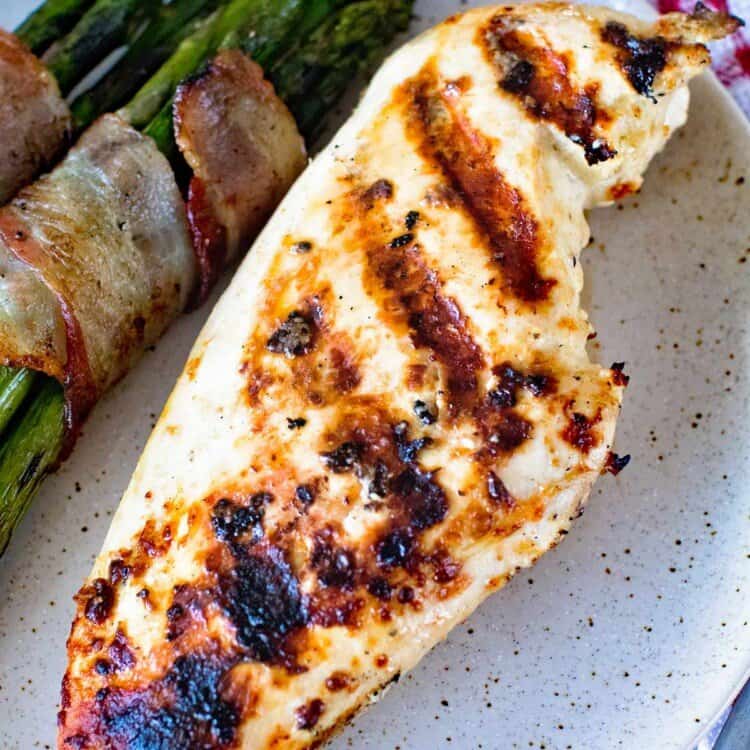 Caesar Grilled Chicken Breasts
Caesar Grilled Chicken Breasts ~ Plump, Juicy Grilled Chicken Breasts that are marinated in a creamy Caesar Dressing. So full of flavor and tender! This is the perfect quick, grilling recipe for busy nights!
Ingredients
1/2

c.

creamy Caesar salad dressing

3

Tbsp

olive oil

3

Tbsp

Dijon mustard

6

garlic cloves

minced

4

5 oz boneless skinless chicken breast halves
Instructions
Combine dressing, oil, mustard and garlic in a large resalable plastic bag. Add the chicken to the marinade and turn to coat.

Refrigerate 8 hours or overnight.

When ready to grill the chicken preheat grill to medium heat.

Remove chicken from marinade and discard extra marinade.

Place chicken on grill, cover grill and grill over medium heat for 6-8 minutes on each side or until meat thermometer reads 170 degrees.
Tips
You can also make this in the oven. Simply broil the chicken breasts 4 inches from the heat for 6-8 minutes or until meat thermometer read 170 degrees. 
Nutrition Information
Calories:
396
kcal
(20%)
,
Carbohydrates:
3
g
(1%)
,
Protein:
25
g
(50%)
,
Fat:
31
g
(48%)
,
Saturated Fat:
4
g
(25%)
,
Cholesterol:
83
mg
(28%)
,
Sodium:
617
mg
(27%)
,
Potassium:
451
mg
(13%)
,
Vitamin A:
35
IU
(1%)
,
Vitamin C:
2.7
mg
(3%)
,
Calcium:
35
mg
(4%)
,
Iron:
1
mg
(6%)
Recipe From: Taste of Home