Delicious charred Romaine from the grill that's perfectly crispy! Seasoned with salt and pepper then topped with Caesar Salad Dressing and Parmesan crisps. This Grilled Caesar Salad is the perfect side on the grill!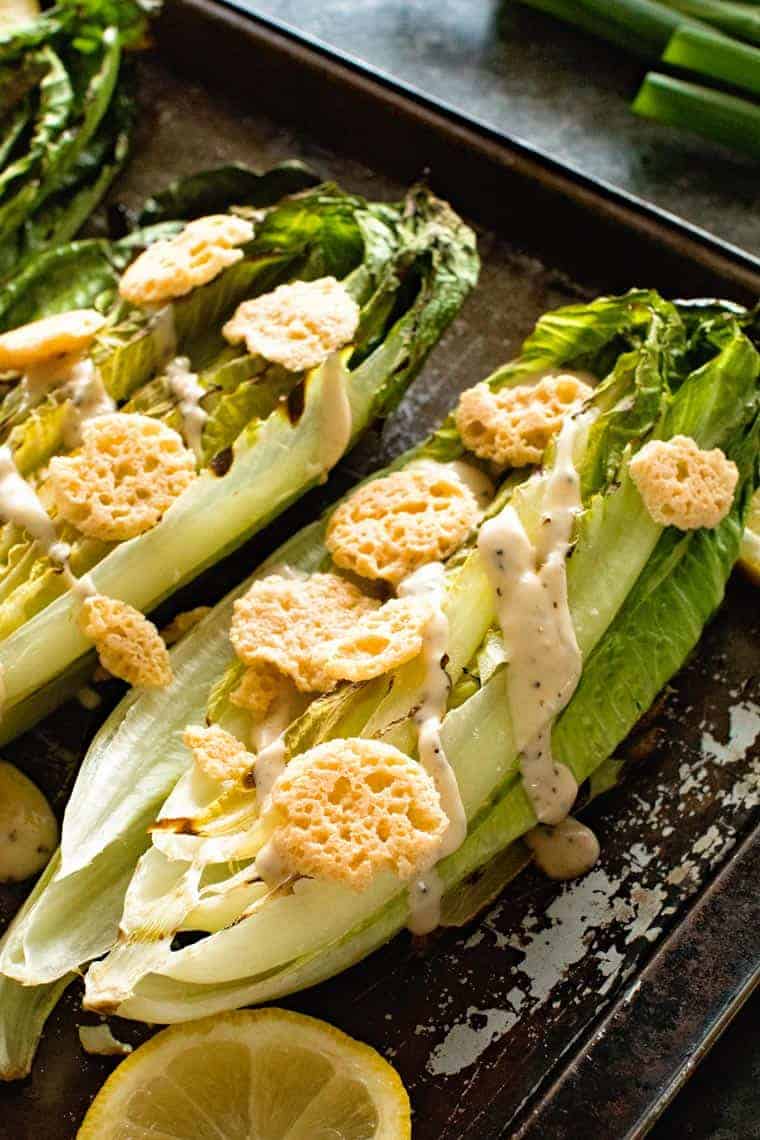 Caesar Salad
Crisp romaine lettuce that's slightly charred from the grill topped with tangy Caesar salad dressing and Parmesan crisps is the perfect side dish. It's so easy and yet it's so fancy! No one will know it took you minutes to prepare!
I know you are wondering about this one right?
I was first introduced to this one when I was at a blog conference in Portland, Oregon a few years ago. My mind was blown. I would have never thought to try this on my own, but after being served it in the restaurant I couldn't get it out of my mind.
If someone would have told me to try this I would have expected that the lettuce would be wilted, but it's not!
Surprise! Surprise!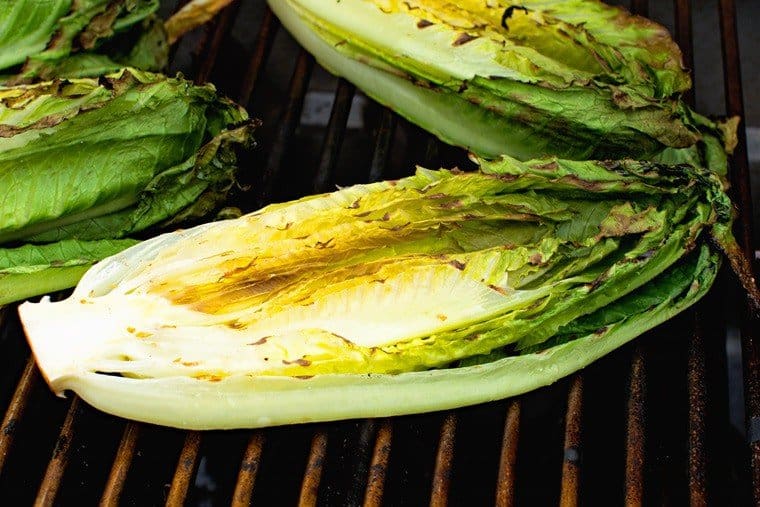 Grilled Caesar Salad
When we have people over I'm always looking for a new side dish. It seems like I'm always doing the same old salad or potato. I know they work but it's always fun to try something new.
Especially something new that is easy to make and doesn't heat up your kitchen!
I've began my "grill all the things for the summer" campaign. It's finally warming up and when the kiddos are outside all night it's easier to be out there grilling then inside making dinner. I can't believe last year I could barely turn on a grill, let alone grill an entire meal.
This new blog has definitely got me out of my comfort zone and made me try new things that's for sure, but honestly I'm loving it. It's kind of like when I bought my Instant Pot…. I didn't embrace that right away either.
It's so nice to be able to use different cooking methods to keep things fresh with your meal plan.
One thing I can't believe about my kids is that they love eating lettuce! When they were just little they asked to try it and of course that was a yes by Mom. I didn't actually expect them to like it but they did!
One rule I made early on was that my husband can not say anything negative about vegetables to our kids. He's a vegetable hater other than peas, corn and beans. I'm trying to make our kids a bit more adventurous than that. So far, it's going well, but the oldest is only five so I'm waiting for them to change their mind!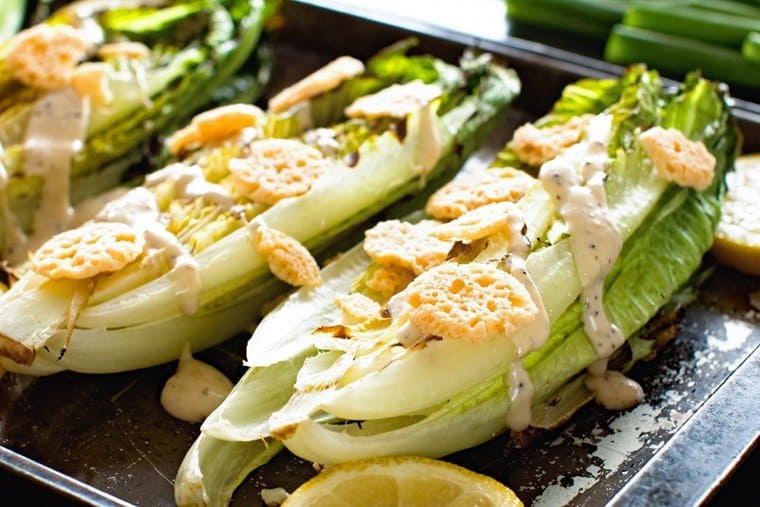 If you are looking for an easy side dish on the grill grab these four ingredients, unless you count salt and pepper as ingredients then it's six, and head out the grill tonight!
How to Grill Caesar Salad:
First, preheat your grill to medium high.
Cut your heads of romaine lettuce in half the long way.
Drizzle oil over the top of the romaine lettuce. Season with salt and pepper.
Place on grill and cook 1-2 minutes per side or until just slightly charred. Flip over and grill and additional 1-2 minutes on that side.
Place romaine lettuce on plates, drizzle with Caesar salad dressing and top with Parmesan crisps and enjoy!
COMPLETE THE MEAL WITH THESE RECIPES: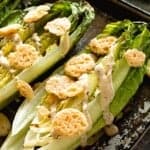 Grilled Caesar Salad
Ingredients
2

heads romaine lettuce

2

tsp

olive oil

salt and pepper

to taste

4

Tbsp

caesar salad dressing

1/4

c.

Parmesan crisps
Instructions
Peheat your grill to medium high heat.

Slice heads of romain lettuce in half lengthwise. Lay on baking sheet. Drizzle with olive oil and season with salt and pepper.




Place romaine on grill cut side down. Grill for 2-3 minutes or until charred. Flip and grill an additionl 2-3 minutes.

Remove from grill and drizzle dressing on top and top with Parmesan crisps.
Nutrition Facts
Grilled Caesar Salad
Amount Per Serving
Calories 101
Calories from Fat 90
% Daily Value*
Total Fat 10g 15%
Cholesterol 5mg 2%
Sodium 178mg 7%
Potassium 34mg 1%
* Percent Daily Values are based on a 2000 calorie diet.