Craving a juicy steak full of flavor? Learn how to cook Grilled Ribeye Steak on your gas grill with the perfect amount of seasoning. They are so easy to make, mouthwatering and delicious. We will tell you exactly how long to grill your steaks to get the level of doneness you'd like so they are melt in your mouth delicious every single time.
Ribeye is perfect for an easy dinner during the week or entertaining on the weekends at your backyard BBQ! It's a juicy tender steak that is so easy to grill.
Ribeye steaks have quite a bit of marbling that makes them so delicious. Pair your steak with a grilled Caesar salad and your backyard will feel like a fancy steakhouse!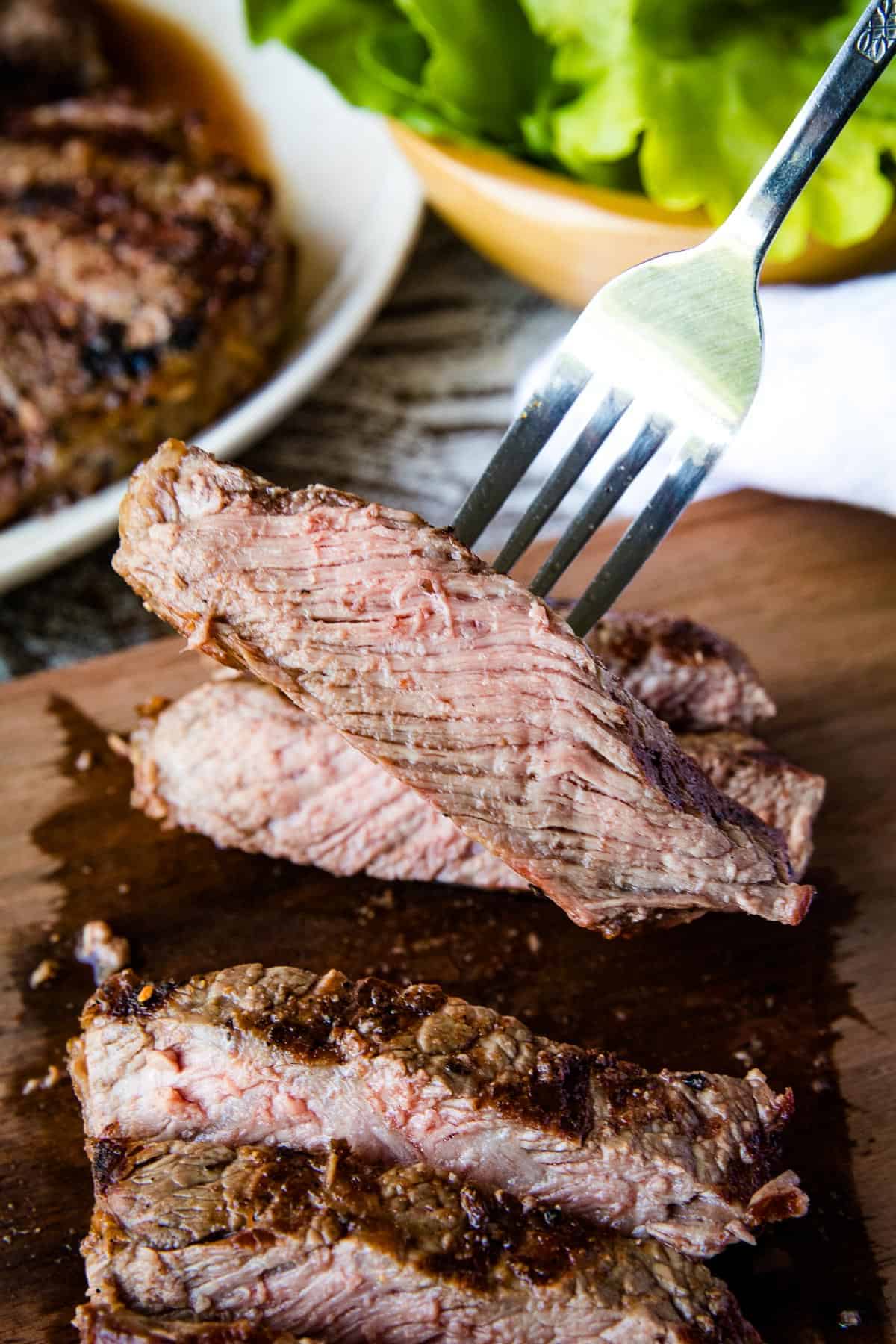 *This post was developed in partnership with Tyson Fresh Meats, Inc. All opinions expressed are my own.
It's summer out and there's nothing like a steak for dinner! This Grilled Ribeye is so juicy, tender, and delicious. It's just what dreams are made of when you are imagining the perfect steak for dinner. There's just something about summer and a grilled steak that go together.
Plus, it's so easy to make! All you need is your Star Ranch Angus® ribeye steak and seasoning. Check out the store locator for where to find Star Ranch Angus® near you.
What are you waiting for? Fire up that grill, grab your ribeye and start grilling! You will love how easy this ribeye steak recipe is.
Ingredients Needed for Grilled Ribeye
Ribeye Steak – We used a boneless cut, but you could also use bone-in steak. Our steaks were 12-16 oz. If yours are a different size, just adjust the grilling time accordingly.
Beef Seasoning – We season steak with our beef seasoning, but you can use your favorite seasoning. A simple sprinkle of ground black pepper and salt is delicious too!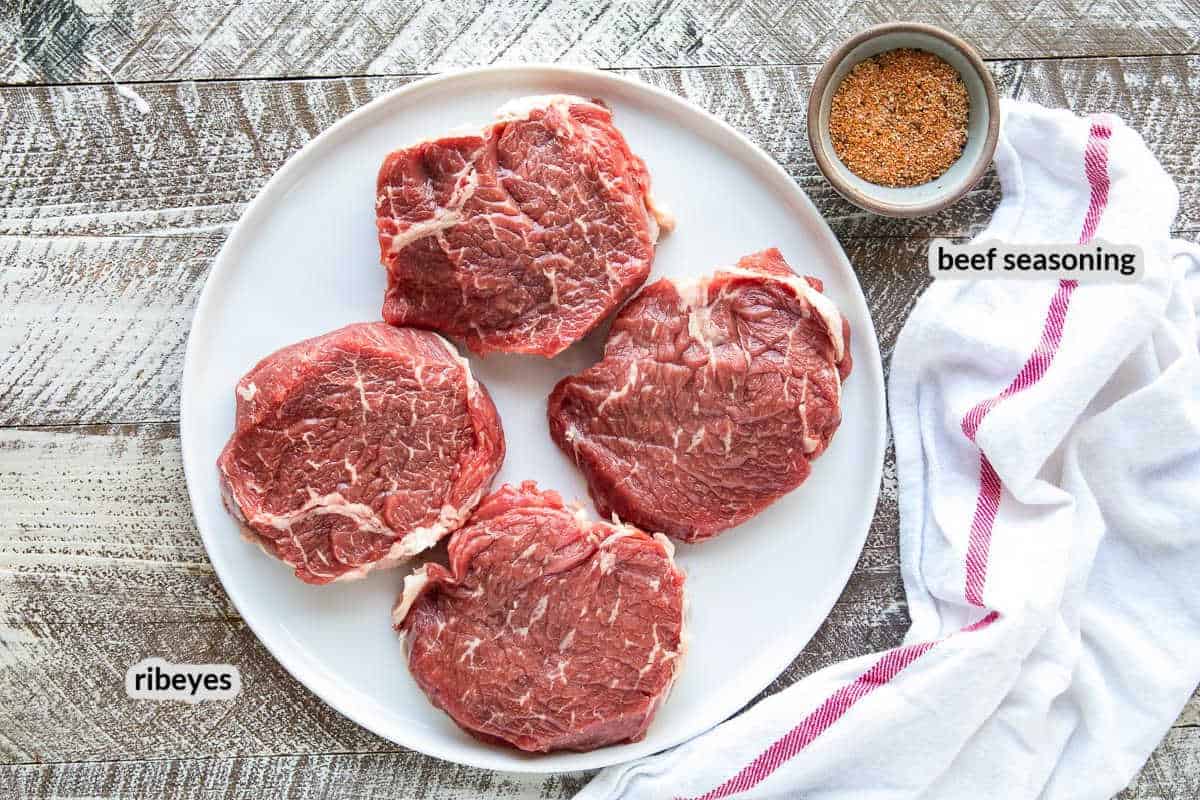 How To Grill A Ribeye
Let it rest – Remove ribeye from the refrigerator. Let rest at room temperature for 30 minutes. Bringing it to room temperature helps the steak cook more evenly.
Prep – Clean the grill grates and oil them. and preheat the grill to 450 – 500 degrees F.
Season & Grill – Place steaks on the hot grill, sprinkle the steak seasoning over the top, and close the lid. Grill on the first side for about 6 minutes. This gets those nice grill marks and sears in the juices. Flip steak over, close the lid, and grill an additional 5-6 minutes to get to about 145 degrees F. This is medium-medium well. If you want a rare steak, cook less on both sides.
Rest & Serve – Remove steaks from the grill and rest them on a plate or cutting board for five minutes, tented with foil. This is essential, so don't skip this step. It helps redistribute the juices after it cooks and makes your steaks so tender and juicy!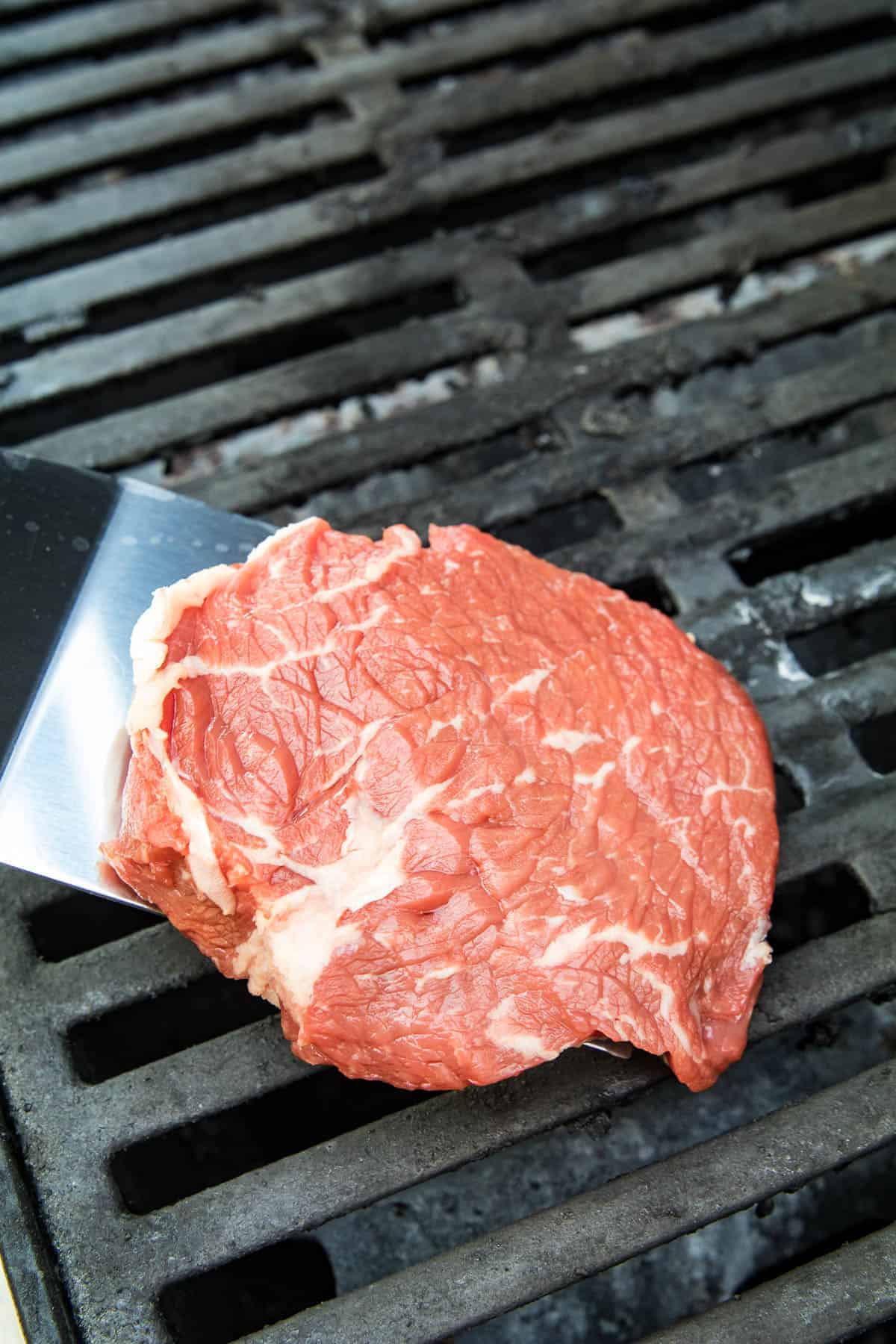 How long do you grill a ribeye steak on the grill?
The cook time is going to depend a lot on the size of the steak and its thickness, whether it's boneless or bone in, and how hot the grill is.
We like our ribeye medium to medium-well done which takes about 10 to 12 minutes over high heat on a gas grill.
What Temperature Should I Grill My Steak Too?
This depends on your preference of doneness when it comes to enjoying your steak. It is essential to have a good instant-read meat thermometer to monitor the internal temperature of your steak.
Medium Rare – 145° F
Medium – 160° F
Well Done – 170° F
Can you use a marinade?
Yes, you can marinade ribeye steaks, too! Here are some of my favorites steak marinade recipes:
Is Bone-In Ribeye better than Boneless Ribeye?
Bone-in steaks are often juicier but they can be a challenge to cook – it's hard to know when they're done! That's why we like boneless ribeye steak – honestly, they're just as delicious and easier to cook.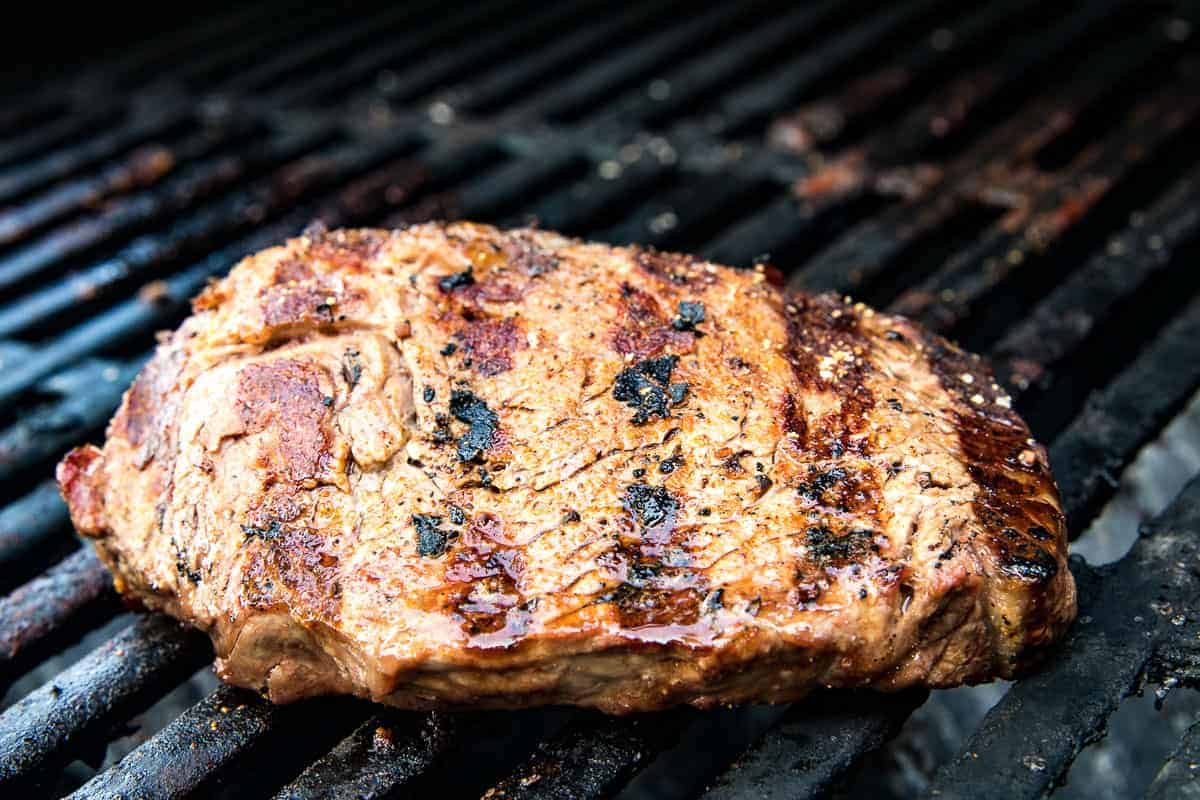 Tips And Tricks For Grilling Steak
Take the time to remove the steak from the refrigerator about 30 minutes before you are going to grill it. This will bring it to room temperature. The benefit of this is that it will cook more evenly.
We used our beef seasoning which we think is amazing, but your favorite steak seasoning is the perfect option also. Even a sprinkle of coarse salt and ground black pepper will make it mouth-watering.
The steak we used is 12-16 oz so it will be more than one serving.
You can check out more tips and tricks from the Star Ranch Angus® beef website.
Add Some Side Dishes
For more recipes featuring delicious Star Ranch Angus® beef, be sure to check out the recipes page, here.
Did you make this? If you snap a photo, please be sure tag me on Instagram at @gimmesomegrilling or #gimmesomegrilling so I can see your grilling masterpieces!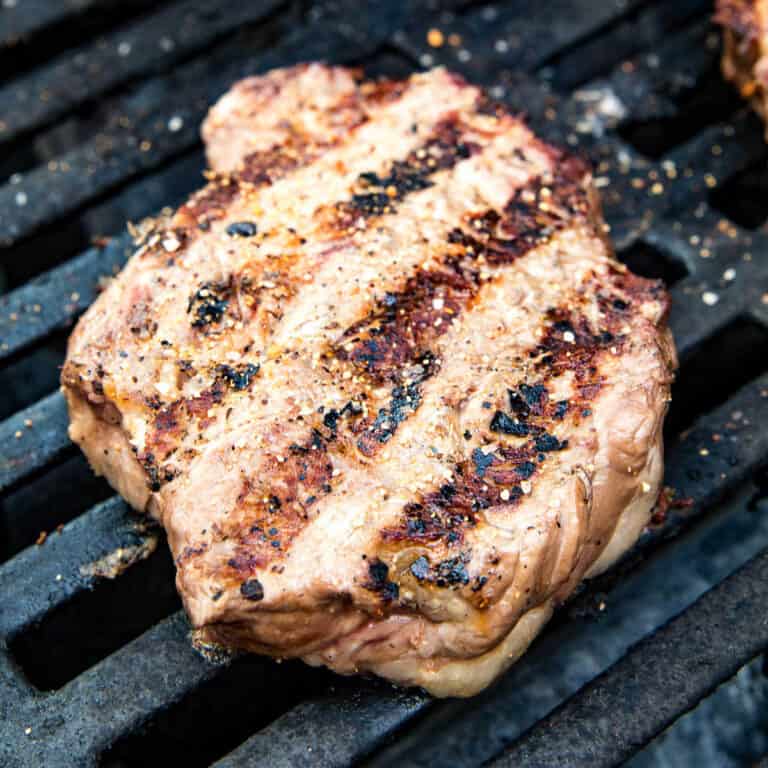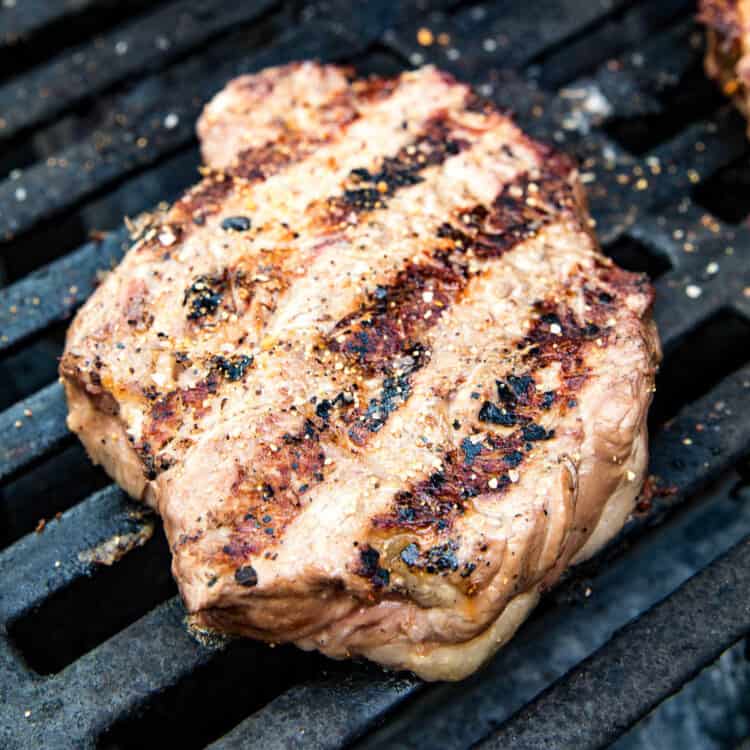 Grilled Ribeye Steak
Make a delicious, juicy ribeye steak on your gas grill for an easy dinner!
Instructions
Remove ribeye from refrigerator. Let rest at room temperature for 30 minutes.

Clean, oil and preheat grill to 450 – 500 degrees F.

Place steaks on grill, sprinkle with seasoning and close grill lid. Grill on first side about 6 minutes.

Flip steak over, close lid and grill an additional 5-6 minutes to get to about 145 degrees F. This is medium-medium well. If you want a rare steak cook less on both sides.

Remove steaks from grill and rest for five minutes.
Nutrition Information
Calories:
472
kcal
(24%)
,
Protein:
46
g
(92%)
,
Fat:
32
g
(49%)
,
Saturated Fat:
14
g
(88%)
,
Polyunsaturated Fat:
2
g
,
Monounsaturated Fat:
15
g
,
Cholesterol:
138
mg
(46%)
,
Sodium:
118
mg
(5%)
,
Potassium:
608
mg
(17%)
,
Vitamin A:
34
IU
(1%)
,
Calcium:
16
mg
(2%)
,
Iron:
4
mg
(22%)