Flank Steak Tacos are the perfect dinner recipe this summer! Juicy, delicious Flank Steak that is marinated in a simple lime marinade and then grilled to perfection.
Slice it in thin strips across the grain and then pile it into a tortilla and top it with Queso Fresco cheese, chopped cilantro, red onion, and tomatoes! Bite into this juicy taco and you will love it! The only thing you need is some grilled corn salsa to with them!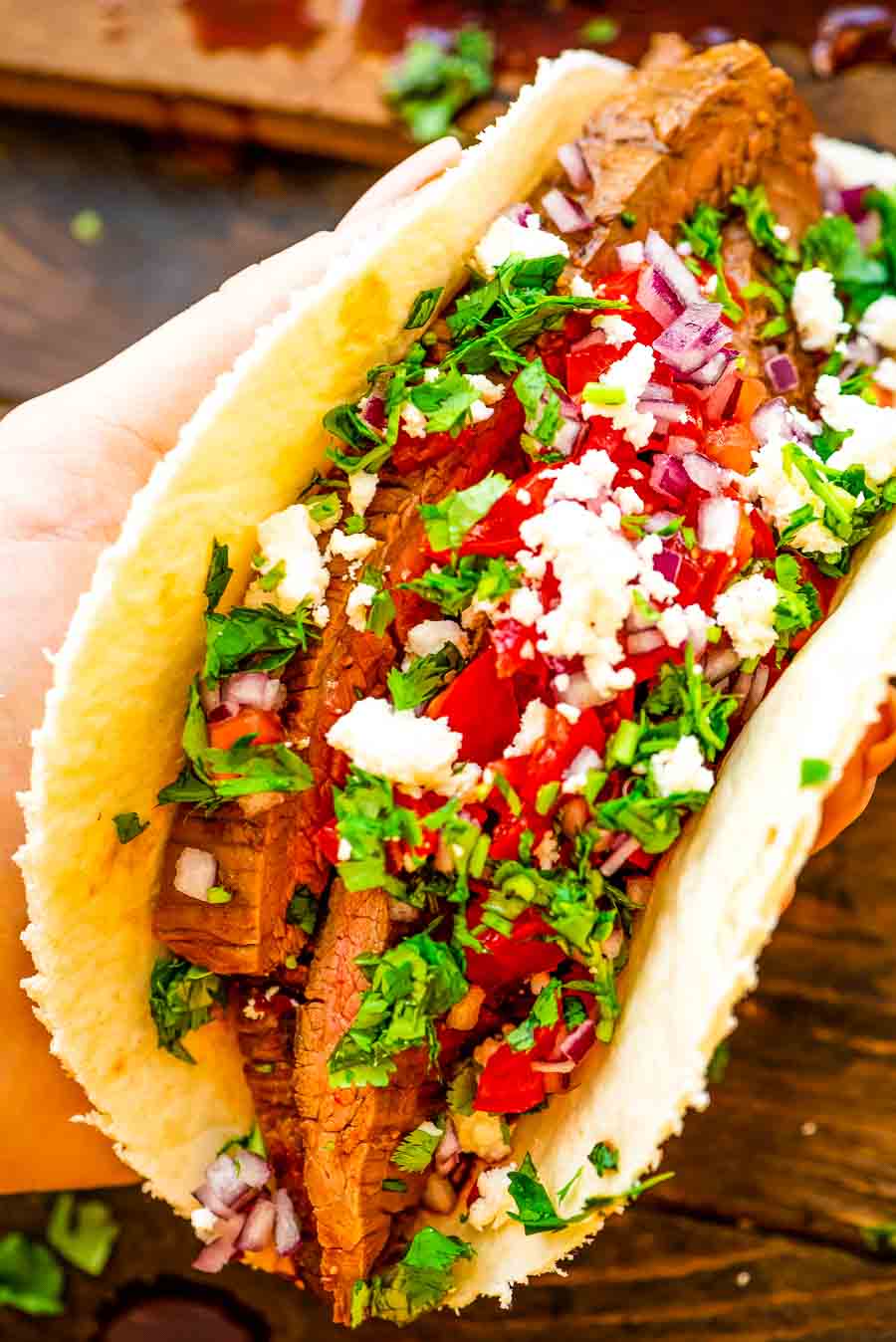 This post has been sponsored by the Kansas Beef Council on behalf of the Beef Checkoff. I received product and compensation, but all opinions are my own
It's SUMMER around here! That means our grill is working on high capacity and one of our favorite things to grill is beef!
Today I'm introducing you to a delicious Flank Steak Taco recipe that's full of flavor and it's so quick and easy! You can alter it to your taste buds by piling it high with your favorite toppings. Serve them with corn tortillas or flour tortillas – your choice!
Why You Need to Make 30-Minute Flank Steak Tacos
You can prep most of the ingredients beforehand then just take the flank steak out of the marinade and grill it.
All the toppings for each person to make it their own like fresh cilantro, onion, queso fresco cheese, and tomatoes!
Another thing I love is the fact that these are high in protein, light, and delicious.
Did I mention they are made in less than 30 minutes?
What cut of beef is best for tacos?
The trick is to get a thin cut of beef so skirt steak or flank steak is perfect for making these tacos! You want to be able to sear the meat on the grill and then cut it nice and thin to put it in your tacos!
For this recipe, we're making flank steak tacos – the meat is marinated first, grilled, and sliced thin – pile it into tortillas for the best steak tacos!

What ingredients do I need to make Steak Tacos?
It's a pretty simple ingredient list in these delicious steak tacos. In fact, I bet you have most of them in your pantry and only need to pick up the tacos and maybe the limes!
Flank steak
Extra virgin olive oil
Garlic
Limes
Ground cumin
Chili powder
Smoked paprika
Kosher salt
Black pepper
Toppings: Queso fresco cheese, Chopped cilantro, Diced red onion, Diced tomatoes
How do I make Steak Tacos?
Prepare Marinade – Mix together all the ingredients for the marinade
Marinade the Flank Steak – Put the marinade in a baking dish and place the steak in it. Brush marinade over steak, cover and refrigerate at least 1 hour.
Grill Steak – Prepare outdoor grill or indoor grill pan. Discard remaining marinade and place steak on grill. Grill to desired internal temperature. Remove, cover with foil and let rest 5 minutes.
Assemble Tacos – Cut flank steak across the grain into thin strips. Place steak on tortilla and top with favorite toppings.
What do I put on a Steak Taco?
Here are a list of our favorite toppings on this easy steak taco recipe!
Chopped Cilantro
Diced Red Onion
Queso Fresco Cheese
Diced Tomatoes
Freshly squeezed lime juice
Let me know below what's your favorite toppings?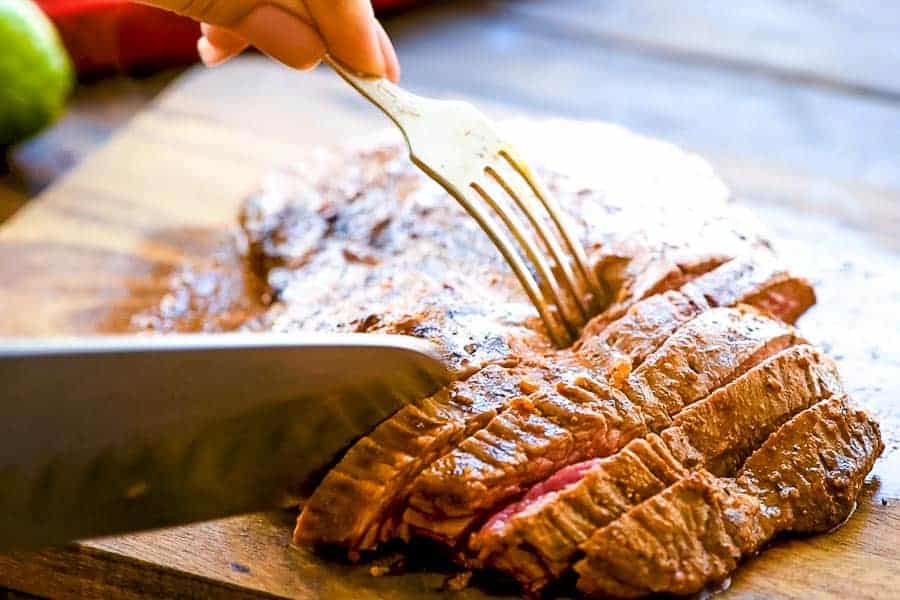 How to cut a Steak against the grain
Ever wonder what it means when you are told to "Cut against the grain"?
The grain refers to the long strands or fibers found in all cuts of beef. You can see these fibers running through the meat.
Cutting against the grain means that you cut crosswise and sever those fibers. This makes your meat easier to chew! This is important in coarse cuts such as flank or skirt steak, but is always important in any beef.
Pretty simple, huh?
Both of these cuts of meat are long thin cuts of beef. In most recipes, they can be used interchangeably, but there is a difference.
Flank steak is from the bottom abdominal area of the cow so it contains a lot of muscle. It is a bit wider than a skirt steak and thicker. Due to the fact it contains a lot of muscle it can be a little bit tougher that's why we prepared a tenderizing marinade for this flank steak in your tacos! It will help tenderize the meat.
Skirt Steak is from the diaphragm muscles of the cow. It's also lean and contains tough fibers. The flavor of the skirt steak is also more beefy and tougher than the flank steak. To achieve the most tender results you should only cook this cut of beef to medium rare.
Remember to cut both of these cuts of beef cross the grain!
Can I substitute skirt steak for flank steak?
Yes, you can! The skirt steak is a bit tougher. Just make sure to sear it and only grill it to rare or medium rare to get the most tender result. The steak taco marinade will also help tenderize the skirt steak.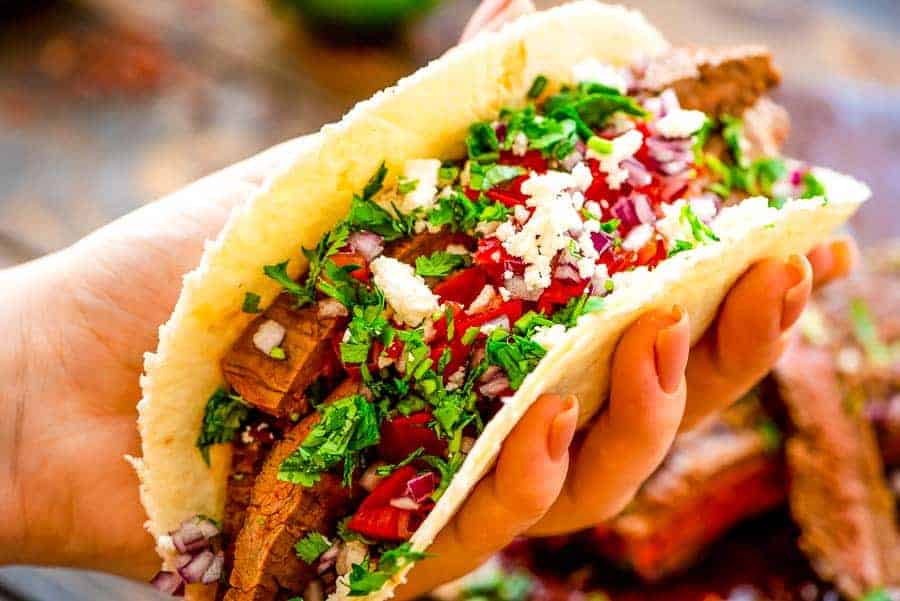 More Dinner Ideas!
Don't you wish everyday was Taco Tuesday? Me, too!
Tag me on Instagram when you make this @gimmesomegrilling or #gimmesomegrilling – love to see your delicious eats!!
Did you make this? If you snap a photo, please be sure tag me on Instagram at @gimmesomegrilling or #gimmesomegrilling so I can see your grilling masterpieces!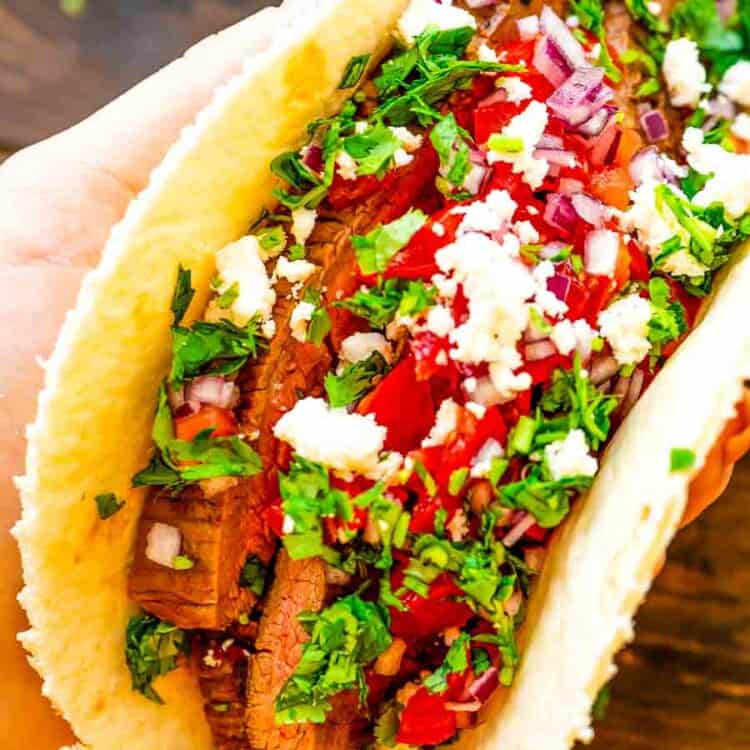 Steak Taco Recipe
Tender, juicy flank steak that is marinated then grilled. Slice it thin and put it in a tortilla with your favorite taco toppings! The best steak taco recipe!
Ingredients
1

lb

flank steak

trimmed of excess fat

2

Tbsp

extra virgin olive oil

2

cloves garlic

minced

2

limes

juiced (about 2 Tbsp)

½

Tbsp

ground cumin

1

tsp

chili powder

½

tsp

smoked paprika

½

tsp

kosher salt

½

tsp

black pepper

8

flour tortillas

Toppings: Queso fresco cheese, Chopped cilantro, Diced red onion, Diced tomatoes
Instructions
First, make the marinade. Mix together olive oil, garlic, lime juice, cumin, chili powder, smoked paprika, salt and pepper in a small mixing bowl.

Place the flank steak in a baking dish and pour prepared marinade over the top of steak. Cover baking dish and place in the refrigerator preferably for 8 hours but at least one hour.

After the steak is done marinating remove the steak from the refrigerator and let it rest while you prepare the grill and make any toppings.

Preheat grill according to manufacturer's directions or prepare an indoor grill pan over medium heat.

Brush grill grates with canola oil or avocado oil.

Remove steak from marinade and discard any leftover marinade. Grill steak on outdoor grill or in grill pan for 3-4 minutes per side, flip once until desired doneness (medium-rare is 140 degrees F).

Remove steak and cover will foil. Let steak rest for 5 minutes to let the juices redistribute and get the perfect juicy steak! Cut the steak into thin, ¼'' slices. Make sure to slice it across the grain.

Prepare flour tortillas according to package directions. Assemble the tacos with steak and desired toppings.
Tips
Nutrition is calculated with all the marinade being used, which will not be the case. You will discard some of it. There are no toppings figured into the nutrition calculations.
Video
Nutrition Information
Calories:
416
kcal
(21%)
,
Carbohydrates:
36
g
(12%)
,
Protein:
30
g
(60%)
,
Fat:
17
g
(26%)
,
Saturated Fat:
4
g
(25%)
,
Cholesterol:
68
mg
(23%)
,
Sodium:
776
mg
(34%)
,
Potassium:
539
mg
(15%)
,
Fiber:
3
g
(13%)
,
Sugar:
3
g
(3%)
,
Vitamin A:
340
IU
(7%)
,
Vitamin C:
10.2
mg
(12%)
,
Calcium:
108
mg
(11%)
,
Iron:
4.6
mg
(26%)