The BEST Steak Seasoning!
This Homemade Steak Seasoning is the perfect blend of spices that will bring your grilled steak to the next level. If you season your steak with salt and pepper the flavor in this steak rub is going to blow your mind. It's the best steak seasoning with a perfect blend of pantry spices like garlic powder, smoked paprika, onion, chili, and black pepper. Add a bit of sweetness from the brown sugar and your mouth will be watering over your steaks seasoned with this steak seasoning!
You'll want to pair your perfect seasoned and grilled steak with a grilled baked potato and bacon wrapped asparagus for an entire dinner that's made on your grill! Summer dinners don't get any better than that!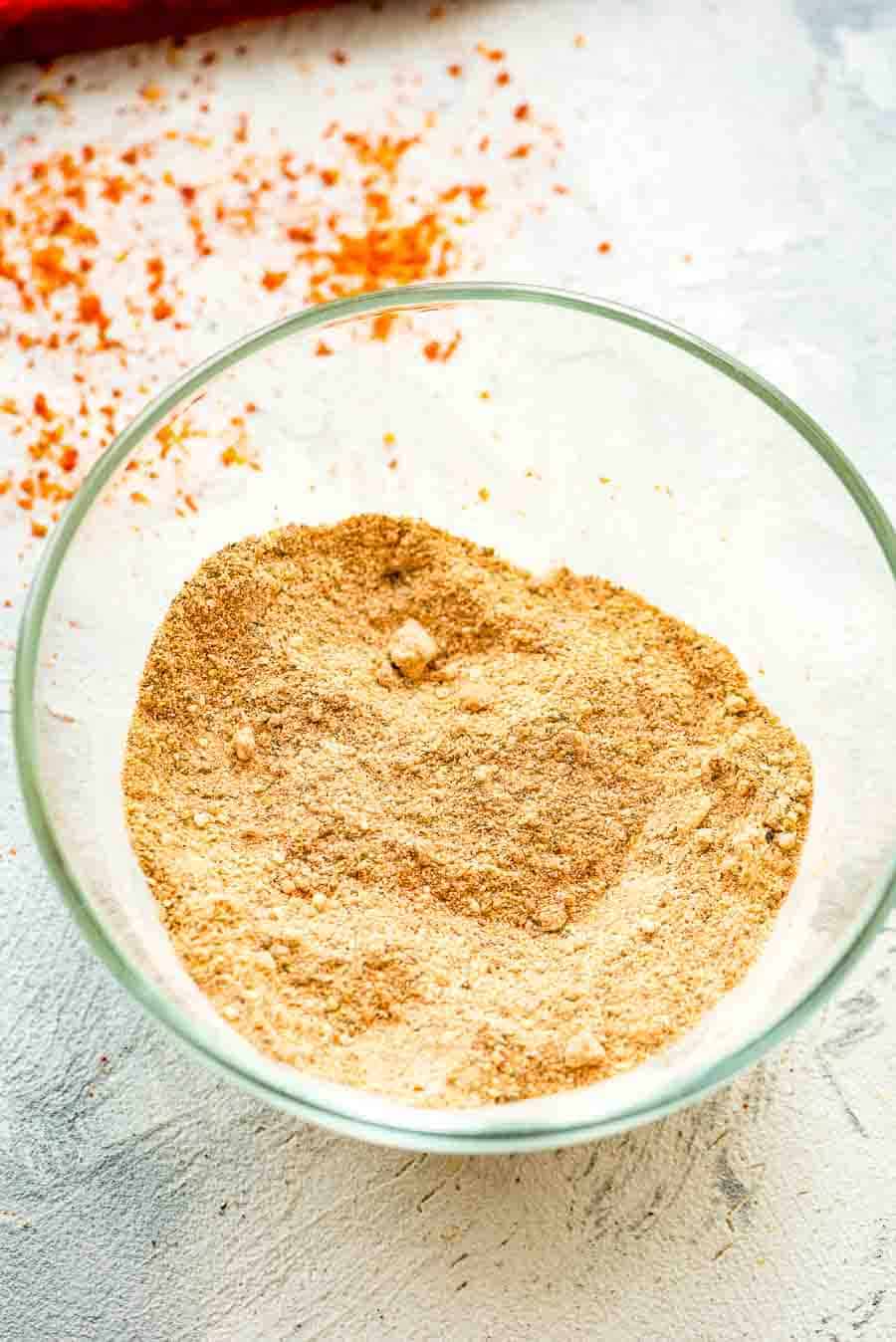 While it's no secret that a delicious steak is always awesome, this steak seasoning can take your steak from good to great!
Plus, it's so simple and easy to make! All you'll need are a few simple ingredients and just a couple moments of your time.
I love simply recipes like this because if I'm entertaining they are easy to make, plus if I want a quick steak on the grill during the weeknight it's super simple to whip this up and I don't have to worry about marinating and all of that business.
Let's face it, sometimes I'm just not on top of things like I should be and Steak Seasoning is a quick way to make a steak so flavorful!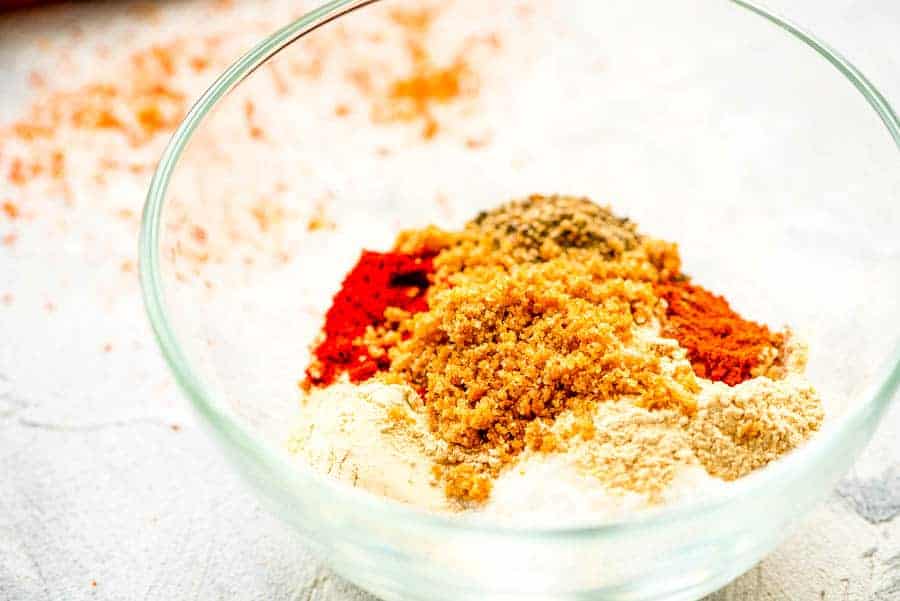 If you'd rather skip my (very helpful, I think) tips and tricks, essential cooking info, and similar recipe ideas – and get straight to this delicious easy Steak Seasoning recipe – simply scroll to the bottom of the page where you can find the printable recipe card.
What do I need to make Steak Seasoning?
Thelist of ingredients, plus measurements can be found below! As you can see, it contains spices and ingredients that are probably already in your pantry. I love this!
Brown sugar
Kosher salt
Black pepper
Garlic Powder
Smoked Paprika
Onion Powder
Chili Powder
How do I make Steak Seasoning?
This might be the easiest prep work you'll ever have to do. Once you combine all the ingredients in a small dish, you simply add to the steak, let it rest and cook!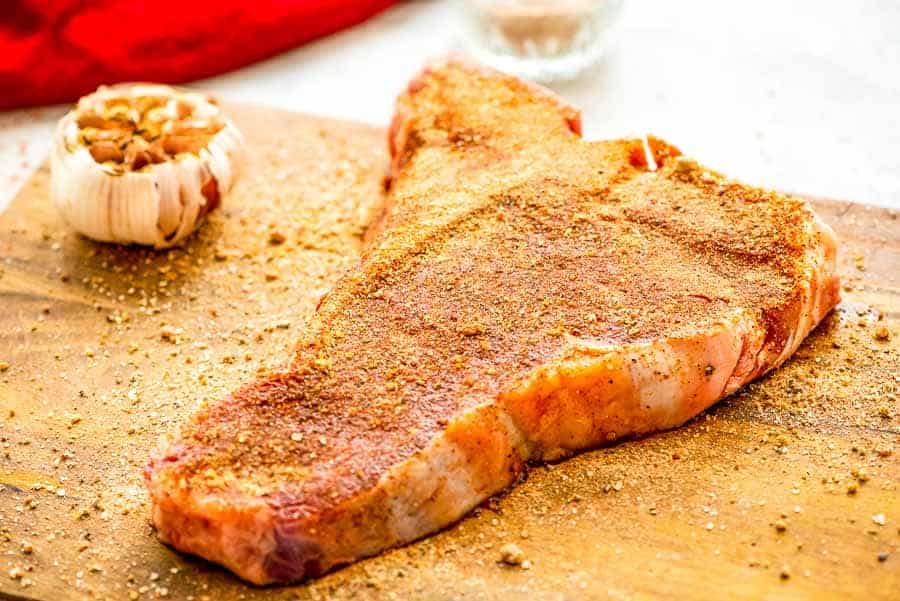 Steak Seasoning FAQs!
You've got questions, we've got answers! All about how to season your steak!
If you have additional questions about this steak seasoning recipe please commenting below and we will do our best to answer!
How to season the steak
Seasoning the steak is the simple part! While there are many seasonings and marinades out there, it's all about letting it rest and really get soaked or rubbed into the steak. Some people only add on for a couple of minutes before cooking, while some recipes call for 24 hours or more.
One thing is certain. The longer you leave the rub on, the more flavorful it will be.
Can I make this Steak Seasoning ahead?
You sure can! If you know you're going to be running short on time, just make it up and mix it together. That way when it's time to add it to the steak, it's all ready to be done!
We like having this on hand, mixed up, in our pantry so whenever we want a perfectly seasoned steak we can just rub it on and prepare our steak!
How do I store leftover steak seasoning?
The best way to store leftover steak seasoning is to store it in an airtight container until you're ready to use it again. Label it for your next time you are cooking steaks.
This seasoning recipe will last for several months if you store it in an airtight container in a dark, cool place. It should be good for several rounds of cooking up steaks or other protein dishes.
Can I use this seasoning on other proteins and side dishes?
Absolutely. This would be really great on chicken, fish, and pork as well. Once you make it once and get that taste, you'll agree.
Just make certain that you give the seasoning time to marinate into the meats that you're adding it to. We recommend seasoning your steak and letting it rest to come to room temperature for about 40 minutes before you prepare it.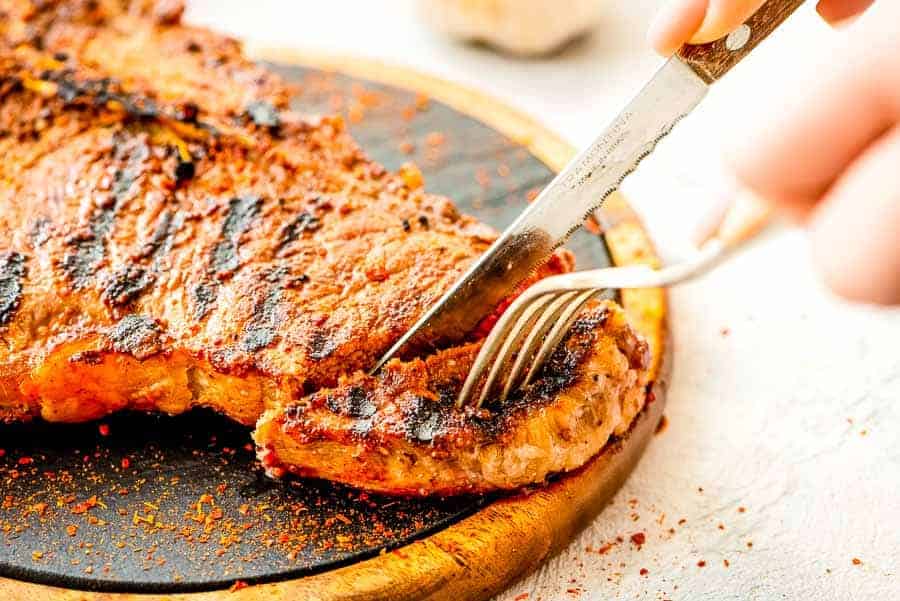 Serve these Side Dish Recipes with your Steak!
More Steak Recipes!
WATCH THE STEP BY STEP VIDEO FOR THIS RECIPE BELOW:
If you enjoy watching these videos make sure you subscribe to my YouTube Channel to be notified each time a post a new video!
Tag me on Instagram when you make this @gimmesomegrilling or #gimmesomegrilling – love to see your delicious eats!!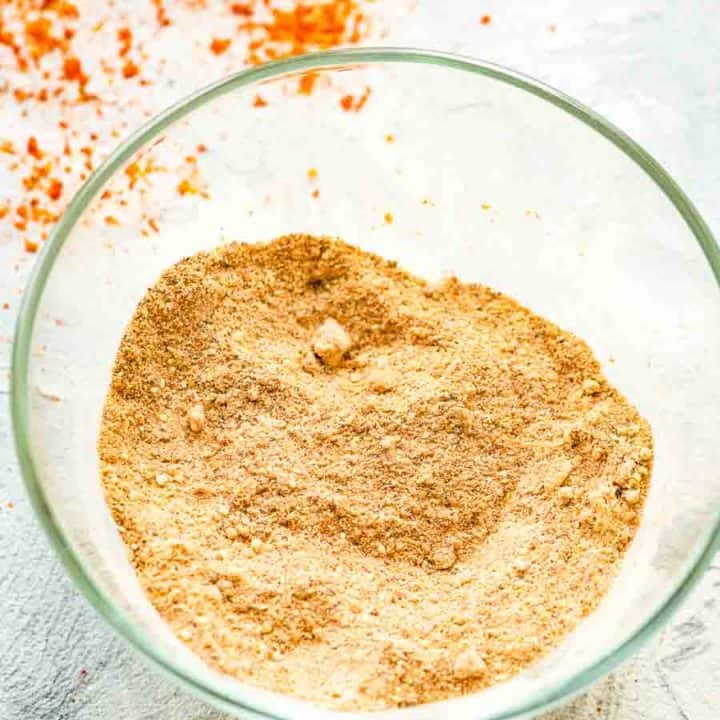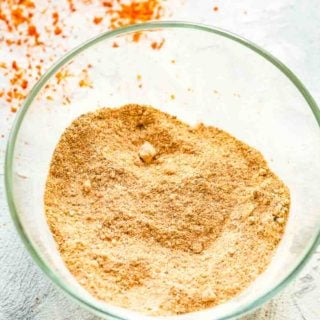 Steak Seasoning Recipe
A perfect blend of spices make this quick and easy recipe the BEST Steak Seasoning recipe ever!
Ingredients
2

Tsp

brown sugar

2

Tbsp

kosher salt

1

Tbsp

black pepper

2

Tbsp

garlic powder

1

Tbsp

smoked paprika

1

Tbsp

onion powder

1

tsp

chili powder
Instructions
In a small bowl combine all the ingredients until mixed.

Sprinkle liberally on steaks. Let rest for 20-40 minutes. Prepare on grill.

If you are not using the steak seasoning right away or have leftover seasoning store in airtight container.
Nutrition
Calories:
154
kcal
Carbohydrates:
35
g
Protein:
6
g
Fat:
2
g
Saturated Fat:
1
g
Sodium:
14022
mg
Potassium:
591
mg
Fiber:
8
g
Sugar:
8
g
Vitamin A:
4250
IU
Vitamin C:
1.7
mg
Calcium:
84
mg
Iron:
3.9
mg