Best Burger Recipes ~ Tons of Delicious Burgers Perfect to Throw on the Grill for Your Next Party or Any Night of the Week! We have Cheese, Bacon, Turkey, Onion, Mushrooms and More! Fire Up the Grill and Try to Choose One!
So many burger recipes and such little time! Actually take all the time you need or want!
You are going to have a hard time choosing which one to start with, that's the main problem!
I'm dying over all the cheese, bacon, mushrooms and more! I think it's time we fire up the grill and start working our way through this delicious list of the Best Burger Recipes from your favorite bloggers!
Taco Burger – Gimme Some Grilling
Delicious, juicy hamburgers with a kick from taco seasoning! These burgers are piled with homemade guacamole, pico de gallo and lettuce and served on a toasted bun!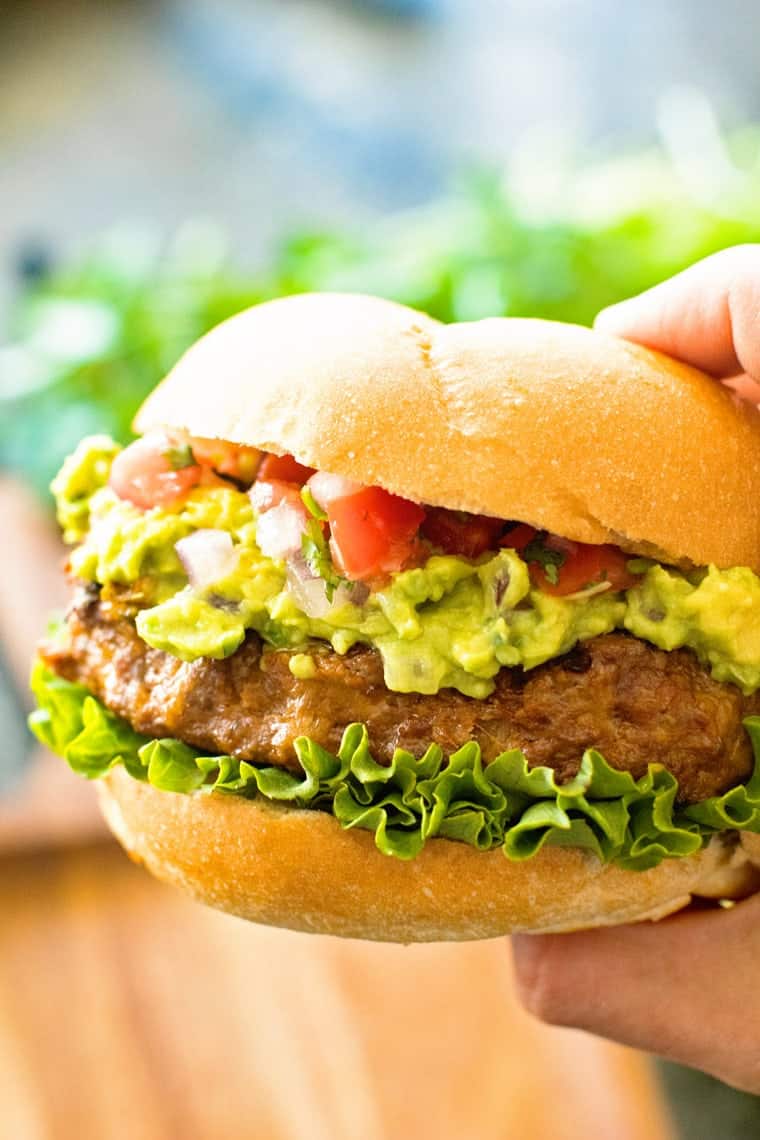 The BEST Hamburger Recipe ~ Gimme Some Grilling
A few simple ingredients take this grilled hamburgers over the top! You will get a juicy, delicious burger that I call the BEST Hamburger Recipe around! I bet you have all these ingredients in your pantry so grab them and grill yourself a burger tonight!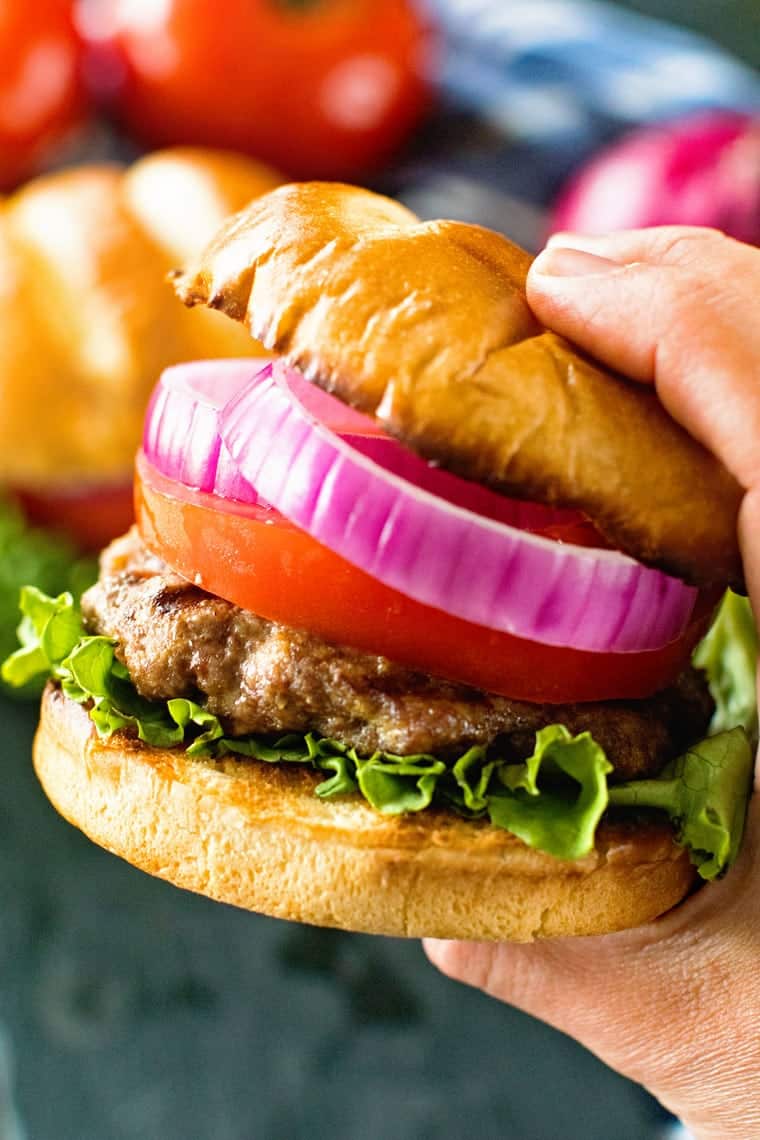 Whiskey Bacon Cheddar Burger – Julie's Eats & Treats
Plump, Juicy burger with a hint of whiskey and loaded with bacon and cheddar cheese! The perfect burger recipe for grilling!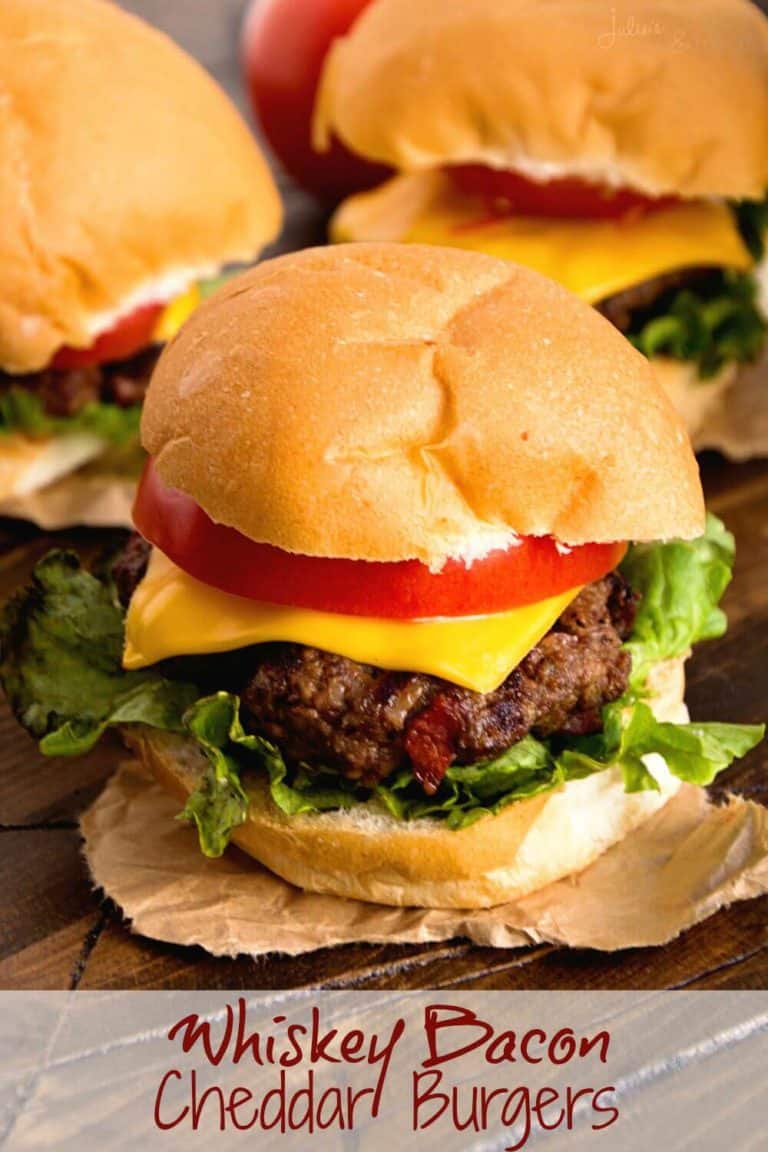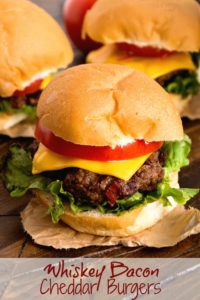 Rodeo Burgers – Julie's Eats & Treats
Grilled hamburger topped with cheese, BBQ sauce and an onion ring on a pretzel bun!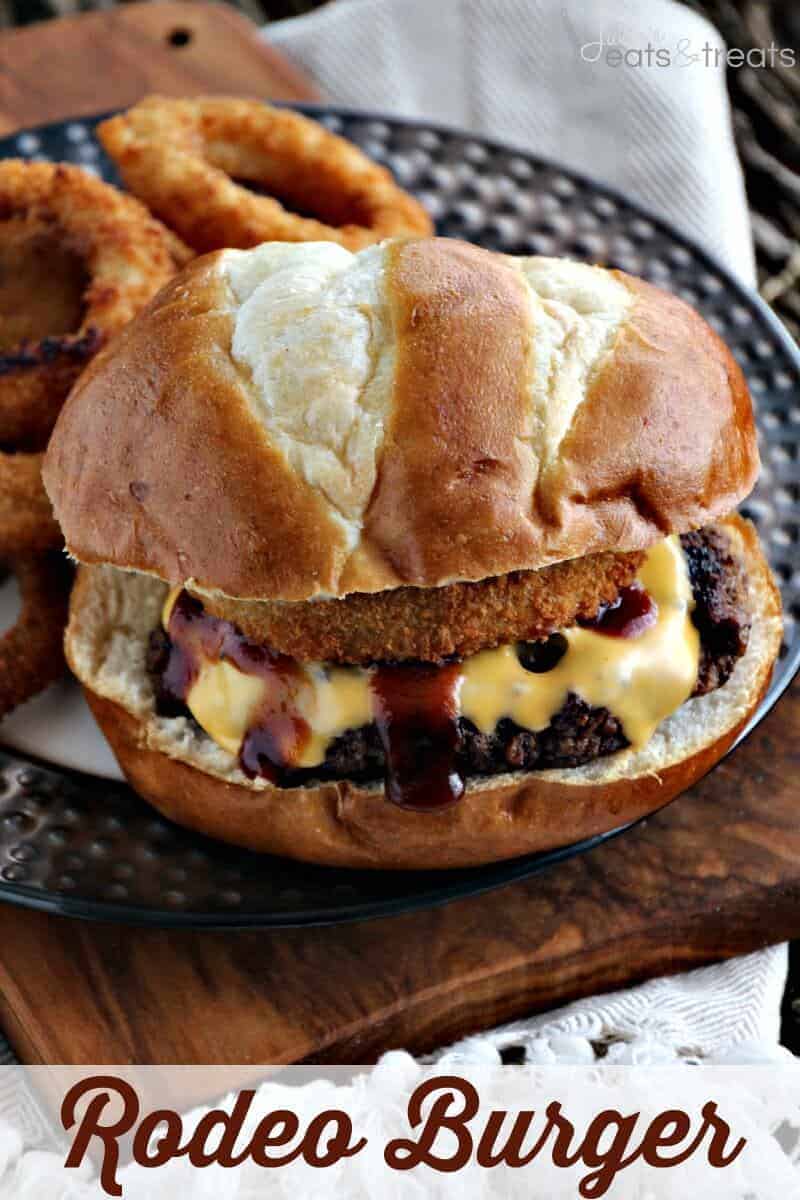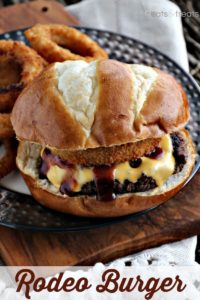 Italian Burger – Julie's Eats & Treats
Perfectly grilled burger loaded with Italian seasonings and topped with mozzarella and marinara sauce!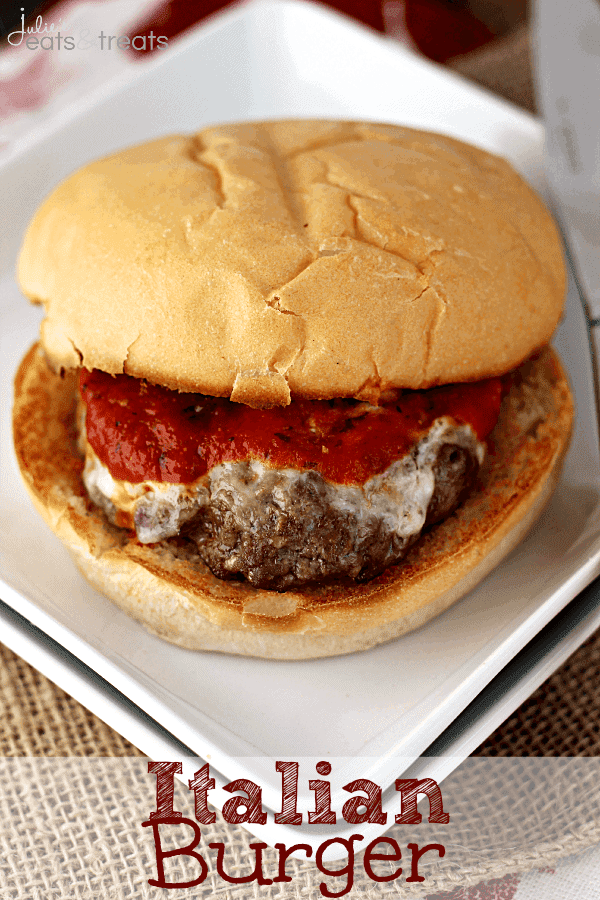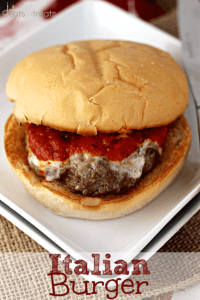 Gourmet Burgers with Red Wine Braised Mushrooms – Miss In The Kitchen
Burger season is here and today I'm sharing an incredibly delicious recipe for Gourmet Burgers with Red Wine Braised Mushrooms. This is a sponsored in partnership with Holland House.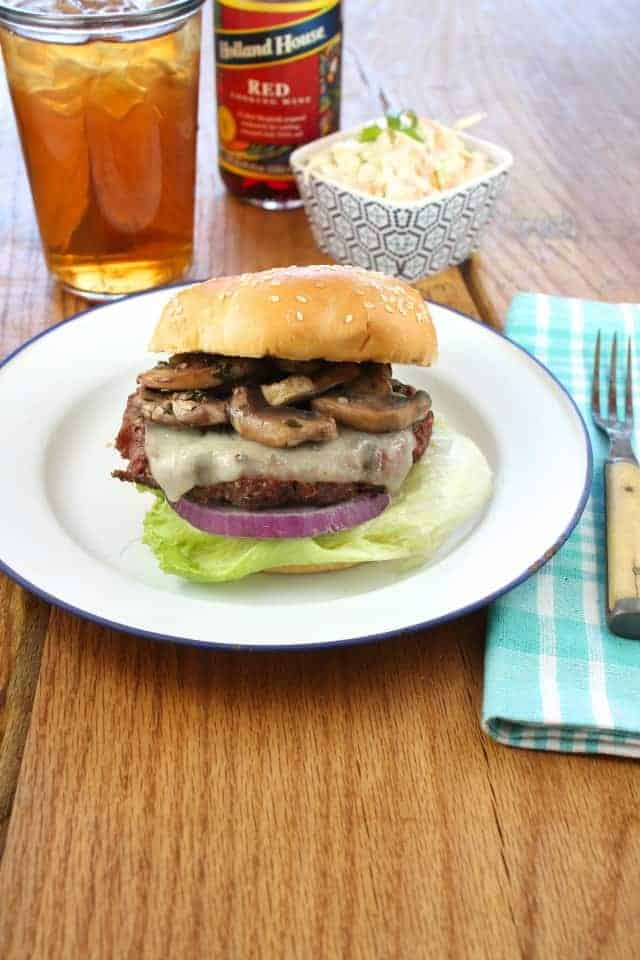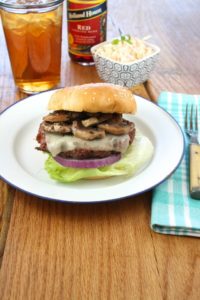 Chicken Fajita Burgers – The Seasoned Mom
It's the season for cookouts, parties, and picnics! Whether you fire up the outdoor grill or prepare them in a skillet, these Chicken Fajita Burgers are an easy, family-friendly dinner that's ready in just 20 minutes!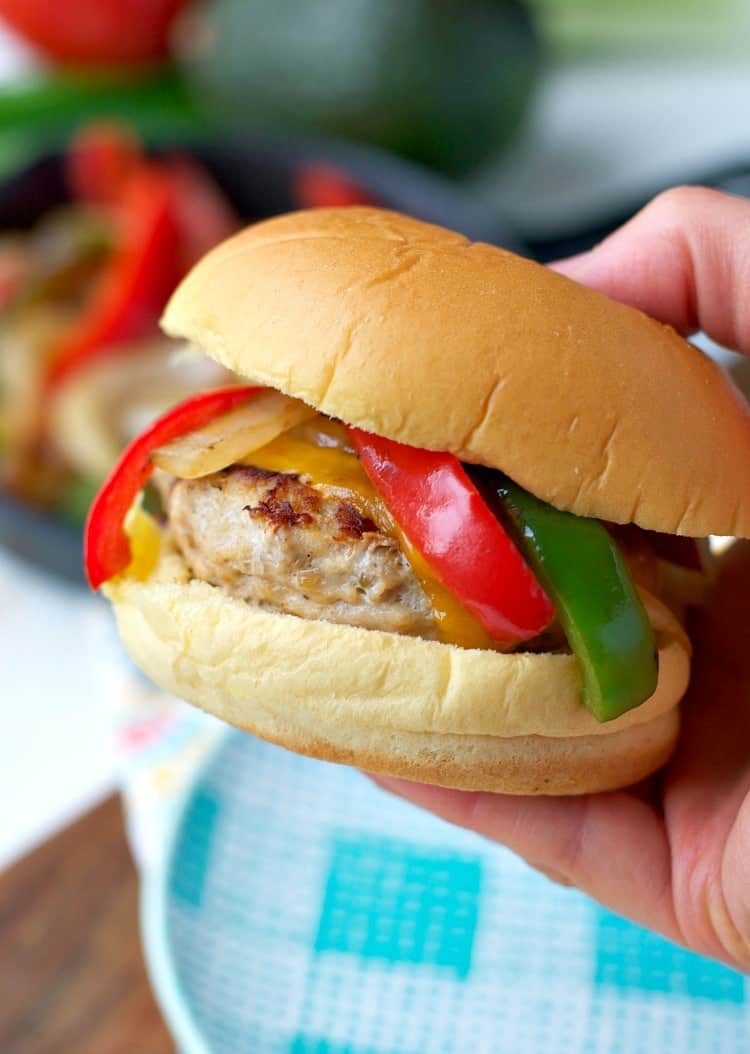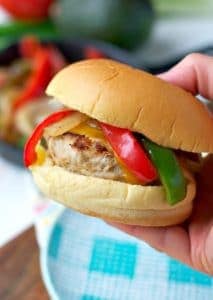 Juicy burgers are topped with sauteed peppers in sauce & American cheese in these easy to make Tuscan inspired Giovanni Burgers.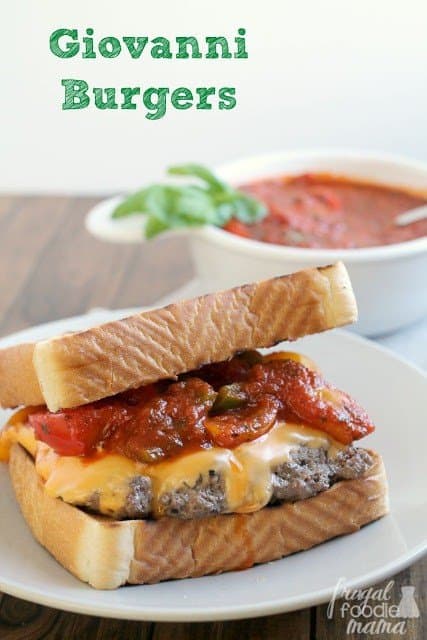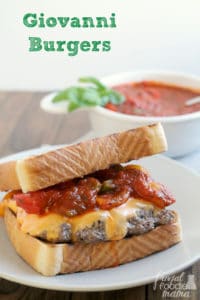 Quick and easy Grilled Chicken Burgers with Black Olive Tapenade that are gluten-free, paleo, and allergy-free! Classic herb flavors with a salty bite from the homemade tapenade will make for a stand out healthy summer dinner recipe!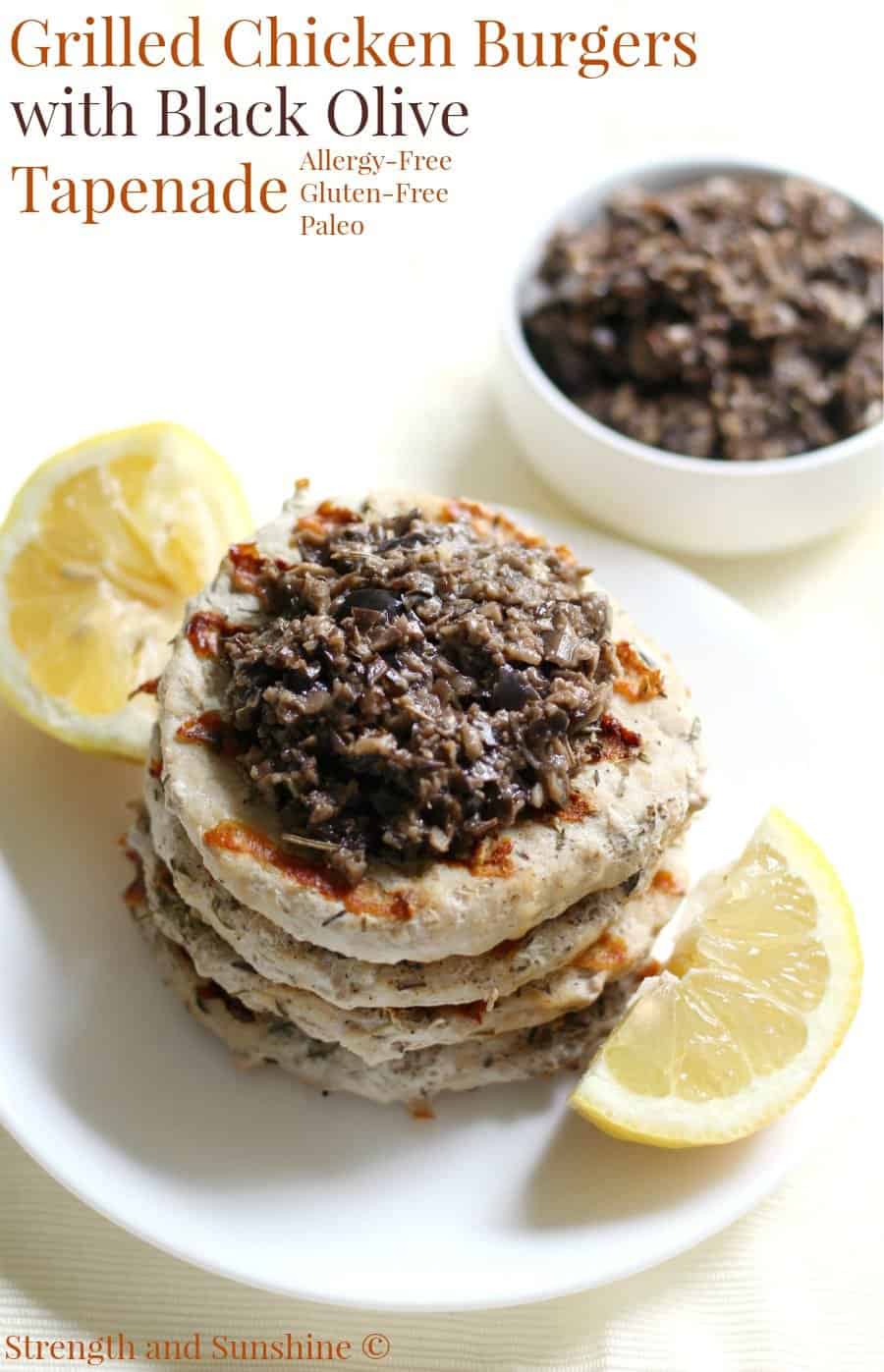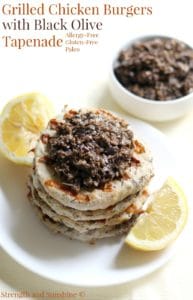 Spicy Jalapeno Pepper Jelly and Basil Sauce Pork Burgers is a fresh and delicious spin on a hamburger recipe. A peppery and spicy sauce beautifully flavors ground pork burgers.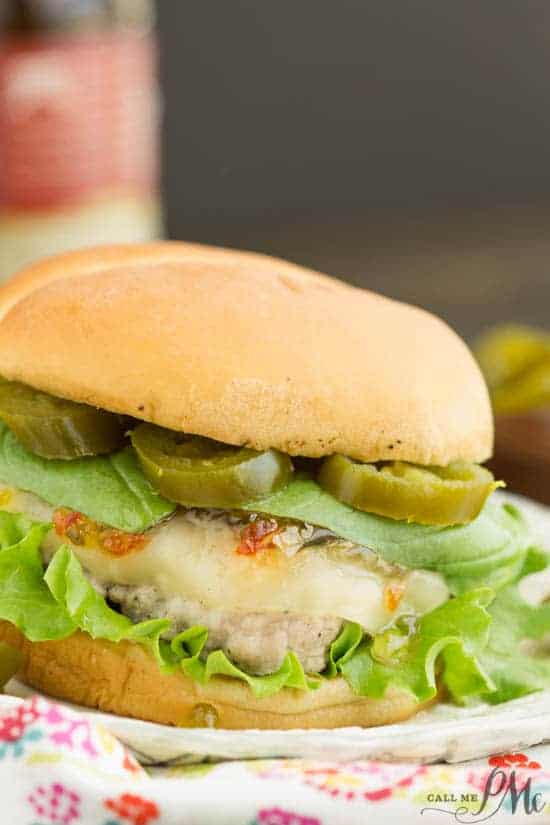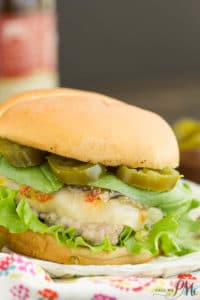 Smokehouse Smoky Barbecue Beer Burger with Caramelized Onions is a simple recipe that comes together in just 30 minutes. The burgers are a really beefy, steak-like burger prepared with a dark and smoky beer, this one is loaded with beer caramelized onions and your favorite barbecue sauce.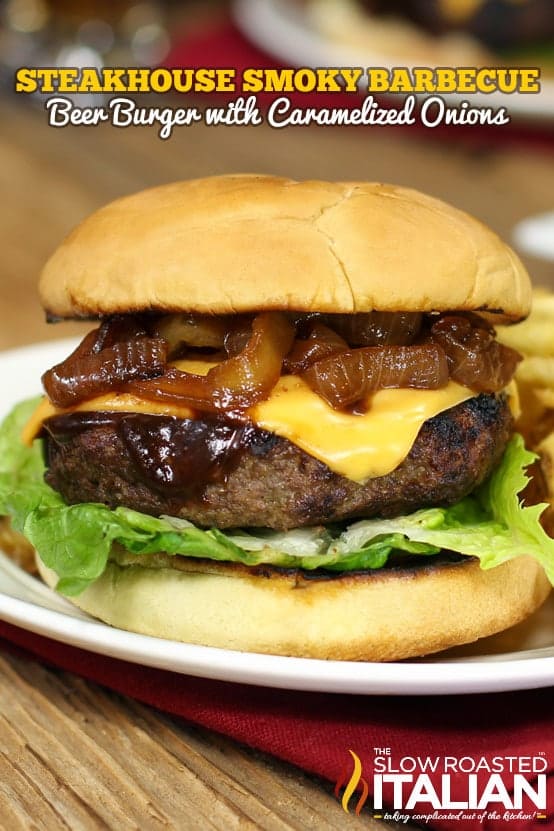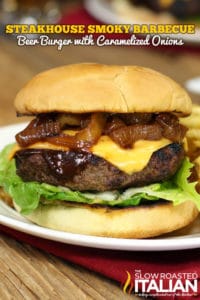 Peach Glazed Blue Cheese Burgers with Honey Jalapeno Mayonnaise – The Suburban Soapbox
A fruity glaze is a surprising addition to your favorite summer burger. Peach Glazed Blue Cheese Burgers topped with Honey Jalapeno Mayo are a tasty addition to your summertime cookout. Easy and over-the-top flavorful!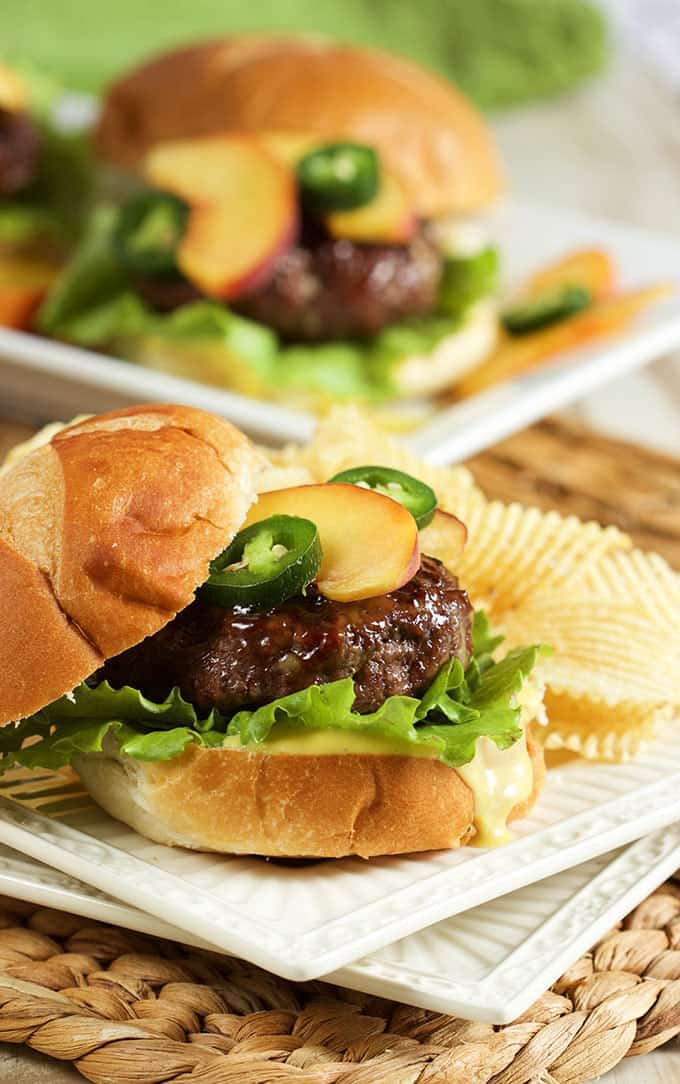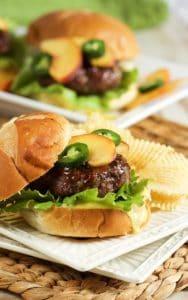 Smokehouse BBQ Burgers – Delightful E Made
Fire up the grill, it's time for some amazing burgers! My Smokehouse BBQ burgers are topped with smoked Gouda, bacon, fried onions, and an amazing Smokey Chipotle Barbecue Sauce. Juicy and super flavorful, you'll be making these burgers all summer long!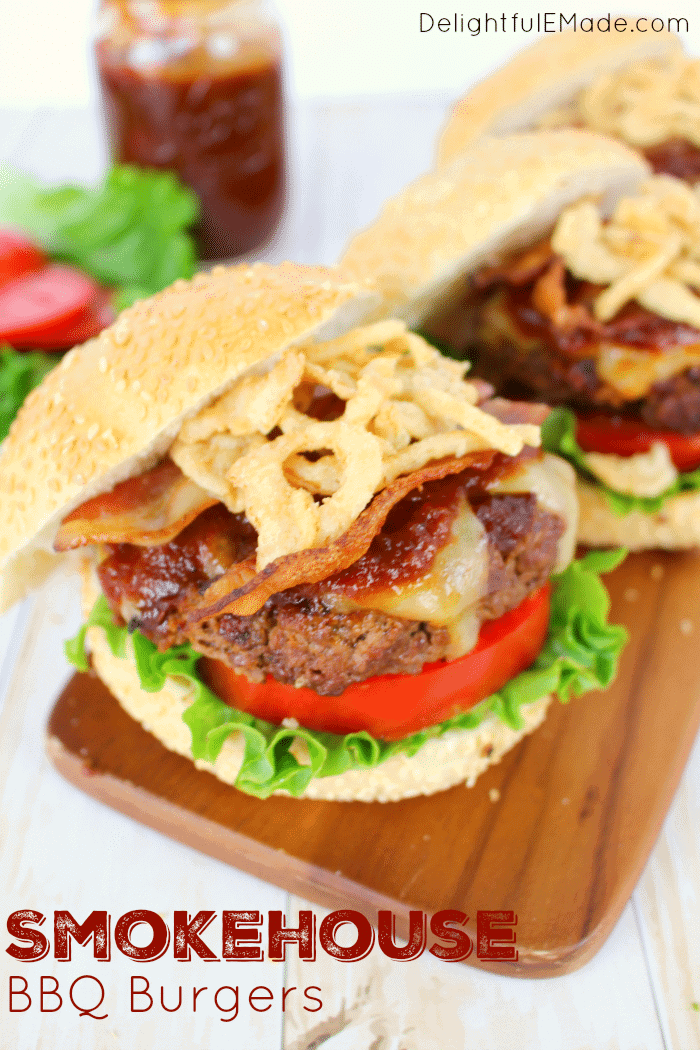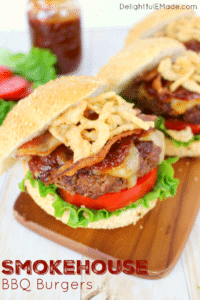 Chicken Fajita Burger and Chipotle Mayo – Yummy Healthy Easy
All of your favorite fajita flavors rolled into a burger! You will love this Chicken Fajita Burger with Roasted Peppers and Chipotle Mayonnaise!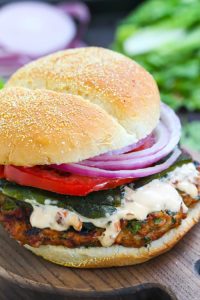 Chipotle Chicken Burger – Culinary Ginger
Juicy and very flavorful, this chipotle chicken burger mixes finely chopped onion, red pepper, cilantro and a little kick from chipotles in adobo right into the ground chicken meat. Prepare for a tastefest because this will satisfy any burger craving.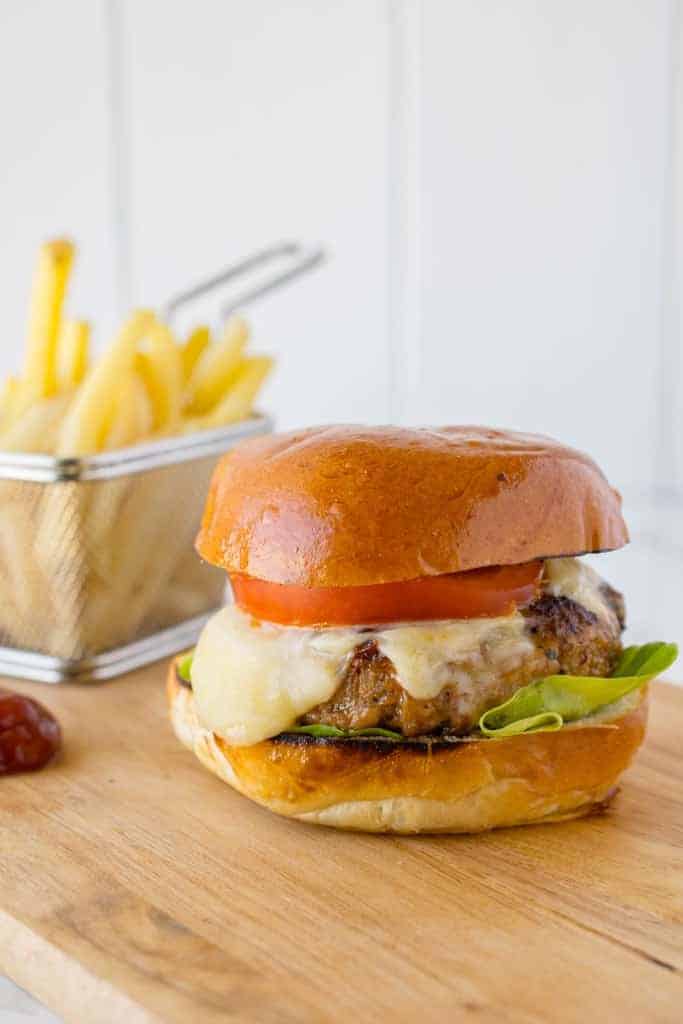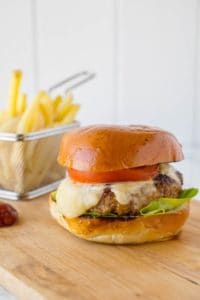 Spiced Lamb Pita Burgers – The View From Great Island
Spiced Lamb Pita Burgers are a fresh take on everybody's favorite grill grub — the lamb is mixed with Middle Eastern spices, onions, and fresh mint, then spread inside a pita and grilled — these are crisp, juicy, and fabulous!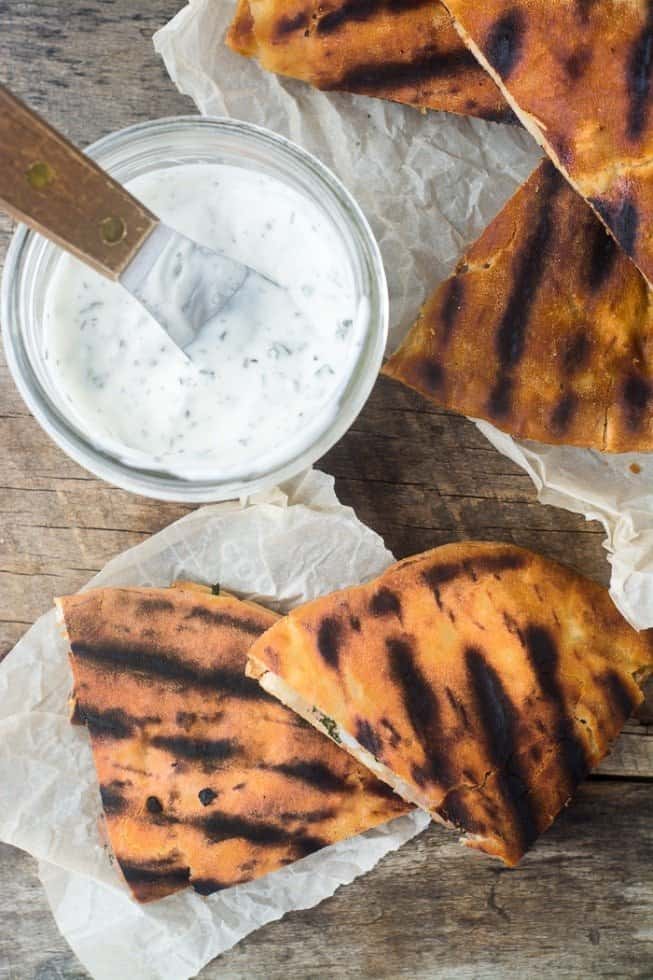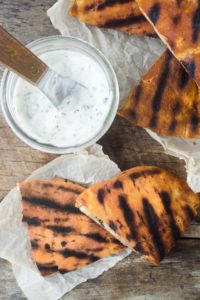 All the peppers, onions, Mexican spices and creamy guacamole you love in fajitas … jam-crammed into one gloriously, deliciously satisfying burger recipe! And since this is THK, you know we've got make-ahead tips, so dinner's a total breeze!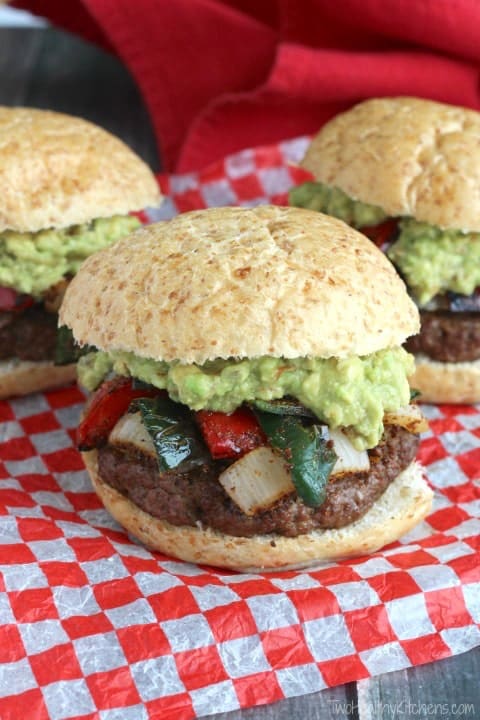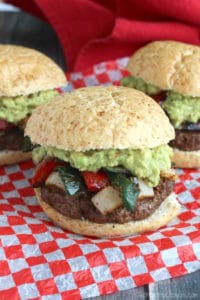 Hawaiian Pizza Burger – Food Faith Fitness
This Hawaiian Pizza Burger is a fun spin on the classic pizza dish that is quick, easy and great for kids! Perfect for Summer grilling!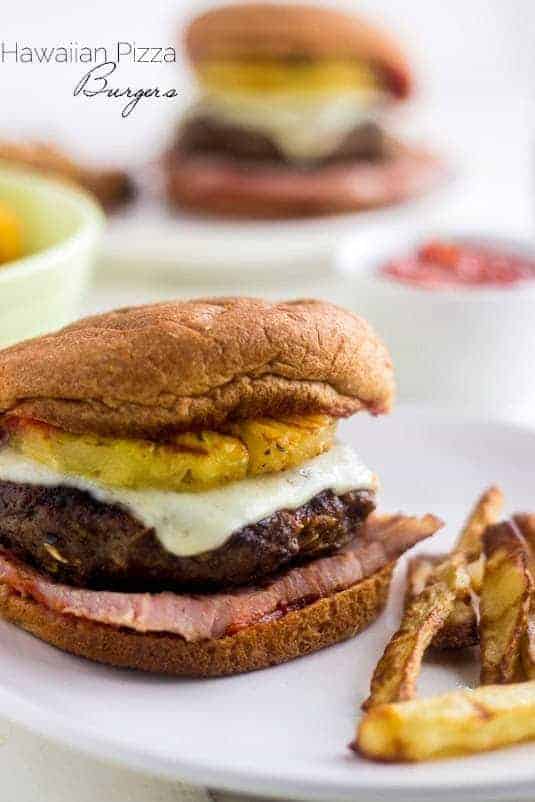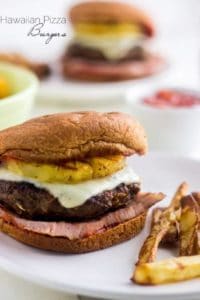 Juicy Burger Recipe – Grill or Stovetop – Wholesome Yum
Learn how to make a deliciously juicy burger every time, on the grill or the stove. This recipe has two secret ingredients, plus preparation & cooking tips!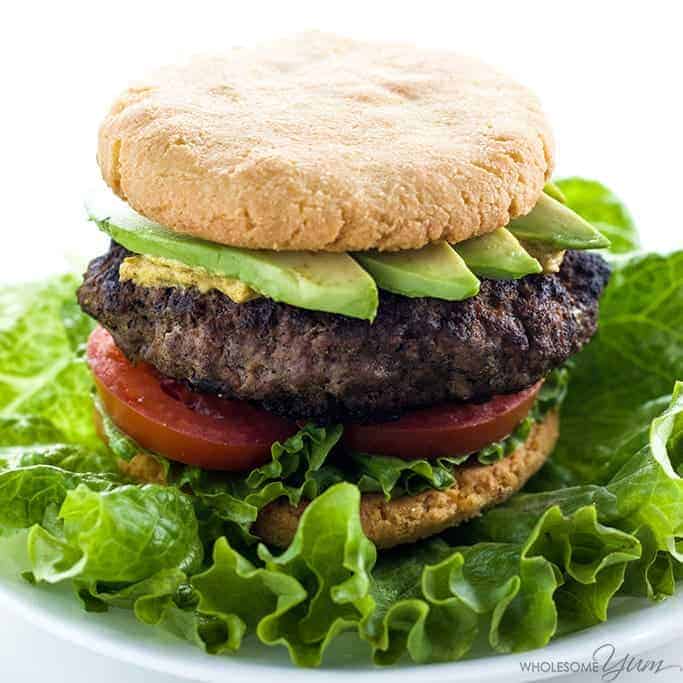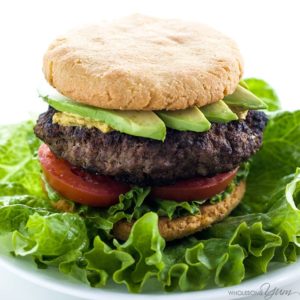 Meatball Parmesan Burger – Cupcakes & Kale Chips
Hamburgers and hot dogs are synonymous with summer, but sometimes you are craving classic Italian comfort food. Grab a ciabatta roll or a couple portobella mushrooms (for a gluten free and low carb option) because there's no need to heat up your kitchen to enjoy these seasoned, saucy, and cheesy Meatball Parmesan Burgers.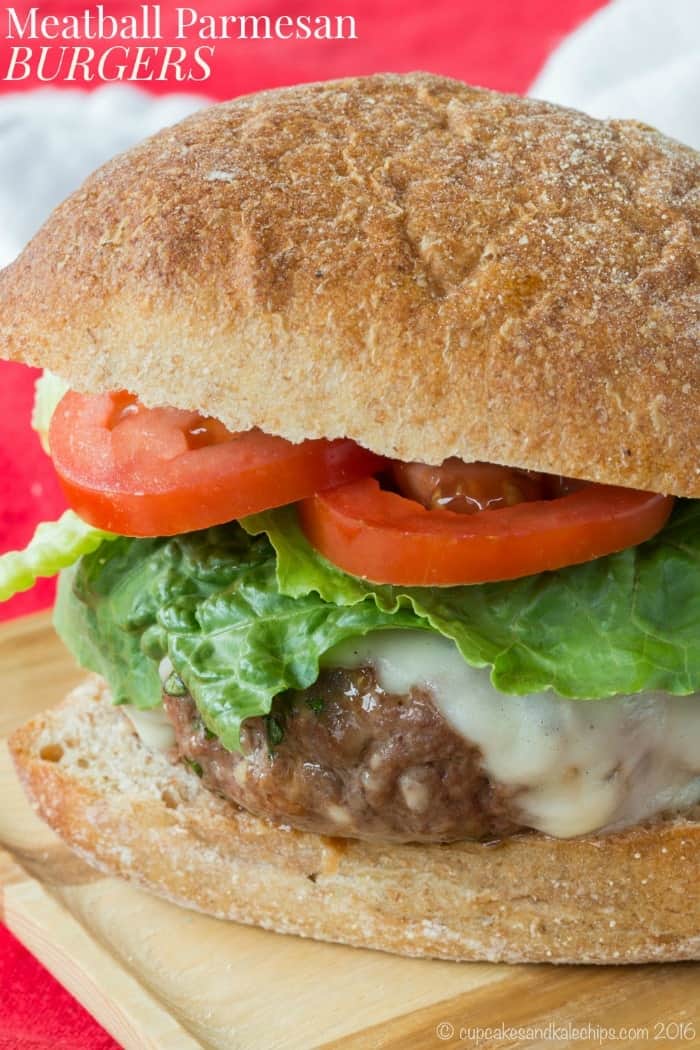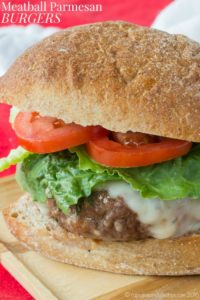 Chicken Caesar Salad Burgers – Lexi's Clean Kitchen
These light Chicken Caesar Salad Burgers are the perfect alternative to a traditional burger! Paired with Caesar salad slaw and homemade parmesan crisps, every caesar salad fan will love this meal!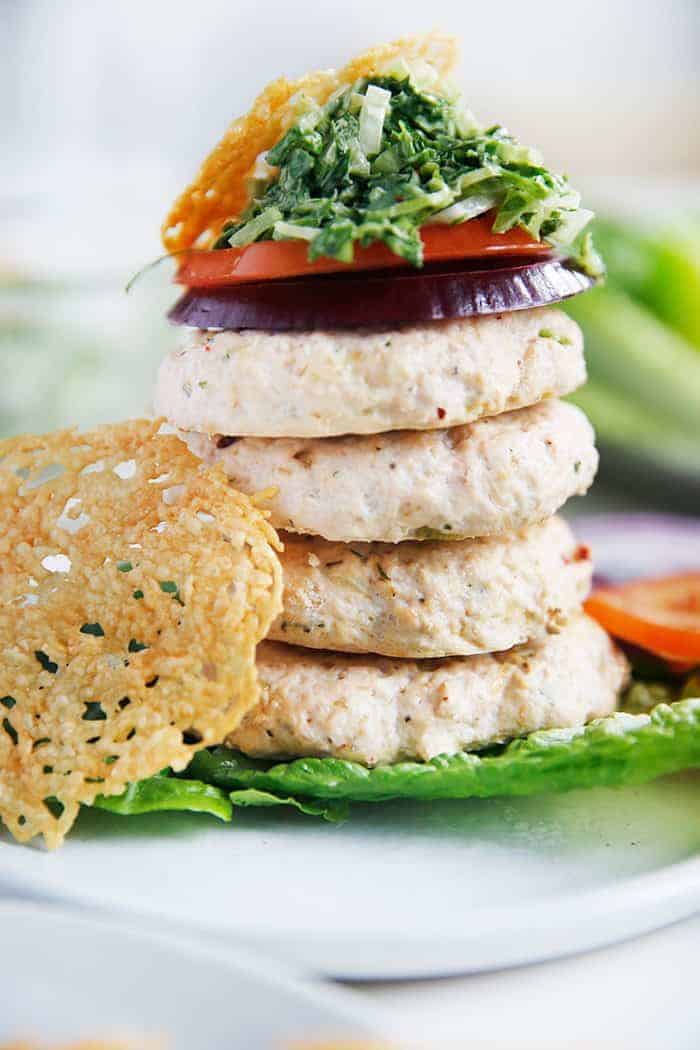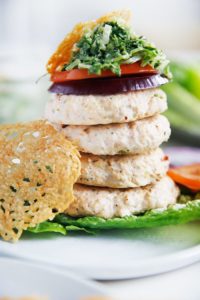 Chicago-Style Italian Burgers – Iowa Girl Eats
Chicago-Style Italian Burgers are a zesty, gluten-free grilling recipe packed with savory flavor. Grill indoors or out then top with melty cheese and tangy pickled peppers.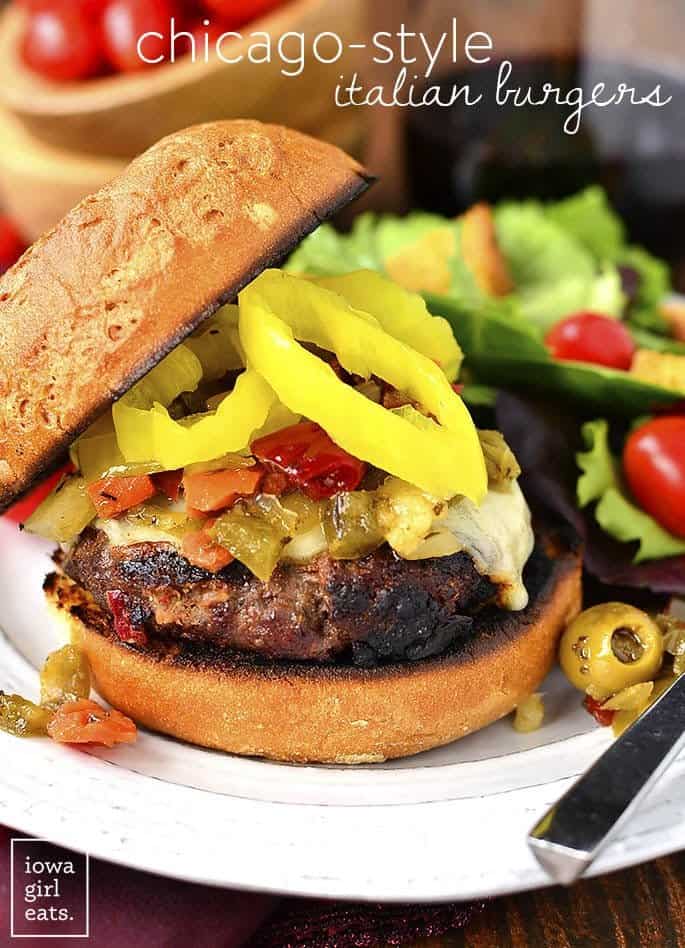 Beef Bourguignon Burger – The Suburban Soapbox
All the flavors of the classic french stew packed into a burger! This Beef Bourguignon Burger with Horseradish Creme Fraiche is as amazing as it sounds. Real Angus Beef burgers grilled to perfection then blanketed with melty Comte cheese and wine soaked mushrooms. Seriously amazing.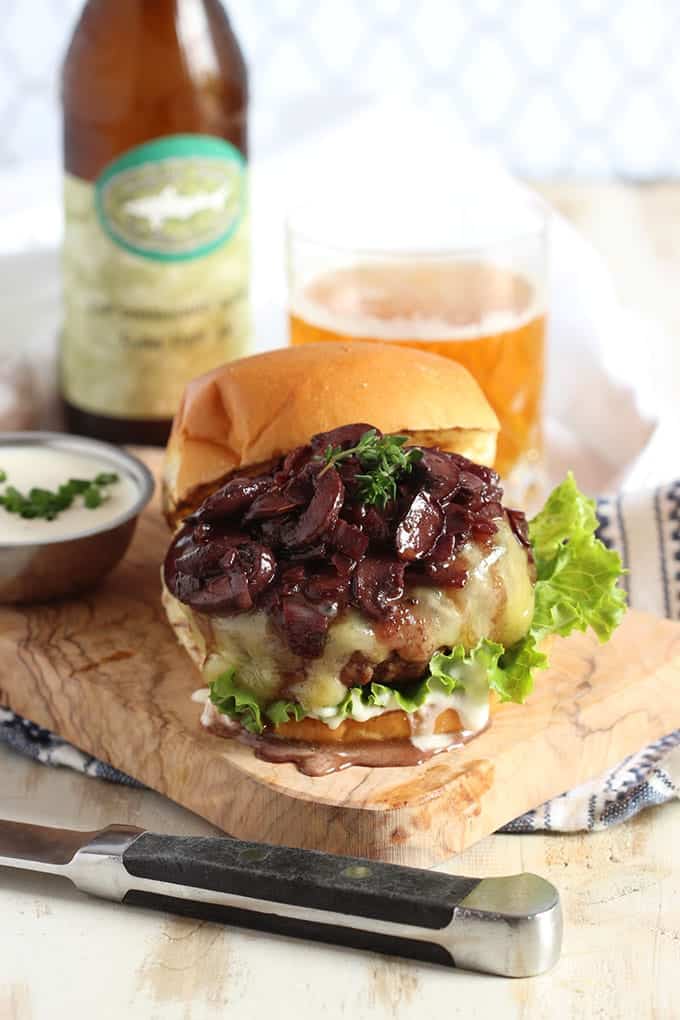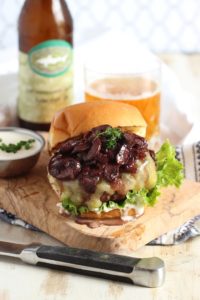 Burger With Caramelized Onions and Mushrooms – Living Sweet Moments
Burger With Caramelized Onions And Mushrooms: Juicy beef burgers w/ homemade sauce topped with sautéed mushrooms and caramelized onions. Perfect for dinner!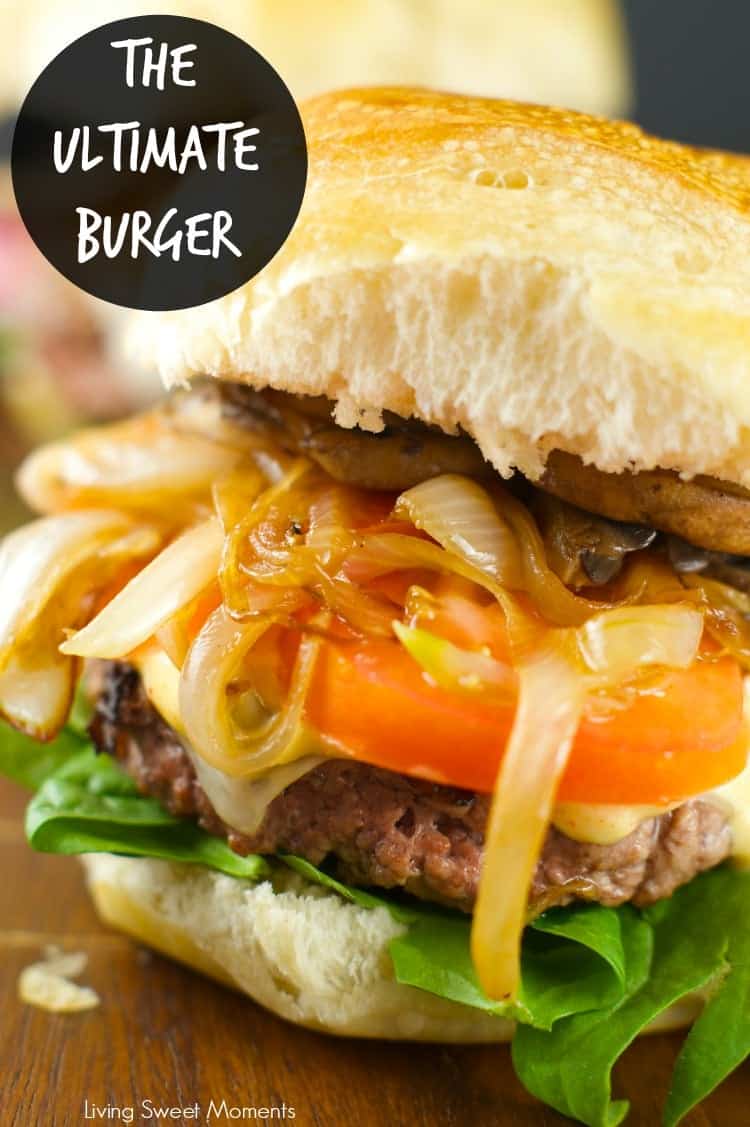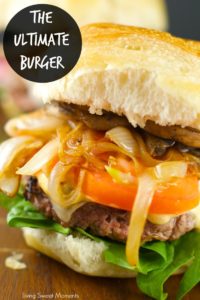 New York Pizza Burger – The Typical Mom
It's summertime and that means barbecuing and really great food! Of course traditional hamburgers are great but put a great new twist on it like this New York pizza burger and your bbq will be the bomb!!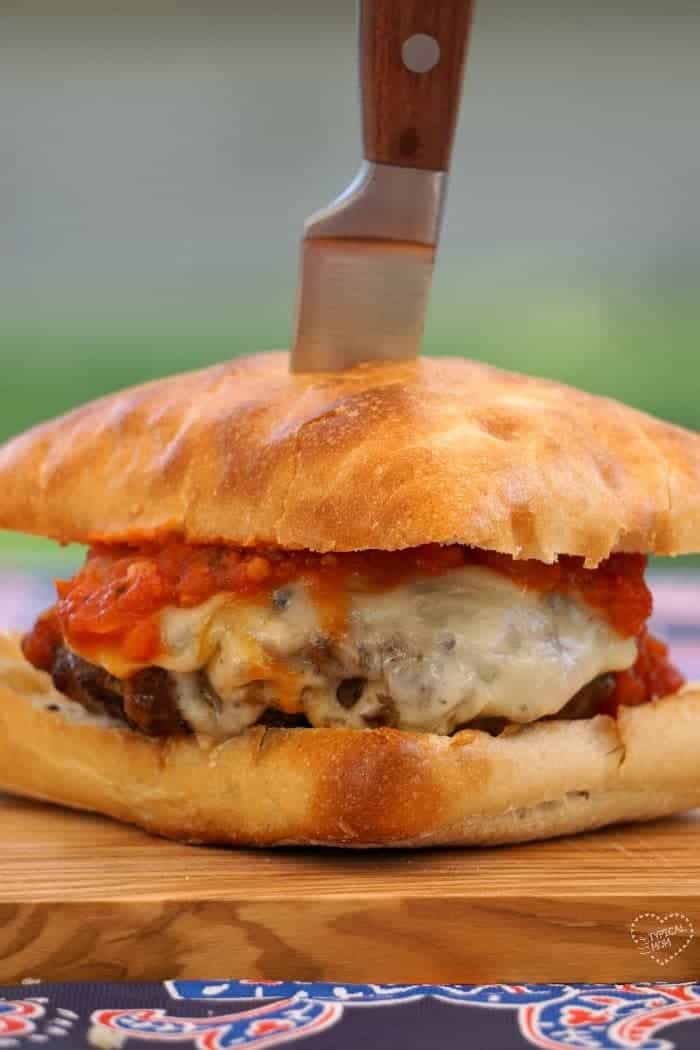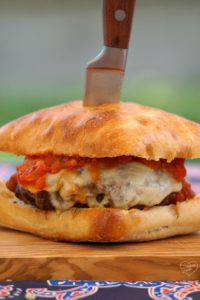 Cajun Burgers – Food Faith Fitness
These Cajun burgers use grilled sweet potatoes as buns instead of bread! They're a healthy gluten and dairy free summer meal with a taste of the south!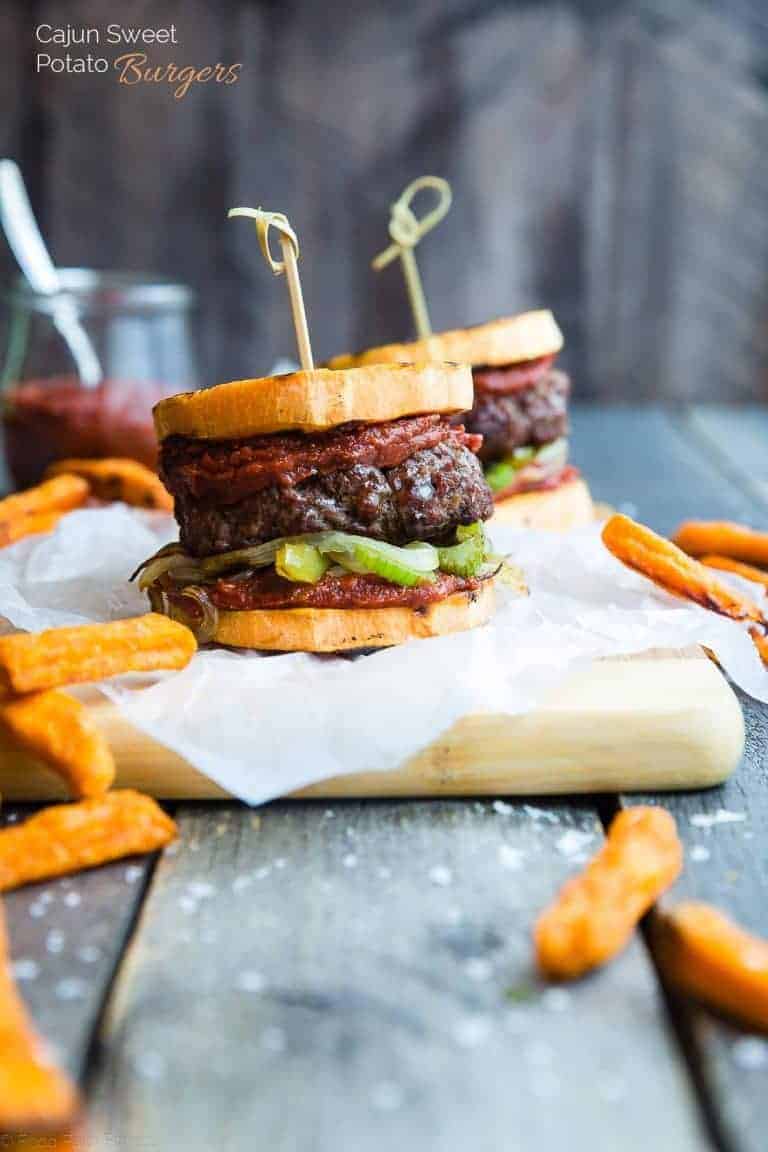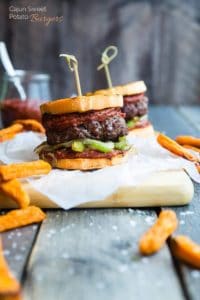 Mushroom Swiss Burgers – Big Bear's Wife
These Mushroom Swiss Burgers are half pound Sirloin burgers, topped with melted aged Swiss cheese, thick cut crispy bacon and butter sauteed mushrooms on a soft Brioche bun with A1 Sauce!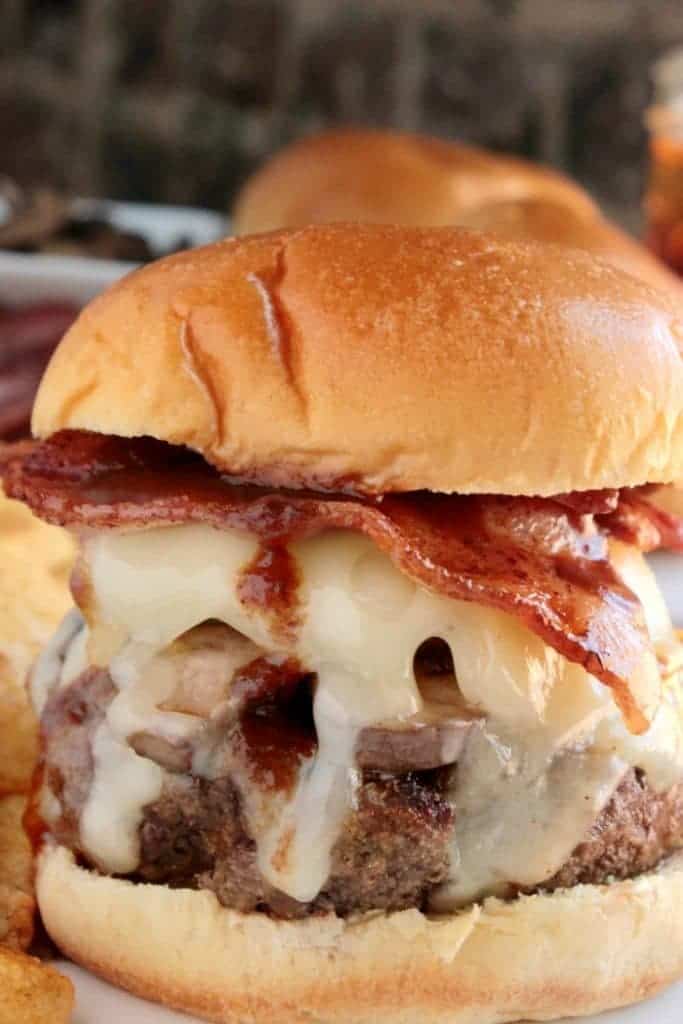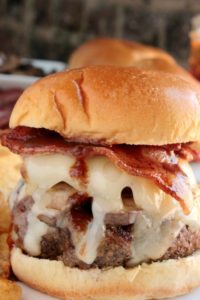 Spicy & Smoky Candied Bacon Burger – Go Go Go Gourmet
Juicy Burger Topped with Candied Bacon and Spicy Smoky Sauce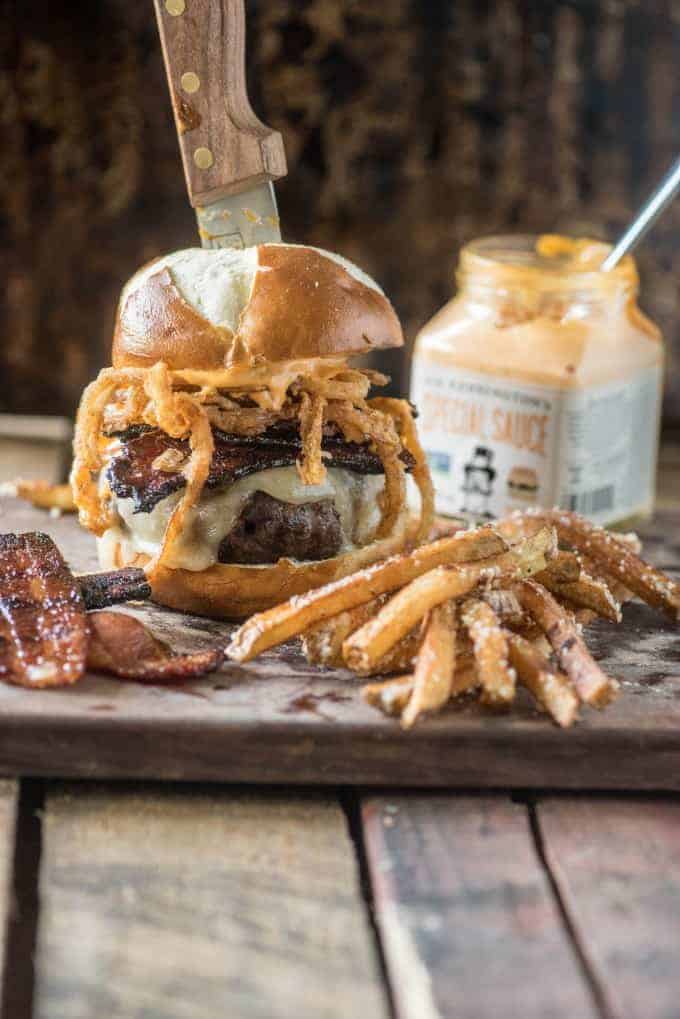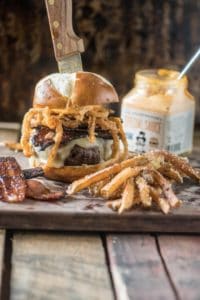 Moroccan Chicken Burgers – Lexi's Clean Kitchen
These Moroccan Chicken Burgers are packed with flavor and make for the perfect light Spring or Summer chicken burger! You'll love them paired with this delicious simple sauce.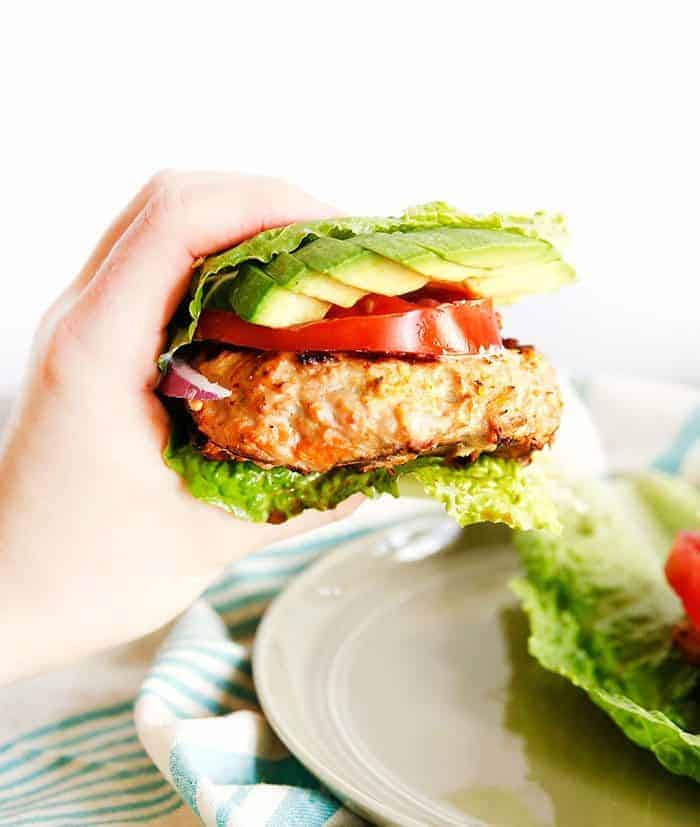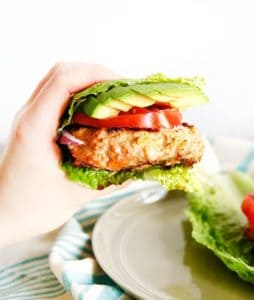 Turkey Pesto Burger – Yummy Healthy Easy
Flavorful Turkey Pesto Burger made with ground turkey, pesto, cilantro and green onions then topped with mozzarella and tomatoes – moist and delicious!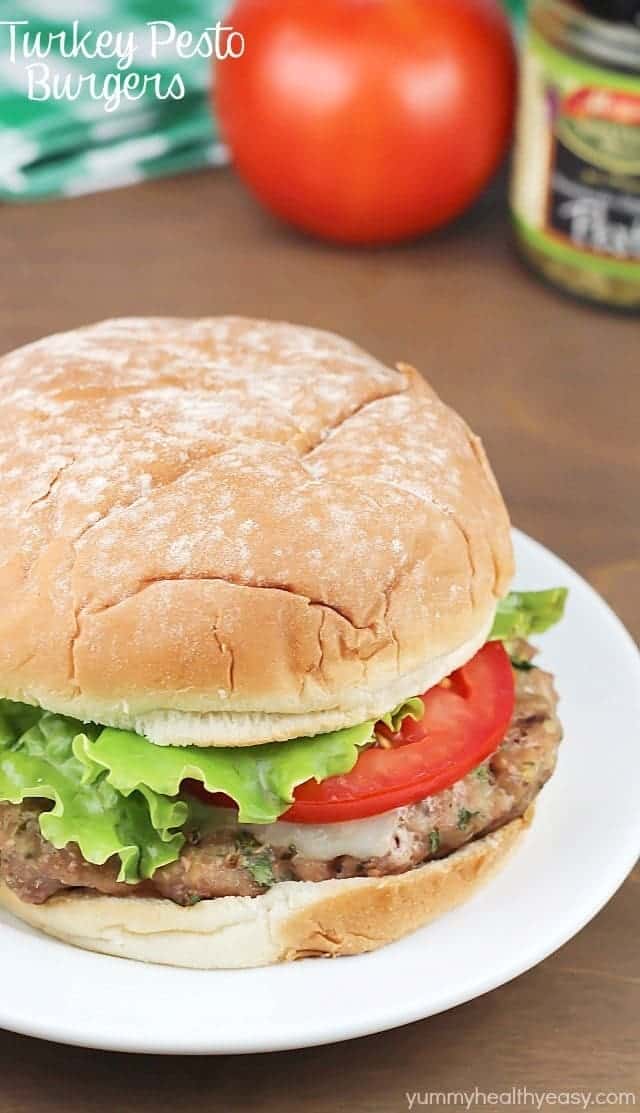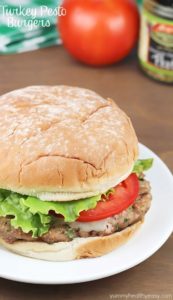 Marinated Burgers – Saving Room For Dessert
A super simple way to ensure your burgers taste amazing and stay juicy!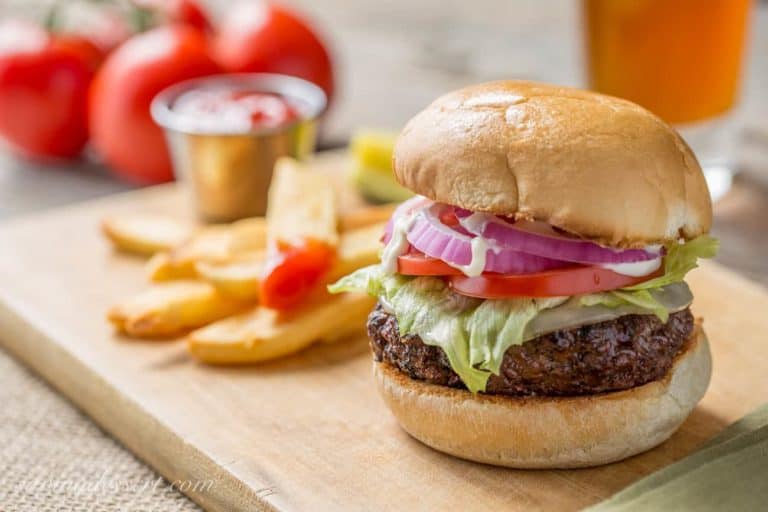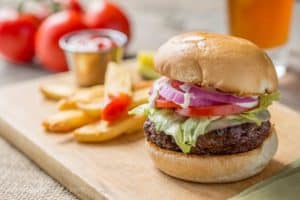 Smash Burgers – The Food Charlatan
This is probably your favorite hamburger recipe, even if you don't know it yet. The smash burger method is the secret to crispy, craggy burger edges and a seriously juicy center. It's so simple. You will never go back! Make it for 4th of July!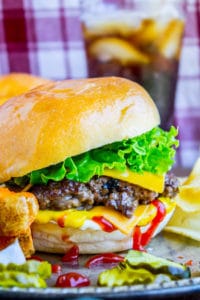 French Onion Soup au Gratin Stuffed Burgers – Cupcakes & Kale Chips
French Onion Soup au Gratin Stuffed Burgers take the classic hamburger and turn it into something extra special. Take the classic caramelized onions and gooey cheese to stuff and top your burgers, then grill these epic stuffed burgers.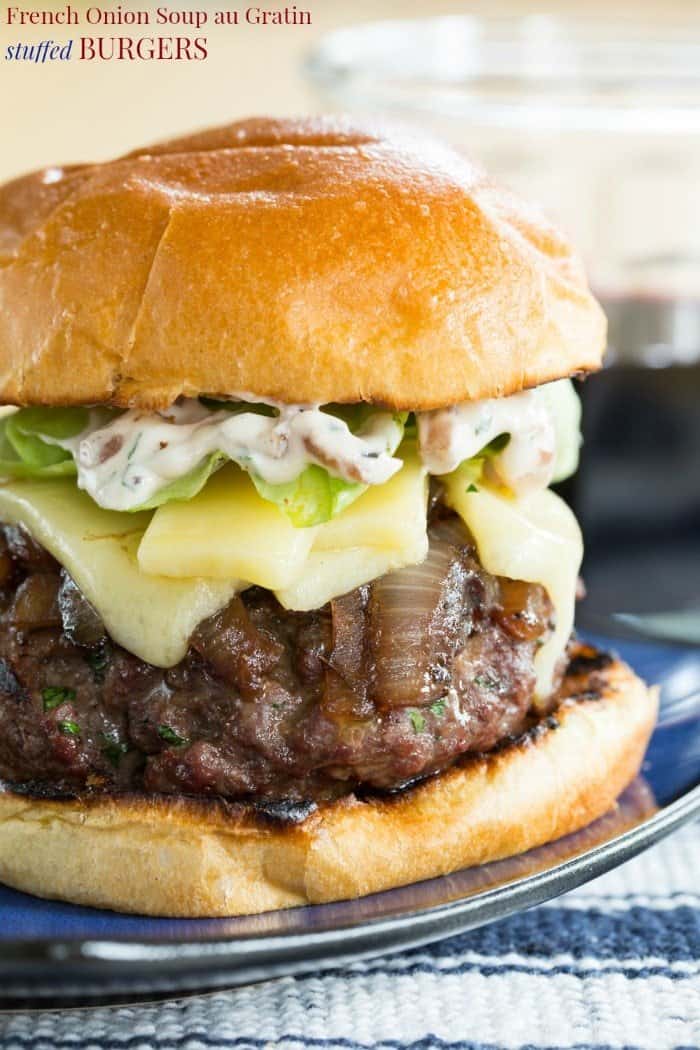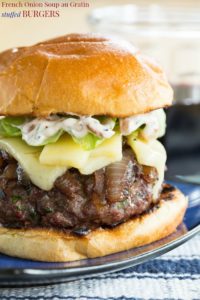 Homemade Brat Burgers – Iowa Girl Eats
Homemade Brat Burgers with Gluten-Free Beer-Braised Caramelized Onions are homemade brat patties (just pork and spices,) topped with luscious, gluten-free beer-spiked onions. You'll be making this easy grilling recipe all summer long!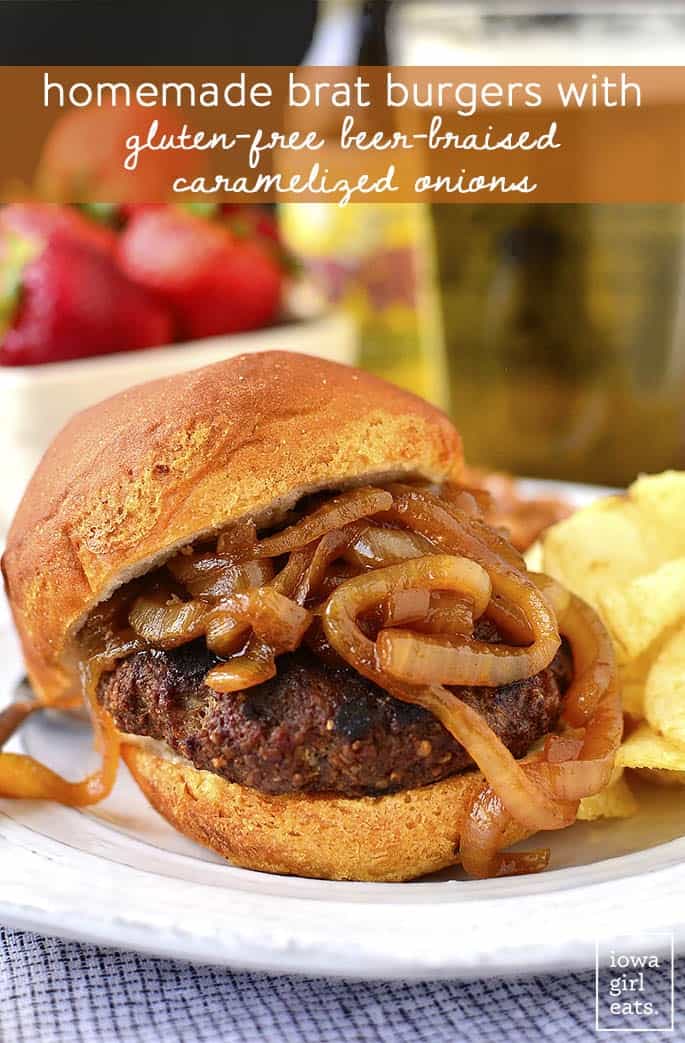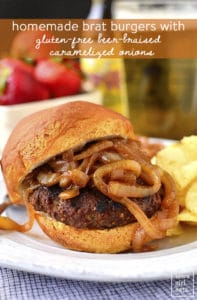 Cheese Stuffed Bacon Burgers – Big Bear's Wife
Cheese Stuffed Bacon Burgers! YES! These burgers are not only topped with cheese and bacon but there burgers are stuffed with cheese before being grilled!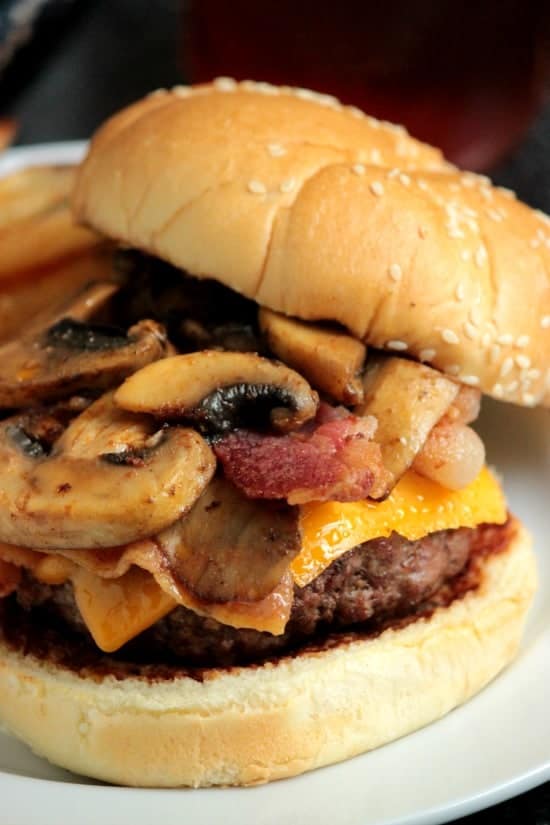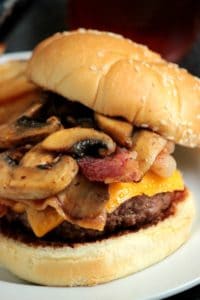 Grilled Salsa Burger– Delightful E Made
Fire up the grill, its time for some amazing burgers! Salsa made with delicious tomatoes, peppers, onions and garlic, along with pepper jack cheese bring serious flavor and freshness to our favorite summertime staple!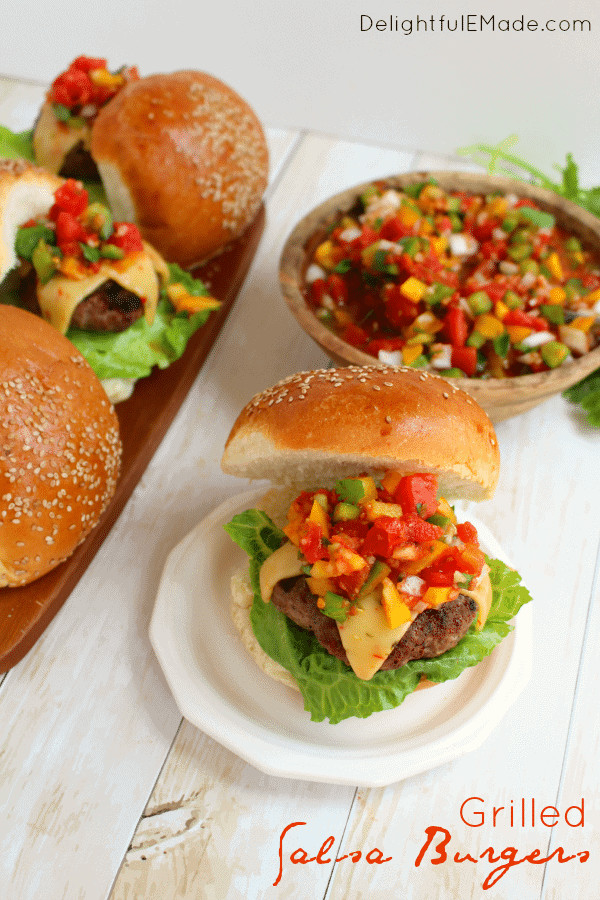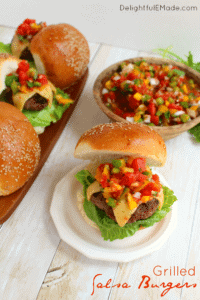 Pimento Cheese Burger – Magnolia Days
Beef, bacon, and the most awesome cheese spread ever makes a decadent trio. At least there is a little healthy in the stack with lettuce, tomato, and onion.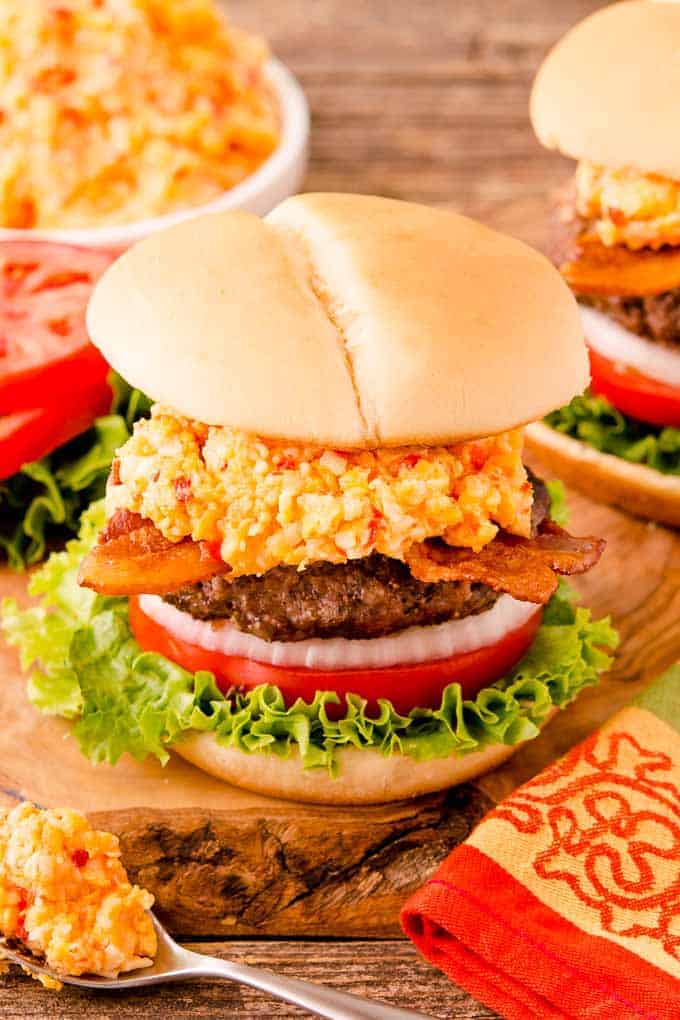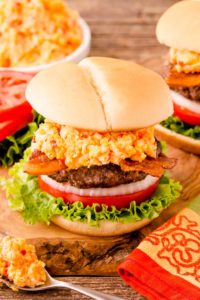 Carne Asada Mexican Burger – Recipe For Perfection
The classic flavors of carne asada- garlic, lime juice, and salt- combine to make this Mexican burger extra juicy and flavorful.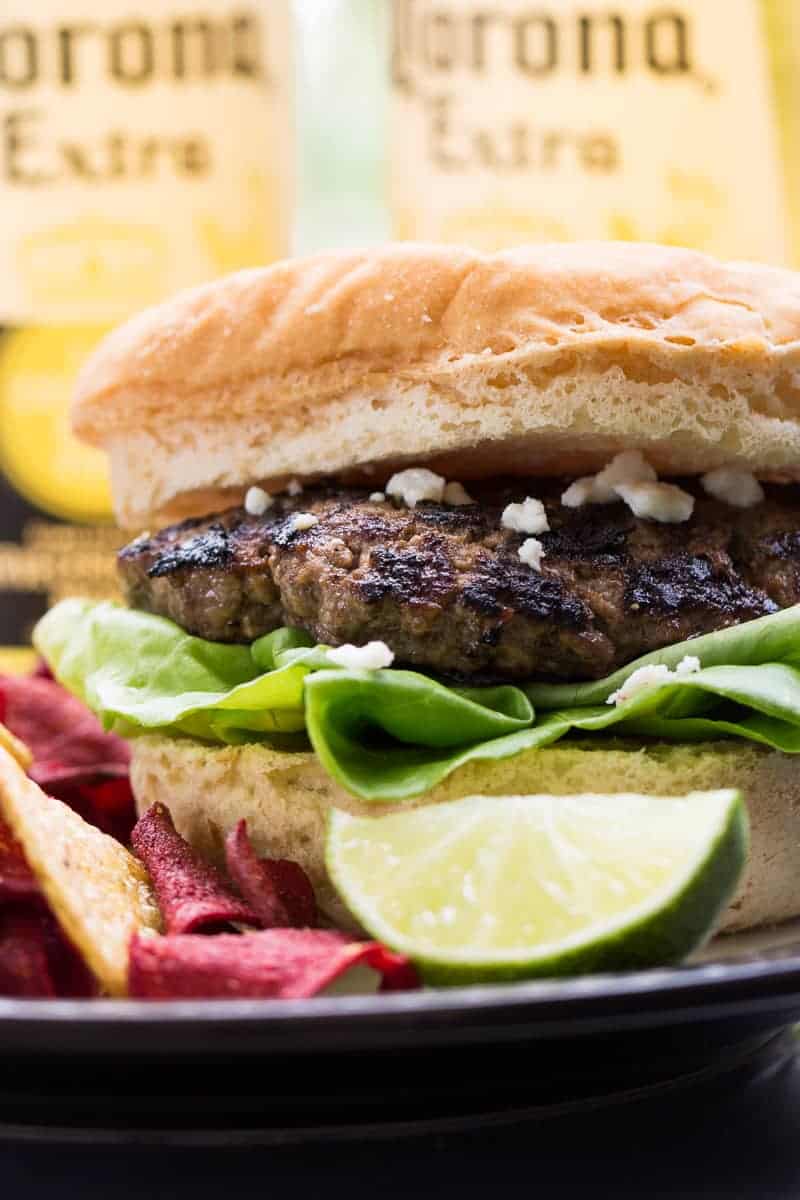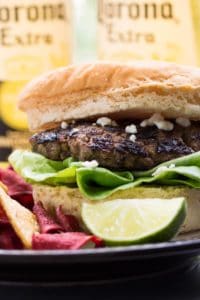 Chorizo Poblano Cheeseburgers – The Heritage Cook
Chorizo Burger Topped with Charred Poblano Peppers and Cheese!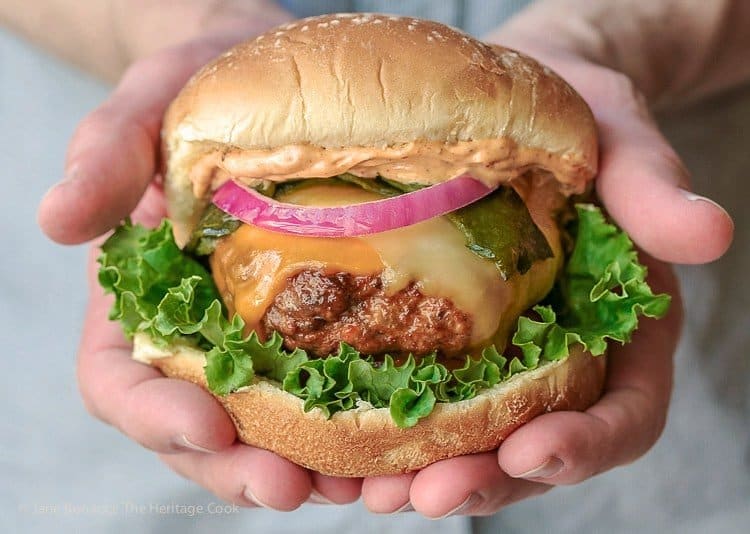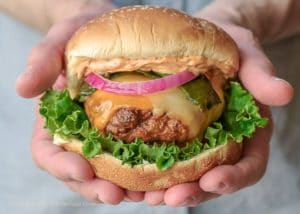 Cheese Board Burger – Foxes Love Lemons
A big juicy burger piled high with gooey brie, fig preserves and pickled red onions.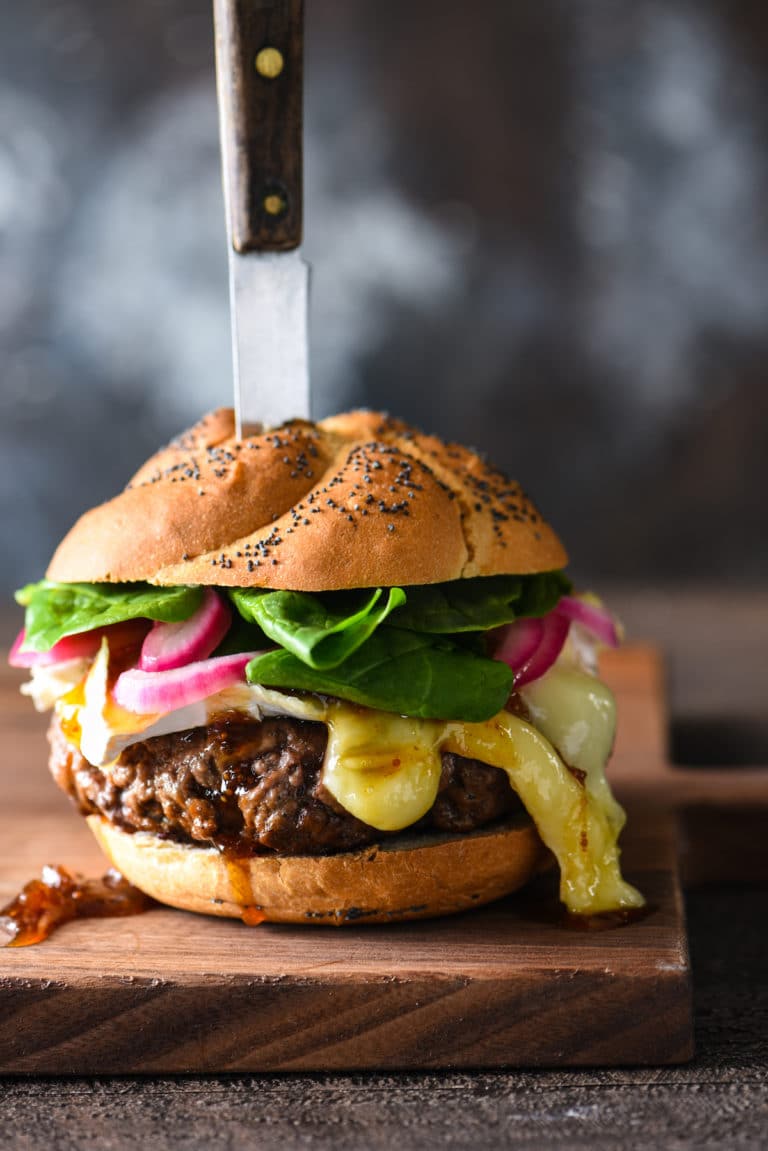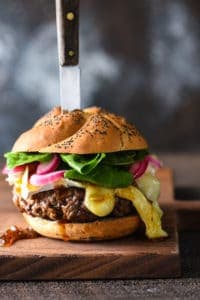 Bruschetta Turkey Burger Sliders – Call Me PMC
Full of fresh flavors, Bruschetta Turkey Burger Sliders makes a weeknight meal in under 30 minutes that healthy as well.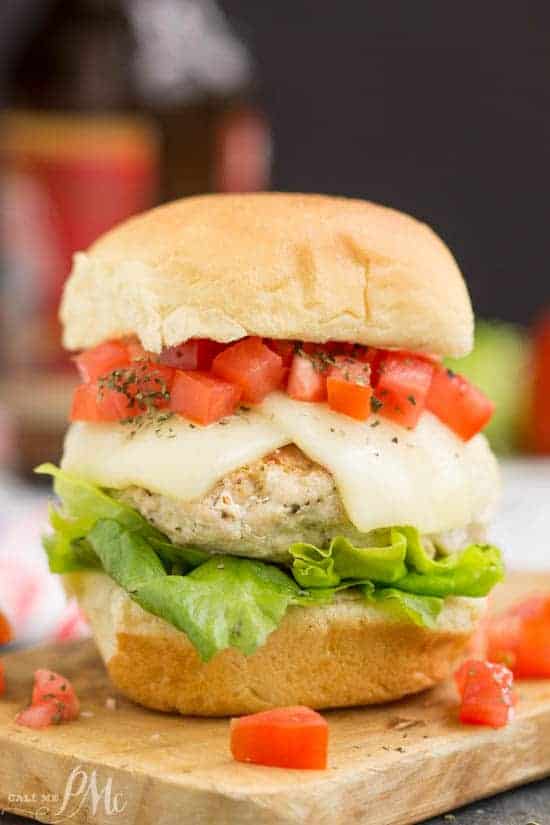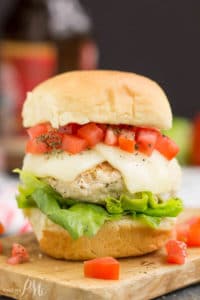 Bavarian Ham Burgers – Frugal Foodie Mama
A juicy burger topped with ham, cheddar cheese, & Heinz Yellow Mustard on a pretzel bun!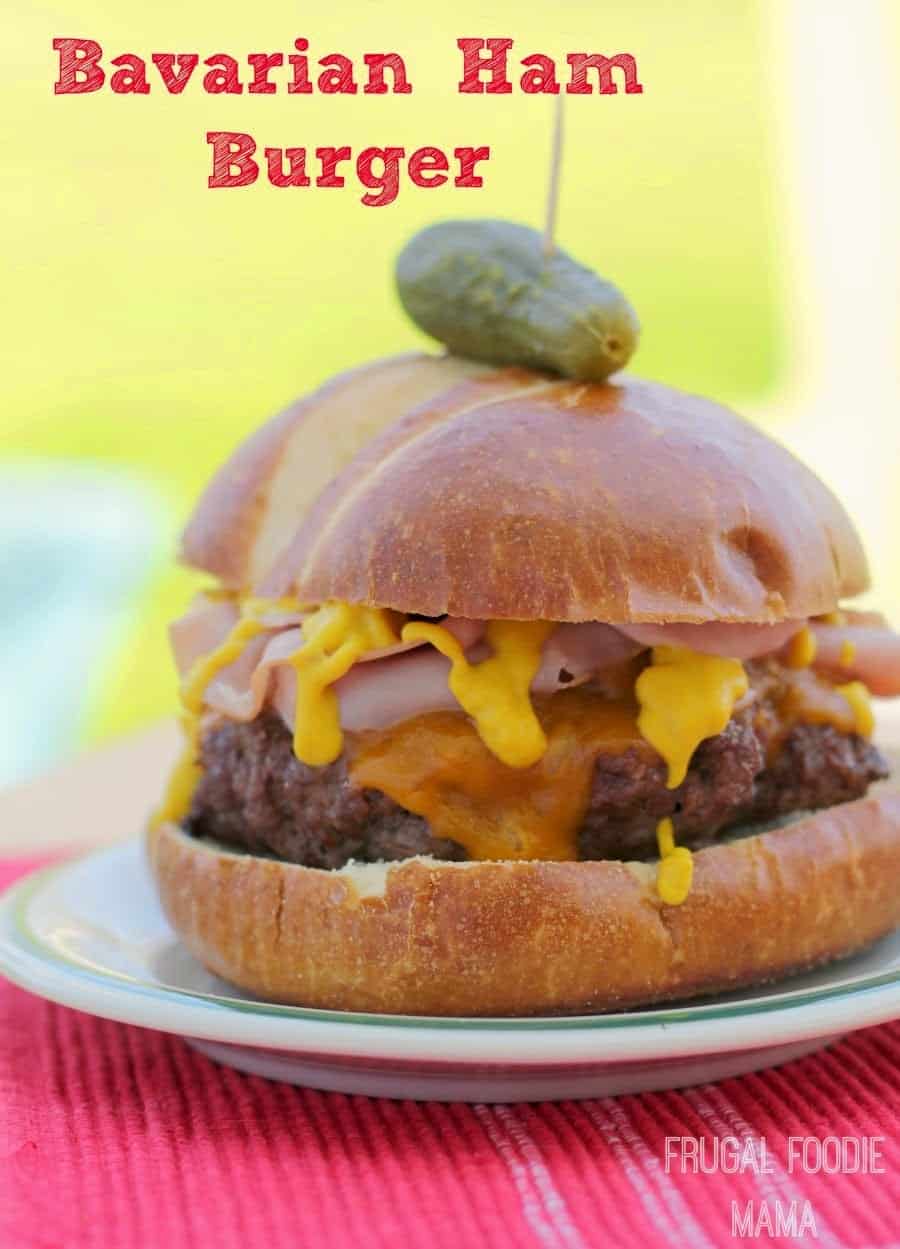 Juicy Turkey Burgers With Harissa Aioli – The Heritage Cook
Tender Turkey Burgers Topped with Cheese and Harissa Aioli!