Cheesy BBQ Smoked Meatloaf
Dare I say this might be the BEST Meatloaf I have ever had? It has so much smoked flavor bursting from it along with a delicious BBQ sauce and it's stuffed with cheese! You are going to love this Cheesy BBQ Smoked Meatloaf that you can make on your Traeger pellet grill as much as I do. In fact, you might never make meatloaf any other way again. It's easy enough for a weeknight dinner but delicious enough to serve it to guests. Make you are pair it with our Smoked Baked Potatoes and Easy Smoked Vegetables for an entire meal on your smoker!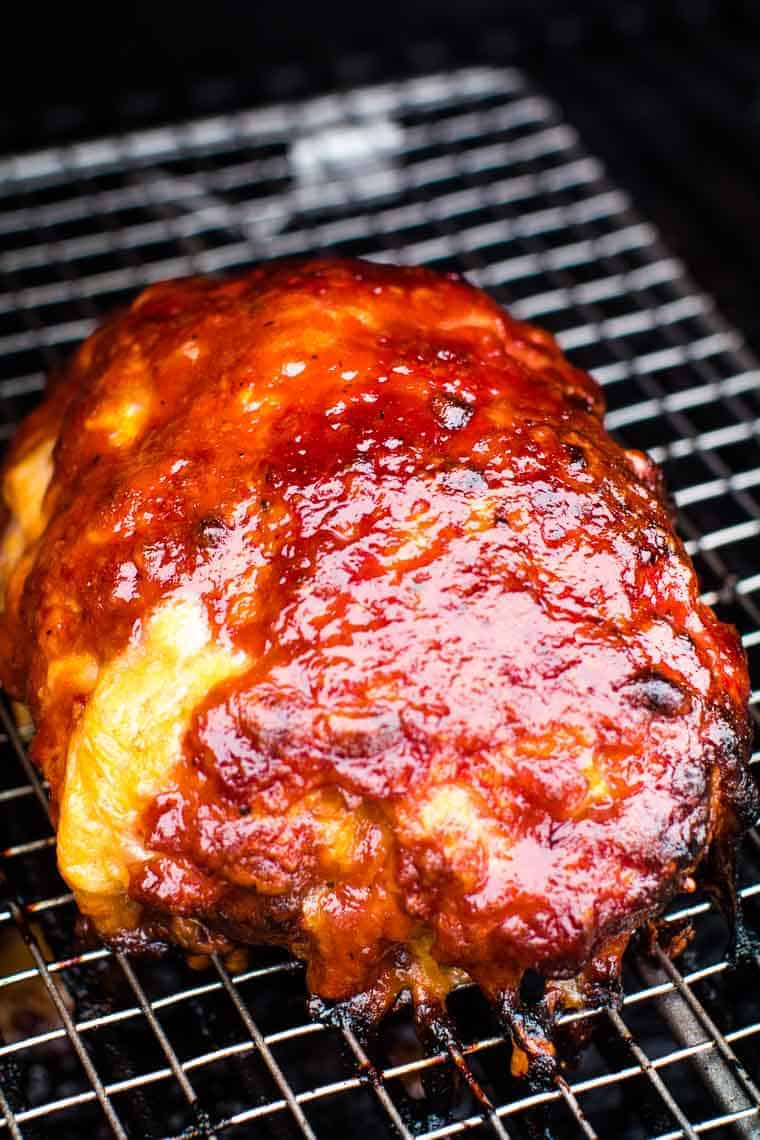 Smoked Meatloaf
Meatloaf is one of the best meals to make on the Traeger. As we're heading into spring (hopefully!) and we're looking to get outdoors soon, this is one of my very favorite dishes! Whether it's the Mini Smoked Meatloaf or Smoked Meatloaf Recipe these have been super popular so I know it's time for one more!
I mean just looking at this picture, doesn't it make you just want to reach the screen and pick the bits of charred meatloaf off the grill?
Or is it just me that's weird like that? No? Whew, that was close! ?
Great because is THAT good!!!
What do I need to make Smoked Meatloaf Recipe
ground beef
ground pork
bacon
eggs
Panko bread crumbs
milk
seasoned salt
garlic powder
yellow onion chopped
ground black pepper
cheddar cheese
BBQ Sauce
honey
brown sugar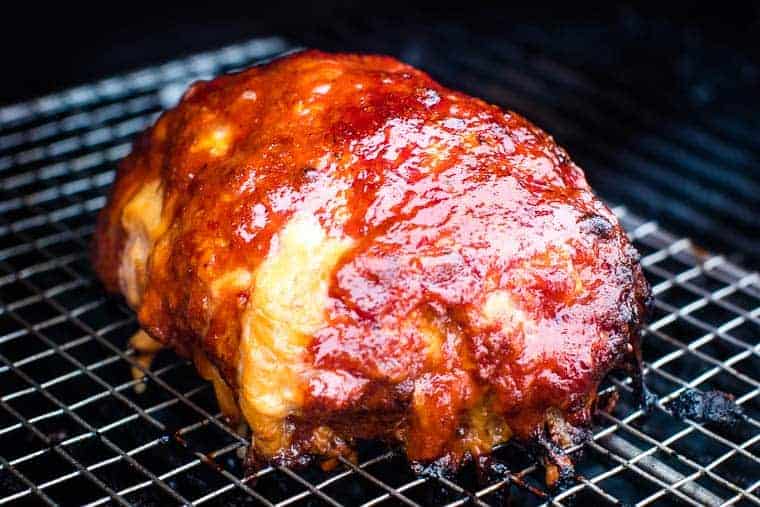 Traeger Meatloaf
Jason made this delicious cheesy meatloaf the other day and surprised me with it for dinner.
Now, that is a surprise I can get behind!
Forget the flowers! Forget the jewelry.
Food is the way to my heart.
Psh, that's right, it's the way to woman's heart just as much it is a guy's especially when we are talking about a BBQ Meatloaf.
What can I mix into meatloaf?
Whether you're topping it with barbeque sauce, slices of bacon or a teriyaki glaze it's really about what does it for YOU! Some grilled onions, a handful of cheese on top that gets all melty? Oooh…. now there's an idea, right? You can add just about whatever flavor you're looking for. It will only enhance the meat!
What can I do with leftover meatloaf?
Sandwiches are certainly my favorite. Some great whole grain bread, mayonnaise and cheese. Yup – that's leftover heaven right there!
Add it into Shepherds Pie – just sub out the turkey in this recipe. It's a perfect use of leftovers.
Add it into large pasta shells and top with marina sauce and some cheese – repurpose perfection!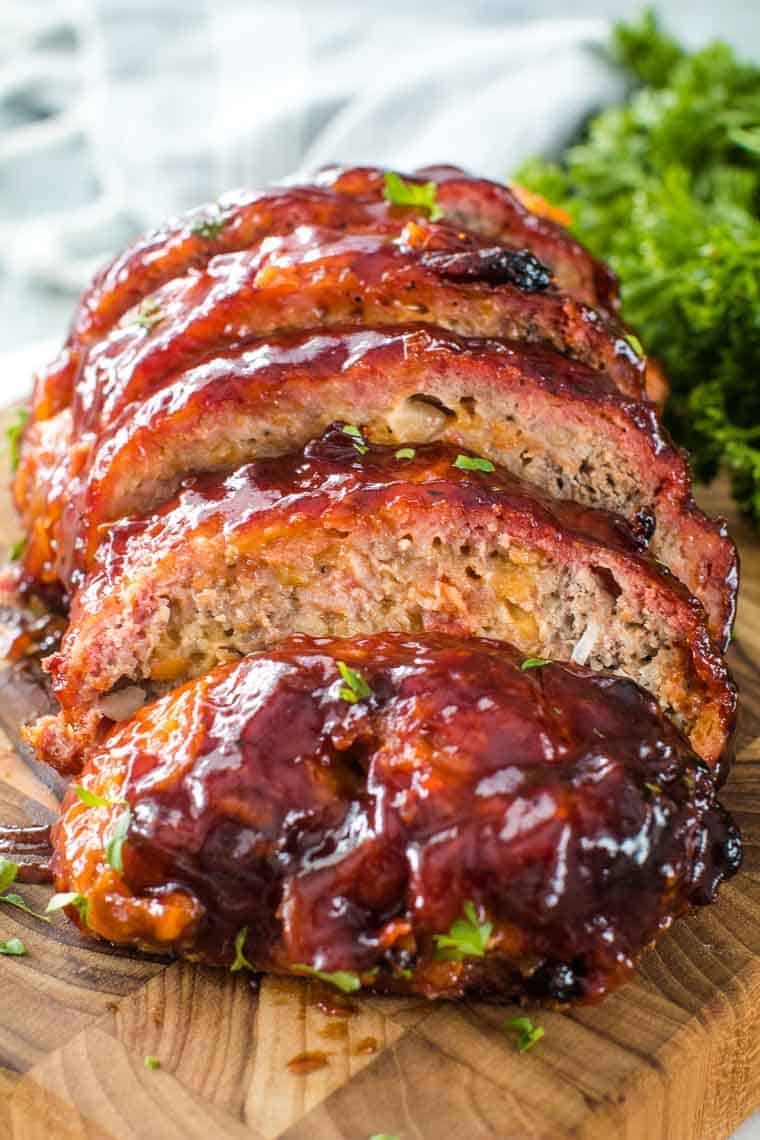 BBQ Meatloaf
This meatloaf recipe is stuffed with cheese and then topped with a delicious BBQ sauce to finish it off.
Trust me, one piece will not be enough.
There was an amazing smoke ring on this meatloaf and the flavor was AWESOME.
I mean like, just give me a fork and let me have at it. I will never eat another meatloaf. I've been ruined for life.
What can I serve with barbecue meatloaf?
This is what really gets my tastebuds rolling, I love planning menus! Since this is a great family meal, we'll keep it easy and casual. Dinner rolls are a MUST, then some smoked vegetables and maybe finish with a Smoked Crumb Apple Pie. That's one happy household, I'm telling you!
How to make Smoked Meatloaf Recipe
Preheat the smoker to 325 degrees F
Combine all of the ingredients in a large bowl, shape into a loaf
Place on smoker and smoke until the internal temperature is 165 degrees F

While it's smoking, mix the ingredients together for the BBQ Sauce
Remove the meatloaf from the smoker and slather with the BBQ Sauce
Don't forget, comment below and let me know how much you love this smoked meatloaf recipe!
Post a picture on Instagram and be sure to tag me so I can see it too! I'm loving all of your delicious foodie pics! You can find me at @gimmesomegrilling or just #gimmesomegrilling -if you hashtag me, I'll get to see it that way too!
Did you make this? If you snap a photo, please be sure tag me on Instagram at @gimmesomegrilling or #gimmesomegrilling so I can see your grilling masterpieces!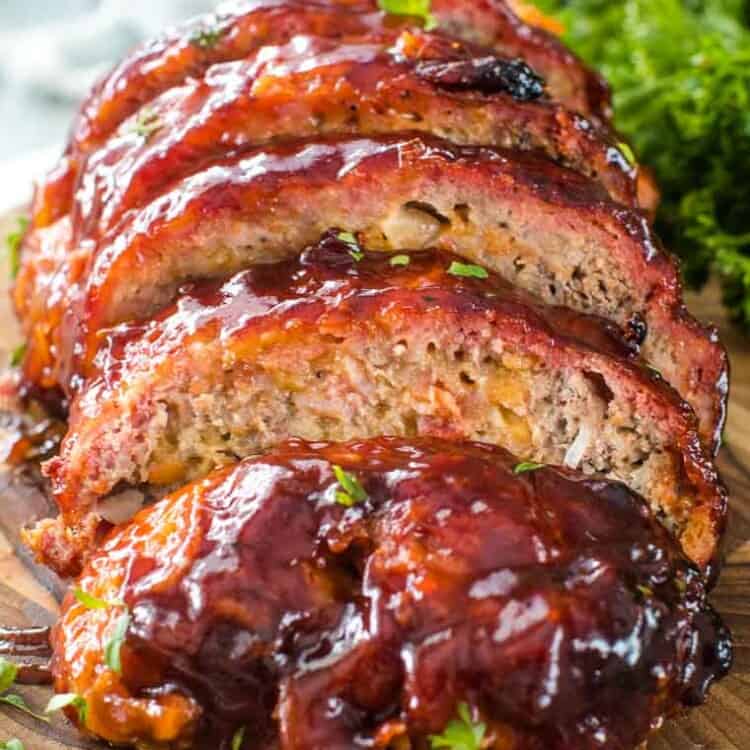 Cheesy BBQ Smoked Meatloaf Recipe
Easy Smoked Cheesy BBQ Smoked Meatloaf made on your Traeger!

Ingredients
Meatloaf
1

lb

ground beef

1

lb

ground pork

8

strips bacon

cooked and chopped

2

eggs

whisked

1/2

c.

Italian Panko bread crumbs

1/4

c.

milk

1

tsp

seasoned salt

1

tsp

garlic powder

1/2

c.

yellow onion

chopped

1/2

tsp

ground black pepper

2

c.

cheddar cheese

shredded
BBQ Sauce
1

c.

BBQ Sauce

1 1/2

Tbsp

honey

1 1/2

Tbsp

brown sugar
Instructions
Preheat and prepare electric smoker to 325 degrees F. according to manufacturer's directions.

In a large mixing bowl combine all ingredients. Shape into a loaf.

Place on smoker and smoke until the internal temperature is 165 degrees F which should take about 1 1/2 hours.

Meanwhile mix together all the ingredients for the BBQ Sauce.


With a half hour left of cooking time brush meatloaf with BBQ sauce and cook the remaining 1/2 hour.


Remove from smoker, brush with the BBQ Sauce, slice and serve immediately.
Nutrition Information
Calories:
780
kcal
(39%)
,
Carbohydrates:
31
g
(10%)
,
Protein:
40
g
(80%)
,
Fat:
53
g
(82%)
,
Saturated Fat:
24
g
(150%)
,
Cholesterol:
199
mg
(66%)
,
Sodium:
1887
mg
(82%)
,
Potassium:
566
mg
(16%)
,
Fiber:
1
g
(4%)
,
Sugar:
17
g
(19%)
,
Vitamin A:
740
IU
(15%)
,
Vitamin C:
1.7
mg
(2%)
,
Calcium:
501
mg
(50%)
,
Iron:
3.2
mg
(18%)