These mini meatloaves are tender, juicy and have an amazing flavor from being cooked on a smoker! This quick, easy smoker recipe for Smoked Meatloaf is going to be a new favorite for your pellet grill!

It doesn't seem fair to only eat meatloaf in the wintertime. Don't you agree? No one wants to heat up their home in the summertime though. Especially when you're looking for just about any reason to fire up the grill! I took one of our favorite meatloaf recipes and made if or your smoker! It's packed with cheddar cheese, onions, and topped with a brown sugar ketchup sauce for a delicious mini meatloaf!
I love that these are individual servings of meat loaf because it cooks so much faster than regular meatloaf and I'm all about fast and easy!
You're going to be happy to know that it's now possible and this smoked meatloaf recipe will have you enjoying comfort food all year long! The smoke from the pellets creates a new layer of flavor that takes a traditional recipe and elevates it on the grill. The result is a tender delicious meal and it tastes spectacular!

Hamburger is a great value and these Smoked Hamburgers are so amazing, but let's just say you want to up your grilling meal. Maybe burgers are not on your radar, or you're trying to avoid the carbs from the buns. Now is the time to try this recipe!
Plus if you're one of those families that fights over the crispy edges of a meatloaf then you'll be extra happy here because everyone will get their own individual serving and let me tell you, this is delicious! The topping gets sweet and caramelized and the bottom, just the right texture. The inside stays tender and moist. It's my new favorite way to cook meatloaf!
A few of my favorite grilled sides to serve with this meatloaf are Seasoned Potatoes, Grilled Corn on the Cob, Grilled Bacon Wrapped Brussels Sprouts or Smoked Vegetables.
How to Make Smoked Mini Meatloaf
Preheat your grill to 350 degrees.
Mix together the ingredients for the meatloaf, shape into 8 loaves.
Combine the topping ingredients.
Place the meatloaf on the grill and slather the top of each loaf with sauce.
Close the lid and smoke until the meat is no longer pink.
I like this method because it's no muss/no fuss! You don't have to fashion foil grill pans and clean-up is a breeze!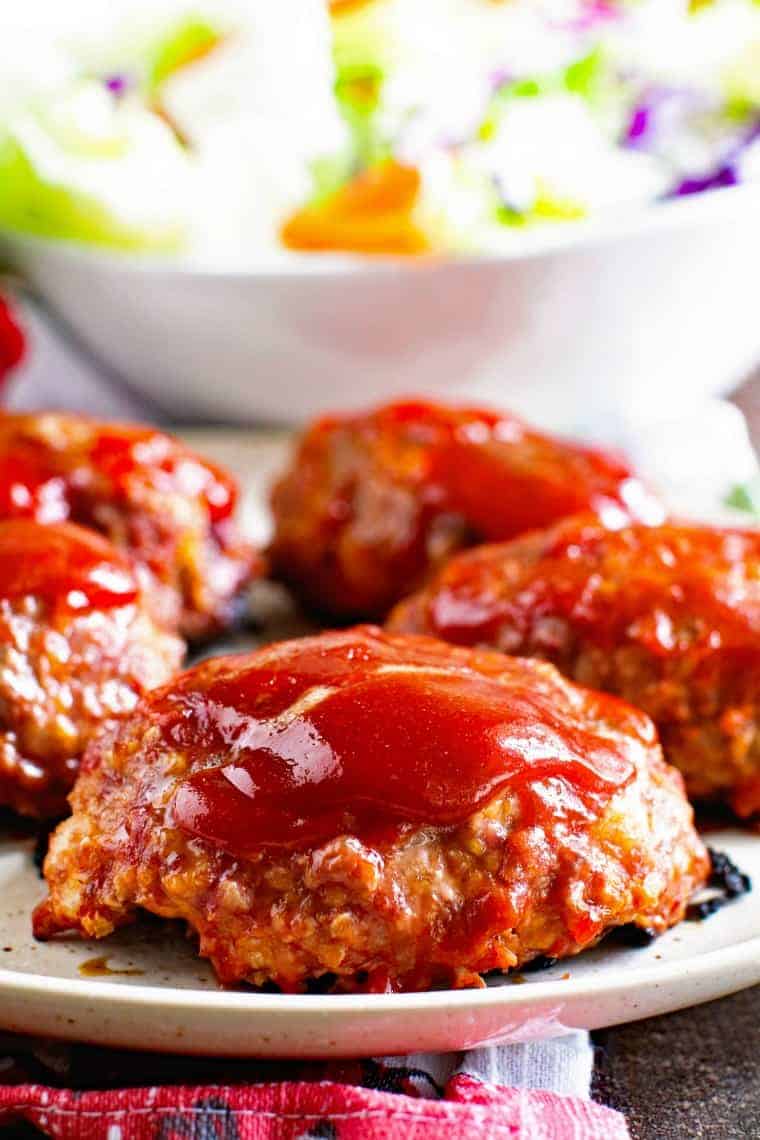 How do you make moist meatloaf?
A binder like bread or oats is a must in meatloaf but it can often dry out the meat. Adding milk to your meat mixture will help keep it moist and flavorful. Milk is essential to keep the meat from drying out!
How long do you cook a meatloaf on the grill?
After closing the lid you'll cook the meatloaf for about 45 minutes.
Is it ok to eat meatloaf when it's pink?
Color isn't the best indicator for doneness. The internal temperature needs to reach 160 degrees to be considered safe. Remember after you remove it from the grill wrap it loosely in foil and the internal temperature will continue to rise as it rests. It can rise as much as 10 degrees!
How to use leftover meatloaf
Meatloaf sandwich – a family favorite on day two!
Hash – great for breakfast or dinner, sauté peppers and onions – add in the leftovers mix with some green onions and topped with an over easy egg!
Toss it into chili or spaghetti, it already has a ton of flavor!
Perfect for Shepherd's Pie
Tacos are another great use for leftovers!
More delicious meatloaf recipes!
What's your favorite meal made with leftovers? Leave a comment below, I'd love to hear from you!
Did you make this? If you snap a photo, please be sure tag me on Instagram at @gimmesomegrilling or #gimmesomegrilling so I can see your grilling masterpieces!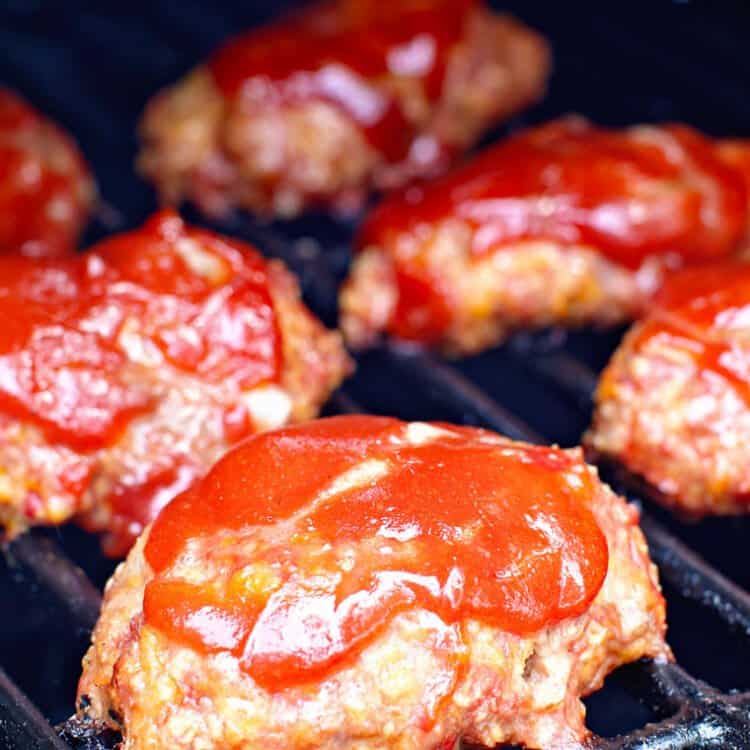 Mini Smoked Meatloaf
These mini meatloaves are tender, juicy and have an amazing flavor from being cooked on a smoker! This quick, easy smoker recipe for Smoked Meatloaf is going to be a new favorite for your pellet grill!
Ingredients
Meatloaf
1

egg

3/4

c.

milk

1

c.

cheddar cheese

shredded

1/2

c.

quick cooking oats

1/2

c.

yellow onion

chopped

1

tsp

salt

1

lb

ground beef
Topping
1/2

c.

ketchup

1/3

c.

brown sugar

packed

1

tsp

prepared mustard
Instructions
Preheat pellet grill to 350 degrees. We used competition blend pellets in the pellet grill.

In a bowl beat egg and milk. Stir in cheese, oats, onion and salt. Add beef and mix well. Shape into 8 mini loaves.

In a small mixing bowl combine the topping ingredients.

Place meatloaf on pellet grill. Spread topping over the top of the meatloaf.

Close lid on pellet grill and smoke for 45 minutes or until meat is no longer pink.
Tips
These can also be made in your oven! Simple preheat your oven to 350 degrees F. Place mini meatloaves in a greased 13 in x 9 in x 2 in baking dish. Baked, uncovered, for 45 minutes or until no long pink.
Nutrition Information
Calories:
799
kcal
(40%)
,
Carbohydrates:
53
g
(18%)
,
Protein:
41
g
(82%)
,
Fat:
46
g
(71%)
,
Saturated Fat:
22
g
(138%)
,
Cholesterol:
187
mg
(62%)
,
Sodium:
1349
mg
(59%)
,
Potassium:
706
mg
(20%)
,
Fiber:
3
g
(13%)
,
Sugar:
29
g
(32%)
,
Vitamin A:
875
IU
(18%)
,
Vitamin C:
3.4
mg
(4%)
,
Calcium:
545
mg
(55%)
,
Iron:
4.5
mg
(25%)