If you want the best bacon ever make it on your Smoker! These easy Smoked Bacon slices are bursting with your favorite smokey flavor from using your pellet grill. It's a quick, easy way to make bacon that doesn't make a mess. Use a thick cut of bacon for the best result. Make this for breakfast or make it to top your favorite Smoked Burgers!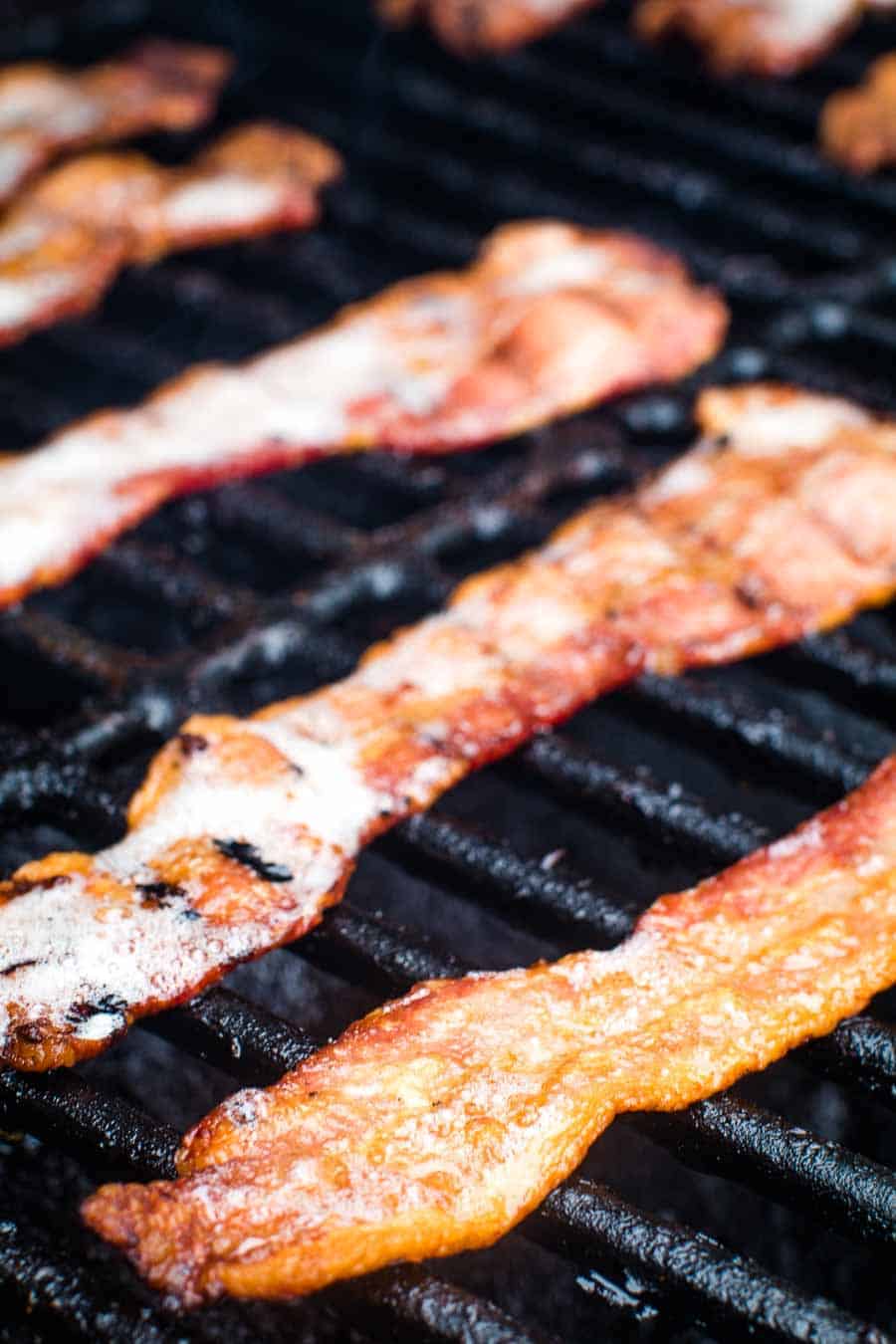 You might not find an easier way to cook bacon, ever! It's so simple to let your electric smoker do all the work with this easy Smoked Bacon.
You'll love the ease and smokey taste! I mean, did I mention it's done in 30 minutes? Any smoker recipe this quick is a winner!
Leave your oven off and instead opt for that smokey taste and flavor from your smoker. You're going to love just how delicious it is! We love pairing it with Campfire Cinnamon Rolls, Blueberry French Toast or Apple Monkey Bread! It's also great when making a BLT Sandwich!
Why You'll Love Easy Smoked Bacon!
One ingredient! Thick cut bacon slices is all you need!
Ready in about 30 minutes.
Crispy, smokey bacon that's cooked to perfection.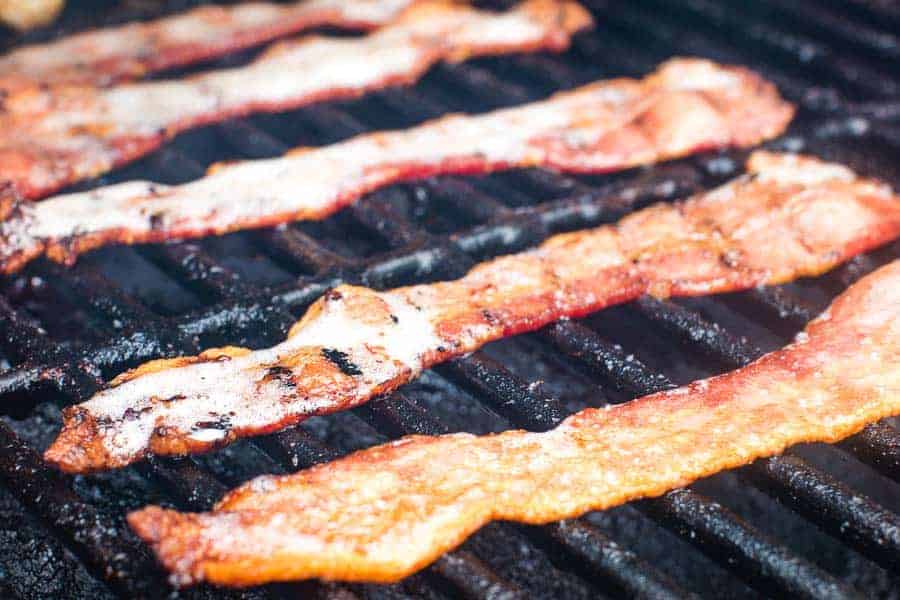 Ingredients for Smoked Bacon
Bacon – We have found that a thick cut of bacon is the best type of bacon to smoke.
Yes, this is literally all you need for this recipe! One simple ingredient! (Just make certain that you choose thick cut bacon for this recipe!)
How to Make Smoked Bacon
Preheat Smoker – Start by preheating your smoker to 300 degrees. Spray with a non-stick spray so that the bacon doesn't stick once applied.
Smoked Bacon – Place the bacon directly on the grate and cook for 30 minutes. Make certain that you keep on eye on it near the end as you don't want to miss the mark and overcook it! Crispy bacon is good but burnt bacon is not.
You will want to watch this bacon closely because the cook time is going to vary greatly depending on how thick your bacon slices are.
How long does it take to cook bacon on a smoker?
While the heat can vary, it takes about 30 minutes. You'll still want to keep a close eye on it though as the temperature can get hotter as the smoker continues to warm up.
It's especially important at the end of the smoking to watch it closely so you can pull it off when it's cooked to your preference. Everyone likes their bacon a little bit different! I'm a nice and crispy kind of girl.
The cook time is going to vary on how thick your bacon slices are cut too. We like a nice thick cut of bacon because it holds up better on the smoker grates and cooks evenly.
Remember as your bacon cool it will firm up a bit so pull it off right before you think it's done.
What temperature do you cook bacon on a pellet grill?
You're going to want to cook your Traeger bacon at 300 degrees on the smoker. This will ensure that it's crispy and smoked to perfection every single time.
What kind of bacon is best to smoke on an electric smoker?
Using thick cut bacon is best so it doesn't cook too quickly. Also, the thickness of the bacon really does a great job of holding onto that smokey taste and flavor.
What Pellets Should I use to Smoke Bacon?
We would recommend a hickory pellets to give your bacon a wonderful flavor because it's stronger and you are only smoking the bacon for 30 minutes.
How can I prevent the bacon from sticking to the smoker grates?
We typically never have an issue with this, but if you do just oil the grates with olive oil before smoking the bacon slices.
Serving Suggestions
We love serving crispy smoked bacon along side our light, fluffy pancakes hot off the Blackstone, our Smoked Cinnamon Rolls or Grilled Blueberry French Toast (you can bake this too or cook it on the smoker).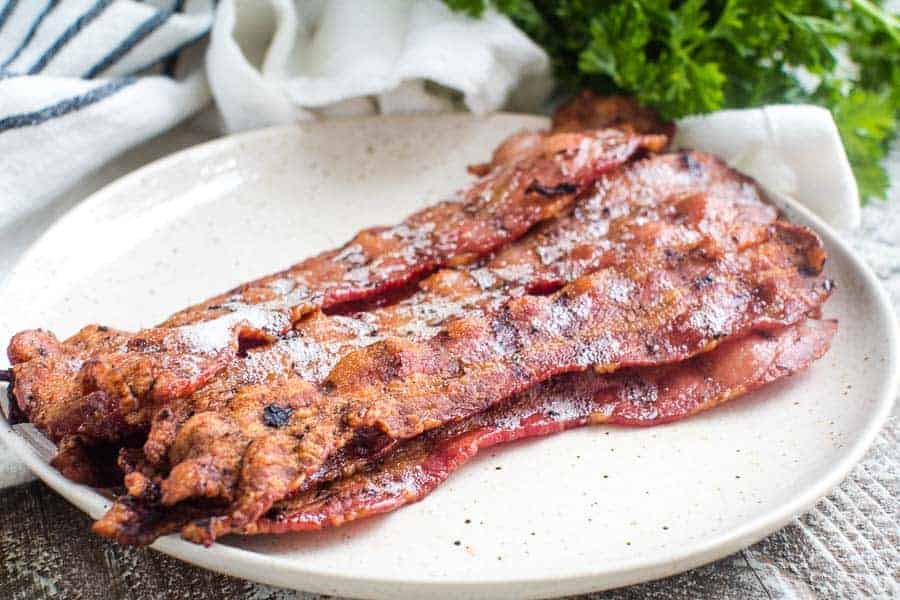 Recipes to use Smoked Bacon in!
More Breakfast Recipes off your smoker!
Did you make this? If you snap a photo, please be sure tag me on Instagram at @gimmesomegrilling or #gimmesomegrilling so I can see your grilling masterpieces!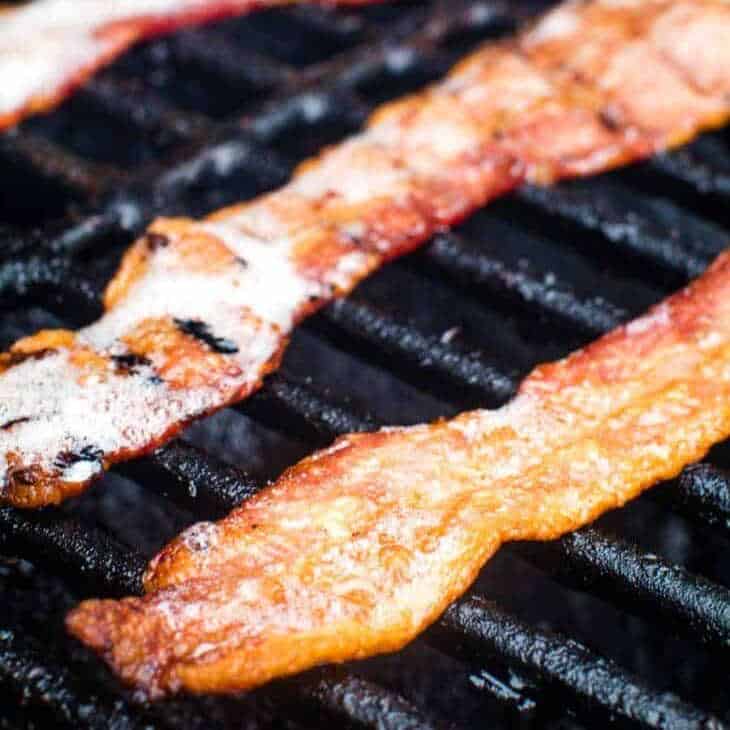 Smoked Bacon Slices
Bursting with flavor from being prepared on your Traeger pellet grill!
Ingredients
1

pound

sliced bacon

thick cut
Equipment
Instructions
Preheat your electric smoker to 300 degrees Fahrenheit according to your manufacturer's directions. Spray non stick spray on the grates.

Place bacon directly on the grates. Let cook on pellet grill for 30 minutes or until bacon is done to your preference.

Please watch bacon carefully towards the end of the cooking time as it goes from done to overdone quickly. Remember as the bacon cools (for about 1-2 minutes) it will firm up so don't over cook it!

Remove from smoker and place on a plate lined with paper towels to drain off grease. Serve immediately.
Tips
The length of time that it will take to smoke your bacon will vary depending on the thickness of you bacon slices and how you like your bacon done so watch it closely!
We typically never have an issue with bacon sticking to the grates, but if you do just oil the grates with olive oil before smoking the bacon slices.
Nutrition Information
Calories:
473
kcal
(24%)
,
Carbohydrates:
1
g
,
Protein:
14
g
(28%)
,
Fat:
45
g
(69%)
,
Saturated Fat:
15
g
(94%)
,
Cholesterol:
75
mg
(25%)
,
Sodium:
751
mg
(33%)
,
Potassium:
225
mg
(6%)
,
Vitamin A:
40
IU
(1%)
,
Calcium:
6
mg
(1%)
,
Iron:
0.5
mg
(3%)