BBQ Chicken on the Grill!
BBQ Chicken that is slow cooked on your grilled and brushed with a BBQ Sauce. This Barbecued Chicken recipe is perfect for summer entertaining, backyard parties, and BBQs! Dig in with your hands because it's finger licking good. The trick is to cook this BBQ Chicken recipe at a nice and ever temperature on the grill. If you've been wondering how to get the best chicken on the grill think low and slow so you get a delicious juicy chicken with a savory BBQ Sauce!
Pair it with our favorite Baked Potatoes on the grill and Grilled Asparagus for an entire meal right on your grill, which is perfect for hot summer days when you don't want to heat up your kitchen!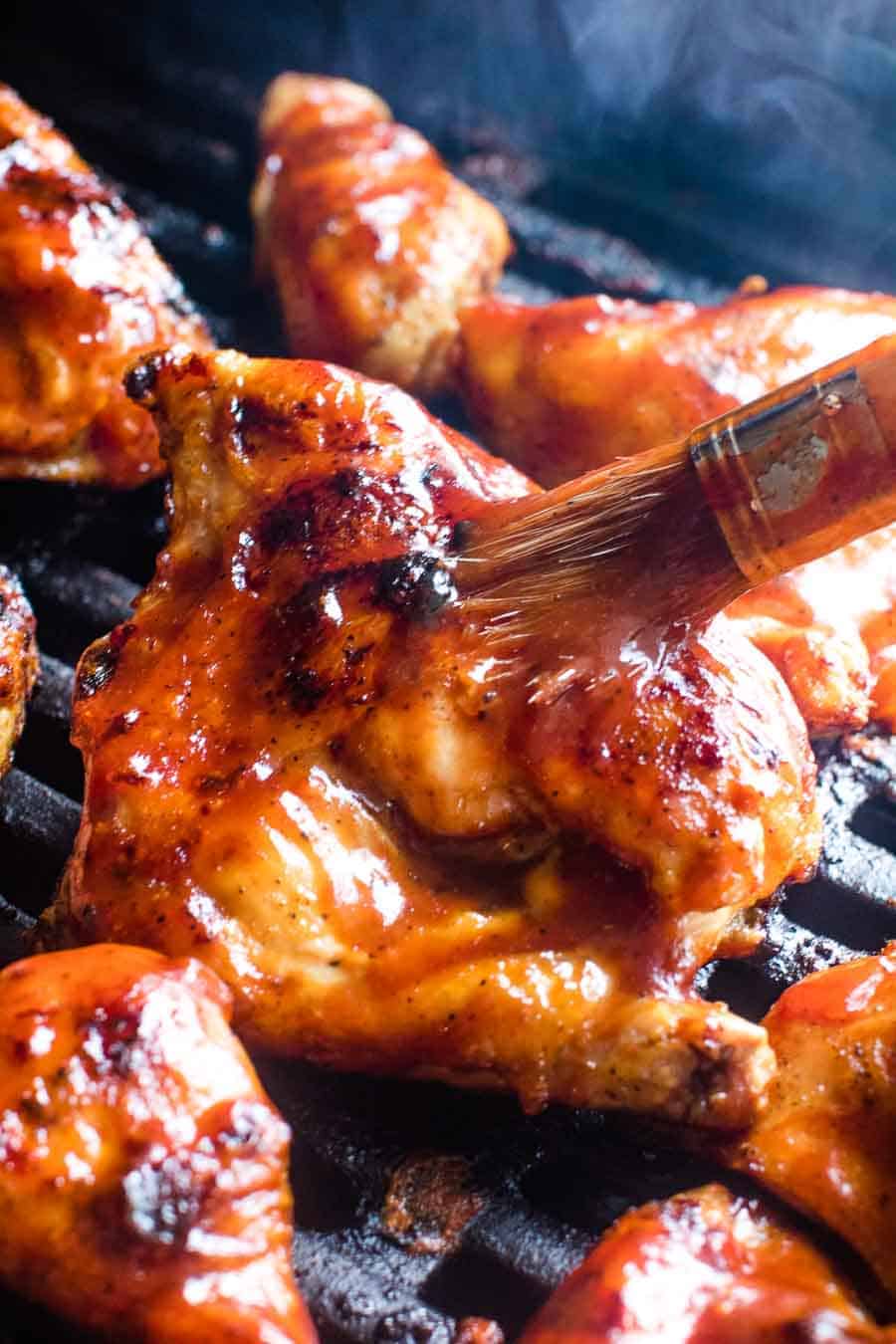 Amazing BBQ Chicken!
If you're looking for that grilled chicken that just melts in your mouth and falls off the bone, this is the recipe for you. We also love Beer Can Chicken on the grill for another great, easy chicken recipe!
Nothing quite screams outdoor summer cooking like chicken hot and ready off the grill.
It's not a picnic or BBQ without the BBQ Chicken is it? Get your hands dirty and dig in! Just have a wet wipe ready or wash cloth after you grabs these because of that delicious coating of bbq sauce that gets perfectly sticky after it grills for a few minutes.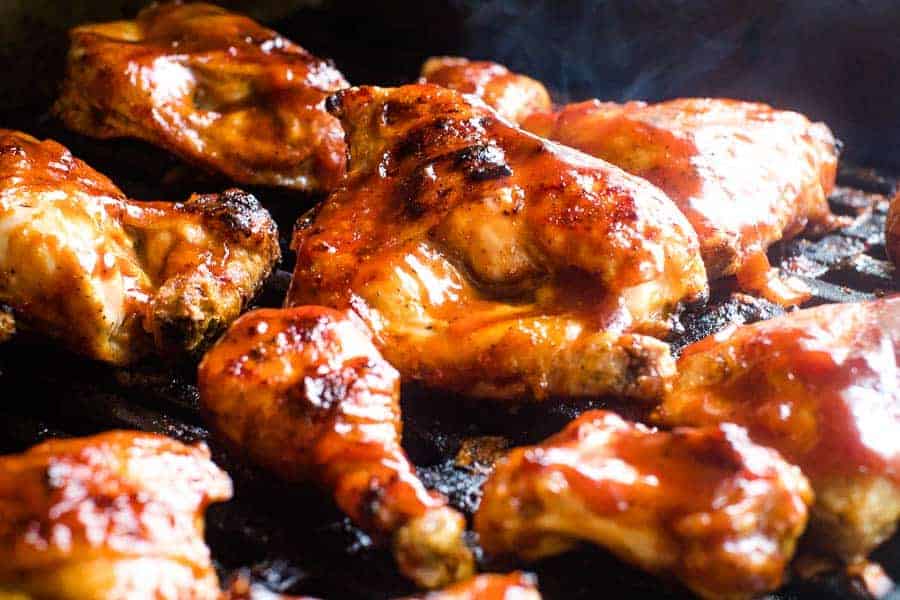 What ingredients do I need for BBQ Chicken?
If you'd rather skip my (very helpful, I think) tips and tricks, essential cooking info, and similar recipe ideas – and get straight to this delicious easy BBQ Chicken recipe – simply scroll to the bottom of the page where you can find the printable recipe card.
This is just a few of the ingredients that you'll need for this grilled chicken recipe. This is one of those recipes that take no time at all to prep!
While you'll find the exact measurements needed in the full recipe below, you can rest easy knowing that this recipe only needs two ingredients!
How do I make BBQ Chicken?
It's so simple! You're going to start by grilling up your chicken and then as it gets cooked, layering the BBQ sauce on the chicken and turning it to get it cooked all over.
Make certain you always check the internal temperature of chicken to make certain it's cooked and ready! I always have my Instant Read Meat Thermometer handy to make sure it's cooked to 170 degrees F.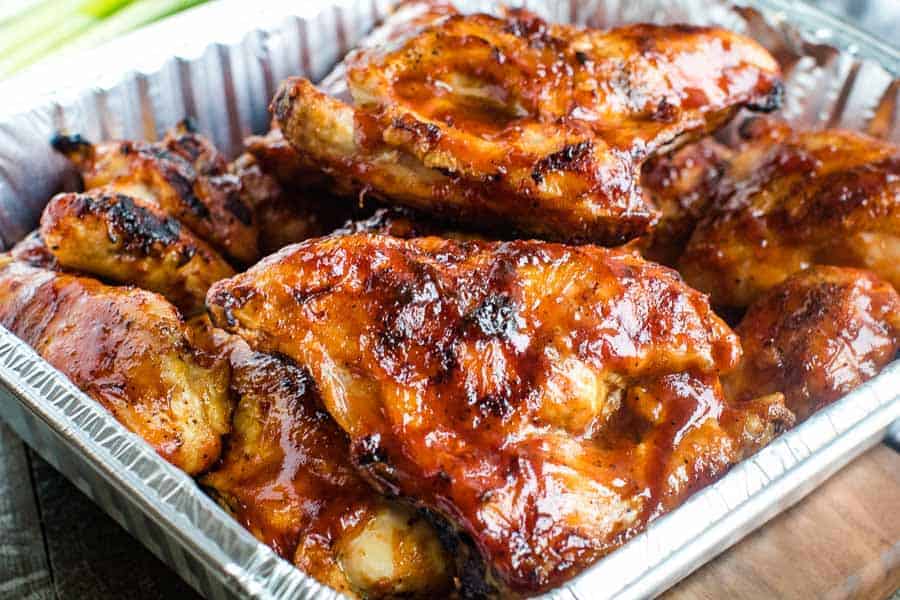 Barbecue Chicken FAQs!
Cooking chicken on the grill isn't difficult, but here are some answers to questions that might help you. If you have any additional questions make sure to leave a comment and we will do our best to answer them!
How long does it take to BBQ chicken on the grill?
To cook chicken thoroughly and reach the internal temperature of 170 degrees, you'll need to plan on it taking about 45-50 minutes to cook.
Do you put BBQ sauce on chicken before grilling?
For this recipe, you don't. You'll want to first get a nice char and some grill marks to the chicken before you start adding on the BBQ sauce.
What temperature do you grill chicken on a propane grill?
If you're using a propane grill, your idea cooking temperature needs to be around 425 degrees. Again, if you're worried that the chicken isn't done, this is where you need to rely on your meat thermometer to check.
What should the internal temperature of chicken be?
Never pull the chicken from the grill until you verify the temp. For your chicken to be cooked and ready, the internal temperature should be technically be 165 degrees F, but we like to cook this a bit hotter to avoid having any bloody meat around the bones. Sometimes in a chicken leg they can have this and other bone-in pieces of chicken. If your chicken legs reaches the 180-190 degree F range that's fine!
Once it reaches that, you can pull and prepare for consumption.
Keep in mind that the longer you let cool down from the grill, the tackier the BBQ sauce is going to be as well.
What should I serve with BBQ Chicken?
Love this BBQ Chicken recipe? Be sure to comment and leave a five-star rating below! Tagging me on Instagram will definitely make me smile! You can find me here at @gimmesomegrilling
Did you make this? If you snap a photo, please be sure tag me on Instagram at @gimmesomegrilling or #gimmesomegrilling so I can see your grilling masterpieces!
BBQ Chicken Recipe
Barbecue Chicken brushed with BBQ Sauce and cooked on your grill! Perfect recipe for summer entertaining!
Ingredients
2

broiler/fryer chickens

(3 1/2 - 4 lbs each), cut up

1 1/2

c.

BBQ Sauce
Instructions
Place chicken on a lightly oiled grill rack. Grill chicken, covered, over medium heat for 30 minutes, turning occasionally, about every 10 minutes. Baste with sauce at this point.

Continue cooking chicken until the internal temperature is 170 degree F. This should take about 15 minutes longer. During the last 15 minutes baste and turn chicken frequently.

If your legs or wings are done before your breasts and thighs simply put them on the top rack of the grill or pull them off and cover with foil.
Nutrition Information
Calories:
544
kcal
(27%)
,
Carbohydrates:
18
g
(6%)
,
Protein:
41
g
(82%)
,
Fat:
33
g
(51%)
,
Saturated Fat:
9
g
(56%)
,
Cholesterol:
163
mg
(54%)
,
Sodium:
608
mg
(26%)
,
Potassium:
514
mg
(15%)
,
Fiber:
1
g
(4%)
,
Sugar:
15
g
(17%)
,
Vitamin A:
405
IU
(8%)
,
Vitamin C:
3.7
mg
(4%)
,
Calcium:
39
mg
(4%)
,
Iron:
2.3
mg
(13%)