Teriyaki Sausage and Chicken Kabobs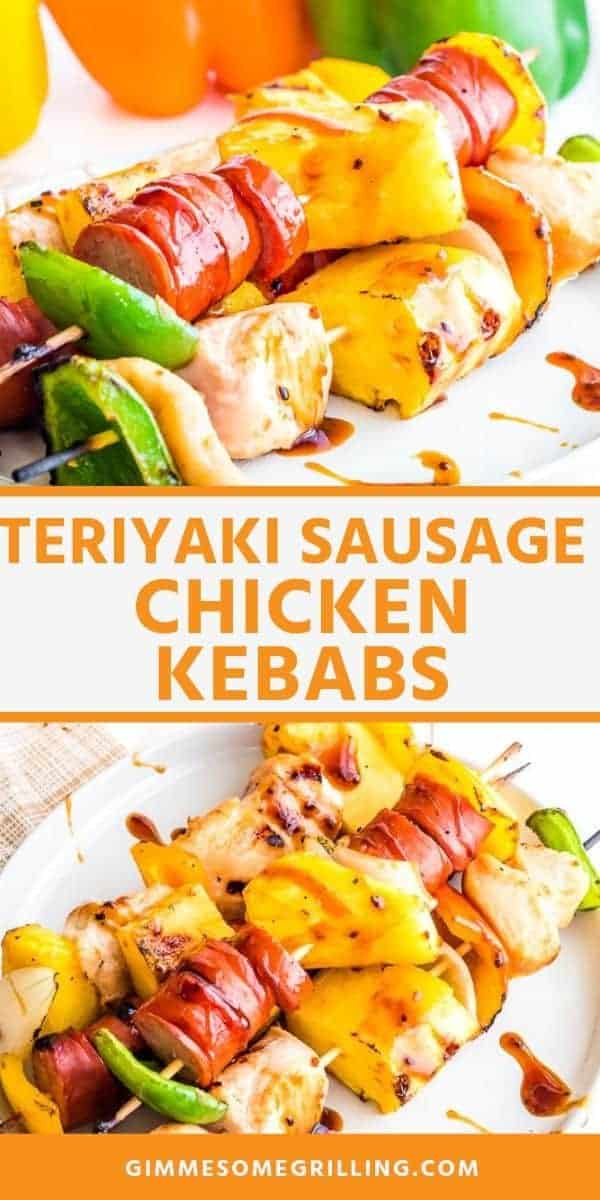 Teriyaki Sausage and Chicken Kabobs are marinated in Teriyaki sauce and loaded with your favorite fresh peppers, red onions and sweet pineapple. This combination gives them such an amazing flavor. This kabob recipe is perfect for making on the gas grill while entertaining guests during the summer at your backyard parties or for a quick and easy weeknight dinner!
We recommend serving them over rice and finishing off the meal with our favorite Blueberry Lemon Cobbler. Don't forget the ice cream on top of that cobbler!
PIN IT HERE!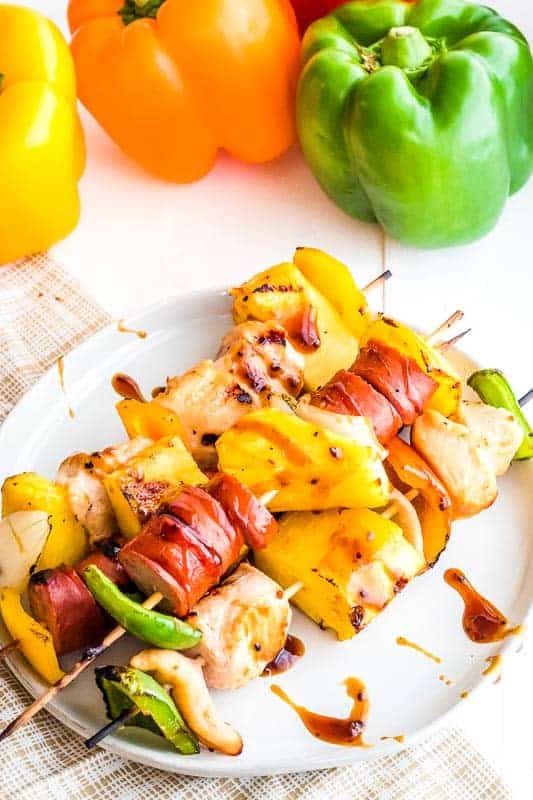 The taste of these kabobs are delicious and will just have you wanting to make more and more. Any time you can combine chicken and pineapple, it's a deliciously perfect outcome.
Plus, it's always more fun to eat food on a stick, right? My kids love it because they think it's fair game to eat it with your fingers. I won't judge if you do that too!
Chicken Kabobs FAQs!
Overall Chicken Kabobs are pretty easy to make which makes them a great option in the summer for a quick meal when you are grilling.
Here are some quick tips and tricks to get the perfect kabob off your grill.
If you have any additional questions make sure to comment below and we will do our best to answer your questions!
How to grill chicken kabobs
Once you have all your ingredients prepped and ready to go, you just have to start alternating them on the wooden skewer. Once they are ready, you place them on the grill over medium-high heat.
You'll want to rotate them to make certain every side is cooked and once the chicken reaches an internal temperature of 165 degrees, they are done and ready to enjoy.
What ingredients do you need to make grilled chicken kebabs
Chicken Breast
Turkey Kielbasa Sausage rope
Red pepper
Green pepper
Yellow pepper
Purple onion
Fresh pineapple
Brown sugar
Teriyaki marinade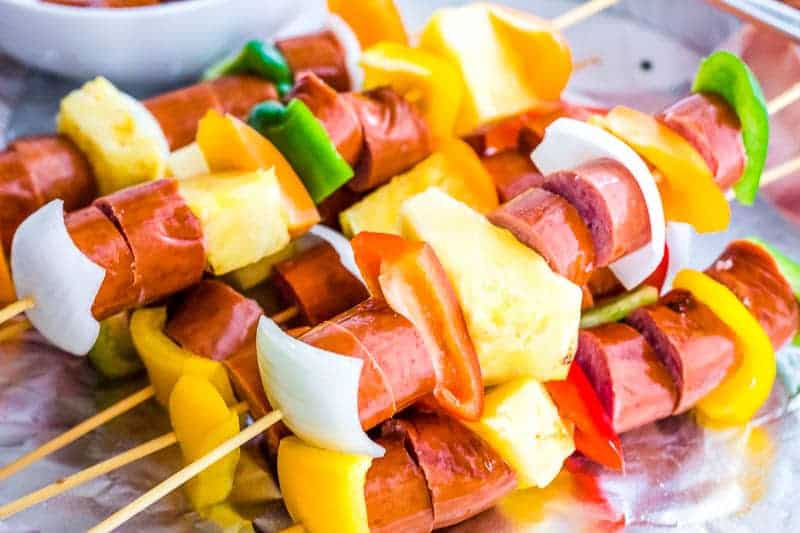 How long do kebabs take to grill?
This all depends on the heat of your grill. You can't really put a time amount on the grilling due to that fact but you need to remember that it needs to be cooked thoroughly before pulling. Rotate it often and use your meat thermometer to verify that the internal temperature of the chicken is 165 degrees before removing it from the grill.
Our best estimate on the length of time would be about 15 minutes at a temperature around 350 degrees.
How do you cut chicken breast for kabobs?
Make certain that you're cutting your chicken breast in big chunks so that it stays on the skewer. Think of them in term of squares, if at all possible. That way, as you're turning and rotating them over the fire, they aren't going to break and fall off.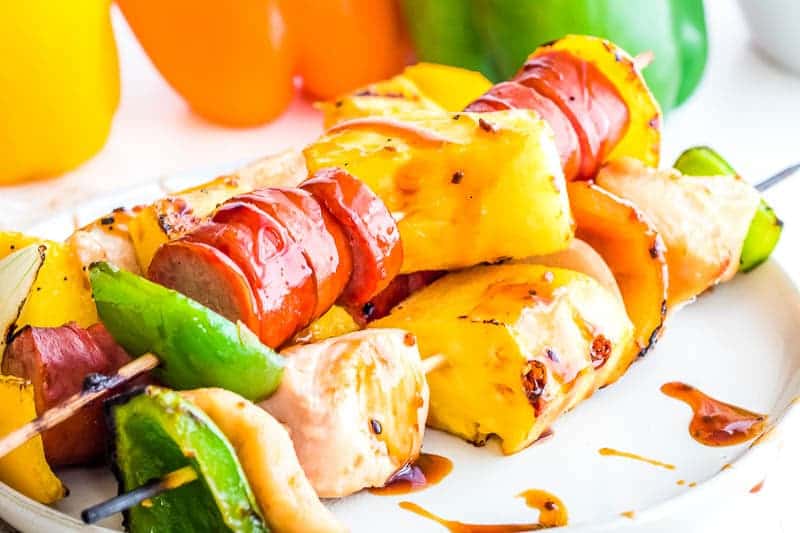 How do you keep wooden skewers from burning?
Great question! This can definitely be an issue if you're not prepared for it! You'll want to soak them in water for an hour or so before you use them to grill. That way, they're nice and wet and the fire won't do anything to them because they'll just sizzle due to all the moisture.
Can I make my own Teriyaki Marinade?
Of course! Here's a great recipe for a Teriyaki Marinade if you are looking for one!
Be sure and take a moment below to comment and tell me what your kabob is on the grill! I want to make sure if it's a recipe I don't have on the blog I can develop it for you! And if you make this, leave me that five-star rating below – tag me with #julieseatsandtreats too!
Thank you and enjoy this grilled chicken kebabs recipe!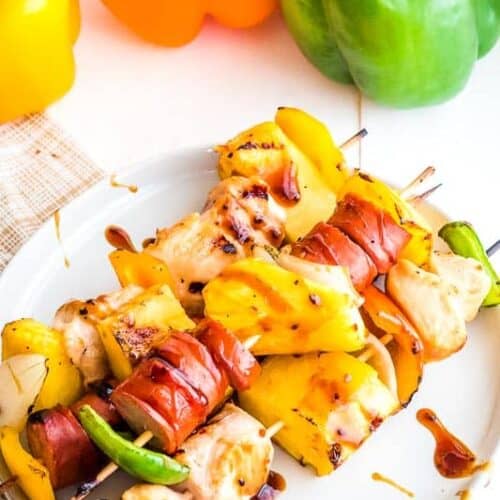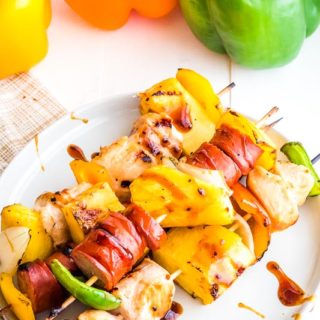 Teriyaki Sausage and Chicken Kabobs Recipe
Grilled Teriyaki Chicken Kebabs with fresh peppers, purple onion and pineapple! The perfect kebab recipe for summer entertaining!
Ingredients
4

chicken breast

cut into 1'' cubes

1

Turkey Kielbasa sausage rope

cut into 1/2'' slices

1

red pepper

cut into 1'' slices

1

green pepper

cut into 1'' slices

1

yellow pepper

cut into 1'' slices

1

purple onion

cut into 1'' slices

2

c.

fresh pineapple

cut into 1'' cubes

½

c.

of brown sugar

12

oz

jar of Teriyaki marinade

Tin foil pan for easy clean up

Kabob skewers
Instructions
Place chicken in bowl and sprinkle with brown sugar. Pour Teriyaki marinade sauce over your mixture and let marinade at least 1 hour before placing on the grill to get the best flavor. You can marinate them from up to 24 hours.

Soak kabob skewers in water while chicken is marinading to prevent them from burning if you are using wooden skewers.

Now you can start assembling your Kabobs. Start layering your skewers with veggies then chicken or sausage until full. Make sure your don't forget to add a piece of pineapple in the middle. ** leave an inch at both ends of your skewer so you can hold**

Place kabobs over direct heat on grill preheated to medium-high. Grill, rotating, until meat is fully cooked (internal temperature of 165 degrees F) and veggies are charred. This will take around 15 minutes but will depend on the temperature of your grill and thickness of your chicken.

Enjoy with a side of rice or alone.
Notes
*I used a garlic teriyaki marinade but you can use any teriyaki marinade
Nutrition
Calories:
507
kcal
Carbohydrates:
57
g
Protein:
46
g
Fat:
10
g
Saturated Fat:
3
g
Cholesterol:
131
mg
Sodium:
2036
mg
Potassium:
975
mg
Fiber:
3
g
Sugar:
47
g
Vitamin A:
920
IU
Vitamin C:
138.4
mg
Calcium:
56
mg
Iron:
7.5
mg