Blackstone Philly Cheesesteak
Picture perfectly cooked beef, melted cheese, and savory caramelized onions, all expertly crafted on the Blackstone griddle. Elevate your sandwich game with a mouthwatering Blackstone Philly Cheesesteak!
Ever had a Philly cheesesteak? If you haven't, you're missing out big time! We love a good cheesesteak in our house, which is why we just had to figure out the best way to make them. Enter, our Blackstone griddle. It is the BEST way to make a Philly cheesesteak.
This Blackstone Philly cheesesteak recipe is perfectly seasoned and the meat is so tender and juicy. It is absolutely melt-in-your-mouth delicious! The Blackstone griddle is not just good for cheesesteak. This Blackstone crunchwrap and our Blackstone smash burger sliders are staple recipes to have in your back pocket.
And now you can add this perfect Blackstone cheesesteak to that secret stash of master recipes!
Why You'll Love Blackstone Philly Cheesesteak
You can make four servings of this incredible recipe in just under 30 minutes! Perfect for a busy weeknight when you need dinner quickly.
Philly cheesesteak is a fabulous meal prep option. Store the meat and veggies separately from the bread and build a sandwich whenever you need it!
Making Philly cheesesteak on Blackstone ensures a super easy clean-up. You'll only need to clean the Blackstone and any utensils you used!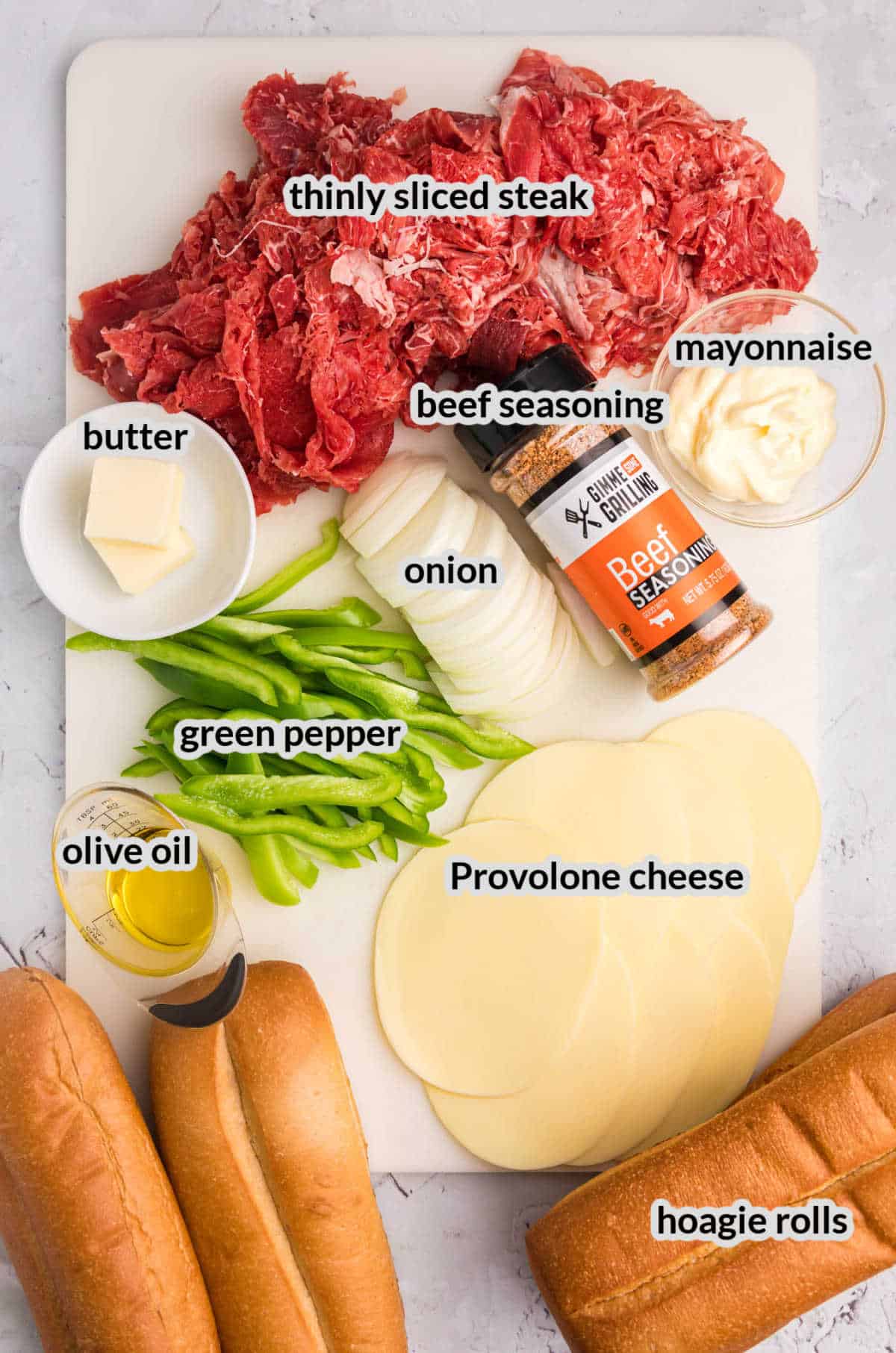 Ingredients for Philly Cheesesteak on Blackstone
Hoagie rolls – Check the bakery of your local grocery store for freshly baked hoagie rolls.
Thinly sliced steak – Ribeye is the most popular cut to use in philly cheesesteaks. However, you can use any kind of steak as long as you slice it thinly!
Provolone cheese – You can use other cheese if you prefer, but provolone cheese will give your cheesesteak the classic flavor you know and love!
Butter – Salted and unsalted butter will both work fine in this tasty recipe.
Olive oil – Use a combination of olive oil and butter to sauté the veggies. You can use all butter or all olive oil if you don't want a combination of the two.
Mayonnaise – Even if you're not a fan of mayo, give it a shot on a Philly cheesesteak! The added creaminess is super tasty.
Beef seasoning – Our Gimme Some Grilling beef seasoning is perfect for Blackstone cheesesteak. If you don't have that, your favorite beef seasoning will work. This homemade steak seasoning would work great as well!
Onion – White onion or yellow onion will both have a good flavor for Philly cheesesteak!
Green peppers – Green bell peppers are rarely bitter, so I recommend only using that or red bell pepper.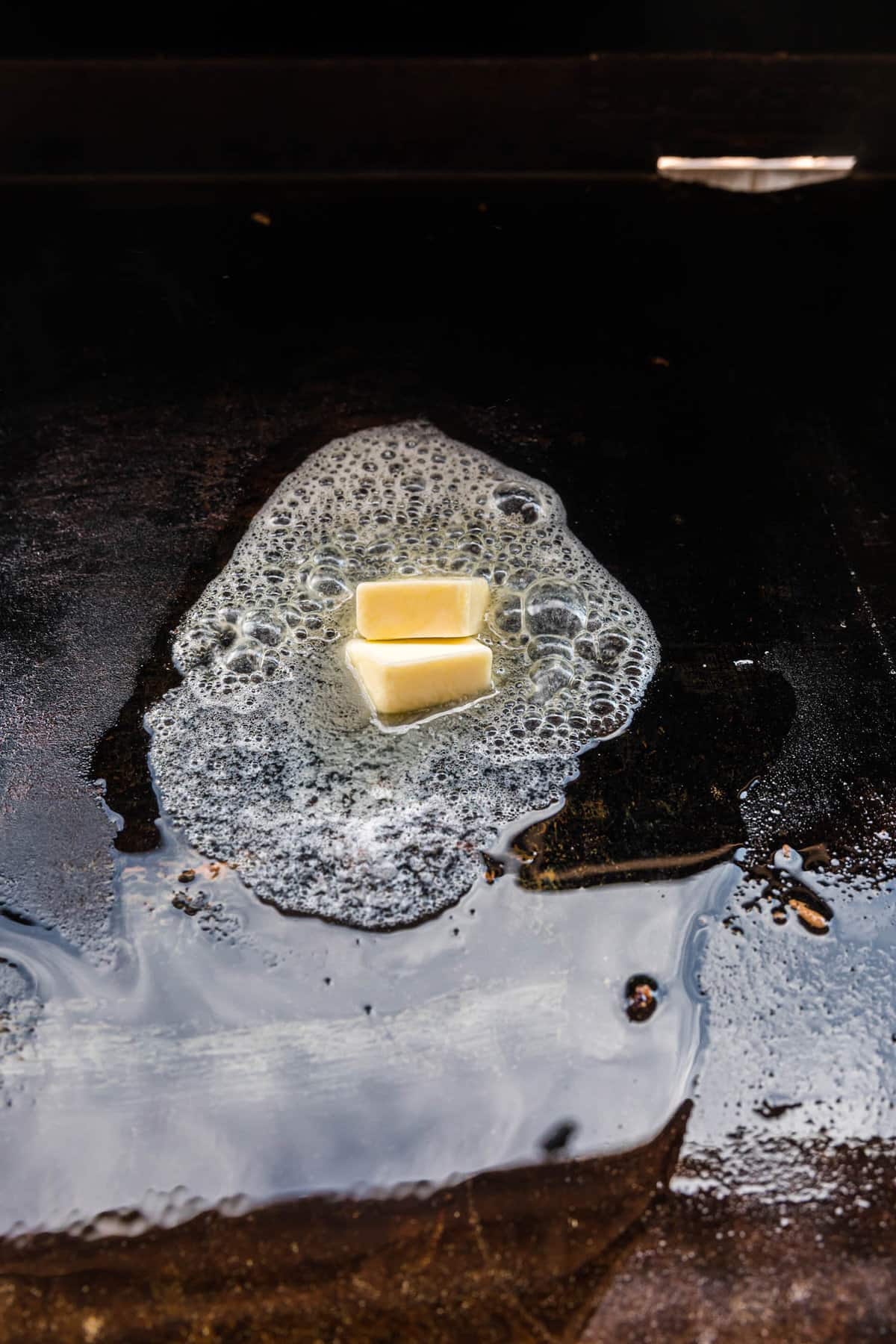 How to Make Blackstone Philly Cheesesteak
Preheat your Blackstone grill to a medium high heat, around 400 degrees Fahrenheit.
Place butter and olive oil in the middle of the Blackstone and then spread it around so it all melts well.
Add the sliced onion and bell peppers to the heated griddle, on top of the butter and oil. Coat them well and then sauté for 3-5 minutes until onions become tender. You can cook a little longer to caramelize the onions if you like that!
Move the onions and peppers to the cooler side of the Blackstone.
Then, place the sliced steak in the center of the griddle and spread it out into a thin layer. Season the steak well with Beef Seasoning.
Allow it to sear for 3-5 minutes, then flip each piece and continue to cook until all of the steak is cooked through.
Spread a thin layer of mayo onto each hoagie roll and then place them face down on the cooler side of the Blackstone to lightly toast. Toast for 2-3 minutes, then set them on a cool pan or platter.
Evenly divide the steak into 4 piles on the griddle and top with peppers and onions. Place two slices of provolone cheese on top of each pile and let the cheese melt.
Using a metal spatula, scoop each pile onto a hoagie roll.
Serve immediately and enjoy!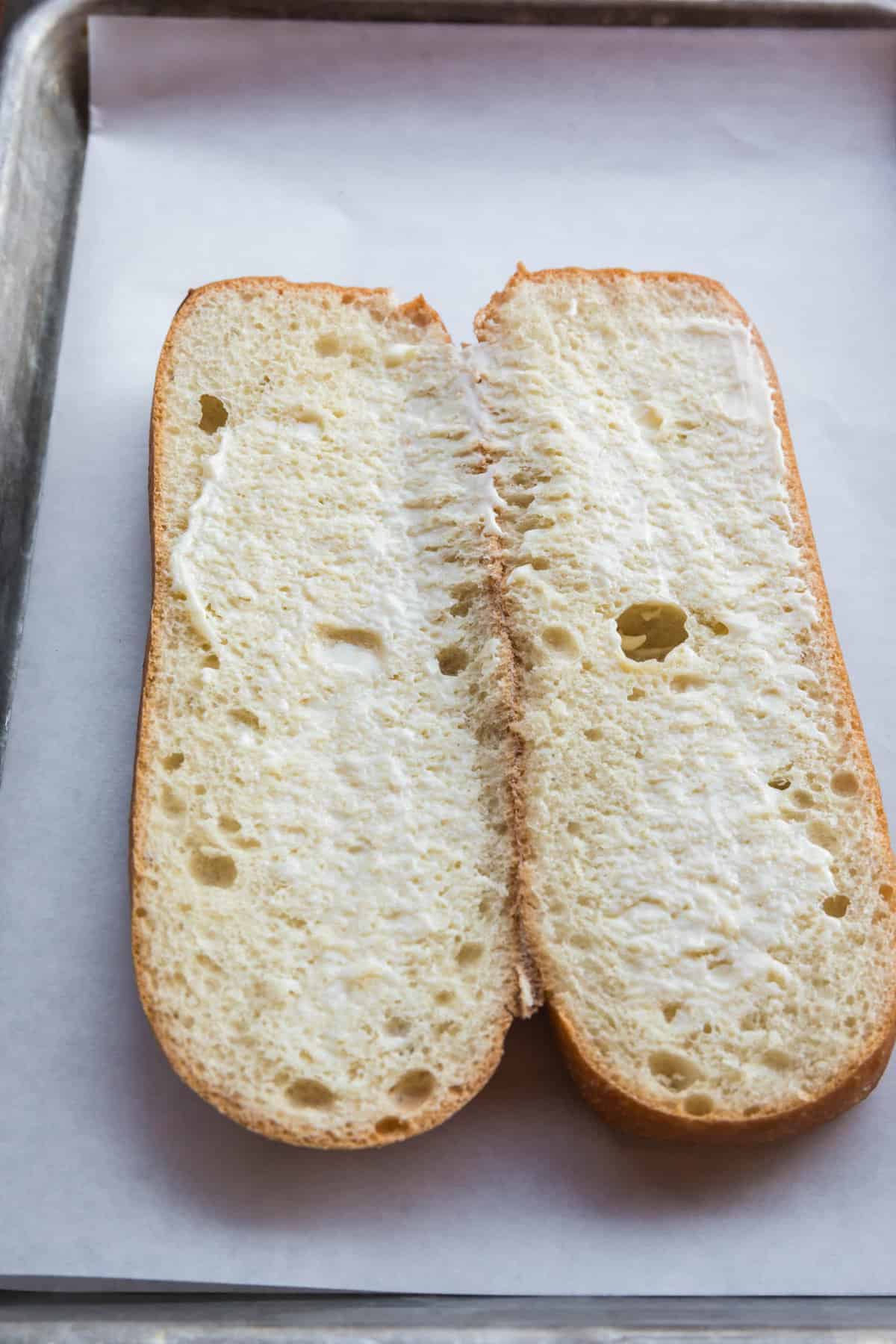 What to serve with Philly Cheesesteak
Serve this yummy Blackstone Philly cheesesteak recipe with a tasty side like smoked potato skins or air fryer french fries. These loaded tater tots would be a fun side dish too! Want to save a few calories but still have a something that tastes like a classic side for Philly cheesesteak? Make these baked zucchini fries!
A cold side like macaroni salad or broccoli salad.
How to store Leftover Philly Cheesesteak
For best results, store the meat and veggies separately from the hoagie rolls. If you anticipate you'll have leftovers, only build the needed sandwiches so that the hoagie buns don't get soggy and you can store a fresh roll.
FRIDGE: Place the meat and veggie mixture from Philly cheesesteak on the Blackstone in an airtight container. Store in the refrigerator for up to 3 days.
FREEZER: Place Philly cheesesteak meat and veggies into an airtight container or freezer safe bag. Store in the freezer for up to 3 months. Allow to thaw before reheating.
How to Reheat Leftover Philly Cheesesteak
To reheat, place on a preheated Blackstone, stove top, or in the oven until warmed through.
What to steak is best for Philly cheesesteak?
Ribeyes are the best cut of meat to slice for Philly cheesesteak. However, there are other more affordable cuts of meat you buy. You should have good results using flank steak or strip steak. Sirloin steak would also be a good substitute to choose as a replacement for ribeye, it's actually what we used!
Pro Tips!
Use an infrared thermometer to quickly and accurately check the temperature of your Blackstone before cooking.
Don't forget to put the cheese on before removing the meat from the Blackstone. You'll want it all melty and delicious!
Be sure you watch the hoagie rolls while they toast, don't let them burn!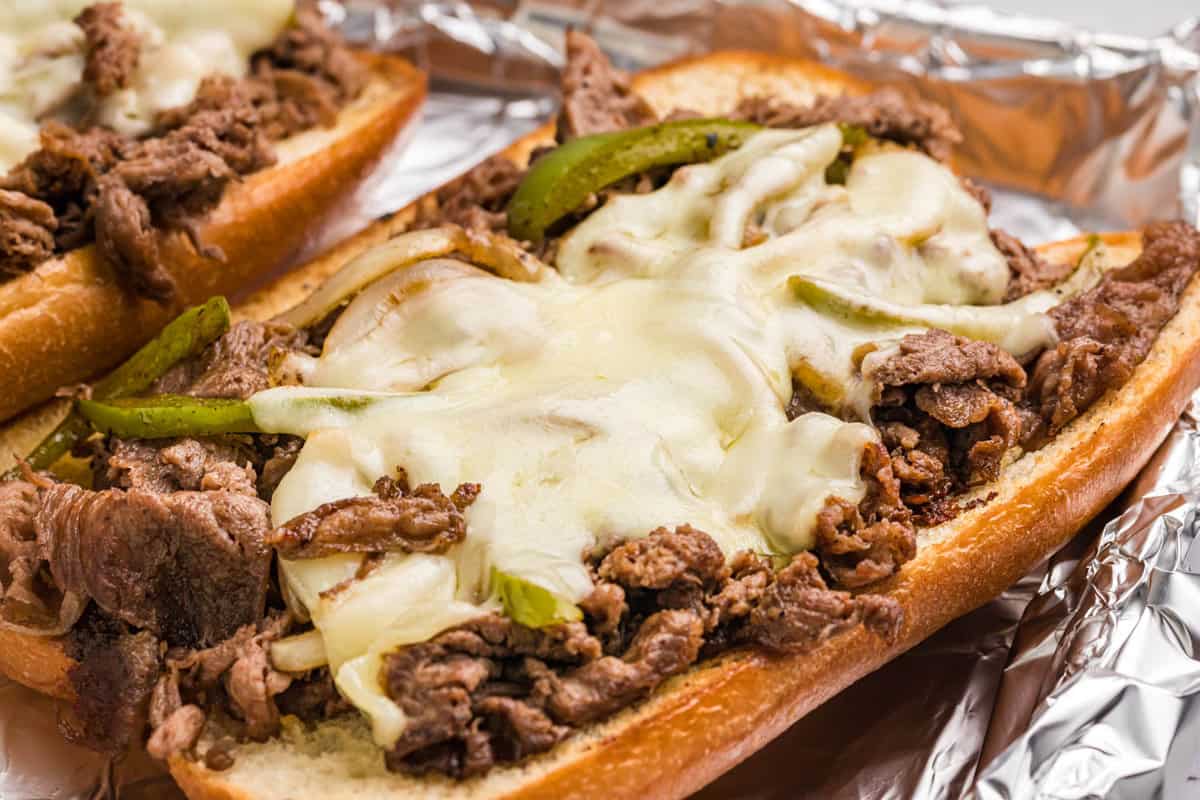 This is best homemade Philly cheesesteak you'll ever have, and it's so easy! Dinner time just got an upgrade!
More Blackstone Recipes You'll Love
Did you make this? If you snap a photo, please be sure tag me on Instagram at @gimmesomegrilling or #gimmesomegrilling so I can see your grilling masterpieces!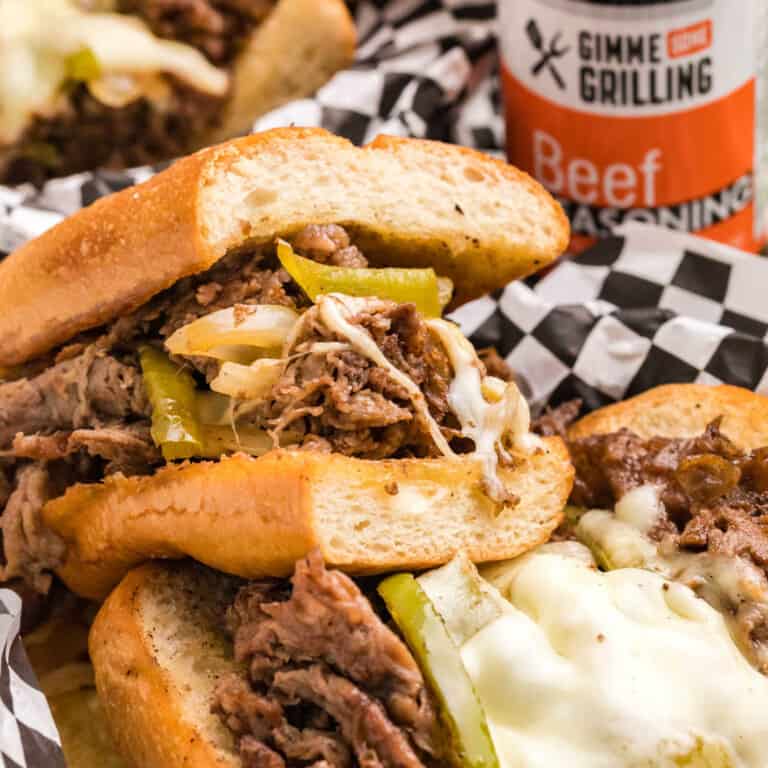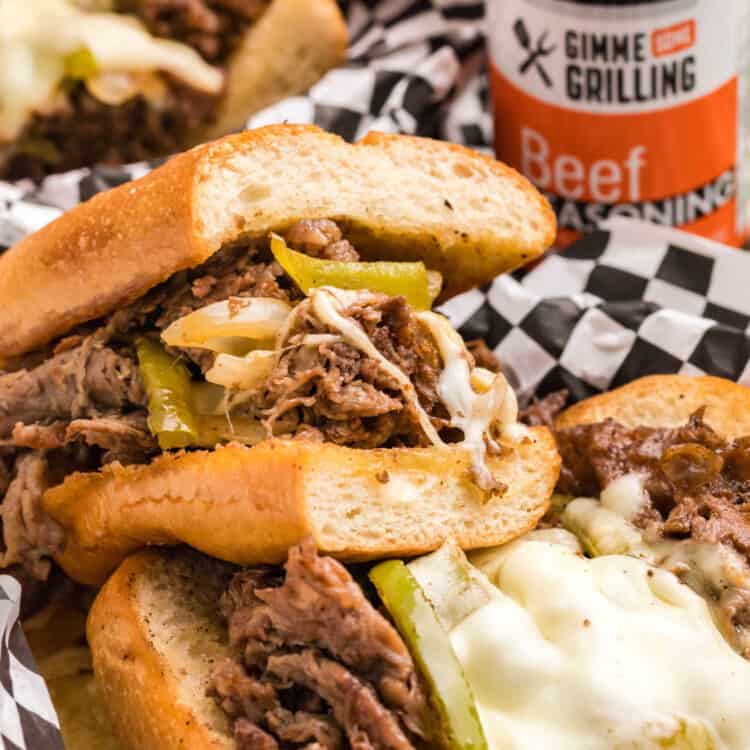 Blackstone Philly Cheesesteak
Toasty buns piled high with shaved steak, onions, green peppers and melted cheese! These Philly Cheeseteaks on the Blackstone are so delicious and easy to make for dinner.
Ingredients
1 ½

pounds

steak

thinly sliced

½

onion

thinly sliced

1

green pepper

thinly sliced

2

teaspoons

beef seasoning

8

Slices

Provolone cheese

4

hoagie rolls

1

Tablespoon

olive oil

2

Tablespoons

butter

6

Tablespoons

mayonnaise
Equipment
Instructions
Preheat the Blackstone grill over medium high heat (approximately 400 degrees Fahrenheit).

Add the oil and butter to the middle of the griddle. Spread it around so that it can melt.

Add the onions and peppers to the griddle. Toss them to coat them in the oil and butter. Sauté for 3-5 minutes until the onions are cooked to your preference.

Move the onions and peppers to a cooler side of the griddle.

Add the steak to the center of the griddle. Spread it out to a thin layer. Season with the Beef Seasoning. Let the steak sear for 3-5 minutes until the juices start to flow. Flip and continue cooking the steak until it is cooked through (2-3 more minutes).

Spread the mayonnaise on the hoagie rolls. Place hoagie rolls face down on the cooler side of the griddle so that they will toast slightly. Watch closely so that the rolls do not burn. Toast for 2-3 minutes Take the hoagie rolls off the griddle when toasted and put on a pan.

Then divide the steak into 4 equal piles on the griddle and top each pile with the pepper and onion mixture. Immediately top each pile with 2 slices of cheese and let the cheese melt (1-2 minutes).

Use your spatula to scoop and lift each pile and place the mixture onto one of the toasted hoagie rolls.

Serve immediately while warm and enjoy!
Tips
We used thinly sliced sirloin for these cheesesteak but you can easily use thinly sliced round steak or ribeye steak as well.
We used avocado oil but you can easily use vegetable oil, canola oil or coconut oil instead.
These are best served immediately while warm but you can store the leftovers in an airtight container for up to 3-4 days.
Nutrition Information
Serving:
1
sandwich
,
Calories:
902
kcal
(45%)
,
Carbohydrates:
38
g
(13%)
,
Protein:
50
g
(100%)
,
Fat:
61
g
(94%)
,
Saturated Fat:
24
g
(150%)
,
Polyunsaturated Fat:
11
g
,
Monounsaturated Fat:
22
g
,
Trans Fat:
0.3
g
,
Cholesterol:
154
mg
(51%)
,
Sodium:
838
mg
(36%)
,
Potassium:
617
mg
(18%)
,
Fiber:
3
g
(13%)
,
Sugar:
6
g
(7%)
,
Vitamin A:
701
IU
(14%)
,
Vitamin C:
25
mg
(30%)
,
Calcium:
354
mg
(35%)
,
Iron:
15
mg
(83%)