Making pork chops? Then you want to make the best Pork Chop Seasoning to go with them! This quick and easy seasoning is made out of pantry ingredients. Make a big batch and have it on hand to season your pork chops every time you make them!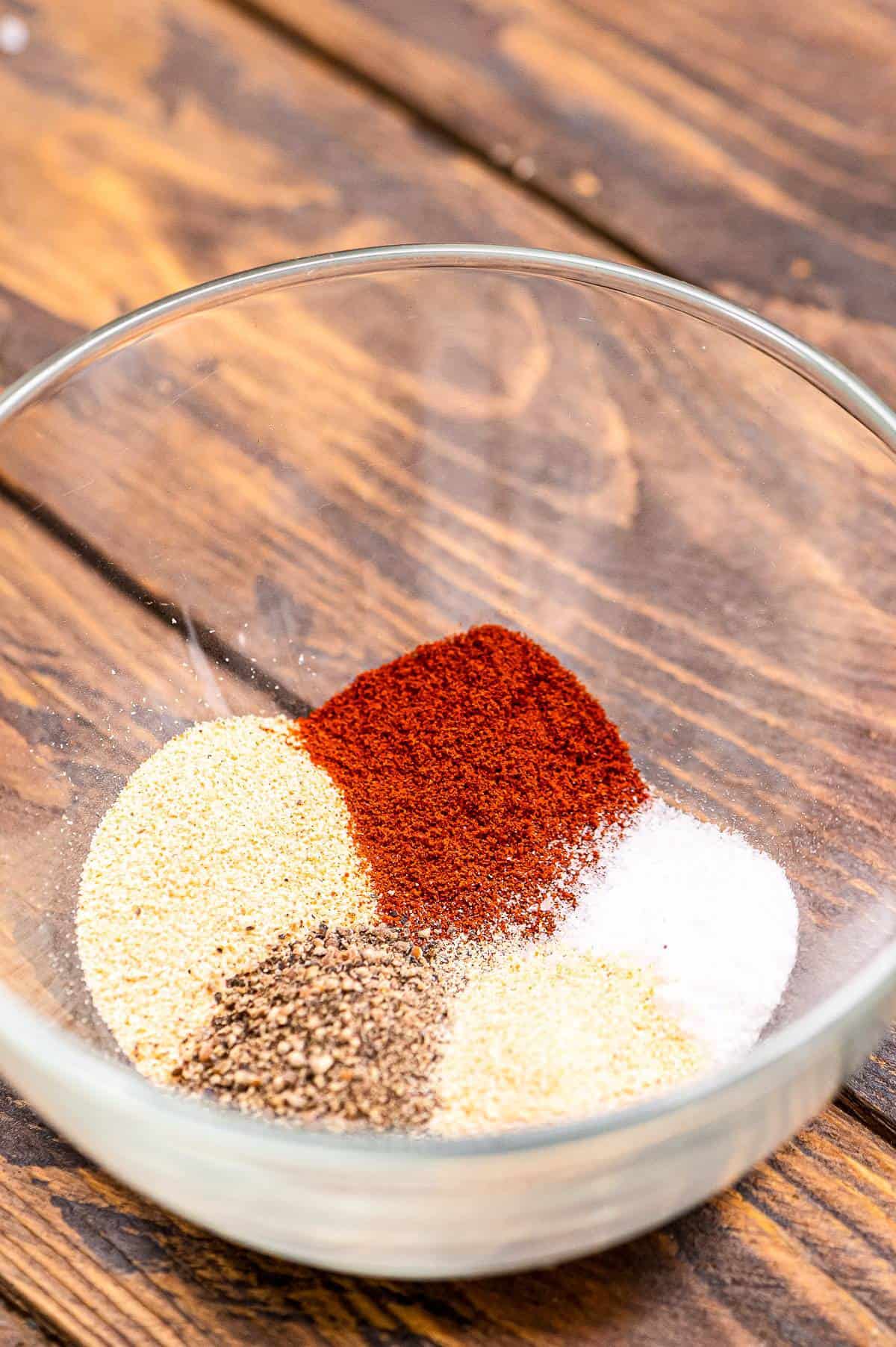 This post is sponsored by the Iowa Pork Producers Association. All text and opinions are my own.
The highlight of my summer always includes a delicious Pork Chop on a stick from our local Pork Producer's booth at the fair. There's just something about biting into the tender, juicy pork chop with just the right amount of seasoning!
Now, you can make delicious, seasoned pork chops at home hot off your grill with this easy Pork Chop seasoning!
It's a simple blend of spices that combine to make a mouthwatering seasoning to give your pork chop an extra layer of flavor. Best part is that I bet you have all the spices in your pantry.
Why You'll Love this easy Pork Chop Seasoning!
You can whip this up in 2 minutes!
Make a big batch and have it on hand. In an airtight container it will last for up to two years, but it's best when used within a year.
It will give your pork tons of extra flavor and only takes minutes to mix up.
You know what else I get behind in life? Supporting my favorite farmers! Especially my friends down in Iowa that produce amazing pork so we can enjoy grilled pork chops whenever we have a craving.
Did you know that one-third of the pork raised in the U.S. comes from Iowa? Pretty awesome, huh? Plus, most of the pork raised on those farms in Iowa is consumed right here in the United States.
That means, every time you pick up pork from your local grocery store you are supporting family farms in Iowa and across the United States.
Family farms are the key to pork production across Iowa, so go grab some pork chops from your local grocery store and whip this simple pork chop seasoning and grill up some pork chops tonight!
Ingredients for Pork Chop Seasoning!
Garlic Powder
Onion Powder
Kosher Salt – Or sea salt, will help break down the protein, can adjust if you are watching sodium intake.
Ground Black Pepper – Mix it up with white pepper. Pepper gives it the perfect amount of zip.
Smoked Paprika – You could use regular paprika, but we love the addition of smokey flavor.
Mix the Seasoning!
Grab a bowl and mix up your seasoning. That's all you have to do to make it!
If you have leftovers store it in an airtight container in a cool, dry place. It will keep for 2-3 months.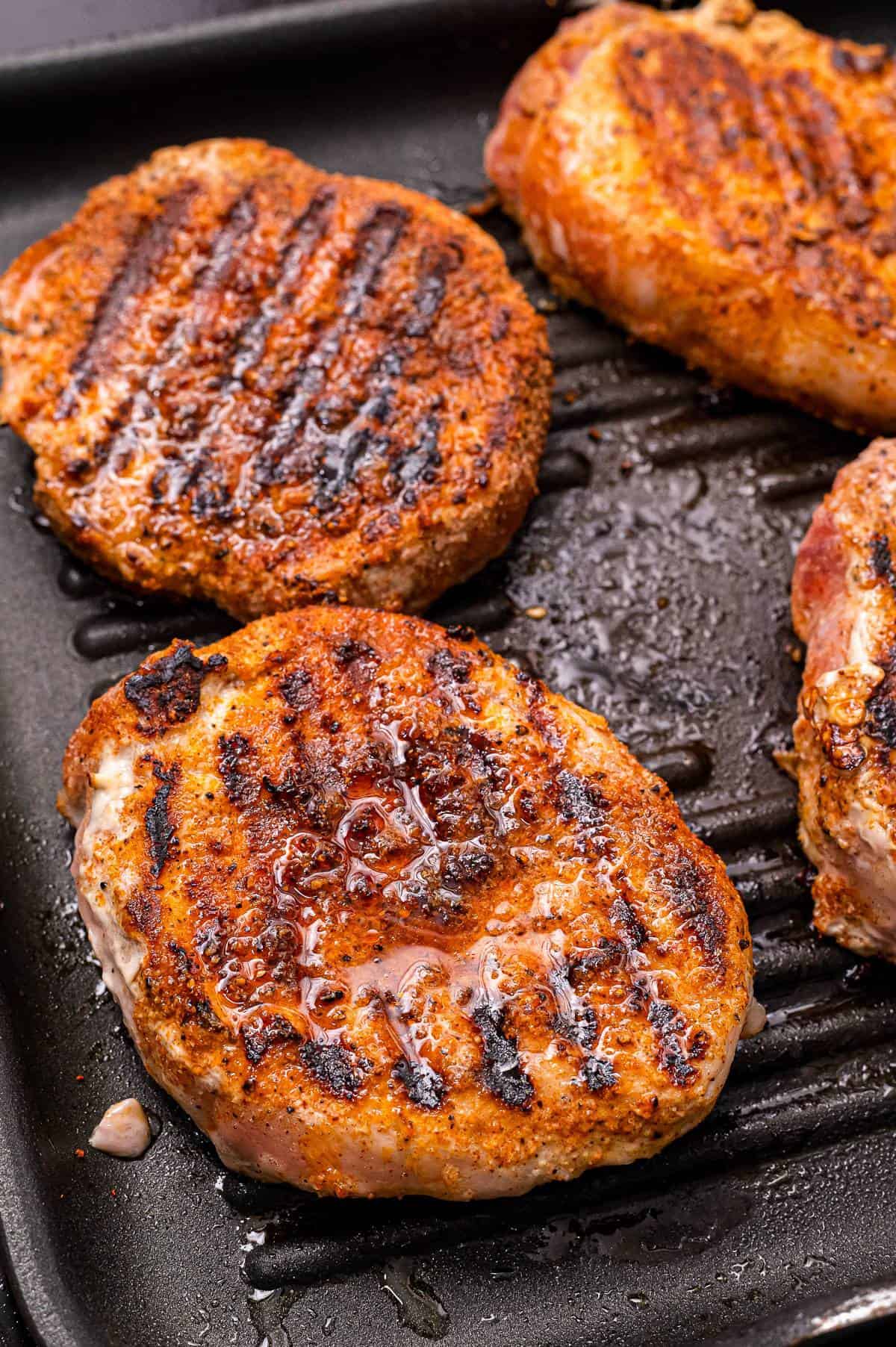 How to Grill Pork Chops
We recommend applying the seasoning to your pork chop and letting rest about 10 minutes before you are ready to cook them. Liberally rub your pork chop with it and then let it sit.
Preheat your grill to medium heat. We like it about 350 degrees F. The main thing is you don't want a high temperature because cooking them at a high temperature dries out the pork.
Place the chops on the grill grate over direct heat and let cook for about 6 minutes, depending on the thickness of the pork chops, flip and grill for an additional 6 minutes.
Remove from the grill when pork reaches an internal temperature of 145 degree F.
Cover with foil and let rest 3-5 minutes before enjoying. This will let the fibers of the meat relax and give you the ultimate juicy pork chop.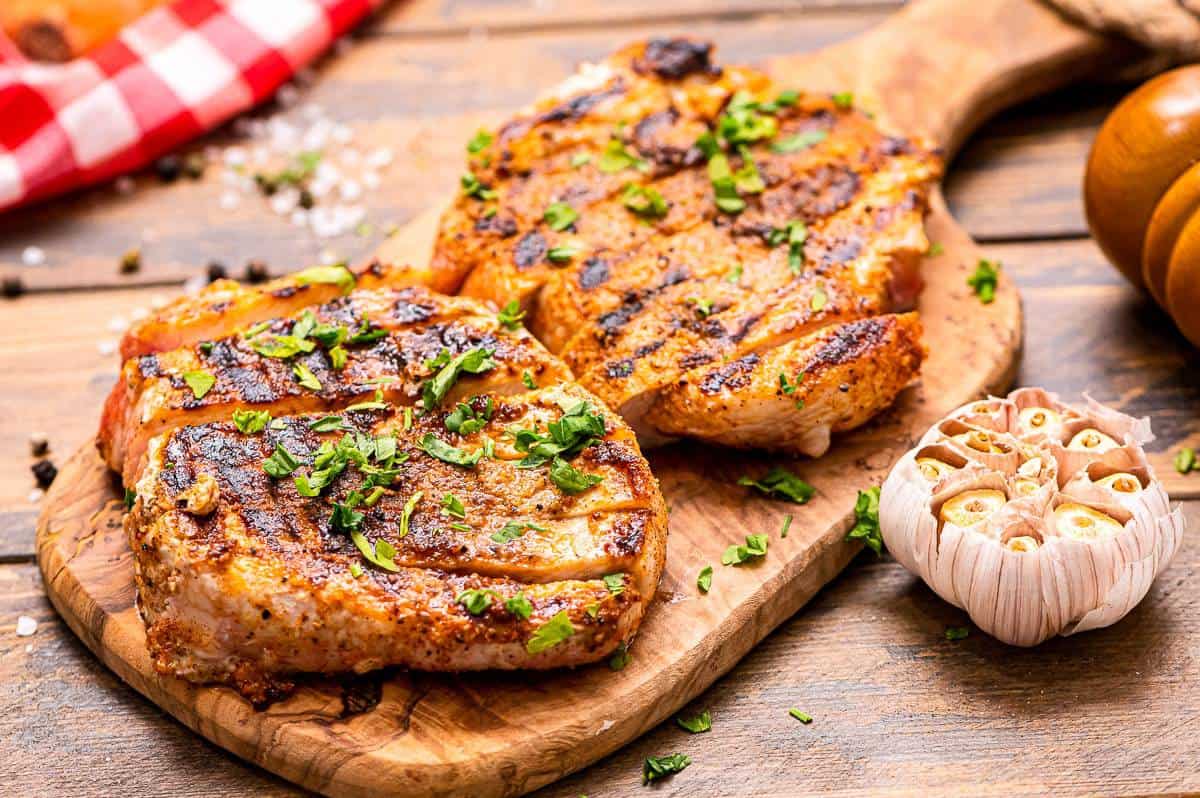 What Should the Internal Temperature of Pork Chops be?
One of the biggest complaints we hear is that their pork is dry and chewy.
The easiest way to avoid this is to cook it to the correct temperature and to have an instant read thermometer to monitor the temperature.
To check doneness properly, use a digital cooking thermometer to measure the temperature at the thickest part of the cut without touching any bone.
For tender and delicious pork chops prepare them to an internal temperature of 145 degrees Fahrenheit.
It is ok if there is a blush pink in the center!
The National Pork Board suggests the range of 145 degrees F to 160 degrees F optimal flavor. We find that the best flavor is at 145 degrees F.
Should I use bone-in pork chops or boneless pork chops?
This is really a personal preference. We like boneless because of the convenience with kids.
With that being said, a bone-in chop can have a more attractive appearance and is often said to have the most flavor. This is because there is fat around the bone and the bone does a lot to keep the meat from drying out as it's cooked.
The main thing to notice is how thick your pork chop is cut. This can vary from 1/2" to 2" thickness. The thickness of your pork chop will make a large difference in how long you cook it.
Once again, that's why we recommend using an instant read thermometer to check the internal temperature and removing the pork chop from that grill at 145 degree Fahrenheit. Then let it sit for about 5 minutes to let the juices redistribute and make it super juicy!
How Long does Pork Chop Seasoning Last?
When stored in an airtight container in a cool, dry place this seasoning will last up to two years, but we recommend using it within a year for the best flavor.
What can I use Pork Seasoning on?
We shared how to put it on pork chops and grill them, but it's amazing on so much more!
This spice rub is delicious on pan seared pork chops, baked pork chops, air fryer pork chops, pork tenderloin, pork loin, even chicken and fish!
Can I buy this Pork Seasoning?
Yes! In fact we have bottled and have our own line of seasonings. This Pork Seasoning can be purchased along with several other of our famous rubs and seasonings!
Serving Suggestions
We love serving our grilled pork chops seasoned with pork chop seasoning with these easy side dishes hot off the grill!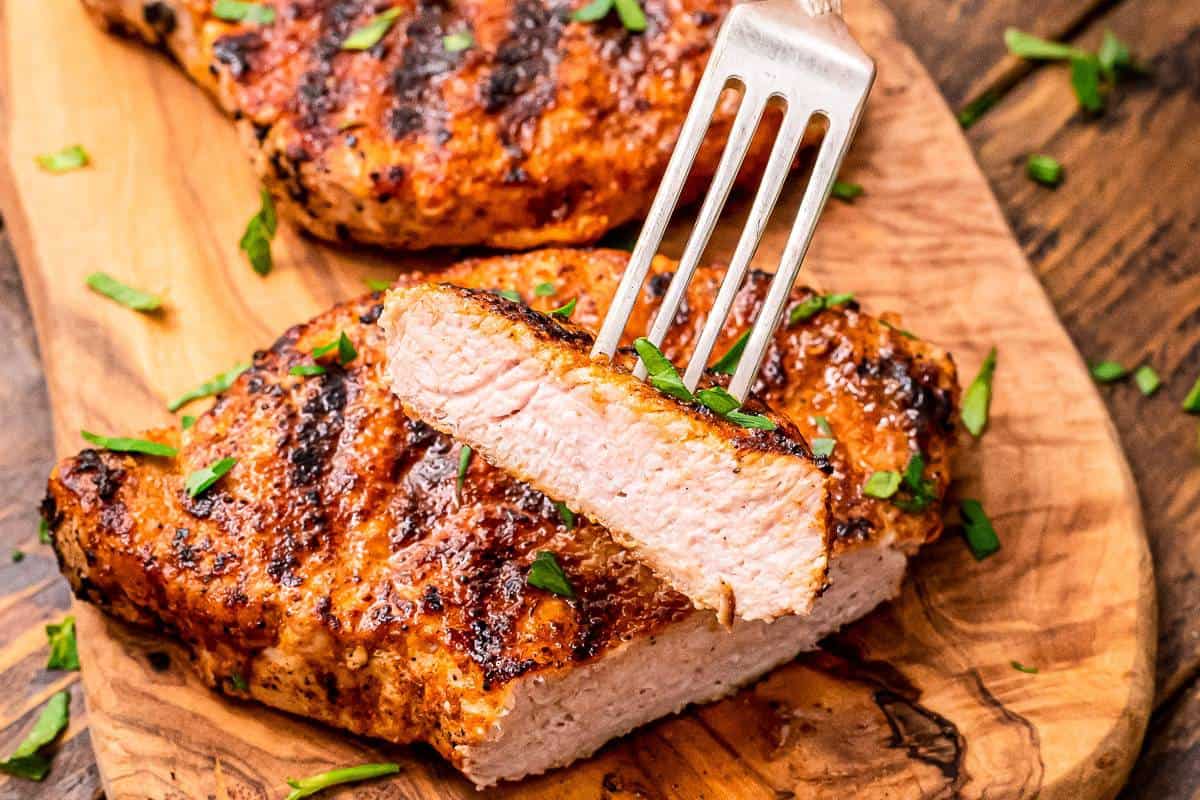 This easy pork seasoning recipe is going to add so much flavor to all of your favorite cuts of pork!
More Pork Chop Recipes!
Did you make this? If you snap a photo, please be sure tag me on Instagram at @gimmesomegrilling or #gimmesomegrilling so I can see your grilling masterpieces!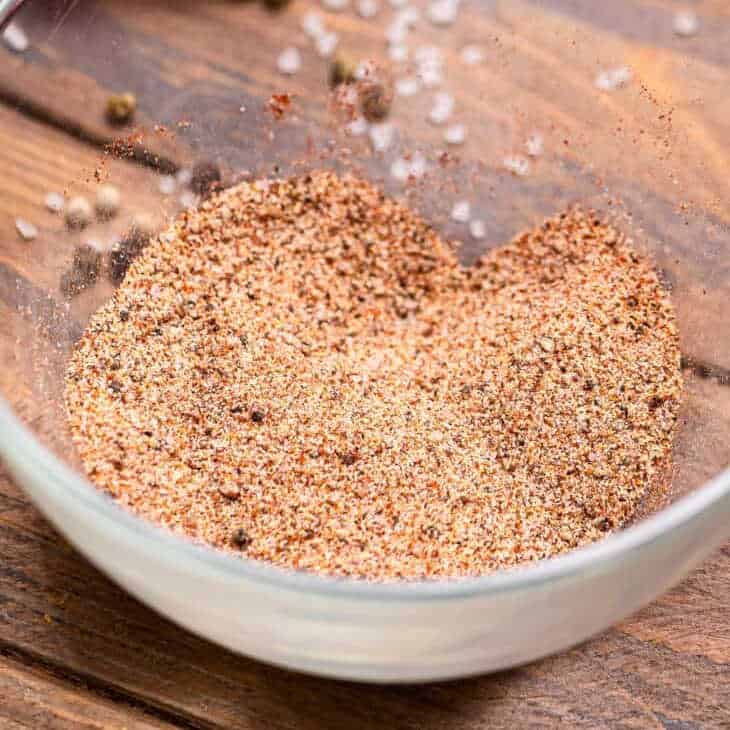 Pork Chop Seasoning
Quick and easy seasoning made of pantry ingredients for your pork chops.
Ingredients
1

Tablespoon

garlic powder

1

teaspoon

onion powder

1

teaspoon

kosher salt

1

teaspoon

ground black pepper

1

Tablespoon

smoked paprika
Instructions
In a small bowl combine all the ingredients until mixed. Store in an airtight container in a cool, dry environment.

Sprinkle liberally on pork chops before grilling, baking or searing.
Tips
Stored in an airtight container in a cool, dry space this pork seasoning will last up to two years, but we recommend using it with in a year for best flavor.

Nutrition Information
Calories:
58
kcal
(3%)
,
Carbohydrates:
12
g
(4%)
,
Protein:
3
g
(6%)
,
Fat:
1
g
(2%)
,
Saturated Fat:
1
g
(6%)
,
Sodium:
2337
mg
(102%)
,
Potassium:
302
mg
(9%)
,
Fiber:
4
g
(17%)
,
Sugar:
1
g
(1%)
,
Vitamin A:
3459
IU
(69%)
,
Vitamin C:
1
mg
(1%)
,
Calcium:
40
mg
(4%)
,
Iron:
2
mg
(11%)