A perfectly seasoned and grilled Prime Rib is what your holiday meal needs! This recipe uses a simple seasoning mix on this delicious cut of beef. After seasoning it place it on the grill at a low temperature to start. At the end we turn up the heat to get a perfect crust on your Prime Rib. So much flavor!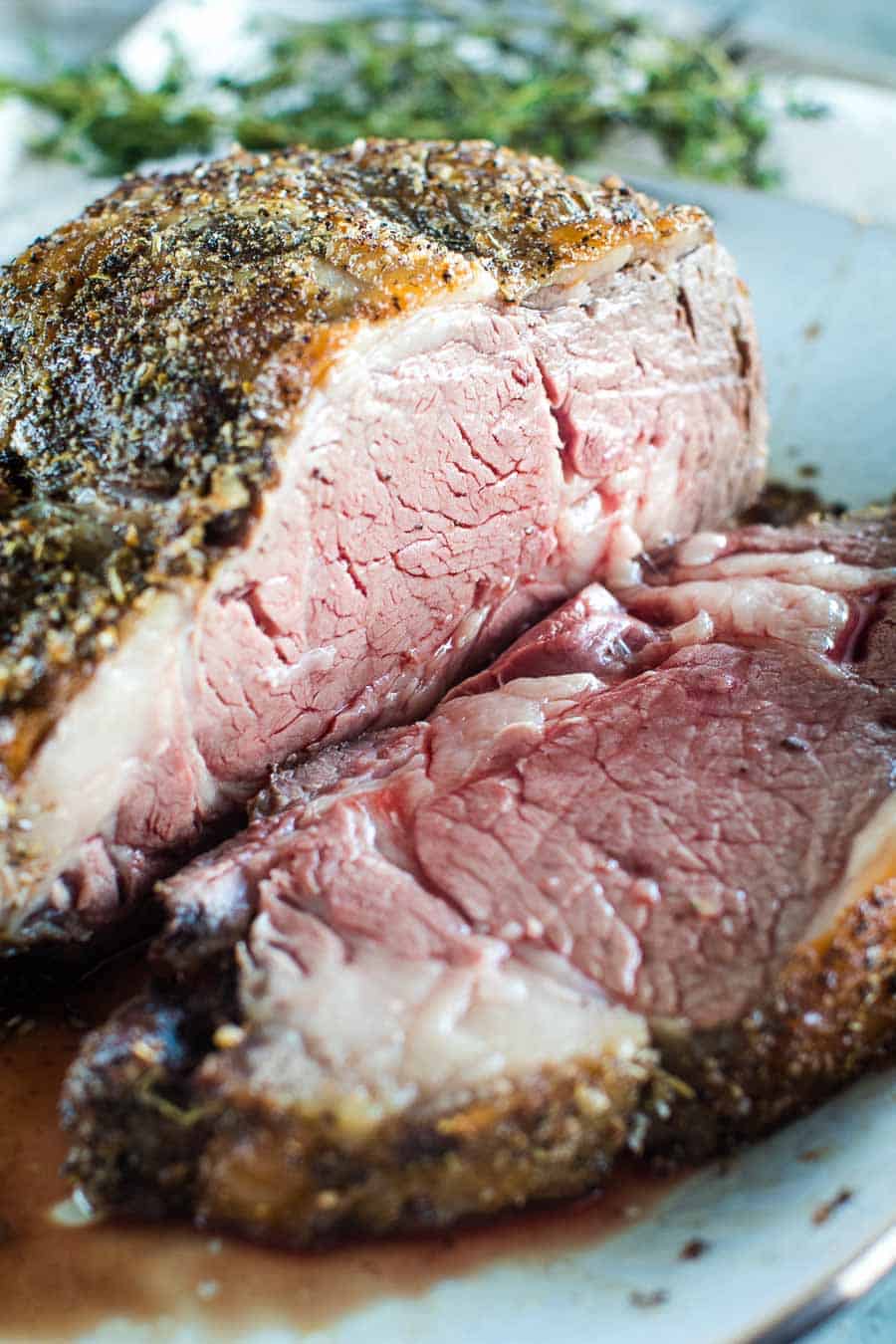 There's nothing like treating yourself to a perfectly cooked Prime Rib during the holidays.
I get it, this cut of meat is a bit of a splurge and it can be nerve racking cooking it because you definitely don't want to make a mistake. We are going to tell you how to get the best Grilled Prime Rib with a delicious crust and tender center.
Everyone will be begging for you to make the entree every year during the holidays after a bite of this! We recommend pairing the delicacy with Grilled Baked Potatoes and Green Beans for the ultimate holiday meal!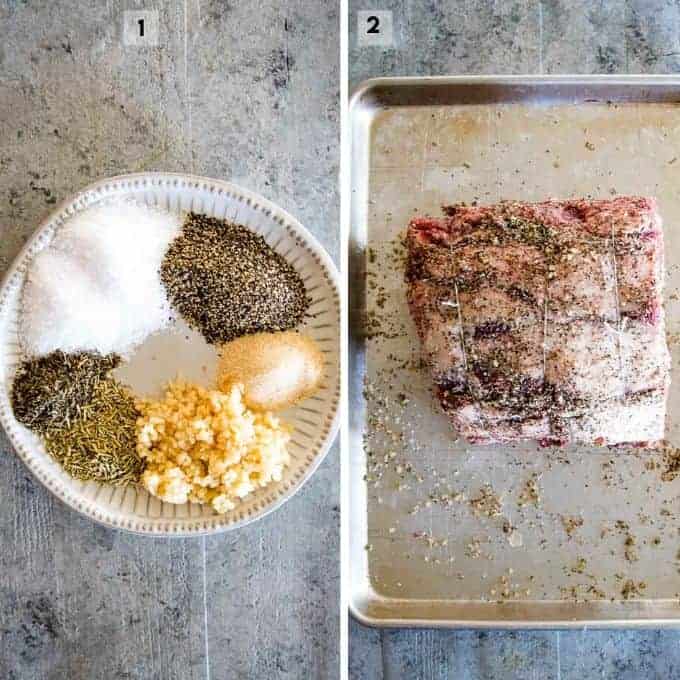 Prepping the Prime Rib
The first thing you want to do is to trim off any excess fat. Don't trim it all off just so it's uniform and there's not any huge fat caps on it.
Rub and Rest
Next you will want to grab your rub ingredients. Mix those up and rub them all over your prime rib.
Then you will let it rest on the counter and let it come to room temperature before you place it on the grill. This will ensure that it cooks evenly. If it's not at room temperature the center will take to long to warm and the outside will be overcooked.
We let our sit for about a hour before we placed it on the grill. You can let it sit longer. Just remember not to let it sit out for more than four hours are there will be food safety issues.
Grilling
Now it's time to put the Prime Rib on the grill.
There are ultimately three stages to cooking your Prime Rib.
Slow Cook – This is the beginning stage. You will cook it at a lower temperature of 250 degrees F. Make sure to set the fat side up when you place it on your grill. This will let the fat juices render back into the center of the roast. This stage will take about two hours.
Crust Creation – After you slow cook it you will turn the temperature of the grill up to 400 degrees F. This is going to create the best part of the roast. The outside herbaceious crust. Monitor the roast until it reaches an internal temperature of 135 degrees F.
Rest – After the roast is done cooking remove it from the grill and let it rest 30 minutes while you prepare the rest of your meal. When you let it rest you let the juices reabsorb back into the meat. This is what gives you the ultimate juicy Prime Rib that everyone raves about. Don't skip this step! Remember that the meat will raise another 5-10 degrees during this step.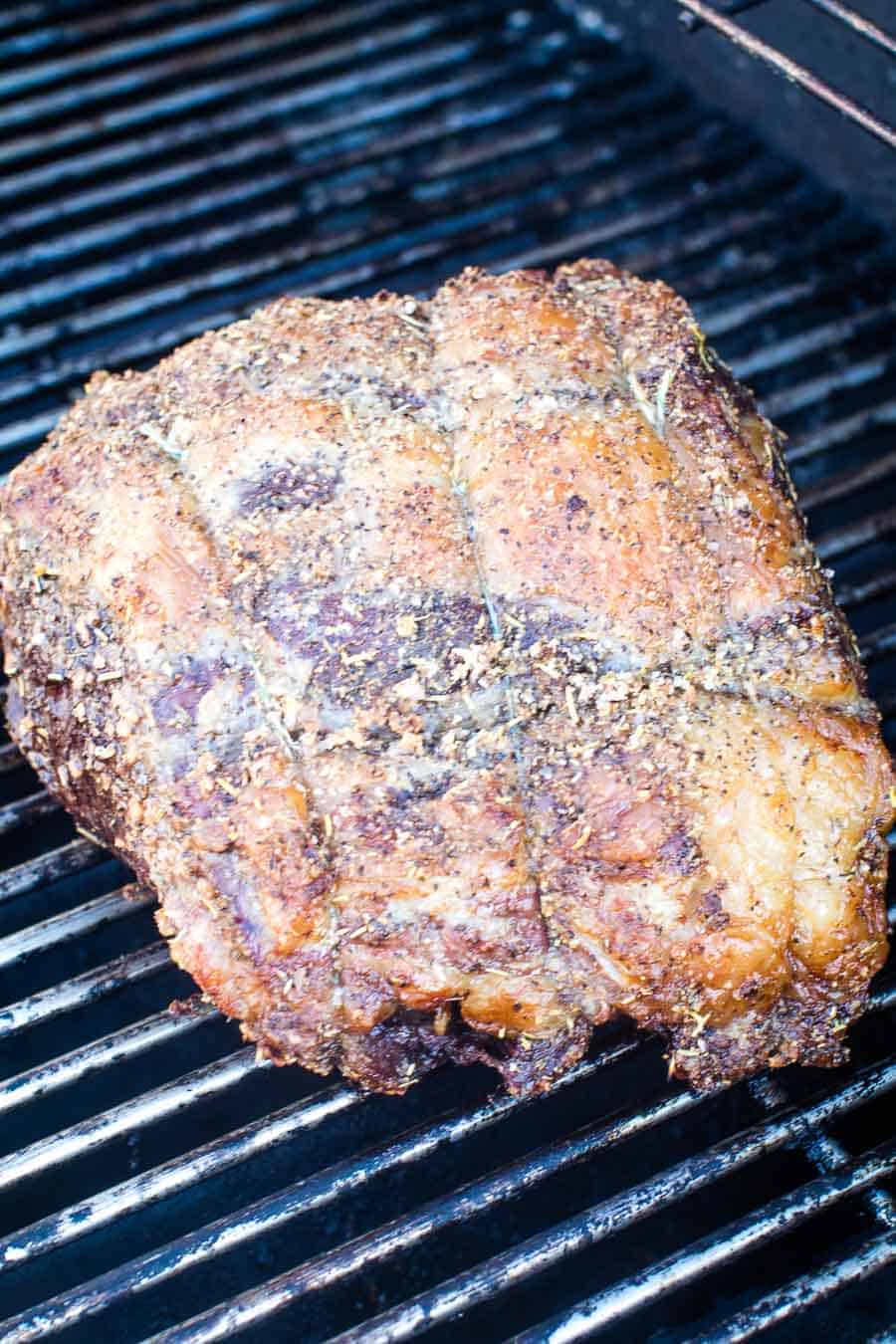 Internal Temperature
The best way to monitor this is with a wireless thermometer. Making sure your Prime Rib is at the perfect temperature when you pull it off the grill is huge in the overall end result.
Here is a quick chart of internal temperatures for your reference. I recommend enjoying this piece of beef Medium Rare.
Medium Rare – 135 degrees F
Medium – 145 degrees F
Medium Well – 150 degrees F
Well Done – 160 degrees F
Indirect Heat
For this recipe you will want to use indirect heat on your gas grill.
To create an indirect heat zone simply turn on one burner and adjust it from low to medium until your grill is at 250 degrees.
Place your meat on the opposite side of the grill from the heat source. We recommend rotating the roast half way through cooking.
Helpful Tools
Here are a few things we find helpful when making this recipe!
Wireless Thermometer – I can't recommend this enough for all your grilling and smoking. You can set alerts so when the meat reaches your preferred temperature it alerts you. This key in getting a nice juicy piece of meat!
Butcher's Twine – We used a boneless roast and used this to tie it off so it stayed together while grilling
We hope you love this easy way of making your Prime Rib which is perfect for the holidays!
Did you make this? If you snap a photo, please be sure tag me on Instagram at @gimmesomegrilling or #gimmesomegrilling so I can see your grilling masterpieces!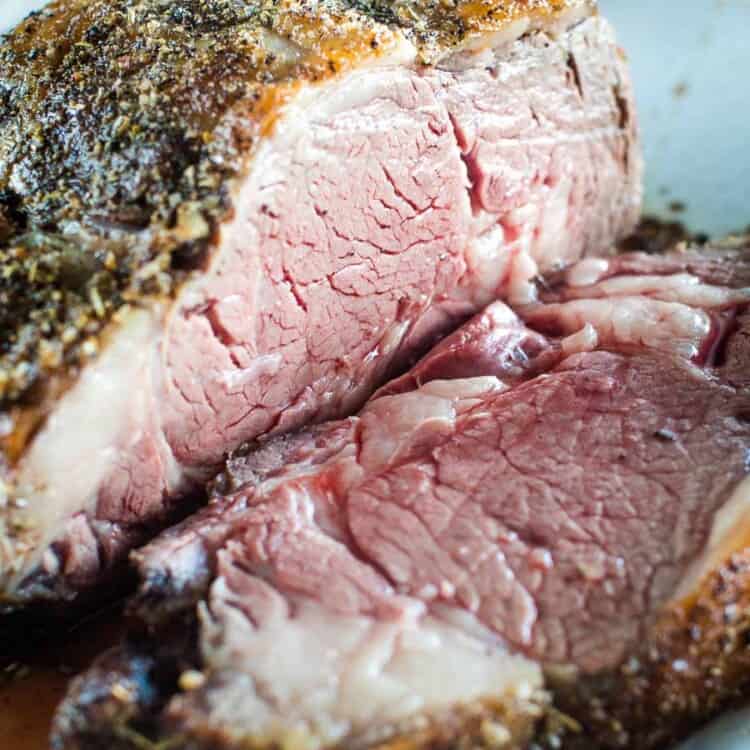 Grilled Prime Rib
A perfectly seasoned and grilled Prime Rib that uses a simple seasoning mix on this delicious cut of beef. Tender and delicious with the perfect crust on the outside.
Ingredients
5

lb

boneless prime rib roast tied back

1

Tbsp

ground black pepper

8

cloves

minced garlic

2

tsp

dried rosemary

crushed

1

tsp

onion powder

2

Tbsp

kosher salt

1

tsp

dried thyme leaves
Instructions
Trim any excess fat from the top of the roast, down to about 1/4'' thick.

In a small bowl combine everything except the prime rib. Stir to combine. Rub the seasoning mixture all over the prime rib. Tie back prime rib if this is not done with butchers twine. Let sit at room temperature for one hour. The prime rib will grill more evenly if it's at room temperature.

Preheat your grill according to manufacturers directions to 250 degrees.

Place the prime rib roast on the grill fat side up and close the lid. Grill until the internal temperature is 110 degrees F. This will take about 2 hours.

Then turn the heat up on the grill to 400 degrees. Grill prime rib until the internal temperature is 120 degrees for rare or 130 degrees for medium. This will take about 20-30 minutes.

Remove the roast to a cutting board and tent with foil. Allow to rest for 30 minutes. Slice and serve immediately.
Nutrition Information
Calories:
679.95
kcal
(34%)
,
Carbohydrates:
0.87
g
,
Protein:
30.91
g
(62%)
,
Fat:
60.35
g
(93%)
,
Saturated Fat:
25.2
g
(158%)
,
Cholesterol:
137.17
mg
(46%)
,
Sodium:
1496.69
mg
(65%)
,
Potassium:
509.01
mg
(15%)
,
Fiber:
0.21
g
(1%)
,
Sugar:
0.03
g
,
Vitamin A:
9.5
IU
,
Vitamin C:
0.57
mg
(1%)
,
Calcium:
21.25
mg
(2%)
,
Iron:
3.33
mg
(19%)