Grilled Salmon is a light, healthy dinner prepared on your grill or grill pan! The marinade makes this salmon so flavorful and it's so easy to make. My kids love this recipe and so do the adults. If you are looking for a delicious, flaky salmon recipe this is going to become your favorite.
Serve this easy salmon recipe with rice and a stir-fry or toss together a Grilled Corn Salad! Grilled Cauliflower Steaks are another great side dish option for this recipe!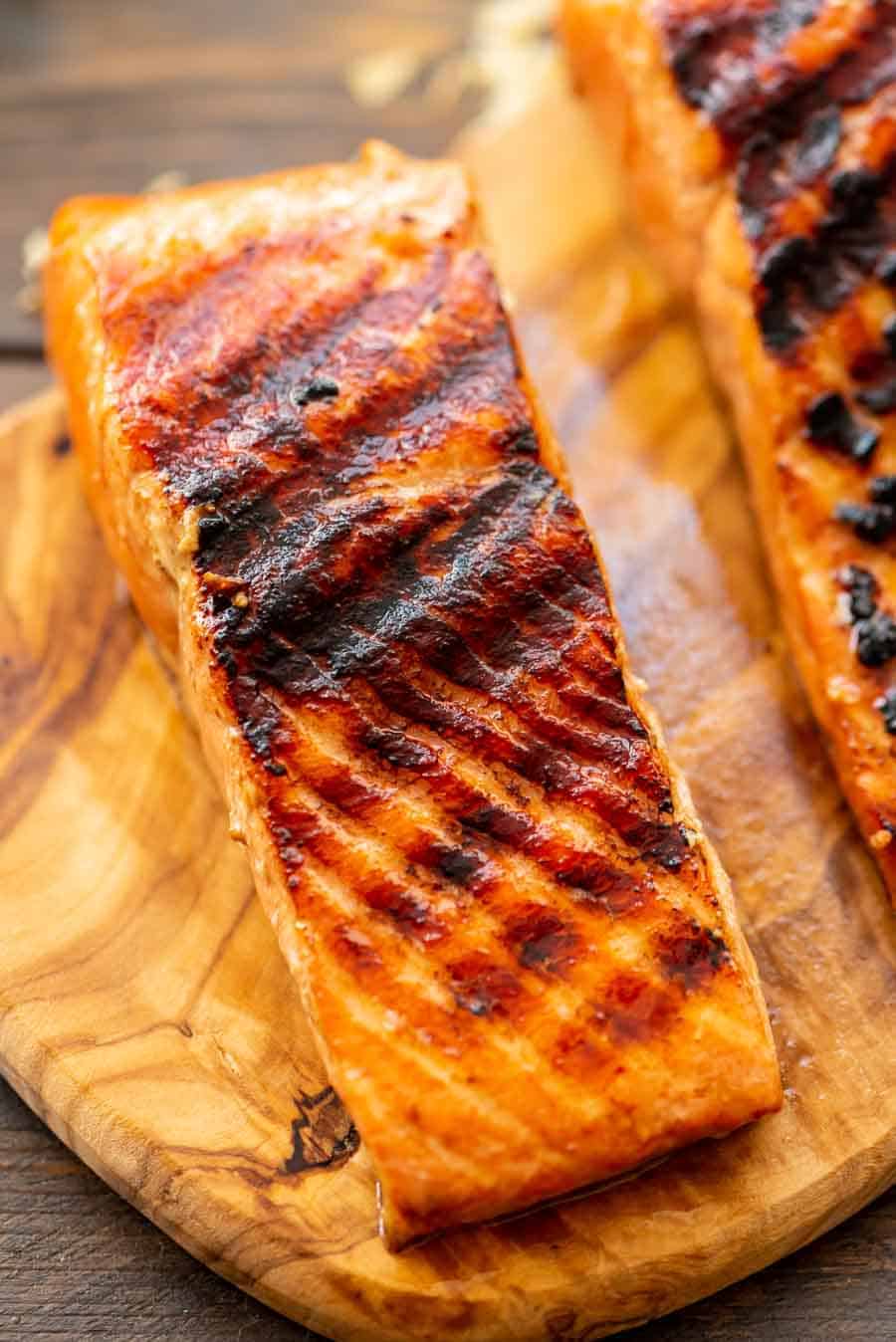 The BEST Grilled Salmon!
I'm a huge fan of salmon and so is the rest of the family, but it's hard to come by fresh salmon here in Midwest Minnesota. Usually I am grabbing it out of the frozen foods section, which does the job, but I love fresh salmon!
When I was out of town I grabbed a BIG filet of salmon and was so excited to try grilling it. We weren't disappointed. The kids loved it, I loved it and so did the hubs. This easy grilled salmon recipe is bursting with flavor from the marinade and it's so easy.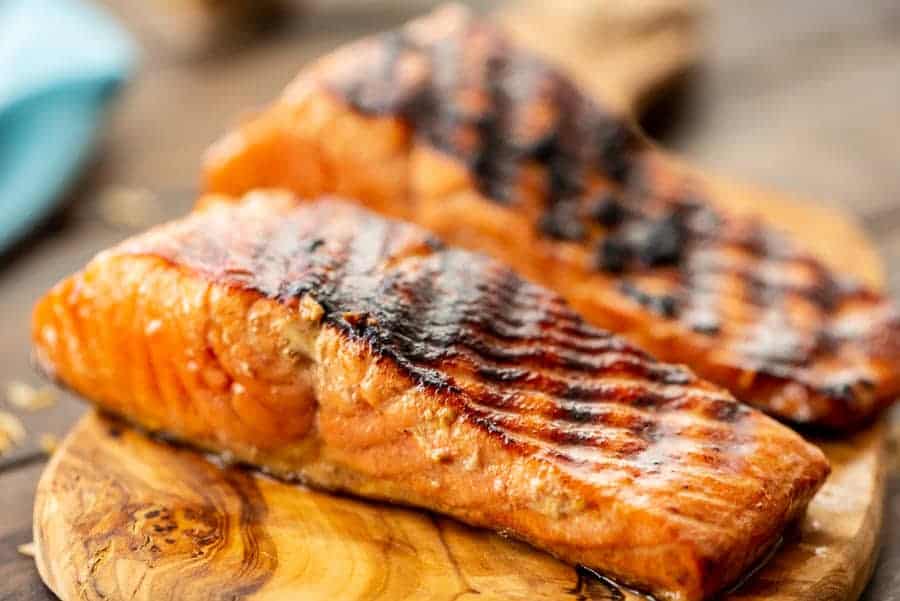 Why we LOVE this Grilled Salmon Recipe!
Let's just say that grilled salmon not only tastes amazing, but it's super simple to make as well. In just a matter of moments, you'll be enjoying salmon straight from the grill.
During the summer months, it's so nice to be able to eat and enjoy a light and healthy meal. Pair this up with some asparagus or sweet potato and you've got a power-packed dinner for sure!

What ingredients do I need for Grilled Salmon?
You don't need that many ingredients to make this recipe, either!
Peanut Oil
Soy sauce
Basalmic Vinegar
Brown Sugar
Minced garlic
Sesame Oil
Onion Powder
Salmon Filets
How to Grill Salmon?
Depending on how long you want to let your salmon marinate, you'll need to give those flavors time to soak in! Once you've let the salmon marinate for anywhere from 1 hour up to 24 hours, you can get your grill ready to go!
Heat your grill to high, but first, make certain that you oil it up. (you don't want that salmon to stick!) Start by putting the skin side down first and grow each side anywhere from 5-7 minutes before removing to serve.

Grilled Salmon FAQs
Here are some quick ticks and trips to getting the perfect grilled salmon every time.
If you have any additional questions please leave us a comment and we will do our best to answer them!
What temperature should grilled salmon be?
For salmon to be cooked completely, you're going to want it to have an internal temperature of 145 degrees.
Do you eat the skin on salmon?
That is totally up to you! Some people think it adds a nice crunch and flavor while others don't prefer it at all. It's good to have on when grilling but you can eat around it if you want.
How Long to Grill Salmon?
Most salmon should be ready to pull off the grill after a total of 15 minutes. Each side of your salmon needs to cook for at least 5-7 minutes long.
What is the white stuff on salmon?
Don't worry, it's just protein cooking out of the salmon. The good news? It's perfectly safe to eat. Even though it may not look overly appealing, it's not going to hurt you at all.
What vegetable is good with salmon?
The good thing is that there are a ton of vegetables that are great with salmon! Some of the best are asparagus, broccoli, and even some cauliflower!
Does salmon reheat well?
Salmon does reheat well but you're going to want to reheat it on a super low setting so it doesn't overcook and dry out the salmon.
What to do with leftover salmon?
You can crumble up the leftover salmon and add it to a salad or even mix it with some mashed potato and create some delicious salmon pancakes.
What side dishes should I make with Salmon?
Be sure and take a moment below to comment and tell me what your favorite steak is on the smoker! I want to make sure if it's a recipe I don't have on the blog I can develop it for you! And if you make this, leave me that five-star rating below – tag me with #julieseatsandtreats too!
Thank you and enjoy this grilled salmon recipe!!

Did you make this? If you snap a photo, please be sure tag me on Instagram at @gimmesomegrilling or #gimmesomegrilling so I can see your grilling masterpieces!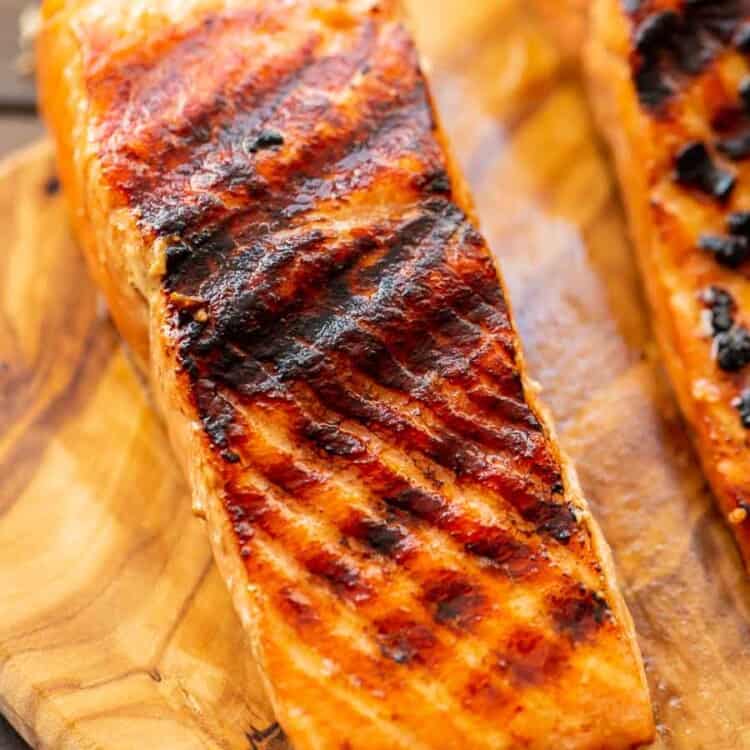 Grilled Salmon Recipe
Quick easy and delicious grilled salmon recipe that gets it's amazing flavor from a marinade!
Ingredients
Marinade
1/2

c.

peanut oil

4

Tbsp

soy sauce

4

Tbsp

balsamic vinegar

1

Tbsp

brown sugar

2

tsp

garlic

minced

1

tsp

sesame oil

1

tsp

onion powder
Salmon
4

salmon fillets

about 8 oz fillets each
Instructions
First mix together the marinade ingredients in small bowl.

Place salmon fillets in a nonporous glass dish so they don't overlap. Pour prepared marinade over the top of fillets. Place in refrigerator for at least 1 our up to 24 hours. The longer you leave it the more flavor you will get.

Remove the salmon from the marinade and pat dry.

Prepare gas grill, charcoal grill or grill pan to a high heat. Place salmon on oiled grill grate. Grill for 5-7 minutes per side. Start with skin side down. You want the salmon to flake when you take sharp knife into the thickest part of fillet. Do not overcook! If it is beginning to flake it is done.
Video
Nutrition Information
Calories:
313
kcal
(16%)
,
Carbohydrates:
8
g
(3%)
,
Protein:
2
g
(4%)
,
Fat:
31
g
(48%)
,
Saturated Fat:
5
g
(31%)
,
Cholesterol:
1
mg
,
Sodium:
1011
mg
(44%)
,
Potassium:
56
mg
(2%)
,
Fiber:
1
g
(4%)
,
Sugar:
6
g
(7%)
,
Vitamin C:
0.4
mg
,
Calcium:
10
mg
(1%)
,
Iron:
0.5
mg
(3%)