Imagine biting into toasted bread with a perfectly grilled seasoned beef patty topped with melted cheese and grilled onions. Is your mouth watering yet? I hope so because you need to try this amazing Blackstone Patty Melt next on your outdoor griddle! There's a reason it's a favorite old diner recipe.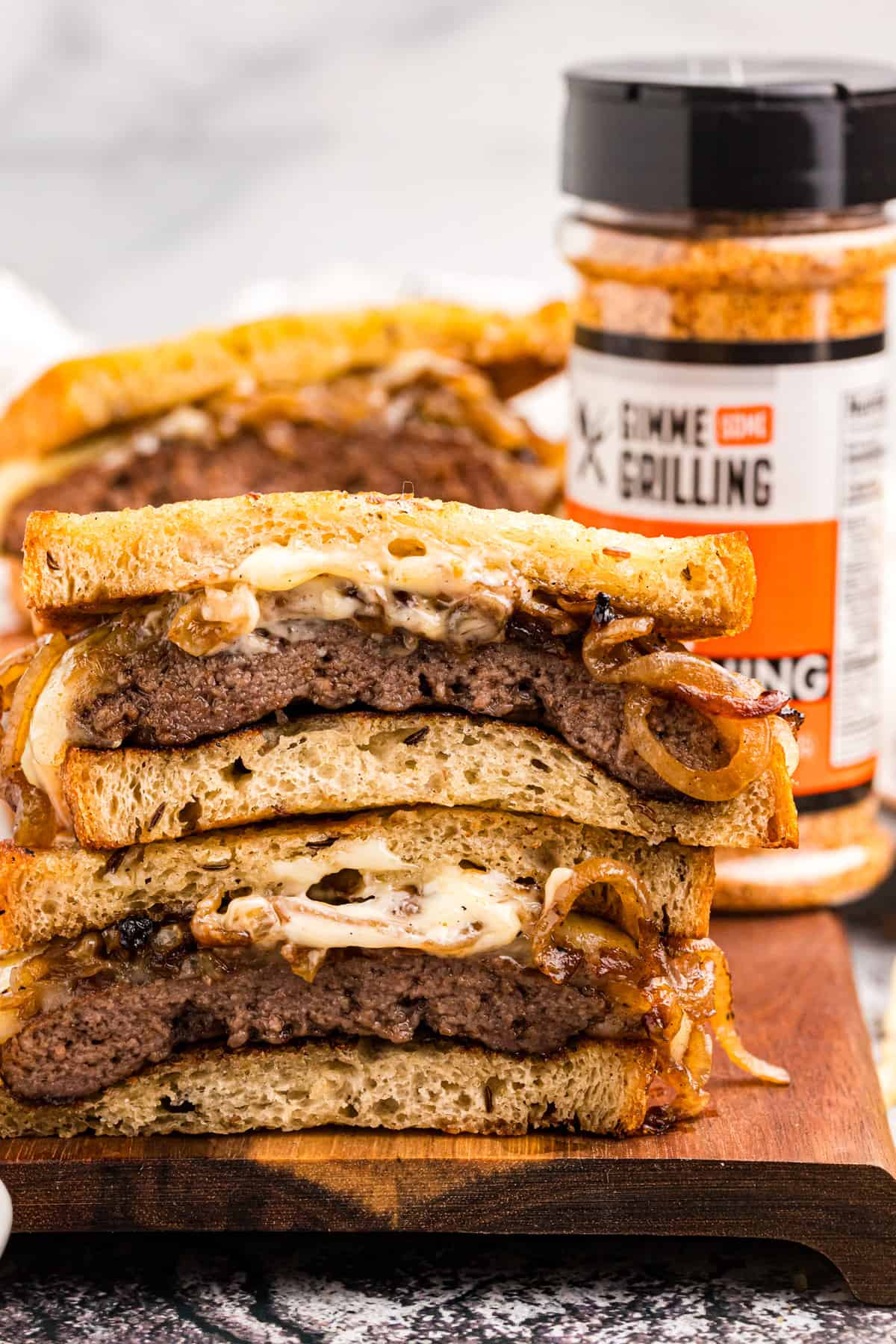 The classic patty melt recipe truly never disappoints. Two perfectly toasted slices of bread, a juicy burger, melty cheese, and caramelized onions. This combinations of flavors just never gets old, and now you can make it on your Blackstone.
The Blackstone patty melt is so simple to make and is incredibly reminiscent of the patty melts you'd get in a mom and pop diner.
Making classic sandwiches like the patty melt and philly cheesesteak on the Blackstone has been so fun. The flat top griddle really makes the flavors have that restaurant quality that other cooking methods miss out on. You'll get the perfect juicy beef, sandwich between two pieces of bread that are toasted along with melted cheese and sauteed onions.
Why You'll Love a Blackstone Patty Melt
Make this homemade patty melt recipe on Blackstone in just 20 minutes. Great for a busy evenings or on the days when it's "I don't know" for dinner.
This simple recipe makes four servings, but you can easily double or triple it. Depending on the size of your Blackstone, you may be able to make more patties all at once. If not, just work in stages to cook all you need!
Clean-up is easy after making patty melts. Making dinner on the Blackstone is the perfect way to not make too much mess you'll have to clean up.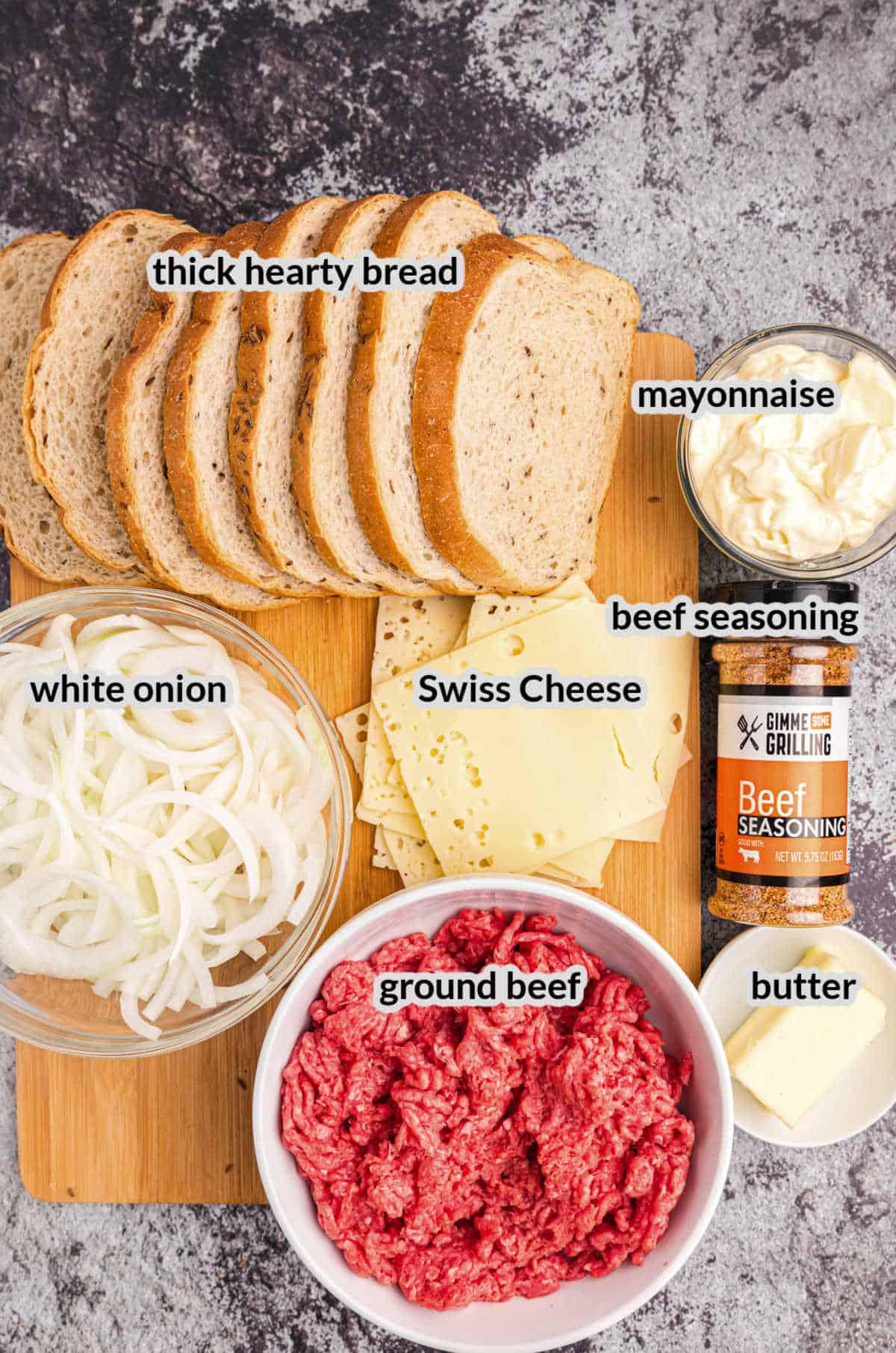 Ingredients for Blackstone Patty Melt Recipe
Ground beef – We recommend using a lean ground beef so that the burgers aren't too greasy. A ground chuck would also be tasty.
Butter – Salted and unsalted butter will both work in this easy griddle patty melt recipe. Choose whichever you like best, or whatever you have on hand!
White onion – White onion has the best flavor for patty melts. It isn't too strong, and caramelizes really well.
Beef seasoning – We're pretty partial to our Gimme Some Grillin' Beef Seasoning, so that's what we'd recommend to give it great flavor. However, if you do not have that on hand you can use any of your favorite beef seasoning or sub in beef rub.
Swiss cheese – That weird looking cheese with all the holes in it — it's the secret ingredient to a perfect patty melt! If you don't like Swiss cheese any type of cheese will work.
Mayonnaise – Even if you're not a fan of mayo, you should give it a shot in this recipe.
Thick and hearty bread – It is important to use thick sliced bread so that the sandwich doesn't fall apart and can withstand a little extra moisture.
How to Make a Blackstone Patty Melt
Preheat the Blackstone over medium-high heat. You can check it with an infrared thermometer, it should be about 450 degrees Fahrenheit.
Then, mix the ground beef and beef seasoning together in a large mixing bowl. Divide the beef into four even sized balls, about 4 ounces each.
Spread some mayo onto one side of each piece of bread.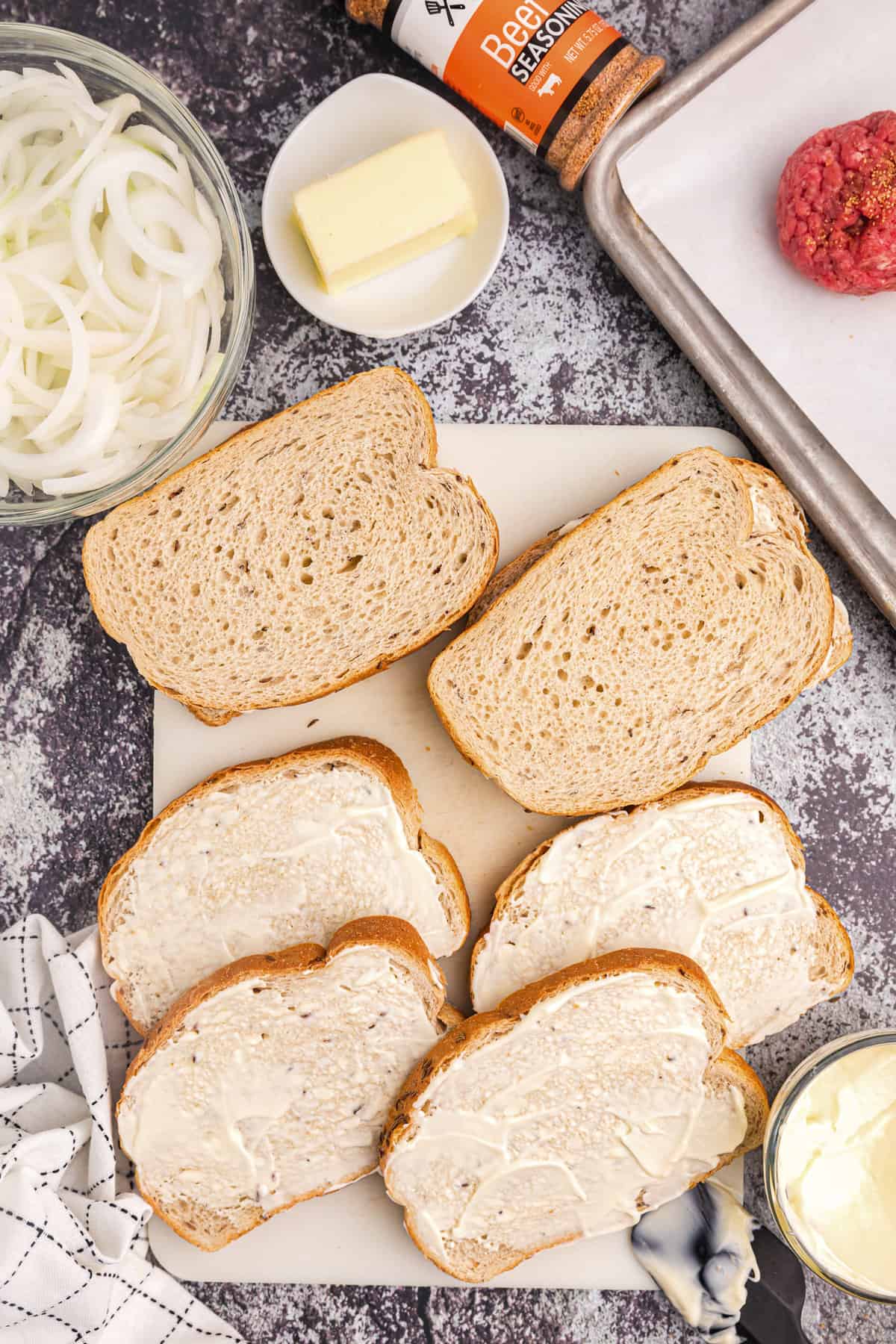 Next, melt butter on one side of the flat top grill and then place the sliced onions on top. Sauté the onions in the butter for 3-5 minutes until they have caramelized, then move them to the side of the Blackstone.
Place the ground beef balls onto the griddle, where the onions were. Then put a piece of parchment paper on top of each beef patty and using a burger press, smash the meat into thin patties exactly like we do when we make smash burgers on the Blackstone.
Let the patties cook until they are browned and the edges are crispy. Then flip them over again and cook for 2-3 more minutes until brown. You'll get the perfect tasty burgers.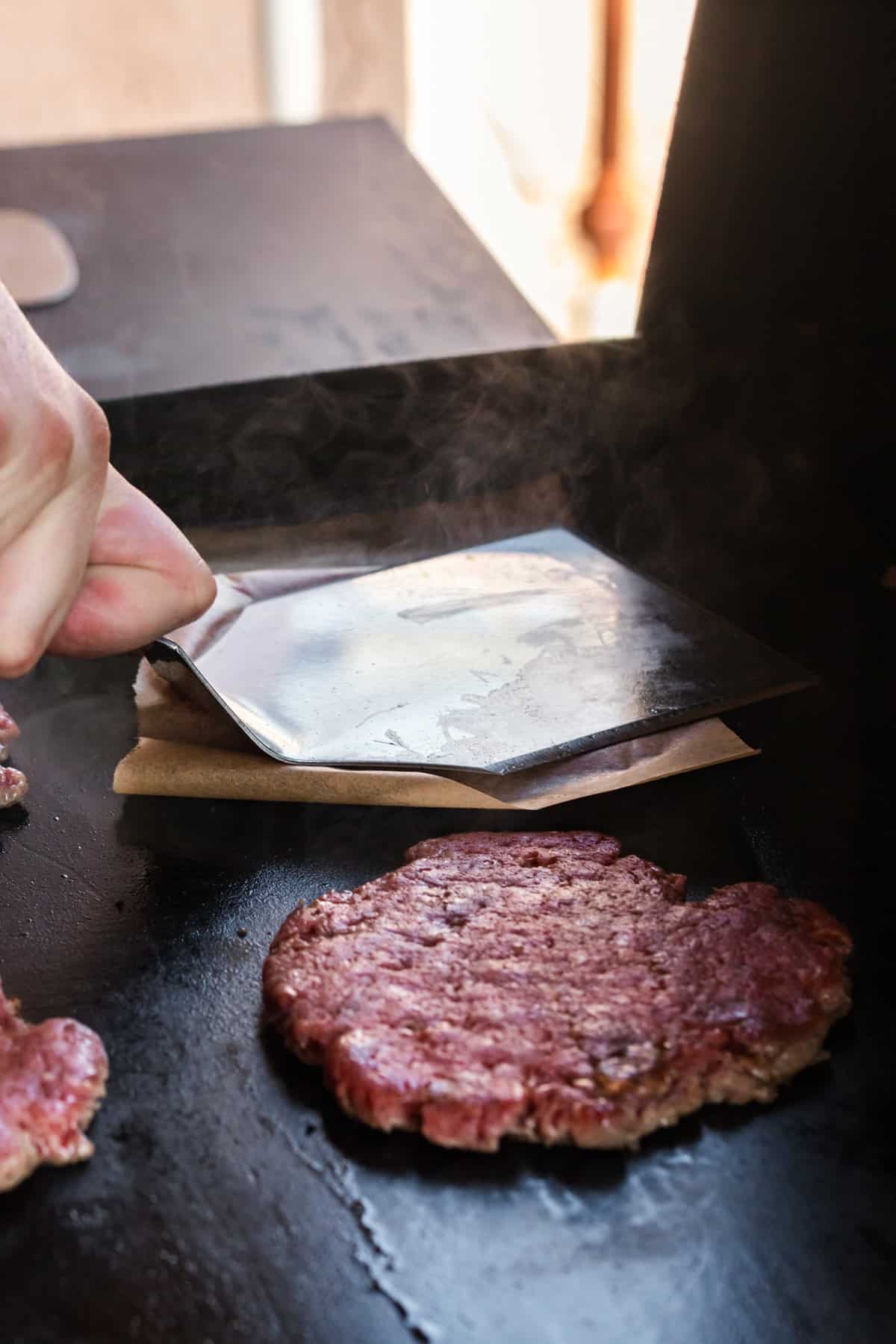 Place 2 slices of Swiss cheese onto each patty to let it get all gooey and melted.
Next, place a slice of bread onto the Blackstone mayonnaise side down to toast it until it's golden brown.
Once toasted, assemble each griddle patty melt with bread, a patty, ¼ of the sautéed onions, one tablespoon of mayo and the last piece of bread.
Cut in half and enjoy!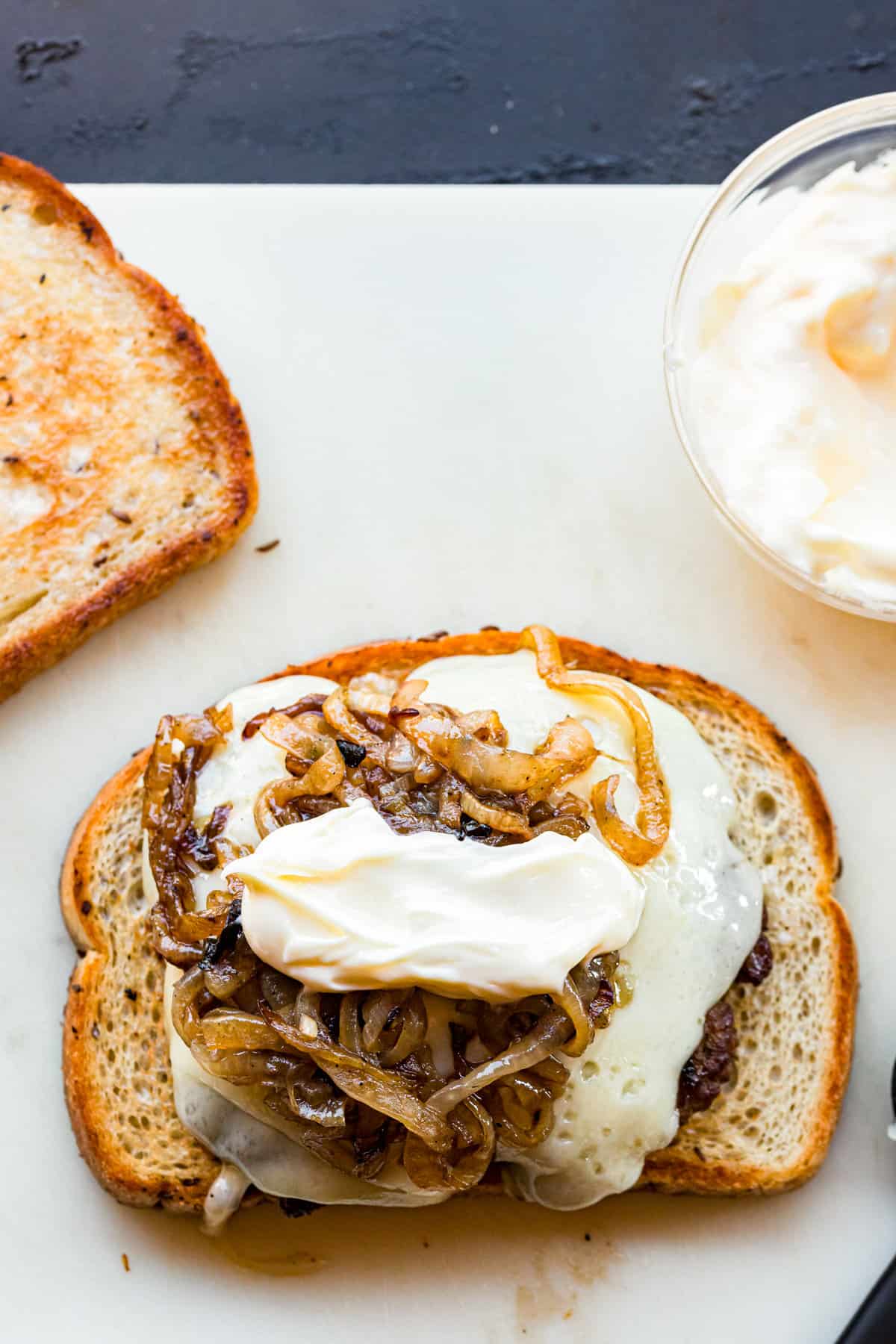 How to Store Leftover Blackstone Patty Melt
If you know in advance that you'll have leftovers, don't assemble extra patty melts. A burger will get soggy when stored after being assembled and cooked.
Place leftover toasted bread into an airtight container or plastic bag and store in the fridge for up to 2 days. Beef patties and onions should be stored in separate airtight containers. They will last for up to 4 days.
The cheese will last however long the package instructions say after opening.
What to Serve with Blackstone Patty Melt
After making a patty melt on Blackstone, you need some killer side dishes to go with it. You could go with a classic and make some french fries, or make something a bit more fancy and do some seasoned smoked potatoes.
Grilled foil packet potatoes are another delicious way to make potatoes and serve with this addictively good patty melt. Of course, you don't have to do potatoes. Go with some veggies sides and make something like grilled sweet potatoes and grilled zucchini.
Smoked potato skins may typically be an appetizer, but they're also a fabulous side dish.
What bread is best for a patty melt?
A thick bread that isn't too soft typically does best in a patty melt. Sourdough bread and rye bread are most popular and what you typically see used. However, a lot of people like using Texas toast too. My kids pick this because it looks like white bread and it's easy to find at any local grocery store.! Really, you just need some thick sliced bread that will do well with hearty toppings inside.
Do I have to use swiss cheese?
Swiss cheese is most popular in patty melts, but certainly do not have to use it in this Blackstone patty melt recipe. Feel free to use any kind of cheese you want. Provolone is a great choice, as well as sharp or mild cheddar cheese, and even American cheese.
Pro Tips
Don't leave too much debris behind before toasting the bread. You want the Blackstone to still be greasy, but don't leave chunks of onion or meat or they may leave a burnt taste on the toasted bread.
If you do not have a burger press, just use parchment paper and a spatula to smash the burgers.
Patty melts will cook more quickly than regular Blackstone burgers since they are smashed down. Make sure you watch them closely and don't overcook!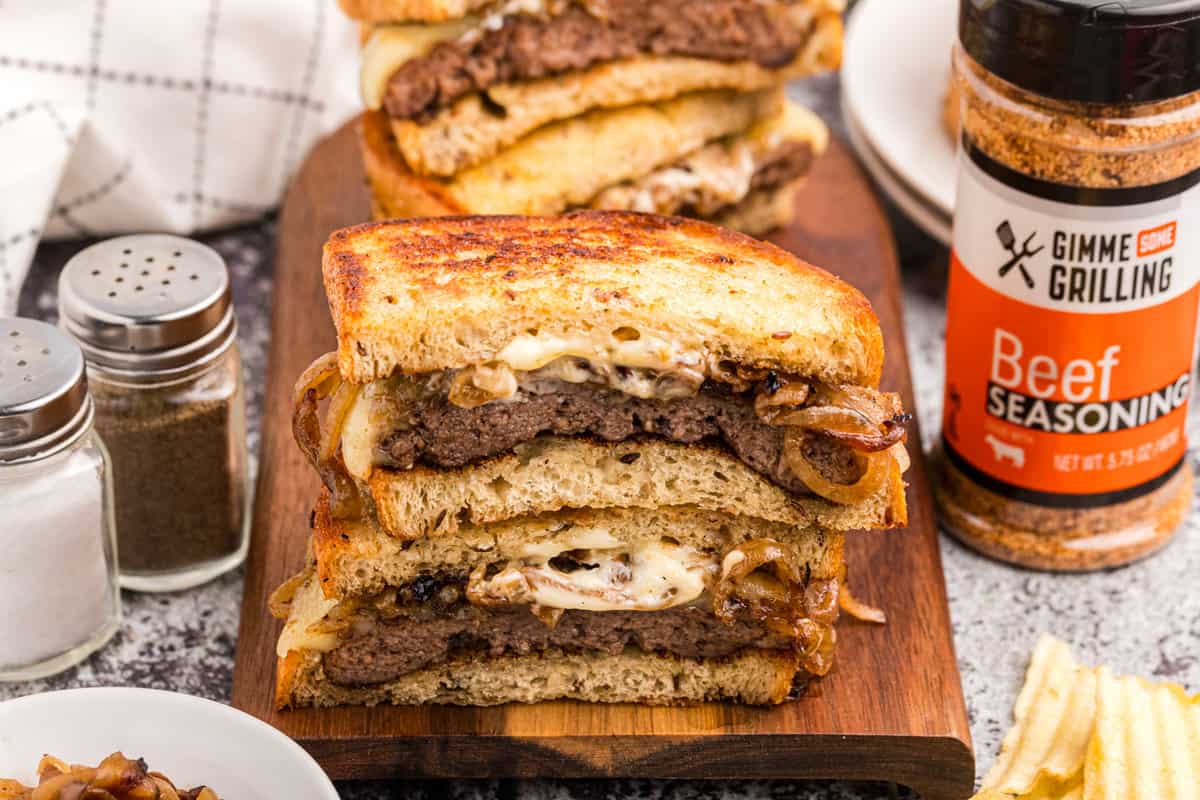 The perfect patty melt in just twenty minutes time. An absolute star of a recipe that you are sure to enjoy!
More Blackstone Recipes You'll Love
Warm up your Blackstone grill for more easy dinner recipes with these favorites!
Did you make this? If you snap a photo, please be sure tag me on Instagram at @gimmesomegrilling or #gimmesomegrilling so I can see your grilling masterpieces!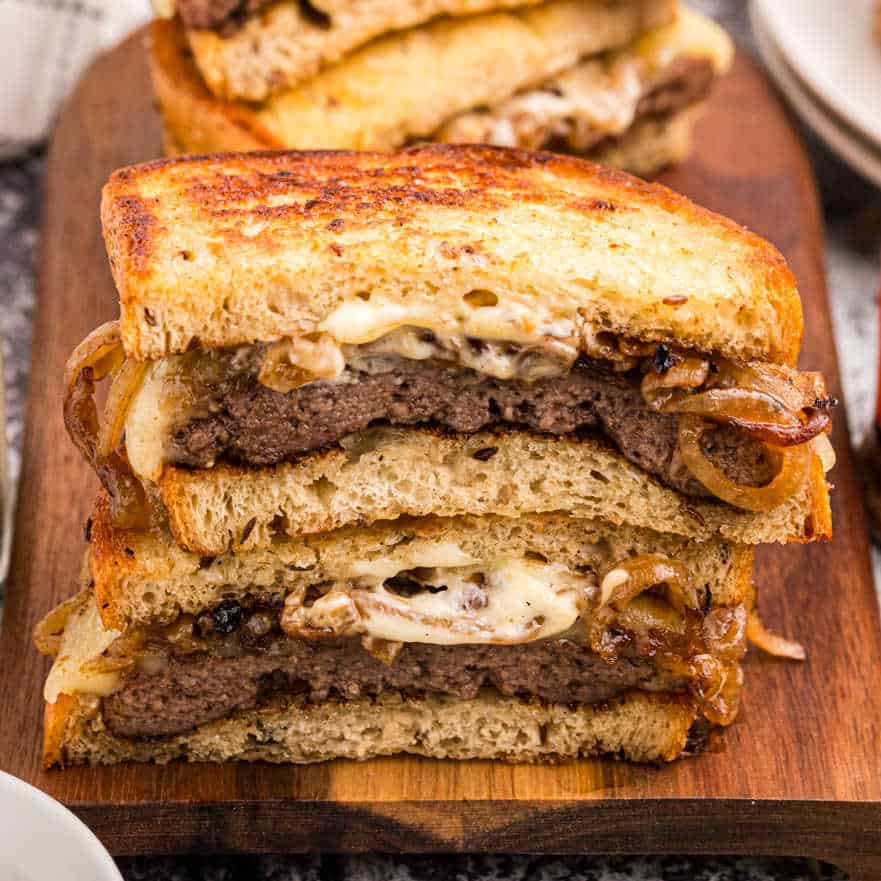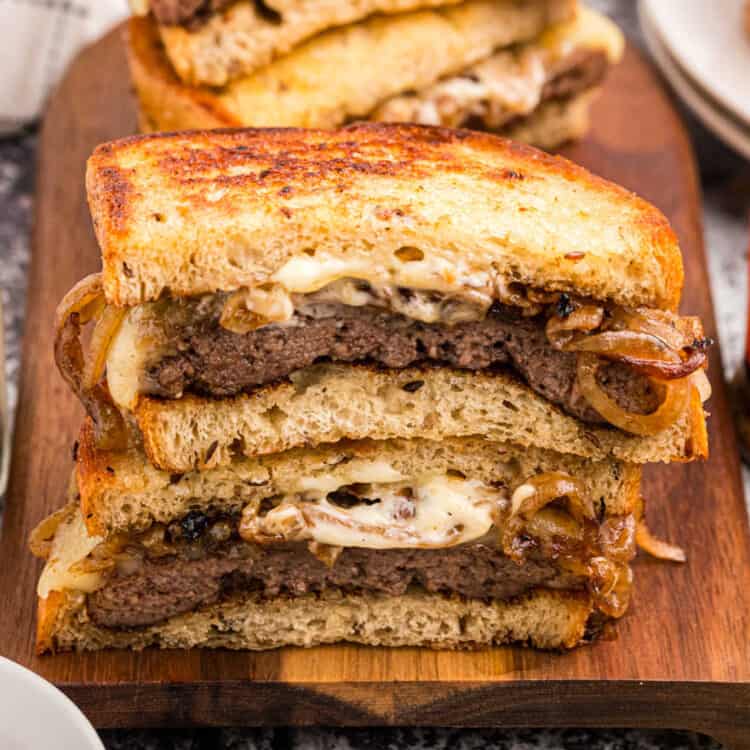 Blackstone Patty Melt
This classic diner recipe with toasted bread, seasoned beef patty, cheese and onions is a favorite. Make this griddle patty melt on your Blackstone next.
Ingredients
8

slices

thick hearty bread

rye is traditional

1

pound

ground beef

1

white onion

sliced

3

Tablespoons

butter

8

slices

Swiss Cheese

¾

cup

mayonnaise

1

teaspoon

beef seasoning
Instructions
Preheat the Blackstone Grill over medium high heat (approximately 450 degrees Fahrenheit).

Mix the beef and beef seasoning together. Divide the ground beef mixture into 4 even balls (approximately 4 ounces each).

Spread the mayonnaise to one side of each piece of the sourdough bread with 1 Tablespoon of the mayonnaise.

Melt the butter on one side of the griddle. Then top the melted butter with the sliced onions. Sauté the onions in the butter until they are caramelized (3-5 minutes). Then slide to the side of the griddle.

While the onions finish cooking, place the ground beef on the grill. Put a piece of parchment paper on top of the beef and use a spatula or a burger press to smash the meat into thin patties.

Let the patties cook until they are browned and crispy (2-3 minutes). Then flip the patties over (do not smash) and cook the other side for 2-3 minutes until it is also browned and crispy.

Place 2 pieces of the Swiss cheese on each patty.

Put the bread on the Blackstone grill mayonnaise side down and toast the bread.

Then assemble the sandwich. Place one piece of the bread on a plate (toasted side down), top with 1 of the patties, ¼ of the fried onions, 1 Tablespoons of mayonnaise and top with the 2nd piece of bread (toasted side on top). Repeat for the rest of the patties.

Cut in half and the patty melt is ready to serve and enjoy!
Nutrition Information
Serving:
1
sandwich
,
Calories:
950
kcal
(48%)
,
Carbohydrates:
31
g
(10%)
,
Protein:
36
g
(72%)
,
Fat:
76
g
(117%)
,
Saturated Fat:
26
g
(163%)
,
Polyunsaturated Fat:
21
g
,
Monounsaturated Fat:
22
g
,
Trans Fat:
2
g
,
Cholesterol:
152
mg
(51%)
,
Sodium:
739
mg
(32%)
,
Potassium:
476
mg
(14%)
,
Fiber:
3
g
(13%)
,
Sugar:
5
g
(6%)
,
Vitamin A:
595
IU
(12%)
,
Vitamin C:
2
mg
(2%)
,
Calcium:
425
mg
(43%)
,
Iron:
5
mg
(28%)